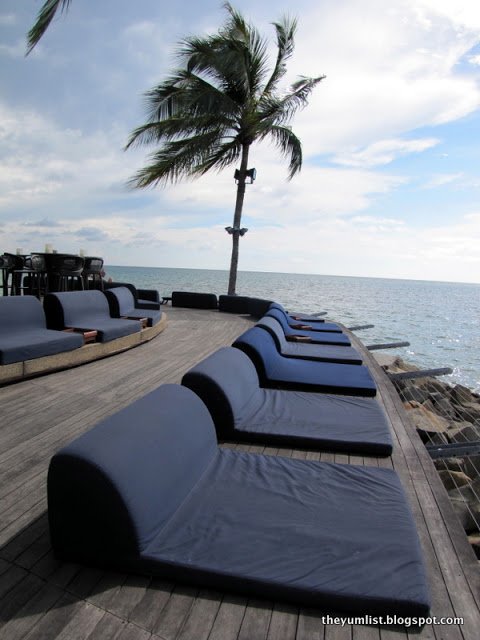 Sunset Bar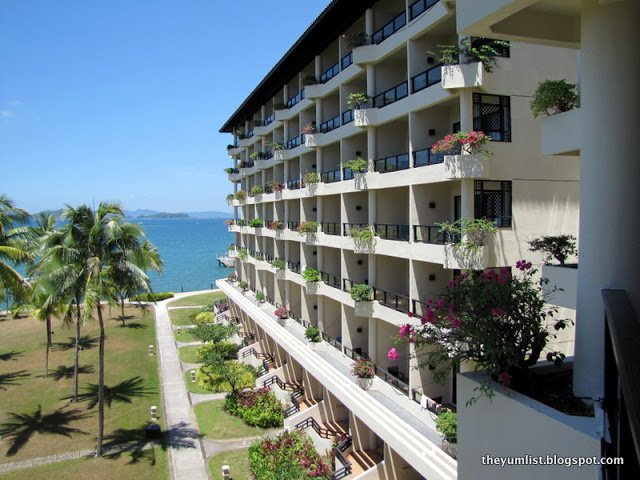 Shangri-La's Tanjung Aru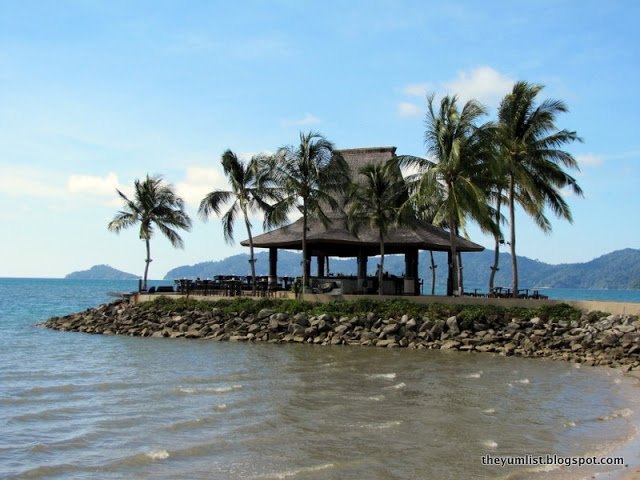 Sunset Bar
Glorious aquamarine waters, a palm dotted coastline and gardens that unfurl down to the sea's edge was not what I was expecting from this well located Shangri-La property, but it's what I found and more. Being within a few minutes of both the city of Kota Kinabalu and the airport, I was expecting more of a business hotel without too many frills, what I found however, was all you can imagine a tropical paradise could be.
The Location
Ten minutes from the airport, 10 minutes to the city and 10 minutes by boat to the marine park, you can't ask for a more convenient site. Both the hustle and bustle of the town and the serenity of nature are at your doorstep. My pick though is the great outdoors… and mountains, jungle and sea await. Mount Kinabalu, the highest peak in Malaysia, is about 80km east of Kota Kinabalu, and Tanjung Aru's sister resort, Rasa Ria, possesses its own Nature Reserve, home to orphaned orangutans and a host of native flora and fauna. For sea lovers, the Tunku Adbdul Rahman Marine Park offers five islands surrounded by glistening sandy beaches, shallow azure waters and colourful coral gardens.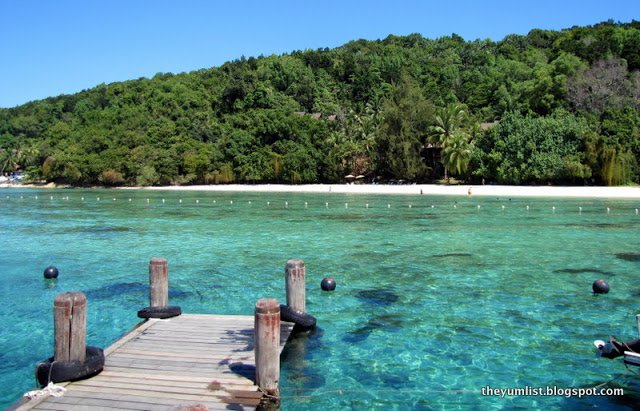 Marine Park
Tanjung Aru itself however, is more than lovely and some might decide not to leave. Blessed with water and island vistas and, a sunset worth traveling for, guests are spoilt for access to beauty. Trim lawns spread between manicured gardens and tropical palms dot the coastline. Umbrellas and deck chairs line the pool, gardens and beach, providing guests with an array of alternatives.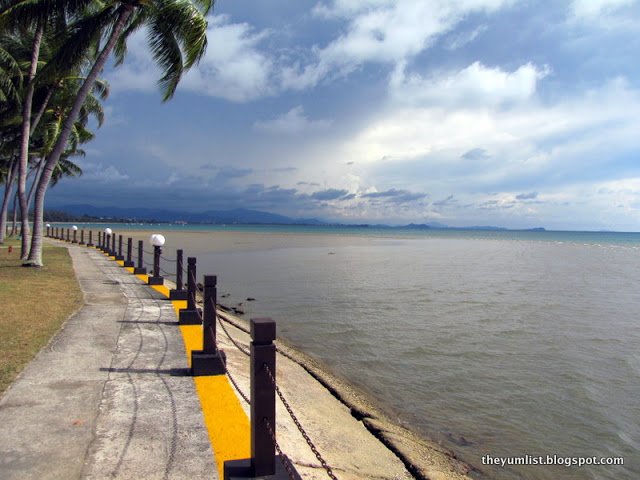 Walkway by the sea
The Rooms
Our beautiful Seaview Room overlooked a koi pond, picturesque garden and was backgrounded by a magical blue sea. A private balcony further encourages occupants to take advantage of the scenery. Equipped with all the amenities you'd expect from a five star hotel, including complimentary wireless Internet access, all that you need to be comfortable is found within.
The more we travel, the more we appreciate Executive Clubs. Not fond of crowds or noise, we try to upgrade whenever a hotel offers this feature. Tanjung Aru's Kinabalu Club guests receive a personalized check-in in the Club Lounge, free flow of non-alcoholic beverages all day and access to a range of services designed with the business traveller in mind. The best benefits for us personally though are the access to a smaller but less bustling breakfast smorgasbord and, the evening cocktails. Special thought is given to those with families who'd also like this perk, but often feel apprehensive in signing up for angst over the reaction of other guests to children in the lounge. Cocktail hours are divided into two sessions. A 4:30 – 6:30pm session tailored specifically for families and, a 6:30- 8:30pm sitting for those over 16 years of age. Light eaters, or those who have over indulged in local delights over the day, could easily make their dinner of the offerings in the lounge.
The Facilities
Kids are well catered for at Shangri-La's Tanjung Aru Resort and Spa. With a wonderland of water slides, fountains, giant dunking bucket and water battle station, it can only be described as fun, fun, fun. The Cool Zone kids club runs activities all day long and, outside of operating hours, there is a babysitting service available too.
Joined by a narrow lagoonway, the other side of the pool is where the adults hang, taking in views of the crystal water leading out to the aquamarine sea, or dipping in the Jacuzzi. A private beach fringed with deck chairs and umbrellas beckon sun seekers to consider a splash.
A good size gymnasium sports a full range of cardio machines, weights and Pilates equipment. Pitch and Putt greens, Petanque runway, Table Tennis facilities and Tennis Courts are all encouraging offers for the fit and active. But… the most recent outstanding feature of the resort is their newly opened Star Marina.
An extensive list of activities are found at
Shangri-La'sTanjung Aru's own marina
. Both motorized and non-motorized sports, along with trained instructors will help to get your feet wet. Island transfers, cruises, snorkeling and fishing trips are still more ways to enjoy the sea. An exciting addition for divers (or wannabes) is the dive centre providing a full range of equipment, facilities and dive certification classes.
After all of that recreation, a massage might be in order and
Chi, The Spa,
has a comprehensive range of treatments to meet the need. Located on its own island, the spa is surrounded by water and peaceful gardens. Purpose built spa villas offer the ultimate in luxury and there are even suites where couples can spend the night for nonpareil relaxation.
The Food and Drink
From casual no shoe eating to well-heeled elegance, Shangri-La's Tanjung Aru has something for everyone. Café TATU, the all day dining establishment, has both buffet and a la carte options. For a local experience try the Borneo Rice Tafel for two persons (RM82). A traditional array of 12 unique dishes from Borneo Island are served with coconut rice. Beef rendang, satay prawns, egg sambal, acar, chicken curry, snapper fillet, roti, vegetables and an enormous bowl of ais kacang (shaved ice with various toppings), give diners a snapshot of local cuisine, without the hygiene, scent or heat worries of the street.
For graceful dining, the Italian restaurant,
Peppino
is the one to book. A contemporary indoor area with dark wood and wine racks, or a candlelit table on the outdoor patio, caressed by the sounds of the sea, are both enticing alternatives. Chinese favourites are found at Shang Palace and Coco Joes offers dining by the water. Sports screens keep fanatics happy and good drink deals make a little imbibement an affordable option. A stay by the sea, must be accompanied with seafood and Coco Joes is pleased to oblige. Joe's Seafood Lighthouse (RM250) is ideal for two hungry diners and brings a tower of hot and cold seafood washed down with two glasses of rose.
Not to be missed is the
gorgeous Sunset Bar
. Quite possibly the hippest bar in Sabah, if not all of Malaysia, guests should arrive early to snag a floor lounge from which to gaze the fading sun. If not, tall tables under the palms or a spot at the bar give equally magnificent light. A handful of bar snacks and a longer menu of drinks keep hunger pains at bay, and cool refreshment from the afternoon heat. The Sunset Bar makes a spectacular location for a romantic rendezvous or merrymaking with friends.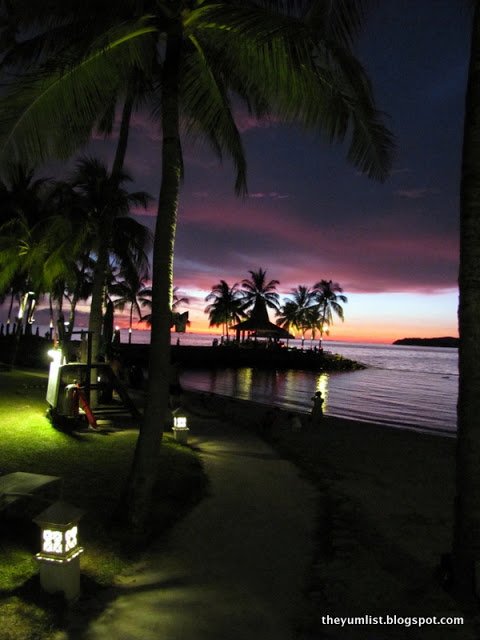 Sunset
Shangri-La's Tanjung Aru Resort and Spa has it all.
Reason to visit:  excellent location – minutes from the airport, city and sea, Shangri-La service, a wide variety of watersports available at their very own Star Marina, drinks at the Sunset Bar
Shangri-La's Tanjung
Aru Resort
20 Jalan Aru
Tanjung Aru, Kota Kinabalu
Sabah, Borneo
Malaysia
+6 088 327 888
www.shangri-la.com/kotakinabalu/tanjungaruresort/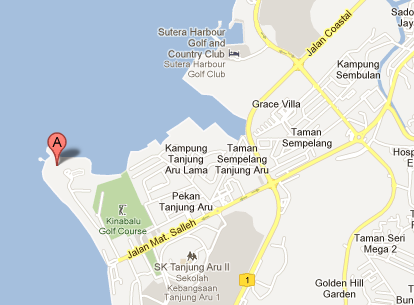 Map to Tanjung Aru