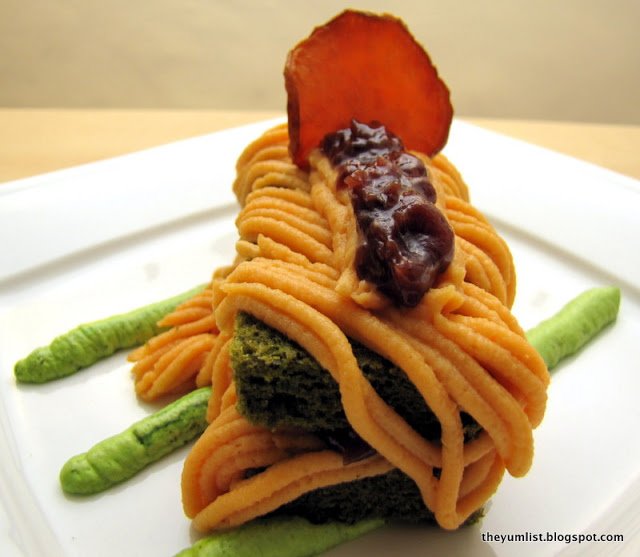 Sweet Potato Azuki Gateaux
Sweet on Nosh!
Words by Kirsten Durward
Photos by The Yum List
Hear ye! Hear ye! Everyone with a sweet tooth! This one is for you! Nosh is running a two month dessert extravaganza. In addition to the ten desserts on the regular menu, you can choose from a menu of ten dessert specials. That's twenty desserts people! And bearing in mind that both Ann and Judith are both highly skilled pastry chefs, you have to know they are going to be some of the best desserts you've tasted in your life. Only the best ingredients, according to Ann, 'if it aint French butter, if it aint French cream, then it aint going to fly!'
Chocolat Orange – 'a must for chocolate lovers' says the menu. Well, that is me for sure! Dive into this shiny rich choc cake filled with grand marnier infused chocolate mousse, glazed with dark chocolate. This chocolate lover loves it. And the feeling seems the same around the table.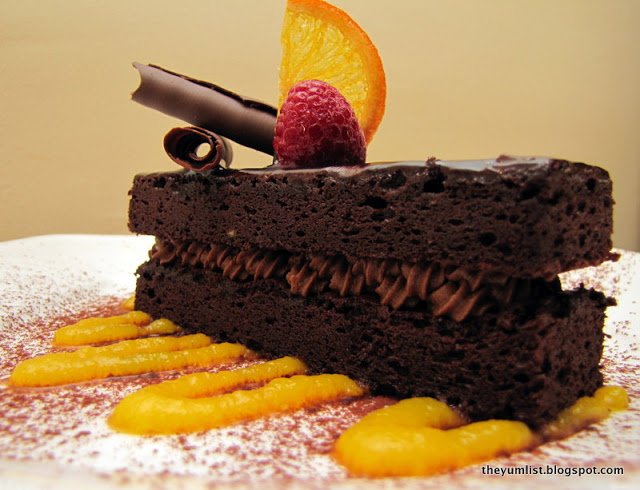 Chocolat Orange
Buttery crumble with succulent cubes of peaches, nestled in the lightest of lemon creams. Crispy gingery loose crumble under, flaky light crispy filo tops. A deconstructed delight of texture. Lemon Peach Tart – one of the best desserts in KL.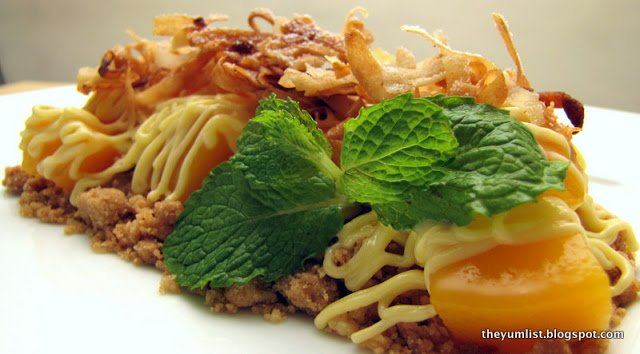 Lemon Peach Tart
Black Forest Pavlova Chocolate Meringue with a great crunch and a light centre, luscious dark chocolate mousse, kirsch soaked cherries, fresh strawberries, zingy raspberry coulis. What's not to like? So good I know all my Aussie friends in particular will be lining up for this one!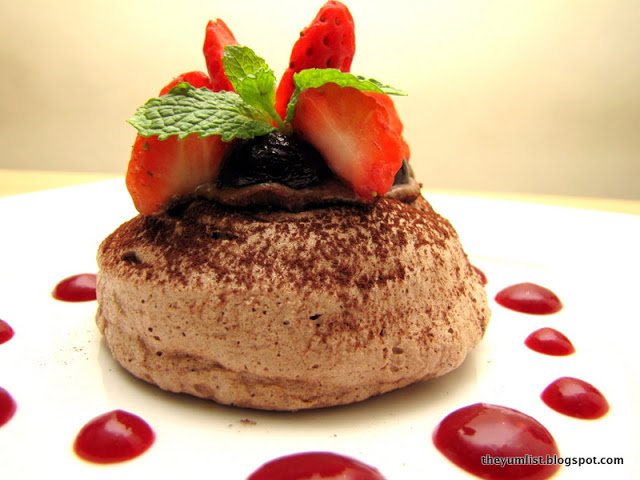 Black Forest Pavlova Chocolate Meringue
Tropical sensations of Coconut Panna Cotta sing in your mouth with this fabulous fusion delight. A crunchy tuile tops pandan infused palm sugar coconut cream. If you're a custard texture lover you will love this dish. It's beautifully set and delicately layerd with the palm sugar sauce, sweet but not too heavy. Of the seven treats tasted this was Caning's favourite.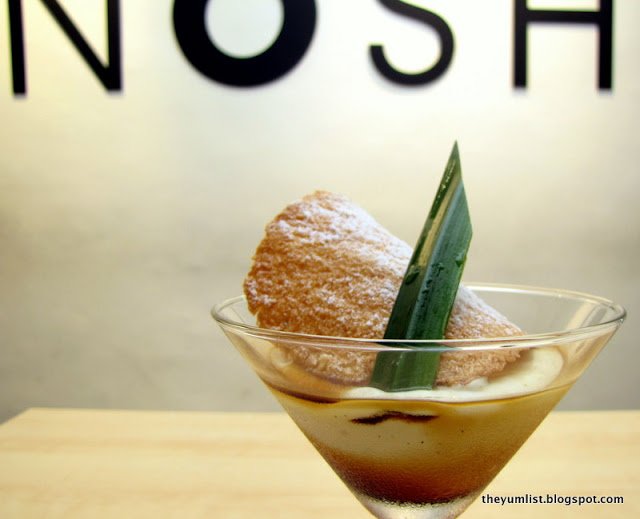 Coconut Panna Cotta
Earl Grey Crème Brulee is prettily served, like everything at Nosh. The caramelized crust has a great crack, topped with their signature whipped Crème Chantilly. It's a light and silky brulee, sweet, savoury and smoky.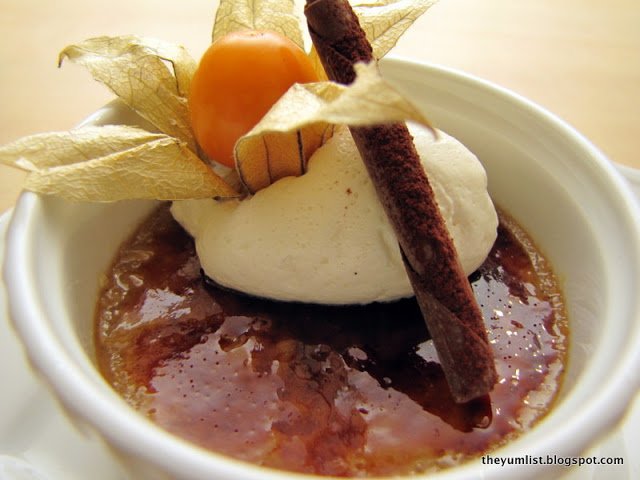 Earl Grey Crème Brulee
Sweet Potato Azuki Gateaux as the name hints, is a Japanese inspired creation. It's a luscious dessert for those with a slightly less sweet tooth. The lightest of chiffon sponge cake, delicate green tea in flavour, sandwiches light sweet potato mousse and rich red azuki beans. Intriguing.
We delight in all our sweet treats. Everything is hand made on the premises, and time is taken to make the presentation appealing to the eye. It's hard to believe that 20 different desserts as well as all the other dishes appear out of that tiny kitchen. It's even harder to believe that this sensational selection of delectable desserts is being offered at such insane prices. The menu heralds:
Choice between any of these two desserts RM19
Choice between any of these three desserts RM29
Choice between any of these four desserts RM39
Choice between any of these five desserts RM43
We've tasted six of the ten and now I need to exercise for five hours. But we haven't finished yet …
Delectable though the specials are. Ann has insisted we try the piece de resistance from the regular menu. This has to be the most delicious, best value dessert I've eaten to date. If you love chocolate, just pack your bags and move in. We counted seven types of chocolate cooking on this share plate of three desserts. Chocolate crumble. Rich chocolate ice cream. Molten chocolate cake. Tarte au chocolate with chocolate pastry, chocolate filling and chocolate topping. And a white Nosh chocolate button. All made with Valrhona, 'the best chocolate in the world', and every part hand made and assembled to order – it's a chocolate lover's decadence such as I've never experienced before. A quote from the table – 'Best dessert ever! No really!" Miss this, you miss out. Valrhona Heaven RM32+++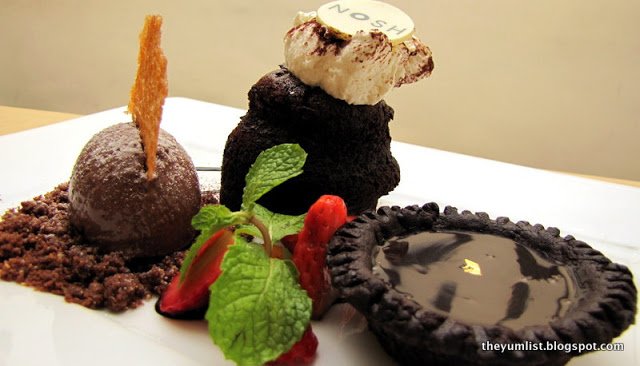 Valrhona Heaven
Reason to visit: seriously some of the best dessert you will taste in KL.
NOSH
7 Jalan Telawi 3
Bangsar Baru
59100 Kuala Lumpur
Malaysia
+6 03 2201 3548
www.nosh.my