Paradise Dynasty
"Legend of Xiao Long Bao"
I now have a compelling reason for a trek across town.
Haunted by thoughts of traffic, it takes a lot of cajoling for me to even
consider the idea of a hike from the city centre to the 'other side'. Coerced by my mate, Sarah, and with persuasive
comments from trusted food bloggers, I took a deep breath and committed to a
dinner at Paradise Dynasty in Paradigm Mall.
Recalling ridiculous radio advertisements playing on the
pronunciation of the name of the mall, it was easy to locate, as just about
everyone I talked to had directions. We took the Smart tunnel to Sunway Pyramid
and then the LDP (Damansara Puchong Highway). Leaving before 5pm from the KL
city centre, we arrived in less than 30 minutes. Being located in a mall
certainly has its benefits – lots of parking and the chance for a quick browse
of the shops while waiting for your dining companions to name just two.
The first thing you see when approaching Paradise Dynasty is
a glass walled kitchen filled with chefs in white uniforms and surgical masks.
We arrived before the rush for dinner so had no wait time to go in. I imagine
though, watching the chefs, hand pulling noodles and making dumplings, might
offer veritable entertainment when there's a line up (as I hear does happen
during regular meal times).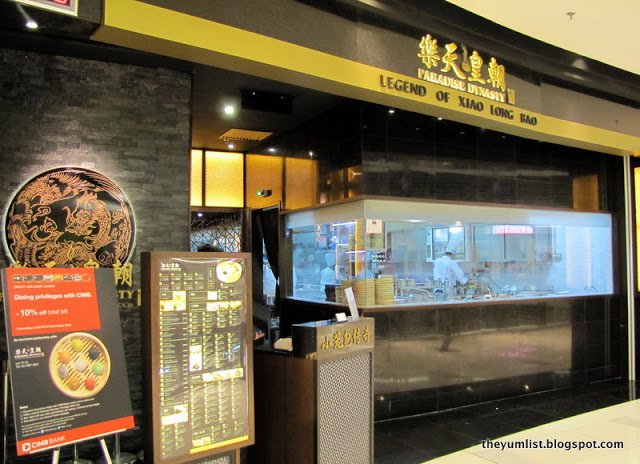 Paradise Dynasty
There are two leading protagonists in this culinary extravaganza
– Paradise Dynasty's eight signature flavours of xiao long bao (Shanghai soup
dumplings) and, cleverly crafted hand pulled noodles.
The Signature Dynasty Xiao Long Bao come in a rainbow of
eight varieties. They are a novelty that
must be tried. Alongside the steaming basket comes an instruction guide. The
flavours are carefully sequenced from subtle to intense so it's advisable to
follow their recommendations for the best experience.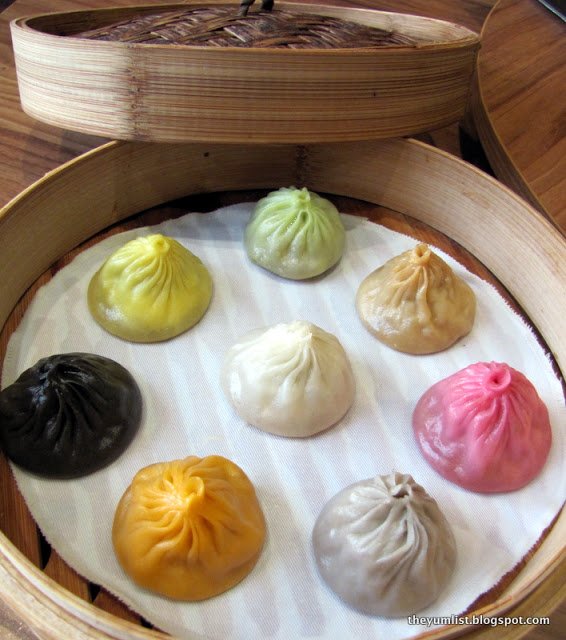 Signature Dynasty Xiao Long Bao (ginseng, foie gras, truffle, cheesy, crab roe, garlic, Szechuan) 8 pieces RM25.80
But… before you put that first dumpling in your mouth,
there's also an eating process to hew to. The initial step is to take the soup
dumpling gently on your spoon. Next carefully break the skin with your teeth,
opening a small hole allowing the soup to cool a little. (DON'T put the whole dumpling in your mouth
straight away. You will get burned.)
After cooling, sip the broth from the opening. Add a touch
of ginger and vinegar and finally you can put the whole dumpling in your mouth.
The order in which to eat the dumplings is this: Original; Ginseng; Foie gras; Truffle;
Cheesy; Crab Roe; Garlic and; finally the most powerful flavour Szechuan. Hard
to pick a favourite, we all agreed the original was fab, the foie gras sinfully
good and the cheesy an unexpected delight.
The second dish that must be ordered is a giant bowl of La
Mian with dried shrimp and scallions. These are the hand pulled noodles in
their simplest form. A light coating of oil and a sprinkling of dried shrimp
and onion make this an apparent Chinese version of the western favourite, aglio
olio. The fine tender noodles and straightforwardness of this bowl of delight
gained it an equal place with the xiao long bao on our list of top
recommendations for this restaurant.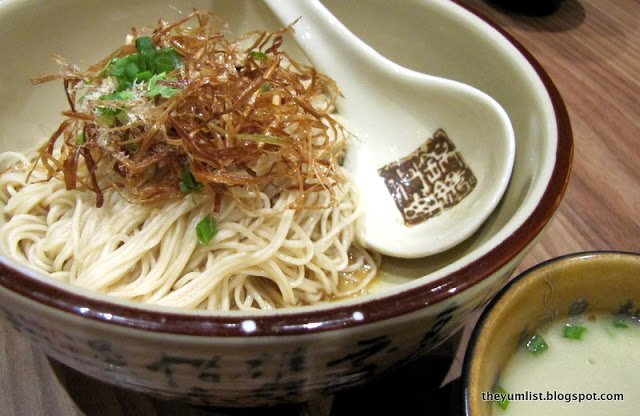 La Mian (hand pulled noodles) with dried shrimp and scallion RM12.80
A seemingly endless stream of dishes appeared on our table.
Too many to recount in detail, but definite preferences captured our western
taste buds. Surprisingly, we all very much enjoyed the Chilled Assorted Eggs
Loaf in Yang Zhou Style. Century and salted eggs came layered in a jello like
double layer loaf – pale straw on the bottom and egg white white on the top. Another
unexpectedly popular dish for us all was the Chilled Jellyfish and Seafood in
Vinaigrette. The spicy and addictive saliva invoking vinegar had us all
clumsily diving in with our chopsticks trying to pick up the last bite.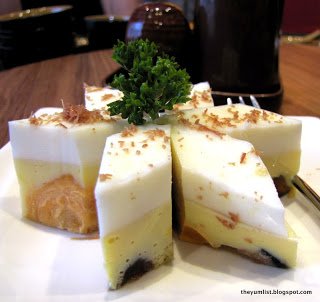 Chilled Assorted Eggs Loaf in Yang Zhou Style RM12.80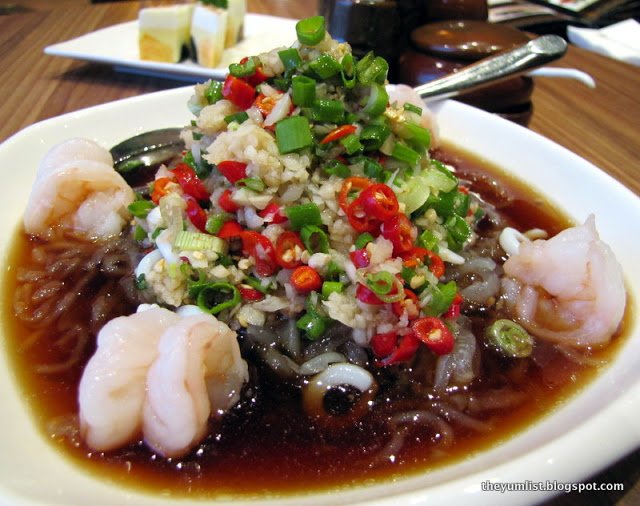 Chilled Jellyfish and Seafood in Vinaigrette RM18.80
The Radish Pastries were nothing short of heavenly with
their delicately light and flaky shell encasing a pasty middle. Both the
Pan-fried Pork Dumplings (filled with warm juice) and the steamed Pork Dumpling
with Hot Chili Sauce disappeared way before they had a chance to cool.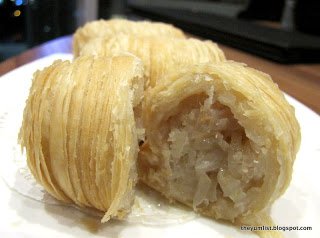 Radish Pastry, 3 pieces RM8.80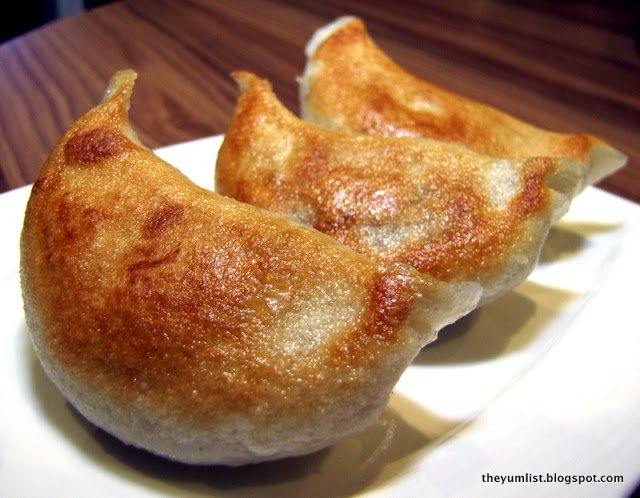 Pan-fried Pork Dumplings, 3 pieces RM8.80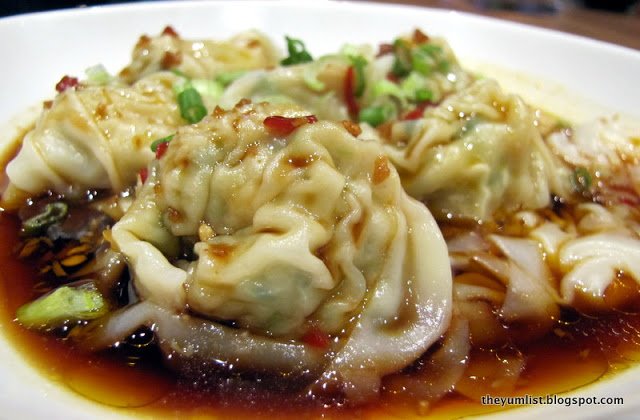 Pork Dumpling with Hot Chili Sauce, 6 pieces RM12.80
The La Mian in Hot and Sour Soup and the Scrambled Egg White
with Fish and Dried Scallop both came served in beautiful bowls and were very
much appreciated by our local Chinese dining companion. The tongue numbing spice, a tad too much for
our delicate palates, left us preferring the plain hand pulled noodles over
this super flavourful variety. The story behind the egg white dish though makes
an interesting tale…. something to do with an evil queen from long ago known
for beheading anyone who made her unhappy. Her chef at the time, knowing the
character of the queen, and knowing that there were no crabs in season when she
wanted a crab dish, created this clever disguise by cooking the egg white in a special
way actually mimicking the crustacean, fooling the queen and presumably saving
his own neck.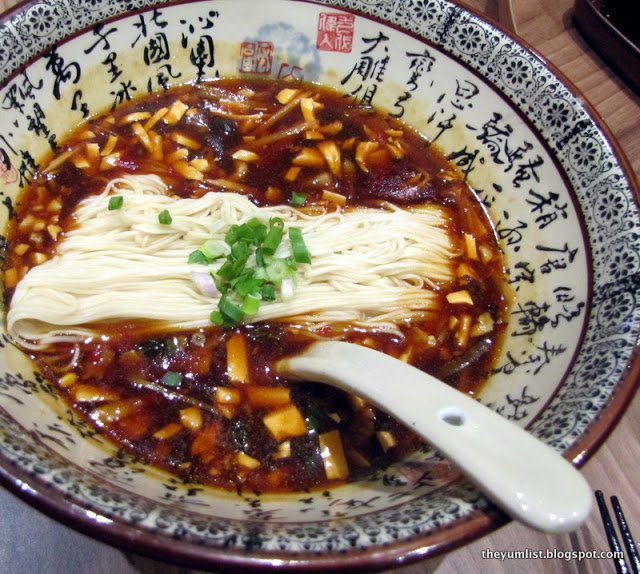 La Mian in Hot and Sour Soup RM14.80
Sauteed Beef with Assorted Mushrooms in Szechuan Bean Sauce;
Shanghai Fried Rice and; Deep-fried Diced Chicken Szechuan Style all would play
well with a large chilled beer. Which brings me to the idea of beverages. The
drink menu is small, consisting of a couple of soft drinks, juices, beer and Pu
Err Tea (which is refillable). There's no wine or wine glasses, but that also
means no corkage fee if you'd like to bring your own bottle.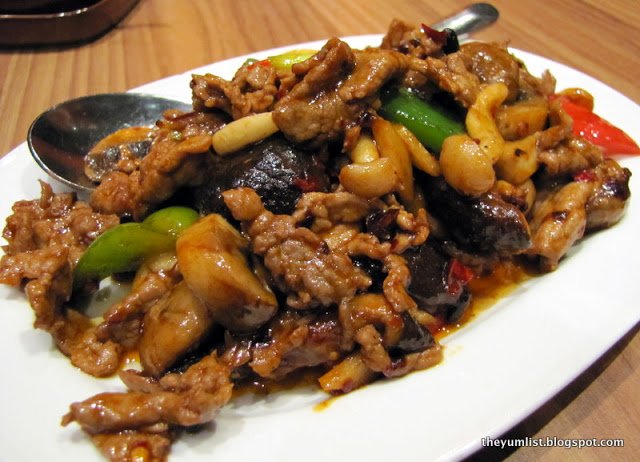 Sauteed Beef with Assorted Mushrooms in Szechuan Bean Sauce RM25.80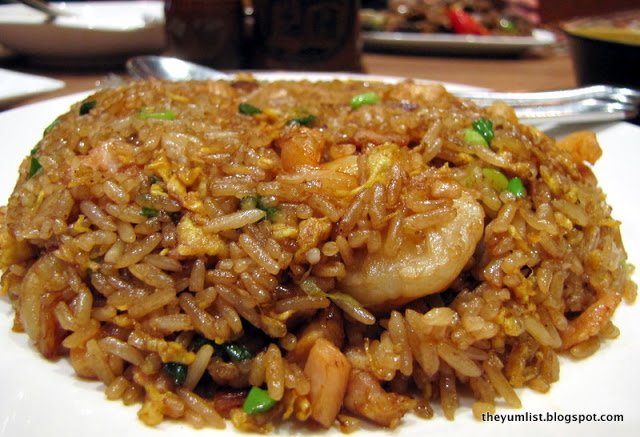 Shanghai Fried Rice RM16.80
Even after many years in the region, I still haven't grown
fond of many Asian inspired desserts. There are a couple on Paradise Dynasty's
menu though, that did not last long enough for anyone to have seconds (even
hubby, who moves at the speed of lightning when he's on a sweets alert only got
one of each).
The Pan-fried Pumpkin Pastries mixed with glutinous rice, giving
them a chewy texture and with a pleasantly low reading on the sugarometer, were
quickly swept up. The Souffle Egg White Balls proved an interested combination
with a red bean and banana stuffing, and the Chilled Aloe Vera and Osmanthus Jelly
in Honey Lemon Juice was extremely refreshing.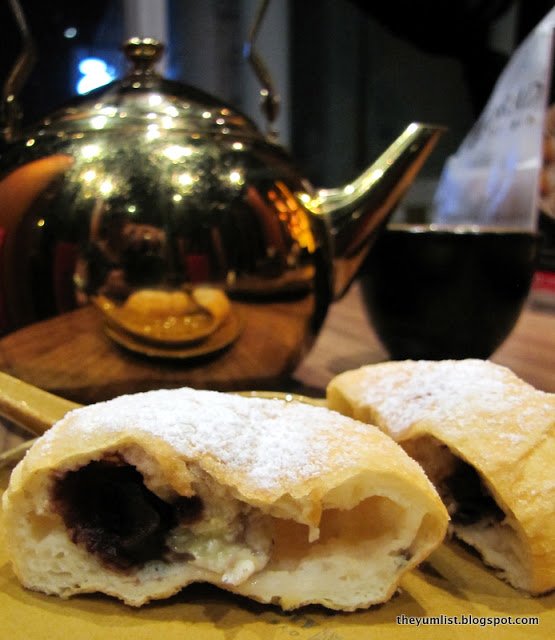 Souffle Egg White Balls stuffed with Red Bean and Banana, 3 pieces RM8.90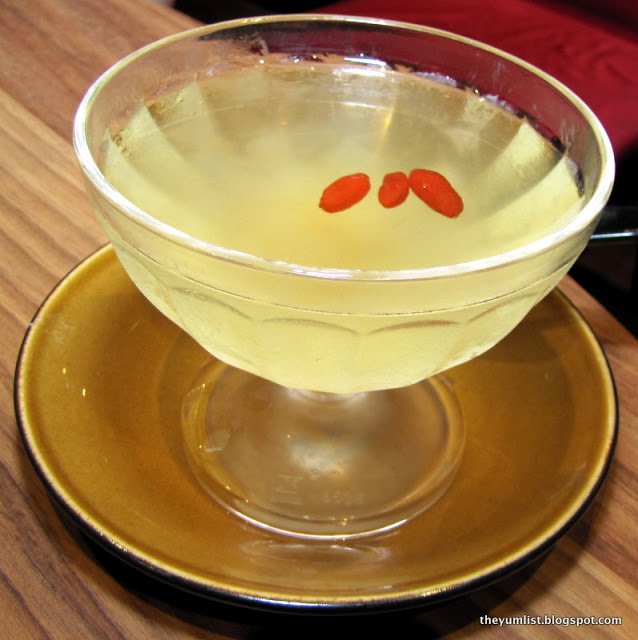 Chilled Aloe Vera and Osmanthus Jelly in Honey Lemon Juice RM8.90
After a very pleasant culinary experience, I encourage
KLites to let go of their fear of the 'other
side' and venture over to Paradise Dynasty for an unforgettable dining affair.
Reason to visit: Eight flavours of the Signature Dynasty Xiao
Long Bao, Radish Pastry, Pan-fried Pork Dumpling, La Mian with dried shrimp and
scallion
Paradise Dynasty
Lot1 F-15
Paradigm Shopping Mall
www.paradisegroup.com.sg
+6 03 7887 5022
Open 11am-10pm daily