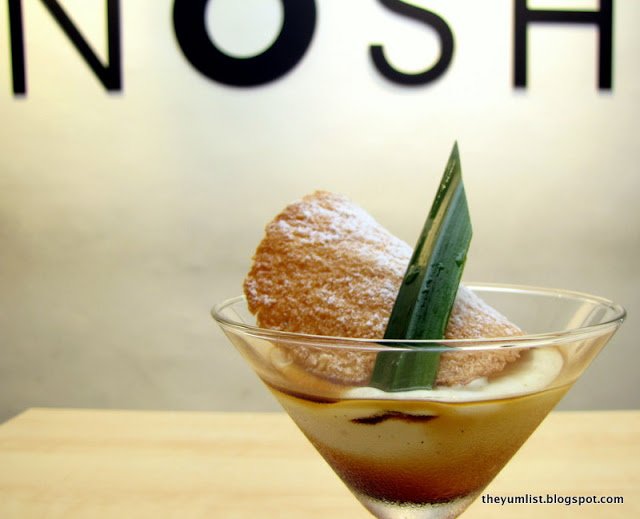 Nosh Bangsar
Dinner at Nosh, Bangsar
Words by Kirsten Durward
Photos by The Yum List
Dinner at Nosh was always
going to be fun. We have been hankering to come back here after our brunch
session a few weeks ago, and we spotted some of the delights on the menu. It's
an early dinner so I've fasted today to be sure to have the appetite for their
generous portions. We start with some picks from the main dinner menu.
Soup of the week this week is
mushroom. Mushroom is one of my favourite soups and this one is no
disappointment. Lovely little baby mushroom balance on top with a lightly
toasted herby garlic bread. The soup has great texture with cheeky chunks of
mushroom dispersed in the velvety smoothness. Mmm… I wonder what next week's
flavour is? Soup of the Week RM16 ++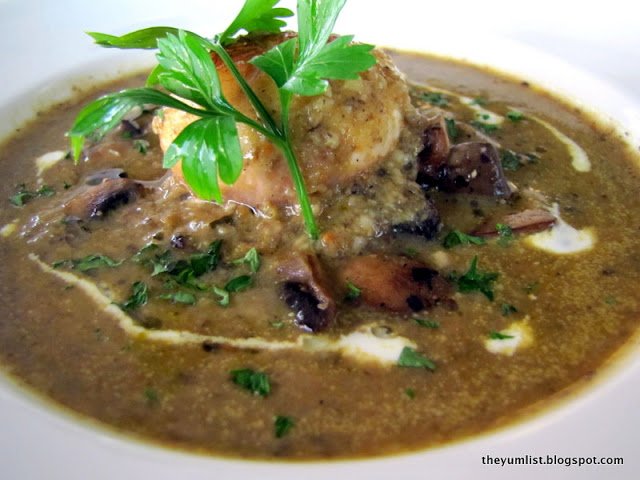 Soup of the week: Cream of mushroom soup RM16

Readers may recall me
claiming not to be a fan of couscous but I'm changing my mind every time I try
it in KL. This one is tossed with flavourful herbs and is beautifully buttery. No
ordinary Ayam Percik lies on top. Marvelously moist chicken on the bone, in
subtle curry sauce, murmuring mixed spice notes, is complemented by a tangy
side salad. It's a brilliant fusion interpretation of a traditional dish and
the best Ayam Perchik I've eaten to date. Roasted Percik RM 29++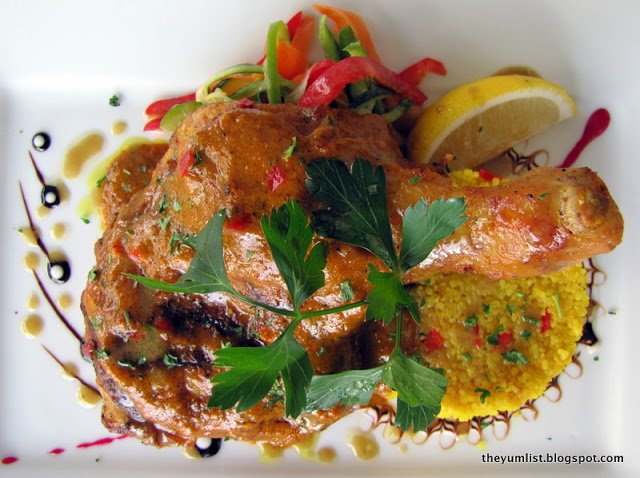 Roasted Percik RM29

We taste a house pouring of
a smoky Australian chardonnay. It's fruity and golden, a decent wine for the price
and reflective of the good range on the menu, happy drinking with our roast
chicken. Black Barrel No 8 Chardonnay RM 21++ per glass 110++ per bottle
A juicy rack of New Zealand
lamb; oversized lamb chops vie for space with a giant stuffed Portobello mushroom
in the next Nosh offering. We all relish the tender taste of the luscious lamb;
crispy outer, pink inner, full flavour, generous gravy. But the Portobello
mushroom blows us away. The huge dark cap, stuffed with spinach, olives and
tomatoes, topped with cheese is a dish in it's own right. Monica and I
immediately demand its addition to the brunch menu. A new Yum for sure! The Nosh Rack RM 52++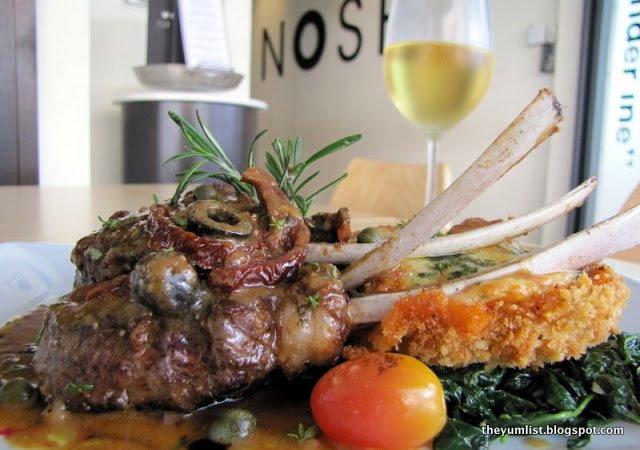 The NOSH Rack RM52

Someone in the kitchen knows
how to handle meat. As the beautifully basted and braised beef loin confirms
for us. The meat needs no enhancement, but pink peppercorn sauce is a treat
your taste buds will die for. With a nutty texture and a delicate rose perfume,
the delicately spiced true pepper flavour has us dipping back for more. I could
wax on about potato gratin for lines, but let me just tell you, it's great – firm,
smooth, herby, cheesy, creamy. Try it. Beef Tenderloin RM 70 ++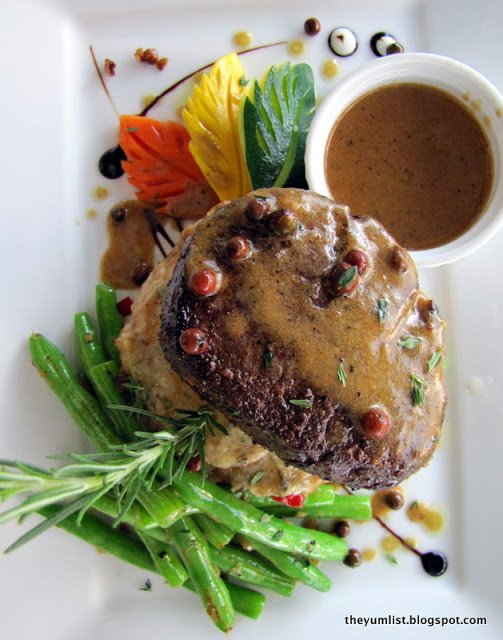 Beef Tenderloin RM70

The
house pouring of Cabernet Sauvignon is a good tipple with the meat dishes, it's
slightly dry and peppery overtones with a hint of mocha on the palate balance
particularly well with the meat dish. Black
Barrel No.8 Cabernet Sauvignon Glass RM21++ Bottle RM110 ++
Ahi Tuna is one of the
pretty pictures that caught our eye before. A carved cascading circle of pink
sesame tuna is placed in a pool of verdant glowing green wasabi. Thickly sliced and easy to eat, with just a
tint of piquant lime in the colourful sauce. I remember Ann's mantra; 'Eat with the eyes,
eat with the stomach, eat with the memory.' It works. Ahi Tuna RM 52 ++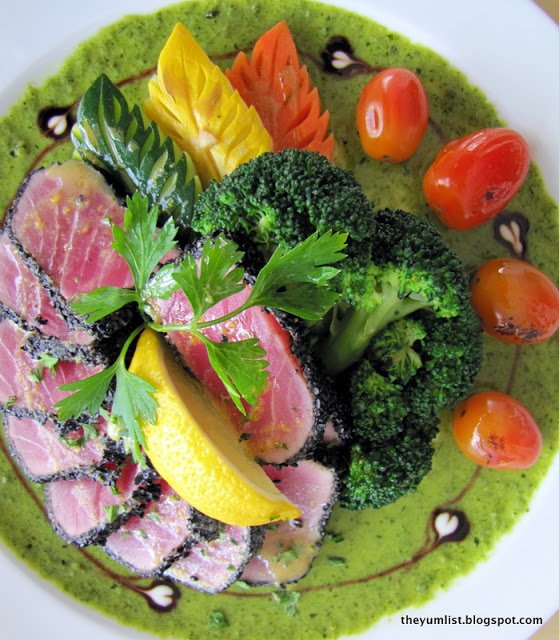 Seared Ahi Tuna RM52

On top of the regular dinner
menu, Nosh also offers monthly specials, for which you may check their website.
We tried Smoked Salmon Salad, an interesting combination of crisp salad leaves,
bell peepers thinly sliced crunchy carrots, in a lemony dressing. It's fresh and light with the salty salmon and
has an under-fill of baby boiled potatoes. Smoked Salmon Salad RM
29++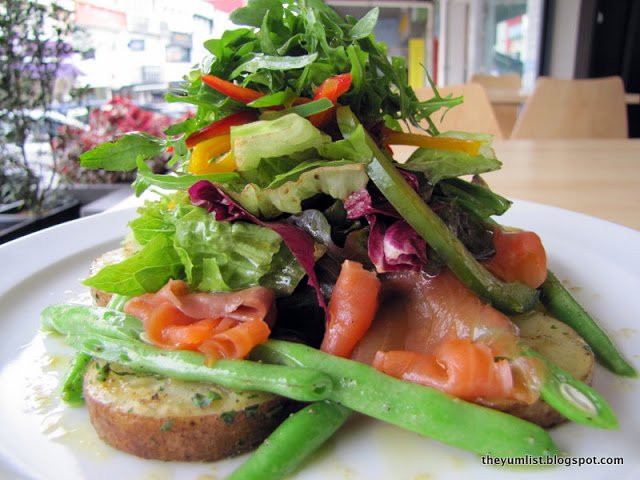 Smoked Salmon Salad RM29

Another special, sweet
potato gnocchi, firm yet soft, is layered over with meaty juicy chunks of lamb.
Thick delicious red wine gravy is shot through with carrots, a beautifully rich
and textured dish with a tiny hint of a spicy bite in the sauce. It's a tasty
peasant dish that will warm your soul and fill your belly with pleasure. Lamb
Ragu RM 38 ++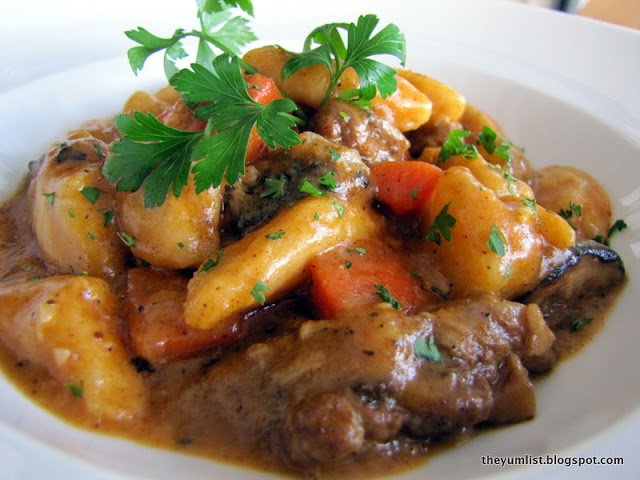 Lamb Ragu Gnocchi RM38

Orange Sicilian is a tall long
drink, slightly sweet and a hint of sour on the back of the throat. Blood
orange syrup, Campari, fresh orange and tonic. It's refreshing and would be
great on a warm afternoon.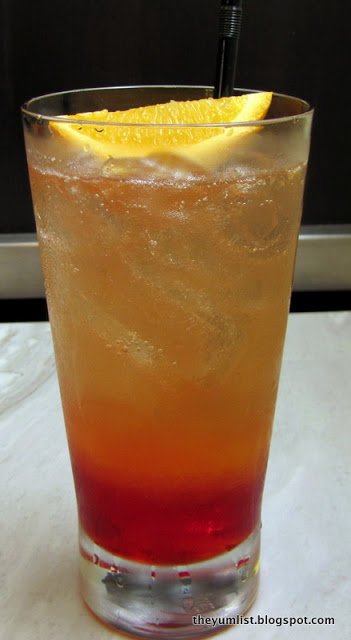 Orange Sicilian RM26

Brandy, red wine, strawberry
syrup combine with orange to compose Nosh's take on sangria. The Strawberry Harvest
sweet and slightly syrupy with floats of macerated strawberry. 'This drink, I
love it!' murmurs Caning, and happily downs the glass.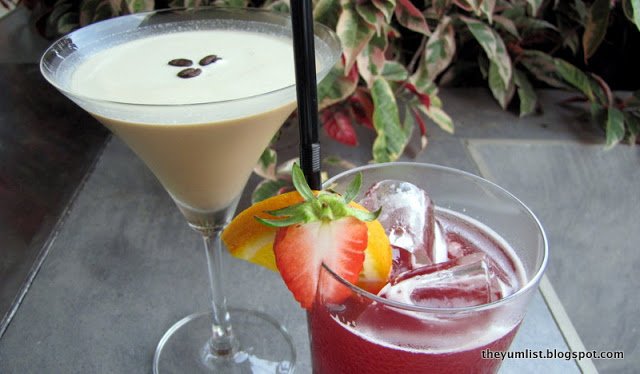 Nutty Obsession RM26 and Strawberry Harvest RM26

A Rum Espresso, with
hazelnut syrup and ice cream looks stunning in the glass, holding its form
well. On tasting, it is smooth and foamy
with a lovely coffee hit. Nice for after
dinner or in the afternoon with dessert. All cocktails RM 26++
We're so plied by desserts
that I have to write a whole separate section –
Desserts at Nosh.
Well folks, here are my
thoughts. It's worth the trip to Bangsar to enjoy this first rate food. The
restaurant looks simple, that's because all the frills are in your food. Nosh
provides great value for the quality and quantity of food served. And between 3pm to 7pm there is 20% off
drinks. Hmm time to knock off work early
one day?
Reasons to visit: Fresh and original menu, beautifully presented dishes, and value for
money.
NOSH
7 Jalan Telawi 3
Bangsar Baru
59100 Kuala Lumpur
Malaysia
+6 03 2201 3548
www.nosh.my