Acme Bar and Coffee (ABC)
ABC – Acme Bar & Coffee
Words by Craig J Selby
Photos by The Yum List (Monica Tindall)
I was told I was in for a treat, and a slightly different treat at that. So as I walked through the door of Acme, it fast became evident that my leisurely Sunday brunch was going to be different. No, more than different, special!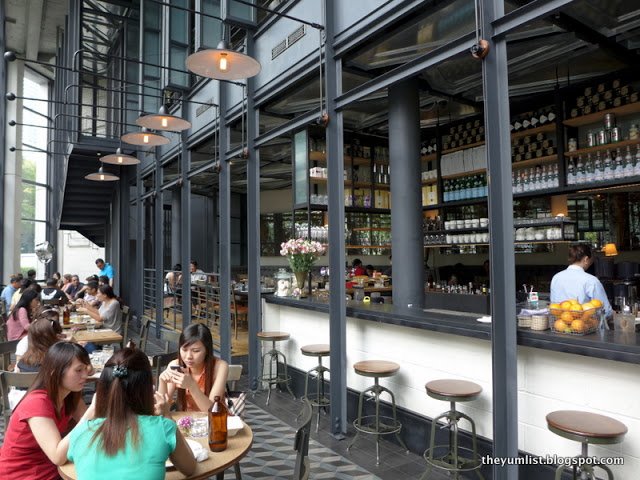 Acme Bar and Coffee (ABC)
Located on the ground floor of the impressive Troika building, just on the outskirts of the KLCC park, Acme is a casual dining restaurant with character. Décor has both an industrial and post-modern feel about it, with high concrete ceilings, extensive use of steel and glass, but some quirky additions such as old lamps, 1920's style tiling, solid wooden tables, and of course, an awesome al fresco dining area.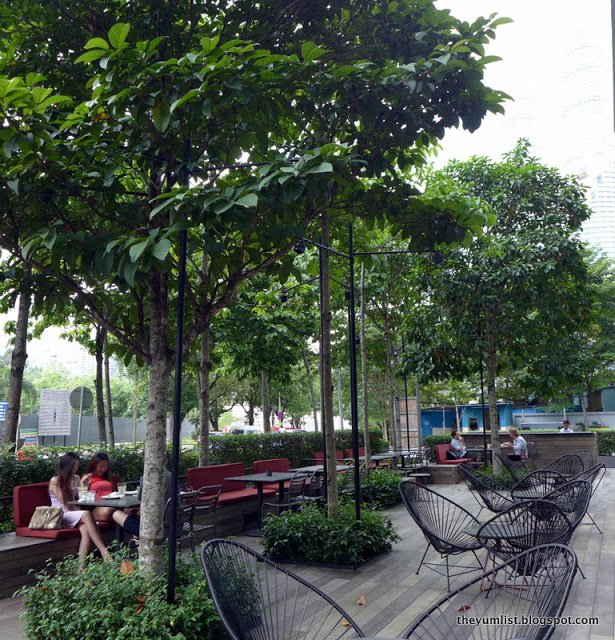 New Outdoor Patio
My friends joined me shortly after and we sat down to consider the menu. Recently launched, their new summer menu had some items on it that I've never tried before – this was going to be a gastronomic explosion for me, in a very good way. Sitting outside, we were shaded by mature trees, with just a hint of a gentle wind. The seats were comfortable, and the passing traffic was just a mild hum in the background over catch-up conversation. We settled on our wine –Anakena Sauvignon Blanc from Chile. Nice and light in colour, with a fruity nose, it was a splendid drink to start the day with.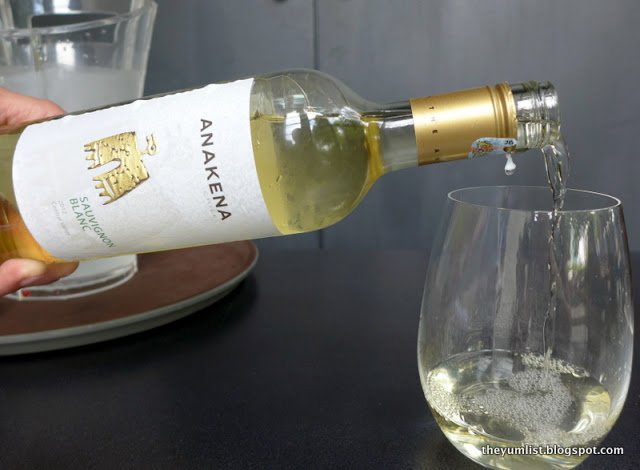 Anakena Sauvignon Blanc
As usual with this small group of friends, we tend to order a selection for sharing. We know what each other likes and dislikes, and we try to challenge ourselves to explore new items, and things that are a little unusual, as well as a few old favourites.
For entrée we had a crab salad, potato nuggets, and a hot dog. The Summer Crab Salad encased fresh chilled crab meat, served with corn over crunchy cos lettuce. Added lemon chunks were supplied to gently squeeze and add flavour to taste, making this a perfect summery salad. Presented with bright, bold colours, this dish tasted as good as it looked, and certainly didn't disappoint. Accompanied by garlic bread cooked the old fashioned way – so that there was a crunch sound as you bit into the crispy dough – we were off to a great start.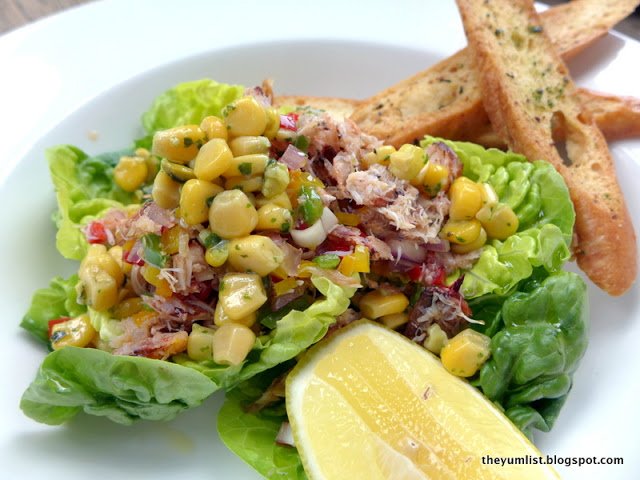 Summer Crab Salad
The potato nuggets, Patate Fritte, were a delightful bowl of mini mashed potato balls, deep fried and served with a chilli mayo. What set this dish apart was the addition of deep fried basil leaves, adding not only a great aroma to the dish, but a really intriguing texture to it as well. They say the simple things are best, and I am a giant potato fan – this is a dish I wanted seconds of.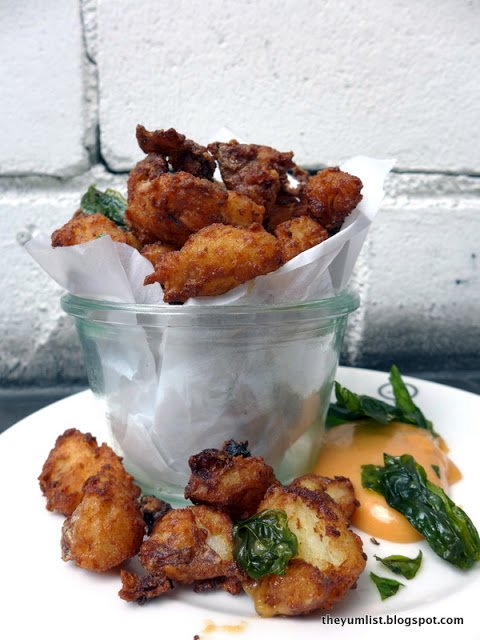 Patate Fritte
To complete our shared entrée, the Grilled Jumbo Hot Dog arrived. Smothered in caramalised onions, reminiscent of a liquorish taste, this was a generous hot dog full of flavour. Yes, familiar comfort food, but with a hint of sophistication. The home-made bread added to the enjoyment. Needless to say, the dog didn't last long on the plate, and we were pretty soon contemplating our main order.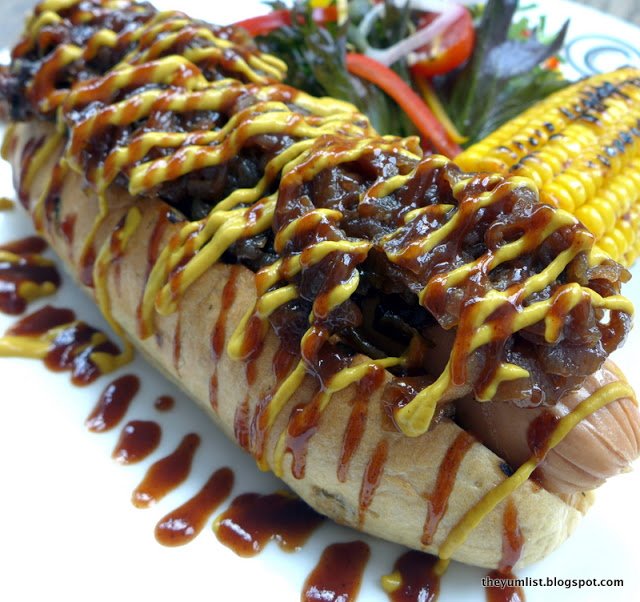 Grilled Jumbo Hot Dog
A few sips of wine in between before the mains arrives. A delightful angel hair pasta dish arrived, with pan seared scallops and embedded into the pasta, beansprouts. This is the first time I've had beansprouts with pasta, and I was mesmerised by not only the flavour, but the textures that it offers when eating. The sprouts were nice and fresh, and really extended the flavour of the pasta, without overpowering it. A great fresh aroma to the dish, it certainly was unlike any I have tried before.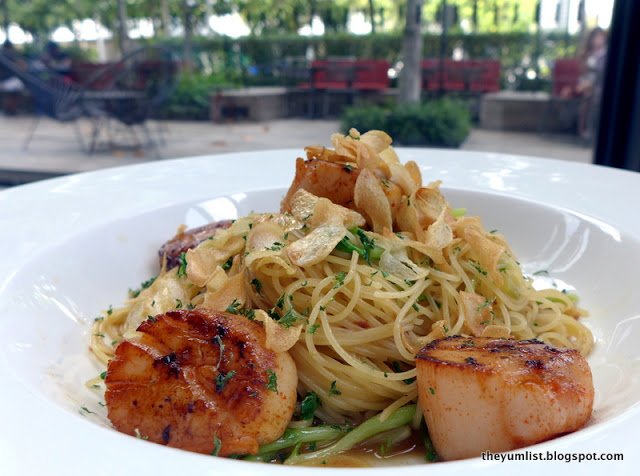 Angel Hair Pasta with Scallops
We also decided to opt for something that none of us had tried before – ostrich. Yes, that's right, ostrich. Grilled to perfection, the fillet looks somewhat like veal, was served medium rare, and was tender to the bite. In reality, it shared a lot of taste notes with beef, but it was clear that there was something special about this. Definitely a must try,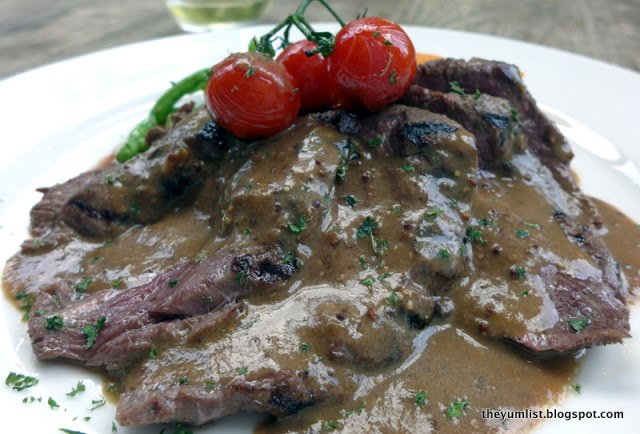 Ostrich
Dessert was a taste exploration too – we started with the tarragon ice-cream. When cooking, which I've been known to occasionally do, I love to use tarragon. Its unique flavour, coupled with its ability to compliment many dishes, is a draw card, so the opportunity to explore one of my favourite herbs in an ice-cream was just too much to miss. A creamy consistency, this divine concoction slipped down beautifully. Yes, there was more than a hint of tarragon, but it certainly added depth to the ice-cream, rather than overshadow it as I had expected.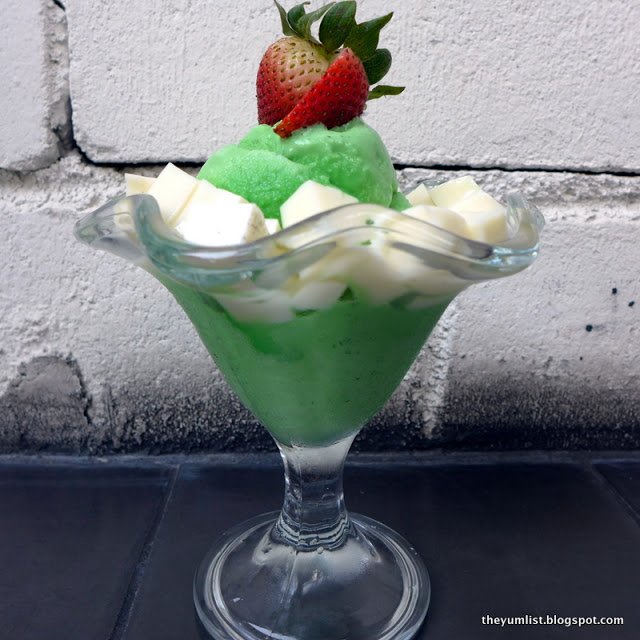 Tarragon Ice Cream
A second ice-cream was their black forest ice-cream (with oreo). Best described as a children's playground, simply because it bought back nostalgic memories of a younger me, when chocolate ice-cream would be smothered in broken cookies and topped with rich syrup. This dessert certainly was bold in flavour, rich chocolate, super crunchy cookie crumbs – a perfect combination.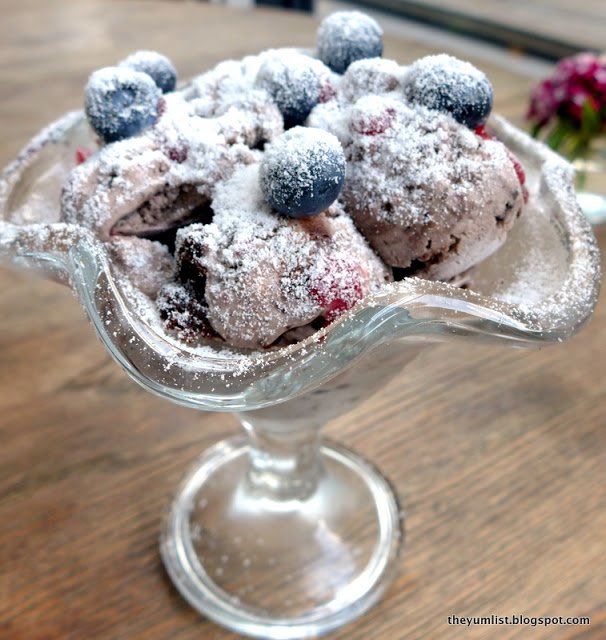 Black Forest Ice Cream
To top off brunch, we tried the Ugly chocolate cheesecake. Ok, we tried it purely because we wondered how a cheesecake could be "ugly". It was presented well, looked normal – we were later told it is called "ugly" because sometimes it doesn't come out of the oven at the same height. I can only say, these guys here are tough on their food! With three layers of chocolate, each layer nice and firm, the ugly chocolate cheesecake was certainly a winner. The old adage is right – don't judge a book by its cover (or name) – this is another must have.
Finishing off brunch, and continuing our conversation, we were surrounded by the wafts of coffee and tea. I had the cherry marzipan tea – again, something new for me. Subtle flavours, complimenting the desserts, and leaving a nice aftertaste.
Definitely worthy of The Yum List, Acme is a great place to sit back, unwind, and enjoy time with friends over great food, wine and conversation.
Reason to visit: new al fresco dining area, good coffee, hip setting, black forest ice cream, patate frittes, ostrich, angel hair pasta,
Acme Bar and Coffee (ABC)
Unit 1 The Troika
19 Persiaran KLCC
50450 Kuala Lumpur
Malaysia
+6 03 2162 2288