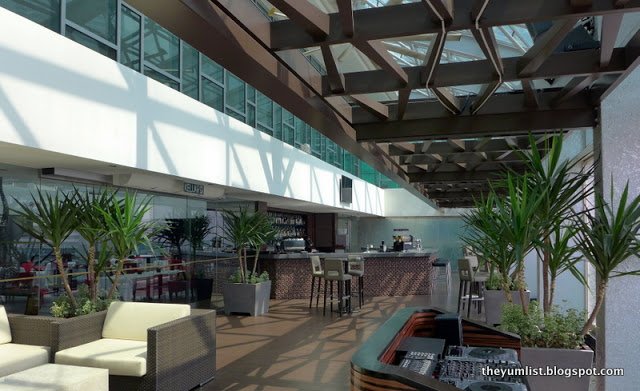 Cedar on 15 – Bar
Cedar on 15, Impiana KLCC Hotel, Set Lunch Menu
Rooftop restaurants and sky-high bars are a sure delight for any visitor or resident wishing fine views of the city centre as an accompaniment to their meal. Cedar on 15, Impiana Hotel's top floor restaurant, has recently extended its opening times to include lunchtime vistas in addition to its current evening offerings.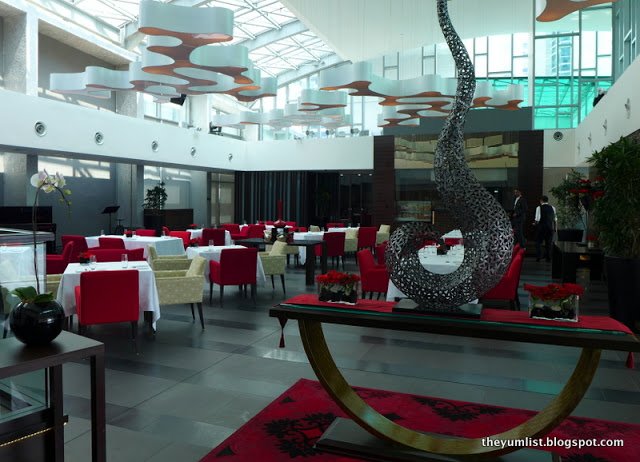 Cedar on 15 – Restaurant
White clothed tables are set with simple vases of red gerberas matching crimson cushiony chairs. A transparent ceiling lets in natural light and a palette of maroon, beige and chocolate, stylishly colours the walls and floors. The space is gently lit in the evenings with cloud lighting (hanging nebula formations) creating a soft intimate ambience. Viewed through the floor to ceiling windows of the private room, or open walled bar, are the majestic twin towers.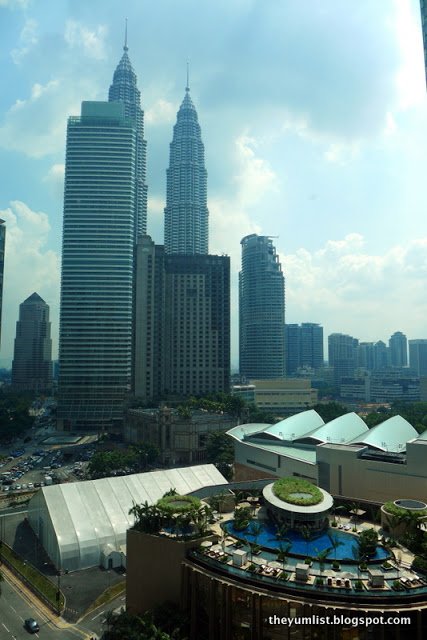 View from the Rooftop
The menu is primarily Western with some delicious touches of Austrian inspiration. A choice from two starters, three mains and two desserts is accompanied by a mocktail and coffee or tea in the set lunch deal. Lighter, lush, vegetarian and heartier options are all present, making Cedars on 15 an easy choice for any lunchtime get together.
The meal begins with a Green Energy Mocktail – Red Bull, soda and mint leaves. This slightly sweet concoction had hubby gasping, "Light but super refreshing!" while eagerly eyeing mine.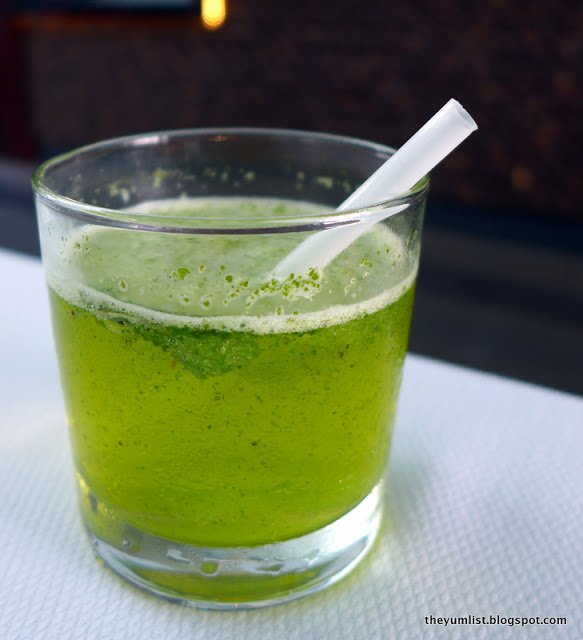 Green Energy Mocktail
A bread basket follows filled with warm olive ciabatta, soft rolls and wholemeal grainy slices. Rounds of both plain and sundried tomato butter are at a perfect spreading temperature – cool enough to hold their form, tepid enough to melt lusciously on hubby's heated white roll.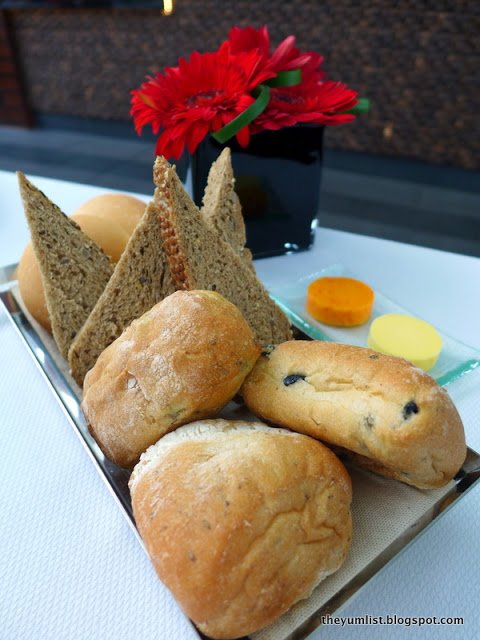 Warm Bread Selection
Soup or salad, vegetarian or not is the first option. I chose the Creamy Mushroom Soup infused with Truffle Oil. A deliciously earthy taste was highlighted with the drops of the luxurious fungus slick. A small circle of cream, freshened with a sprig of parsley, floated atop the warm dusky brew. Clearly made from fresh mushrooms, the soup is an excellent choice.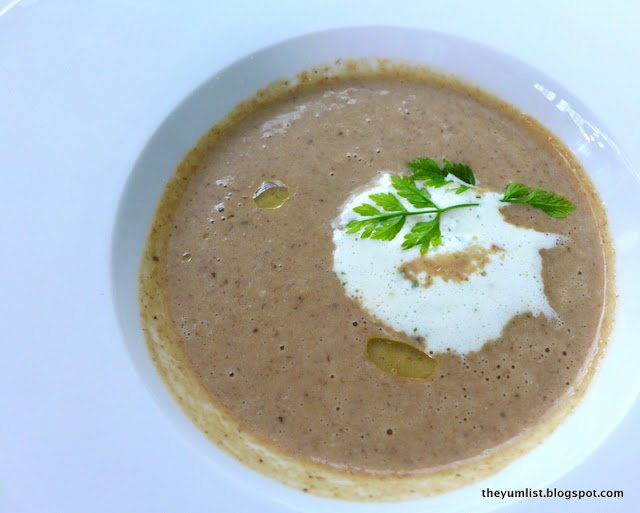 Mushroom Soup
Fresh Cameron Garden Greens with Italian Beef Bresaola and Aged Balsamic Dressing was hubby's pick. Thin wafers of beef twirled the top of a mound of fresh leaves. The smooth meat was complemented by a combination of sweet and tart semi-sun dried cherry tomatoes. The balsamic dressing had just enough bite to please me, and enough oil to satisfy hubby.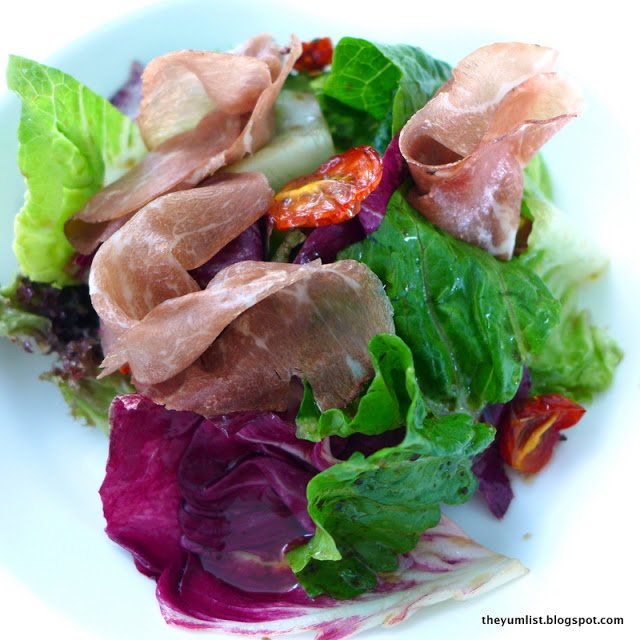 Fresh Cameron Garden Greens with Italian Beef Bresaola
Fish, turkey and vegetables for the main plate furnish diners with alternatives that will please both plant and protein lovers alike.
Sliced Turkey Breast Zurich Style served with Creamy Champignon Mushroom sauce, buttered Fettuccini and Broccoli Florets got hubby's vote. Caramelized beetroot brightened and sweetened the dish as oval drops of loveliness on the side. Al dente ribbons of pasta were covered with a pasty mushroom sauce. Small bushes of broccoli brightened the dish and added some contrasting crunch to the texture. The turkey is a great choice for someone wanting something a little more filling in the middle of the day.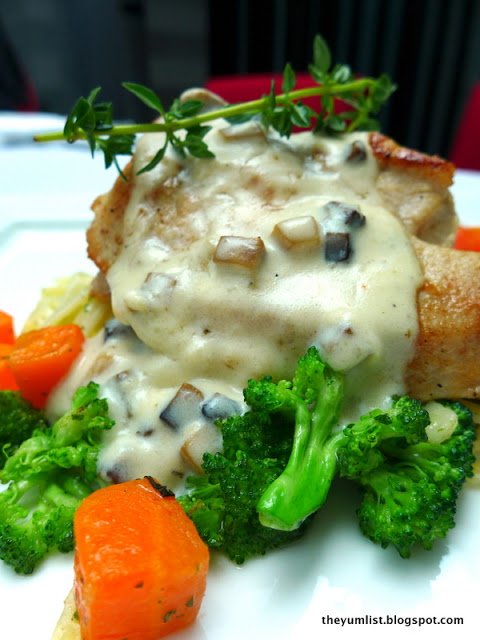 Sliced Turkey Breast Zurich Style
Pan Seared Fillet of Seabass with Sea Salt Foam on stewed Lentils and Caramelized Beetroot took my fancy. Flaky white fish was the focal point of the dish, but the deep red beetroot drew the eyes (and taste buds) to the edges. The lentils were still rather firm providing a wonderful meatiness in the mouth in direct contrast to the creamy sauce and soft fish. More than satisfied with my picking, with the chance to dine at Cedar on 15 for a set lunch again, I'd probably choose the same for my main.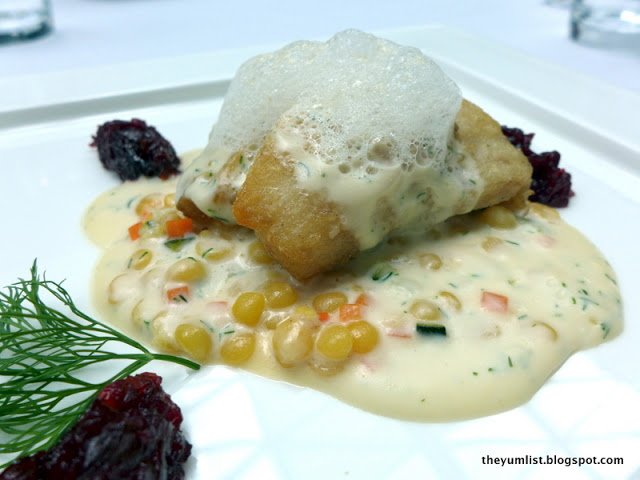 Pan Seared Fillet of Seabass
Grilled Vegetable Cheese Terrine with Basil Pesto and Semi Sundried Tomatoes is the vegetarian option. While neither of us tasted this dish it presented as an eye pleasing colourful garden of sautéed vegetables and lightly browned cheese.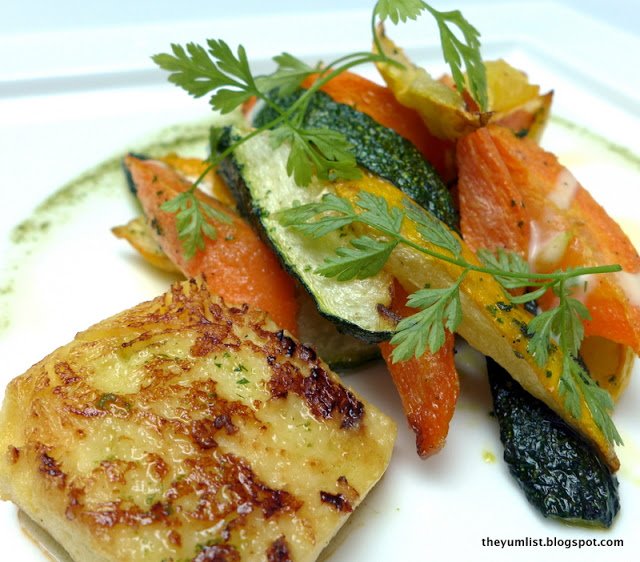 Grilled Vegetable Cheese Terrine with Basil Pesto
In the future, diners can look forward to chef's famous Cod Fish being added to the lunch menu. Popular since opening, this dish has stood the test of time. A pumpkin seed crust crests flakes of white flesh. Pumpkin seed and yellow carotene oil (according to chef this latest trend in oil is even healthier than olive oil) fringe the edge. Fennel puree and mushroom confit are exciting sides, but nothing can distract for too long from the delicate, lean, moist fish meat. Whether visiting Cedar on 15 during night or day, this dish is an a la carte must order!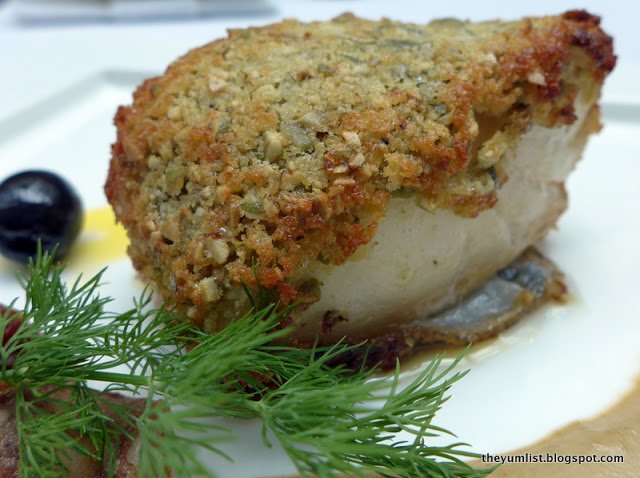 Pumpkin Seed Crusted Cod Fish
We were lucky chef Helmut was on hand during our visit so we were able to sample one of his meatier dishes which is usually only available on the dinner menu. Venison is a definite inspiration from his home in Austria. An addictive dough made of sour cream surrounds tender chunks of meat and a brown demi–glaze infused with juniper berry moistens the base. Brussels sprouts top caramelized slices of beetroot in a winning combination of two of my favourite vegetables in one vibrant tower.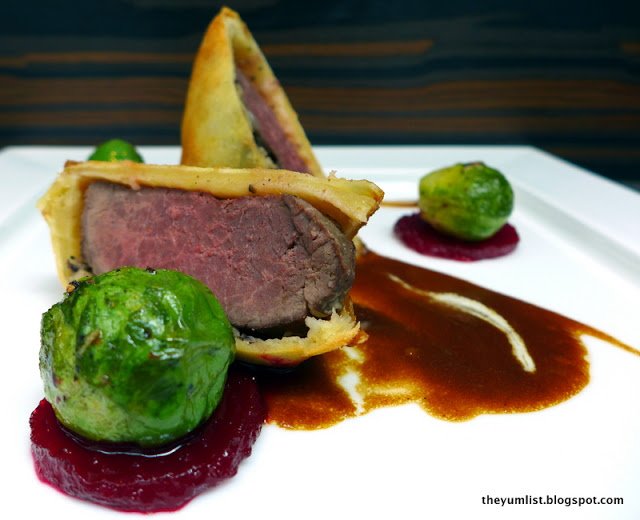 Venison
Austrians are known for their cakes so it's no surprise that dessert was fabulous. Totally seduced by the Chocolate Seduction (an a la carte option), this was a hard one to share. A round plate of thin dark chocolate bottomed a dark cylinder of layered rich chocolate cake. The rim was studded with orbs of decadently rich dark cocoa mousse. Sprinkled with edible flowers, striped with chocolate sauce and adorned with white chocolate ganache, this dessert is a culinary turn-on.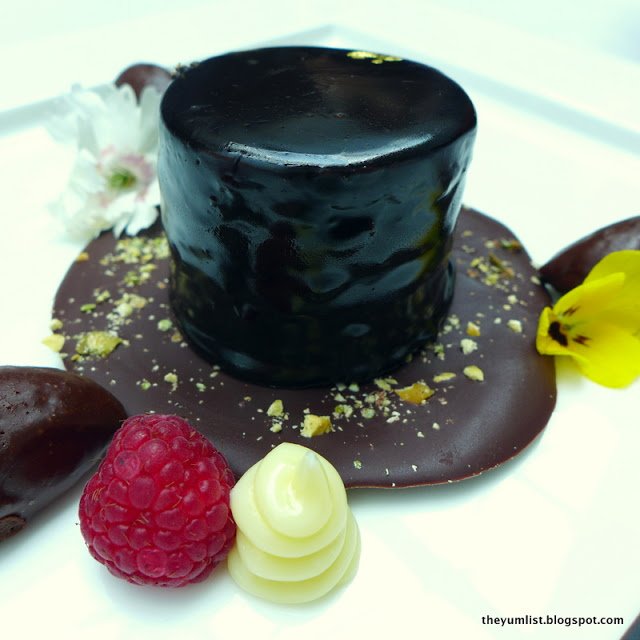 Chocolate Seduction
Back to the set menu… For a sweet ending, guests can take their pick of indulgent or figure-watching: Sweet Watermelon Gazpacho with Calamansi Sherbert or; New York Cheese Cake with Raspberry and White Chocolate Ganache. The cheesecake was superb (or at least hubby tells me it was… he had it finished in a mere few moans of delight). The chilled watermelon soup was too a refreshing hit. Centred with a square of red melon, capped with a pale green ball of sorbet, and sided with a mix of berries, this colourful playground was both conscience pleasing and refreshing.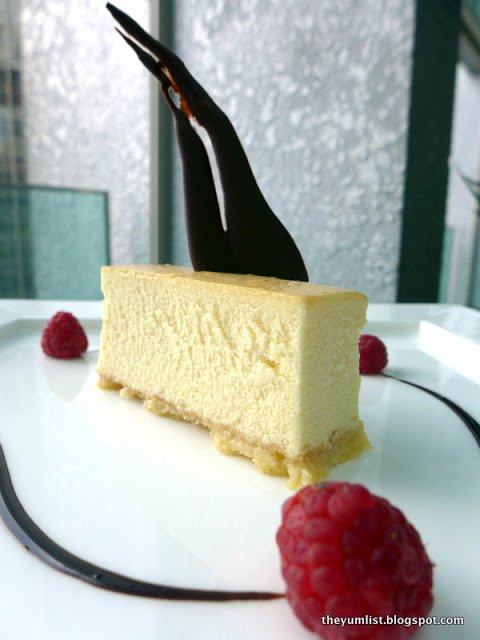 New York Cheese Cake
Your preference of coffee or tea finishes the meal.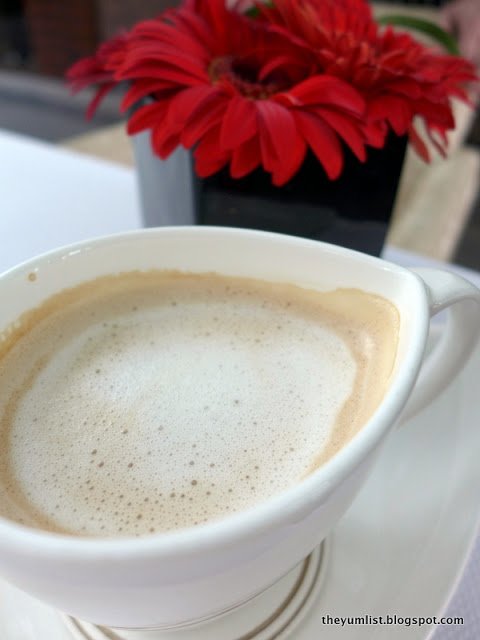 Coffee or Tea ends the menu
The set lunch deal is priced at RM55 ++ for two courses and RM58++ for three courses. (Definitely order three! Don't miss an Austrian chef's desserts!) Lunch runs from Monday through Friday, from 12:30pm until 2:30pm.
Reason to visit: set lunch deal with options to please all types of eaters, KLCC views, if ordering off the set menu don't miss the Pumpkin Seed Crusted Cod!
Cedar on 15
Impiana KLCC Hotel
13 Jalan Pinang
50450 Kuala Lumpur
Malaysia
+6 03 2147 1111