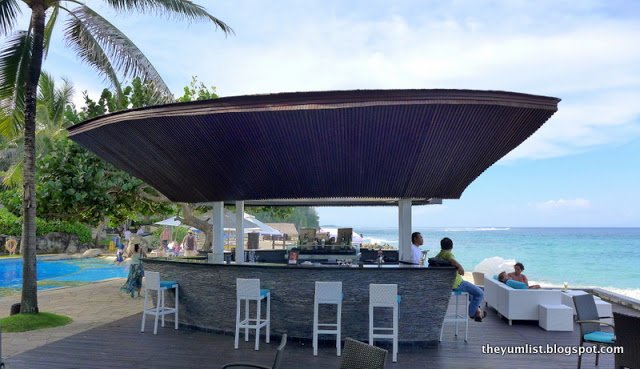 The Bar at the Shore Restaurant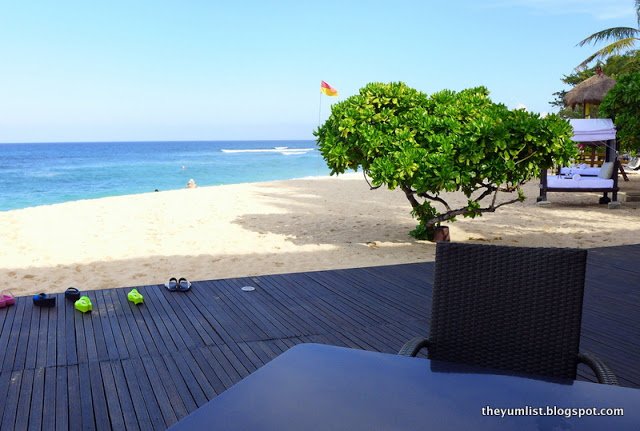 Afternoon tea with a beach view
Afternoon Tea at The Shore Restaurant, Grand Nikko Bali
Words by Kirsten Durward
Photos by The Yum List (Monica Tindall)
There is no more quintessential English ritual than the ceremony and serving of an Afternoon Tea. Folk history has it that Anna, 7th Duchess of Bedford experienced a 'sinking feeling" during the late afternoon. She appeased her hunger pangs by ordering tea, sandwiches and cakes in her bedroom. Enjoying the experience she invited friends to join her in the drawing room for tea, following a walk in the fields. Society hostesses were very competitive in the early 19th century so Afternoon Tea soon became the raging fashion.
From the drawing rooms of London to the beaches of Bali, I am sure that dear Anna would loved to have joined us for this elegant experience at the Shore. When I arrive, Monica is already relaxing on a colonial style white sofa replete with turquoise cushions, gazing out at the startling blue of the Indian Ocean. She is sipping from a classic white china tea cup from which the aromatic scent of Moroccan Mint drifts on the breeze. Readers know that I am always keen to try something different, so I select the Moon Fruit Black, which is a fruity and floral tea, gently warming and relaxing.
As tradition demands we are served with a tiered selection of delicate delights. Too many temptations fill my vision, so I focus on the savoury options on the base. Pastry Chef Katarina Sari is showing a playful mentality with her original creations. Egg sandwich two ways features a paper thin omelette around a yummy savoury egg mix. Shame there is not more of them. The opposing savoury is a delicate wrap filled with lightly cooked roast beef with asparagus. Yum!
We move upwards to find flower shaped chocolate fondant cake fudgy and soft. It vies for my attention with tiny choux puffs full of orange chocolate mouse and slivers of pistachio. Food fit for a duchess, surely. Tiny fruit boats with buttery short crust pastry and filled with silky crème patisserie don't last long. Monica loves the tangerine mousse cheesecake with its deep infused flavour.
Chef really has spoiled us with this range of cakes, but the top layer contains a range of biscuits to die for, glowing macaroons, chocolate dipped coconut cookies and a glass of candied cashews topping the lot. I defer to Monica's greater experience with macaroons, and she declares these a winner, crispy on the outside with a gooey, chewy inner. We tasted Katarina's work at breakfast but now we are even more impressed. She has managed to elevate this indulgence into a works of art. We've eaten a lot but we feel light and relaxed, not overfull and as it's only 4pm we feel we have plenty of time to recover before dinner.
Reason to visit: A supremely tasteful and elegant afternoon tea. Wonderful sea views. Incredibly light pastries.
Grand Nikko Bali
Jl. Raya Nusa Dua Selatan
Nusa Dua, Bali, Indonesia
Tel +62 (0) 361 773 377