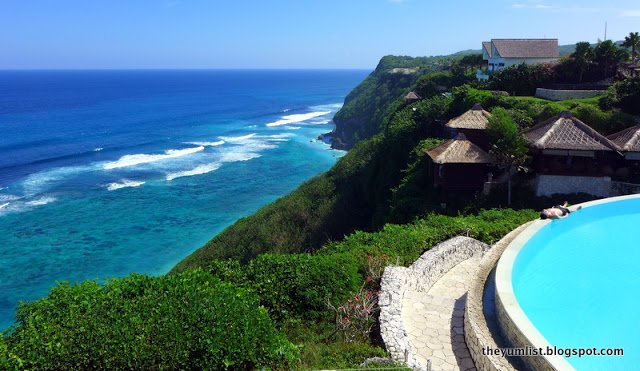 Di Mare Restaurant, Karma Kandara
Di Mare Restaurant at Karma Kandara Resort
Words by Kirsten Durward
Photos by The Yum List (Monica Tindall)
Gaze out over white walls at the glistening turquoise sea, and you could wonder whether you were in Greece or indeed in Bali. But Bali it is and our host at Karma Kandara is telling us how the group is striving for environmental harmony and to inspire an appreciation of the rich Balinese culture.
As someone who regularly travels alone, on reading Di Mare's menu I am ecstatic to see the Bali influenced daily specials offered with a 75 ml glass of wine paired to match the dish. What a great idea. I wonder if we are trying any of those today. But no! Although Di Mare currently offers a range of Mediterranean style fish dishes, grill options and salads, new Chef Miles seems to have plans for change. He has created a special menu for our tasting, which is to be a surprise. Well great, I love surprises too!
Di Mare's menu features a large range of cocktails, fresh juices, vitamin boosters and cleansers so you can detox or retox depending on your mood. Di Mare has a plentiful cocktail list, but their signature cocktails are based on the seven Chakras, a common theme in Bali but I have never seen it cocktail style before. We'd love to report on all seven, but decided three was enough at lunchtime.
Crown Chakra governs universal consciousness, independence and a mental sense of security. In cocktail form this is interpreted as Beetroot juice with white cacao topped up with champagne. A glowing lychee rests in the bottom of the bright red glass. It is elegant for lunch or an early evening sundowner.
Throat Chakra is a beautiful pale blue colour. As it begins to ooze in the warm air we sip quickly not to lose the fun. Caribbean white rum and orange give the flavour, curacao gives the wonderful colour and plentiful fresh pineapple adds fibre to this intriguing drink.
Solar Plexus Chakra represents personal power and the transition of emotions from basic to complex. At Di Mare, a gin base is blended with fresh mango, organic honey, lime juice and apricot brandy; flavours that play out better as the icy texture melts down slightly.
Our personal menu starts to arrive, the first offering being a delicate colourful salad of Jumbo Crab with Parmesan foam and edible flowers. It's a super light foamy puff of a dish with the salty crab and a boost of sun-dried tomatoes giving a dense centre below.
Duck Magre is next, playful plating with a sliver of foie gras nestling on top. The base of green organic lentils adds texture and a rustic aspect to the dish. The potato fondant is a little crunchy, just the way we like it and the slightly spiced carrot puree gives additional sweetness. But the duck is definitively the star of the dish, with the foie gras dense rich duck fat giving an intense boost of flavour that lingers. This would pair extremely well with a full bodied red wine.
Our delectable dessert is Strawberry Romanoff with Balsamic Ice-cream and a Berry Reduction. The ice-cream brings to mind a smooth spiced caramel, luscious in texture, but not over sweet. The Romanoff is a very light strawberry mousse with fresh strawberries and a sprinkle of grated almond. It is a delicate end to a light summery lunch.
We're kindly taken on a short tour via a dramatic funicular drop to the beach club below. Karma Kandara's Nammos Beach Club is a relaxed, island style bar serving a variety of Asian and Mediterranean dishes including that popular perennial, stone baked pizza. The beach is beautiful, clean white sands reaching along to rocky cliffs that provide a natural barrier and relative privacy. Non residents can visit the club at a cost of IDR 250,000, 100,000 of which is redeemable of food or beverages.
Reason to visit: Stunning views, extensive cocktail list, wine paired daily specials
Jalan Villa Kandara,
Banjar Wijaya Kusuma,
Ungasan, Bali, Indonesia
+62 (0) 361 848 2000