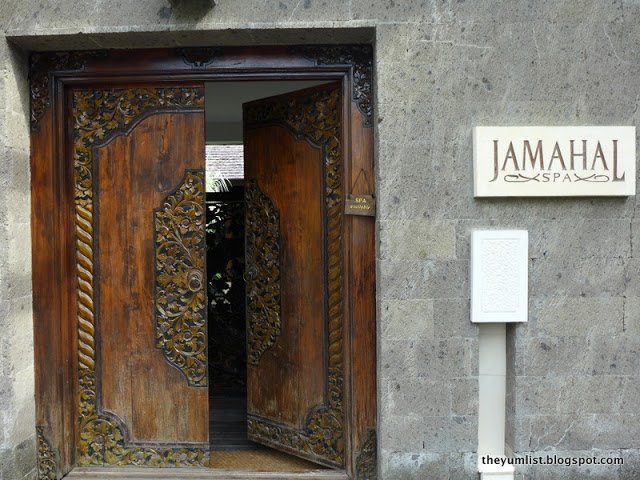 Doorway to Jamahal Spa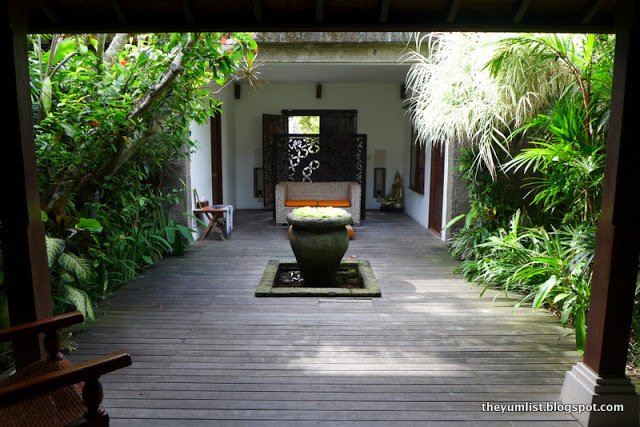 Entrance
Jamahal Private Resort and Spa, Jimbaran, Bali
Words by Kirsten Durward
Photos by The Yum List (Monica Tindall)
The Jamahal Private Resort is a veritable floral oasis and the spa is a tempting nook of a retreat within a retreat. Guests staying in one of the larger villas can elect to have their treatment on-site, but it is a matter of a few steps for any resident to amble over for a personal pampering in this corner of heaven.
Entering you immediately feel taken care of in a friendly familiar, metaphoric warm hug. Today we are being treated to a traditional Balinese Back massage, which is wonderful as my back loves an hour's of attention from well trained hands. We've been rushing from hotel to lunch spot to beach bar on this trip and I am grateful for this opportunity to stop for a while and unwind in such welcoming surroundings.
A choice of oils; Romance, Spice or Harmony is offered. We select harmony with its predominate aroma of cinnamon. Wrapped once more in the traditional Balinese sarong, we amble out to the spa room, disrobe and place our wiling bodies face down I gaze happily at the perfect floral arrangement at eye level as pillows are placed under my ankles and shoulders are eased down slowly.
The gentle masseur presses down lightly in the centre of the back and waits for the tempo of the breath to slow. Breathing in and out to the slight pulse of Jamahal's signature 'Chill' compilation, I am slowly starting to unwind and zone out. We are so lucky to be having this experience.
She strokes down the back and into the shoulder zone, asking the pressure is fine? I request stronger pressure and she adjusts accordingly, twisting into knots and stiffness as I waft off into daydreams of meadows and floral paths. She takes time to weave in to those crunchy sections around the neck and shoulder, flowing more gently down the back, using plenty of warmly scented oil that flows like silk over my thirsty body.
Legs are always a painful area for me in massage but she moves down and up the meridiens with skill, seeking out tight points and willing them away. Dots of pressure on acupressure points tell me she knows what she is doing, and I know that my body is benefiting.
After a gentle wipe down and turning over, my favourite part of the treatment begins. Twenty minutes attention to the neck zone whisks away city stresses, and finishes with gentle head massage. My hair may be ruffled, but my spirit is soothed and I am ready for the afternoon ahead. It is but a short amble back to the room and a collapse on the deck by the pool with a cool glass of water. Need I say Bliss?
Reason to visit: welcoming attention, highly relaxing massage, intimate boutique set up
Jalan Uluwatu 1
Jimbaran
Bali, Indonesia
Tel +62 (0) 361 704 394