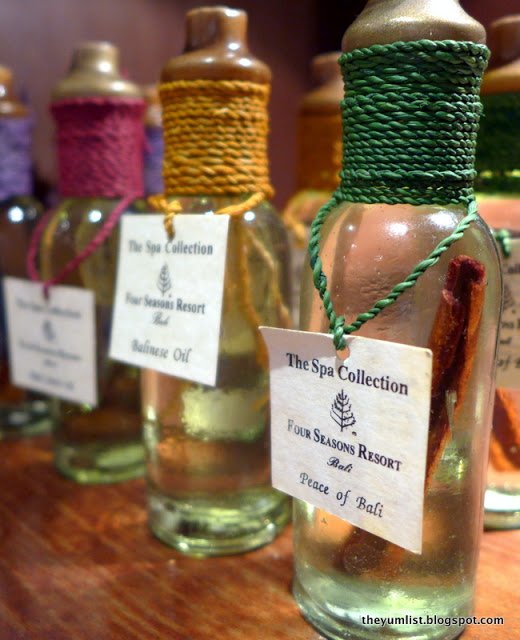 Four Seasons Resort Bali Aromatherapy Oils
Spa at the Four Seasons Resort Jimbaran Bay Bali
Words by Kirsten Durward
Photos by The Yum List (Monica Tindall)
'Silence and seclusion are the secrets of success. In this modern life of activity there is only one way to separate yourself from its ceaseless demands… get away from it once in a while.' Paramahansa Yogananda 'Autobiography of a Yogi'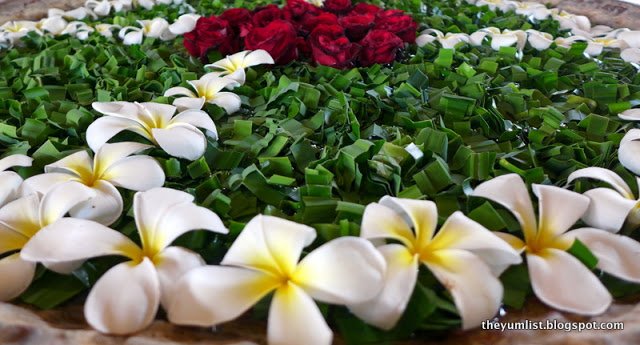 Flowers
I'm fairly sure that Paramahansa Yogananda has not been to the Spa at the Four Seasons Resort Bali. But this quotation springs to mind after an experience there. In my humble opinion, The Spa offers a definitive spa experience, it is everything a spa should be. Something that everyone should have the chance to experience. From the moment I walk up the regal steps and enter the spacious and light reception area filled with beautiful flowers, I know that I am going to have a very special morning.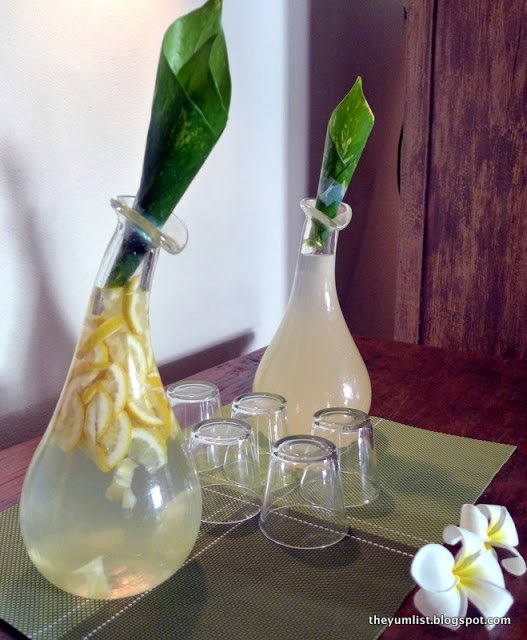 Flavoured Water
We take tea in a beautiful morning room, somewhere I would happily curl up and read my book for the rest of the day, with or without treatment. Monica points out the clever table decoration based on the seven chakras; a candle representing light, the crown chakra, and different herbs, spices and salts for the others. It is simple and beautiful, in keeping with our surroundings. A feeling of space resonates through the building; even in the dressing room light and space are foremost.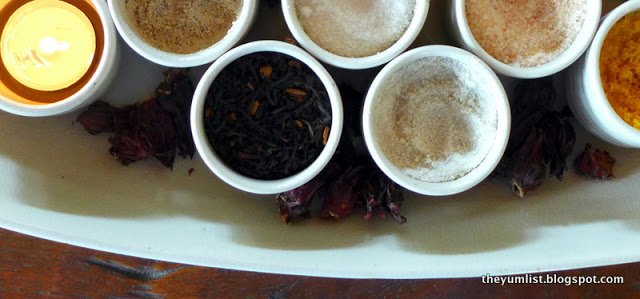 Seven Chakras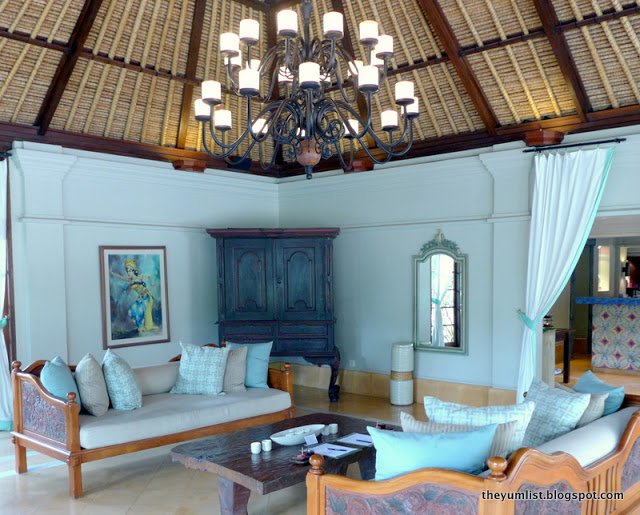 Waiting Lounge
Delightful shades of pale turquoise abound, in the towels, in the décor, in the drinking glasses, on the soft cotton robes that we don before our treatment. I feel like a princess as I wander outside to admire the dipping pool, Jacuzzi and outdoor shower.We already feel relaxed, just from the delightful environment and slowing down of time.
Changing Room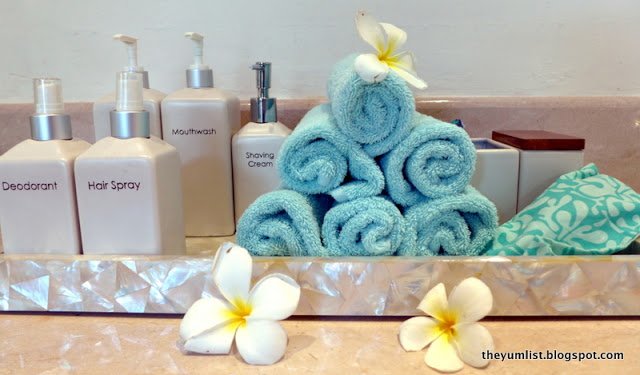 Bathroom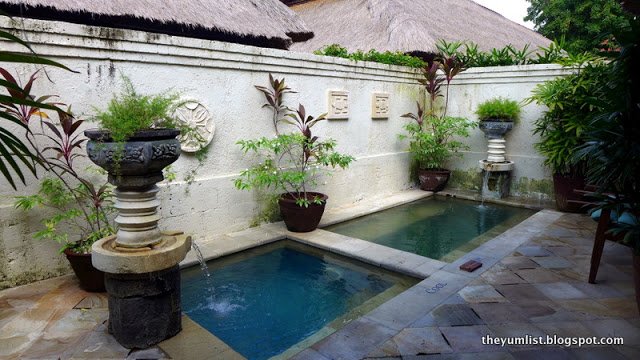 Dipping Pools
A long corridor leads us to our spa suite. It is simply amazing! A private courtyard, with stone flagged floors. Flowers and greenery all around. Outside is a free standing bath, cascade shower, and plunge pool. Inside soft light and drapes; those soothing tones of turquoise and the delightful uplifting music. Chilling chanting music, which is so good that I, for the first time ever, later invest in a spa CD!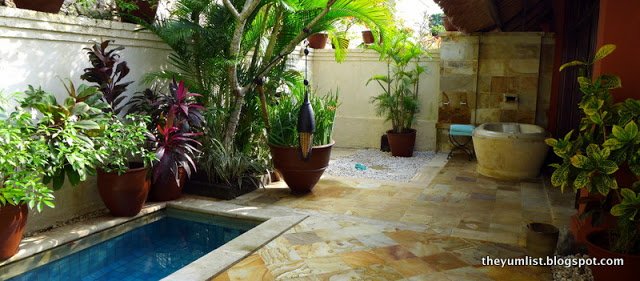 Outdoors Area of our Spa Villa
Our 150 minute spoiling starts outdoors with a foot wash and gentle massage foot massage as the products are explained. The spa concept is to blend elements from traditional recipes with modern-day beauty recipes. We are to experience a signature treatment based on a natural beach experience, using natural salt, water and oil concoctions.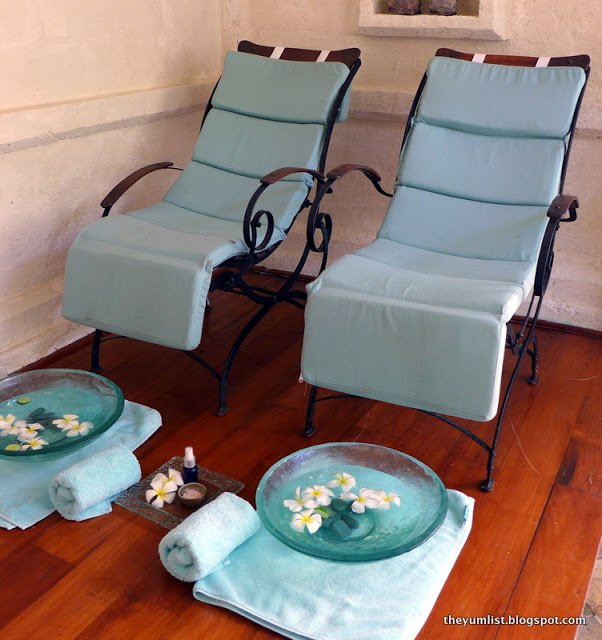 Foot Bath
Feet cleaned and soothed, we move indoors for our main treatments. I lie face up wards while a neck massage and cranial massage begins to pull out tension. Simple sure upward strokes, one arm and leg at a time. There is more than a hint of massage in this scrub too. Next, a soft body mask is applied, and with a gentle mask over my eyes, I lie there cocooned in a blanket drifting off to sea.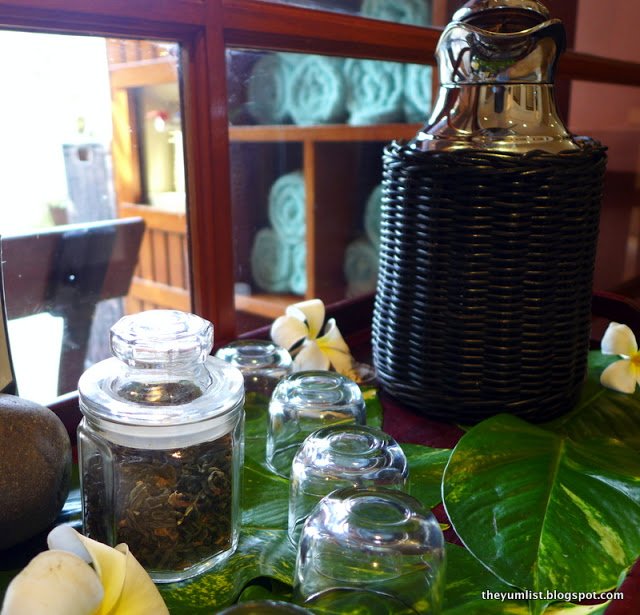 Spa Tea
I'm gently roused from my visions of blue waters and golden light, to be bathed in frangipani filled water and sip on a steaming cup of ginger tea. Left alone for ten minutes, I wash off the residue in the outdoor cascade shower, before taking a dip in the slightly chilly plunge pool. Good for skin stimulation certainly.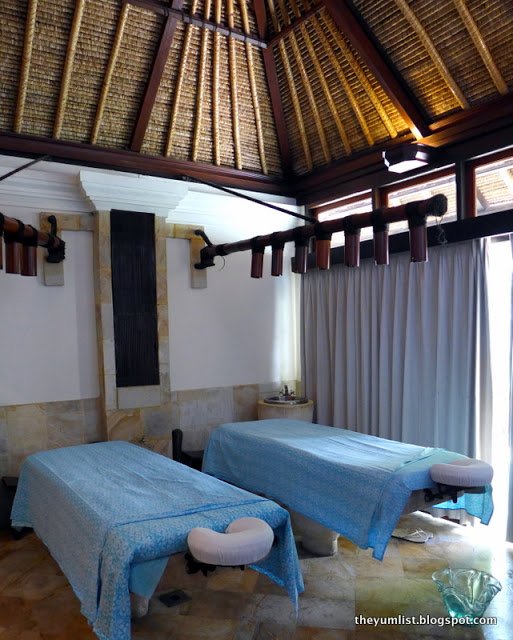 Treatment Room
I love everything in spa treatments but I would eschew most things in favour of a really good massage. So the rest of the time here is sheer bliss. Kundalini style is new to me and it proves to be long slow deep strokes, first with hands, then with elbows, pushing deeper into tight areas. The masseur then pounds gently with warmed herbal pouches before leaving these heated pockets of bliss on key areas of the body. They warmth seeps into my flesh, allowing the muscle tension from too much computer hunching to seep out. Mmmmmmmmm, 40 minutes on the back and shoulders, then ten minutes on each leg before turning over and finishing with a gentle facial massage using a rejuvenating oil glow. I sip on a glass of fresh lemon grass juice and sigh with sheer satisfaction.
For my tastes, this spa is the ultimate pamper experience and I could stay all day. You have the option to stay and relax in the quiet room sipping juice and browsing magazines. Or enjoy the steam, sauna, hot and cold plunge pools and Jacuzzi. Or take a buggy back to your pool and collapse for a snooze on the lounger. I ask you, really, what could be better? Today we are very very lucky girls!
Four Seasons guests can arrange to use the Spa facilities without booking a treatment. Non Residents are also warmly welcomed to visit the Spa, and I totally recommend that you do. This is one of the best spas I have visited, and I've visited more than a few around the world. The location and the therapy is excellent, I can tell you that I am still feeling the sleepy benefits hours and hours later.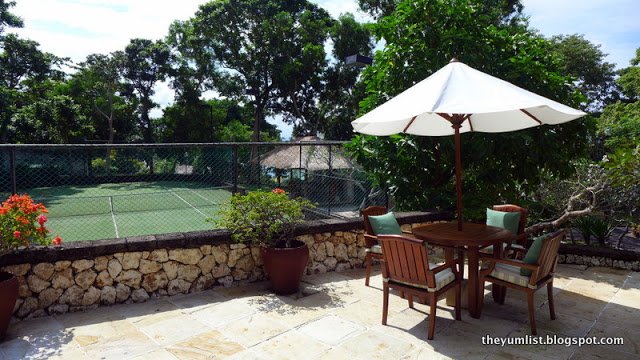 Tennis Courts at the Spa
The Spa at the Four Seasons also offers ocean front treatments in romantic white curtained four poster beds. If you feel in need of a total rejuvenation there are a range of programmes, which include yoga, circuit training, or bamboo stretching together with a choice of spa treatments. To find out more, you may visit the
Four Seasons Website
.
Reason to visit: Sheer Bliss!
The Spa facilities are open from 6:00 am – 9:00 pm
Spa treatments are offered from 9:00 am – 9:00 pm
Four Seasons Resort and Spa Bali
Jimbaran Bay
Jimbaran, Kuta Selatan
Bali
Indonesia
+62 (0) 361 701010