Benkay Japanese at Grand Nikko Bali
The Evening Experience
Words and Photos by Kirsten Durward
The Evening Experience
I enter for dinner and am greeted by a smiling server dressed in orange, who wraps in a black apron to keep the food at bay. An array of appetisers is first to arrive; tiny okra, salty crunchy with a sticky coating. Burdoko; thin threads of bean sprouts and noodles and, saving the best for last, rolled egg yolk; firm on outside, a sticky bursts of oozingness inside. Delicate, delightful and delicious.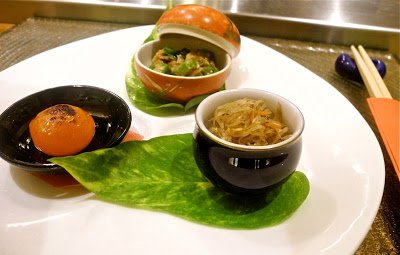 A delicate trio of appetisers
The sparkling ice bowl of my sashimi platter takes my breath away. And… it doesn't just look good, this is exceptionally fresh and high-grade fish. Pink salmon with just a hint of silvery skin, fresh sweet prawn, and fat red tuna. A yum for sashimi lovers. A steaming bowl proves to be a very light aromatic broth filled with baby clams still in their shells.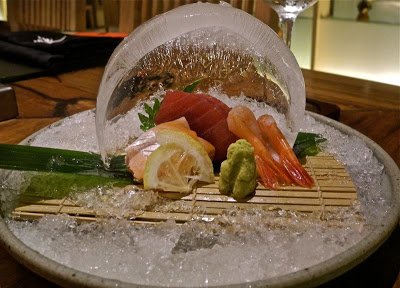 Sensational Sashimi in Sparkling Ice
I'm impatient for the teppanyaki grill to fire up; it's been a while since lunch. Chef Arif tells me he has 17 years experience previously in Tokyo and Dubai, hard to believe as he barely looks 20. I always have envy of that Asian skin. Ooh – watch that butter sizzle! Arif juggles capably with the pepper grinder and slides the food around, patently loving creating a show. Whoops more butter! Better get to the gym again. No wonder teppanyaki is so mmmmmmm!
Vegetable Teppanyaki – Zucchini, eggplant, mushroom, pepper, teeny mushrooms, baby daikon – prepared with loving skill; beautiful to watch an artist at work. It's delicious; the chunkiness of the vegetables, expertly cut in half at the last moment means they are firmly textured. Just perfectly seasoned and buttery. I crunch happily and dip in my favoured chili sauce.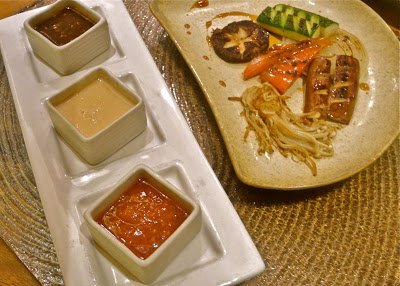 Chunky Vegetables with a choice of sauces
Seafood Teppanyaki – Fillet of salmon goes on first, followed by two fresh prawns and two fat scallops. Salmon sizzles, skin separate as prawns are expertly peeled with blades in front of my eyes and carved to roll like perfect coils tails a crispy. Is this really all for me? The prawns and scallops are succulent but the salmon stands out, juicy and fat with skin so crispy it stands up by itself and breaks to the touch. The best teppanyaki I have eaten.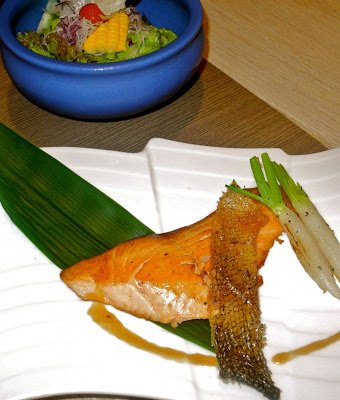 Sizzled Salmon with side salad


Strip Loin Teppanyaki – Served with roasted garlic, it is juicily delicious and lightly peppery garlicky, It really needs no accompaniment but the sauce is sticky and slightly spiced too. Fresh and colourful salad is served on the side. Coconut chips and cherry tomatoes are tangled in leaves with a sweet and soyish dressing.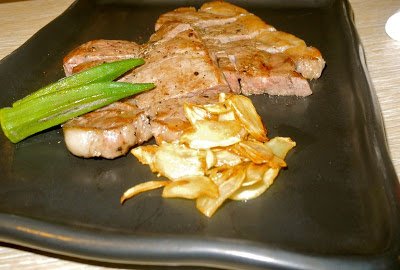 Teppanyaki Striploin with roasted garlic
Banana Flambé Pancake – I really don't have room for dessert but lovely Arif is begging me – just one thing, a pancake flambéed with fruit. How can I refuse when he wants to make it so much? Luckily he makes a small one and it's so prettily presented that I'm glad I didn't miss it. The floaty pancake comes with berries, flambéed banana ice cream and a chocolate straw. Yum!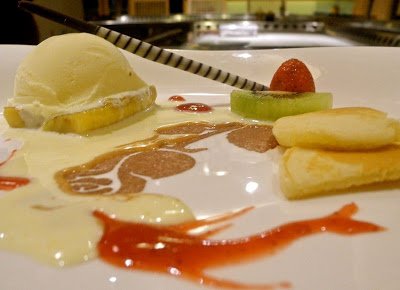 Flambeed Banana Pancake
I don't feel like drinking after all the cocktails of the day, but I am happy to report there is an extensive wine menu with a good range of sake. Or if you prefer, there are '99 ways of Martini.' No I'm not joking! Maybe tomorrow……
Dinner at Benkay comes at a reasonable cost for the quality and service:
Appetizer: from Rp 40,000 to Rp 120,000
Main course: from Rp 30,000 to Rp 600,000
Dessert: from Rp 30,000 to Rp 70,000
The Daytime Experience – Champagne Brunch
Words by Kirsten Durward
Photos by The Yum List (Monica Tindall)

It may seem like I've only just left but some hours have passed and I'm back with Monica, and Nikko PR Team Daniel and Sandra to sample the Japanese Buffet lunch. The restaurant abounds with an expansive range of choices. Our welcome drink arrives which is a charming mimosa, light and fruity, just getting our palates buzzing.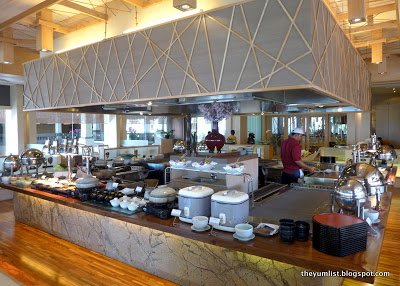 Japanese Buffet – with live stations
First we visit the sushi bar, so many choices, where to start? Sashimi, sushi, edamame, marinated octopus and more. All looking and tasting deliciously fresh.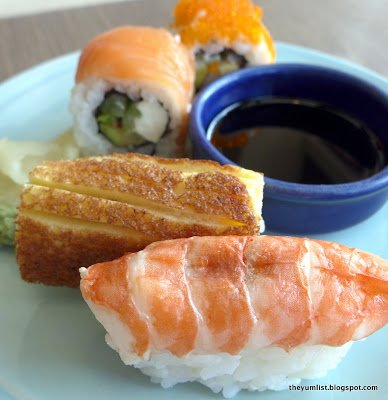 Sushi
I peruse the buffet around the gleaming central kitchen. Fresh fish gleams up waiting to be used. A chef begs me to try his scallops, Monica is quick to accept and he sets to work. Another chef capably handles seafood noodles and Japanese pancakes at the same time on two grills. Impressive! Corn rice and steamed rice soup bubble away, bowls and bowls abound of miso, udon noodles, shabu shabu, steamed beef, grilled salmon cheek, and – oh – so many many other options. Monica is salivating over her freshly cooked scallops already and I am yet to choose!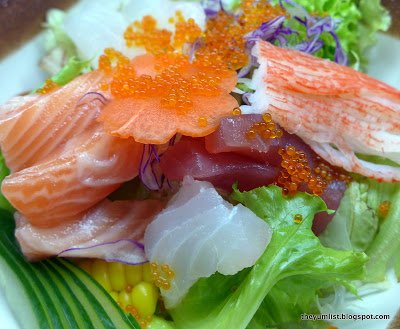 Seafood Salad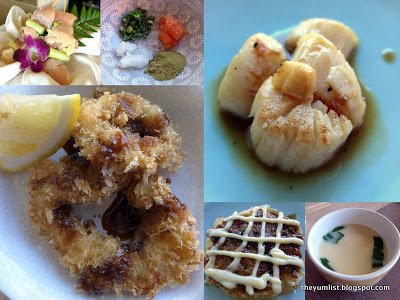 From the buffet
I decide to try the Ika Pura as Sandra confides it is her favourite. Mmmm! A crispy outer crunch, tender white centre; Deep Fried Cuttlefish proves my new alternative to calamari; it's great with the slightly spicy sweet Ponzi sauce and a squeeze of lemon. As I am being brave, I proceed with Oden, steamed vegetables and fishcakes. It's a dense pancake fishcake made soft by the lightly flavoured broth. Add some pickled radish for a slight bite. Chili tomato prawn nestles in a bowl, a delicious morsel with a delicate kick. Okonomyaki, Japanese pancake, is dense and gooey with a light coating of mayonnaise and soy sauce. Add salt flakes or dried seaweed for your personal taste. Tempura is something I always want to eat, and this one is a delight; crispy light batter and fat fresh prawns. Chawamushi, Japanese steamed egg custard is not usually a preferred taste of mine, but this one is sensuously silky, fresh and light with a great savoury flavour, and surprise! Chunks of fresh seafood at the base! Mmmm that's my favourite dish of today!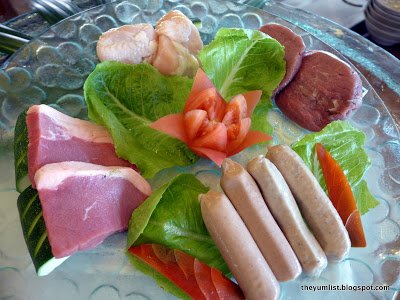 Meats for Teppanyaki Grill
I had Teppanyaki last night so I eschew it today. But my companions all enjoy a selection of the fresh meats and fish grilled to order. And there are even sausages should you have picky children with you!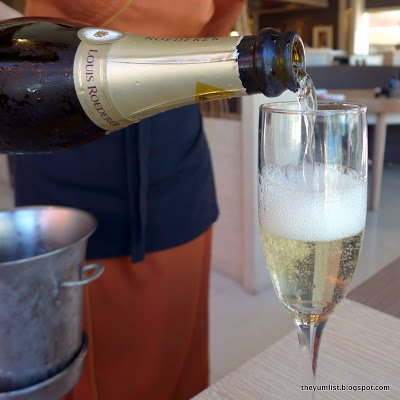 Free Flow Champagne
The accompanying champagne is Louis Roederer Brut, which opens with a satisfying 'pop!' On pouring it glints temptingly golden in the sunlight a touch of condensation on the clear glass. The taste is peppery with a good fizz. The long taste holds nicely on the back of the throat and we are sure that the choice pairs well with the light cuisine and seafood.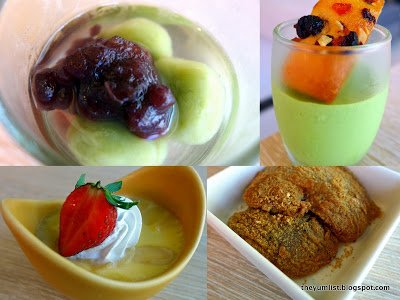 Selection of Japanese Desserts
We just manage to squeeze in a selection of desserts from the range in the cold cabinet. We select from the authentic Japanese options, but if you are not so adventurous, there is also fresh fruit, chocolate fudge cake and fruit tarts. Japanese glutinous rice is sweet and sticky with a dusting of nutmeg on top. Green tea mousse with rice cake is light and aromatic. Egg custard with strawberry is creamy and silky. Glutinous rice balls are chewy and sticky. The portions are tiny so you really can try a few.
The cost for Brunch is Rp 395,000 ++ for food only, ordering drinks a la carte or, Rp 900,000 ++ with free-flow Champagne. You know what I'd do…
Benkay gets my vote. It's worth a visit whether you are staying at the hotel or not. It is authentic Japanese Cuisine, with superb attentive service. I can guarantee you a palate pleasing feast whether you try Evening Teppanyaki or Sunday Brunch.
Reason to visit: Freshest of seafood, beautifully made teppanyaki, good value champagne brunch.
Benkay Restaurant
Grand Nikko Bali
Jalan Raya Nusa Dua Selatan
PO BOX 18
Nusa Dua 80363
Bali, Indonesia
+62 361 773 377