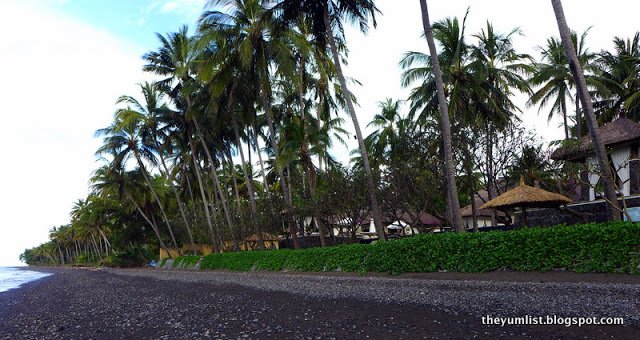 Resort viewed from the beach
Spa Village Resort Tembok Bali
Situated on the northern side of the island, YTL's Spa Village Resort Tembok Bali benefits from a three-hour separation from the busy tourist hub of the south. The peaceful, village life feel of the area is most likely what made Bali a popular travel destination many years ago. Unfortunately, that nostalgia is no longer found where most vacationers end up in the bustling areas around the airport. A little extra travel time though rewards guests with a disconnection from modern existence and a piece of what remains of old Bali today.
Black sand beaches, volcanic mountain backdrops and palm-lined shores set the scene for tranquil small town pursuits in Tembok. You'll find no vendors hustling you a new pair of sunglasses, beach massage or illegal substances, no taxis offering you unsolicited "island tours" and, most certainly, no thumping night clubs or bars with promises of cheap cocktails tonight and harsh hangovers tomorrow. If you'd like that, stay south. For a calm, unhurried pace, head north.
Amidst the mayhem of the airport arrivals, a calm, traditionally dressed greeter holds name cards of guests. Warmly welcomed and escorted to a luxury vehicle the trip from the airport to YTL's Spa Village Resort begins. Cool moist scented towels, mineral water and, a fresh salad of cucumber and pineapple, wipes away the heat and takes the edge off any creeping hunger. A journey guide, bound with natural fibres and a coconut shell hardcover, briefs passengers on a couple of breaks en route and the dinner menu for the evening.
Once out of Denpasar, the roads narrow and bend into a long undulating snake of twists and turns. Weaving through lush forest and slow-moving towns the charming side of Bali is gradually revealed. Crumbling ruins and locals balancing the days' offerings on their heads border the path. Glimpses of the ocean, rice paddies and triangle peaked mountains are caught through gaps in the foliage.
The village is built around a central lawn, which rolls down to an infinity pool seemingly spilling over to the sea. Rows of palms border all sides, shading the area, fulfilling a tropical promise. Natural wood and stone make solid structures that blend with the abutting jungle. Further enhanced by thatched roofs, the resort breathes rusticity, yet a humble luxuriousness at the same time.
The spa is the reason why many visitors choose this resort. Being so far from restaurants and other facilities most guests buy a full board package, which not only includes accommodation and meals, but too comes with a daily spa treatment. Natural products found locally are the primary ingredients used in therapies and, the healing rituals of Balinese culture are too held in high esteem. All treatments begin with a 30-minute ritual of a footbath and glass of refreshing Jamu (herbal medicinal drink). A body-steaming in a private pavilion bedded with black volcanic sand follows. From here on, any number of massages, facials, scrubs, wraps and combinations can be chosen.
If that's not enough to satisfy, a collection of additional field trips can be arranged. Hiking, biking, boating, diving – all lend themselves to the surrounding areas. A popular morning activity is a one-hour cycle and 20 minute walk to the base of a nearby waterfall. While guests take a dip in the stream or a pounding from the cascade, guides set up a picnic breakfast of fresh fruits, pastries, sandwiches, breads, juices and fresh coconuts. Refueled, the downhill hike and ride back to the resort is a breeze.
All activities encourage disengagement with modern life and a reconnection to self and the natural environment.
This "unplugging" is further nurtured in the rooms, where an absence of television and Internet forces even the most stubborn to disconnect. (For addicts, free Wi-Fi runs in the lobby and, a TV and book room is opened 24 hours in the recreation centre.) Provision of Balinese fisherman's pants, top and slippers urges a stripping of layers from the outside world and a donning of cool breathable cotton, removing the need to think about what to wear (and if you're clever, saves some luggage space too!).
A spacious bedroom opens via glass sliding doors onto a balcony overlooking the community green and down to the pool and sea. Cool air conditioning within, or fresh sea air out, either location is well suited to a good book and cup of tea.
And… with soft mattress, high quality linens and a day of yoga, lessons, sun and sea… sleep well you will.
YTL Hotels
Jalan SIngaraja-Amlapura
100 Desa Tembok
Tejakula Buleleng
Bali, Indonesia
+62 3623 2033