Article by Craig J Selby
Photos by Adrian Phung
I'm totally embarrassed – I have lived in Malaysia for nearly nine years, and today was the first Ramadan buffet that I have experienced in all of that time. It is not because I didn't want to; just circumstances kept delaying the opportunity, until finally, my introduction to this festive delight.
My Ramadan "Best of Malaysian Flavours" experience kicked off at the Kuala Lumpur Golf and Country Club – with their special buffet setting for all to enjoy. A mixture of Malaysian favourites taking me on a culinary journey around the country, combined with the incredibly welcoming atmosphere and hospitality that the staff provide, made this first Ramadan experience a truly pleasurable one.
Unlike a typical buffet, with lines and lines of dishes, the club has housed their buffet extravaganza under a mini city of tents, representing a typical Malaysian bazaar, with lots and lots of different choices grouped together according to style, key ingredient, or even region of Malaysia from where the dishes came. My host told me they have over 30 choices – I think that was a significant understatement – I certainly counted a lot more. This is one experience that will not disappoint.
With so many delicacies to choose from, it was really hard to sample everything – I simply would not have room in my stomach for everything – but that being said did not mean I gave an earnest effort to really make it happen.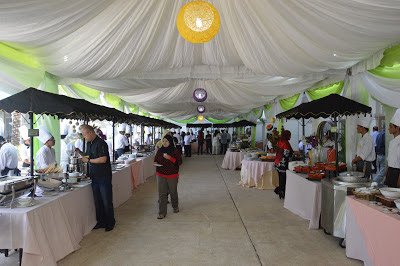 Wandering around the little village of tents, absorbing the wafting aromas, the colour of the ingredients and dishes, and just taking in the whole atmosphere, one really gets to understand why food is the "social glue" in Malaysia – an assortment of so many different cooking styles – appreciated and enjoyed by people of all walks of life. There is no "ethnicity" when it comes to food – simply just a camaraderie which brings people together sharing stories and comparing different favourite dishes. Malaysians (and those of us who have lived here long enough too) love their food! No exception to this rule.
As with any buffet, I have my personal strategy. No, I'm not the seafood first type (I don't eat seafood actually – although, they had some awesomely fresh seafood available – will tell you about that shortly) – but I go for roast meat on a spit, and then anything else that is a little different to what I am used to. Yes, I was instantly drawn to their roast lamb – the aromatic spices gently rubbed into the crisp, open-fire cooked skin was just too much to resist. I was told that the lamb is treated specially, stuffed with a rice and seasoning combination, similar to a biryani, which not only helped to keep the lamb meat tender and moist, but added a cacophony of exotic flavour to this delicious beast. The meat was pull apart, with a beautiful sweetness to it, and with a few spoonful's of the rice stuffing, made for an excellent starting point.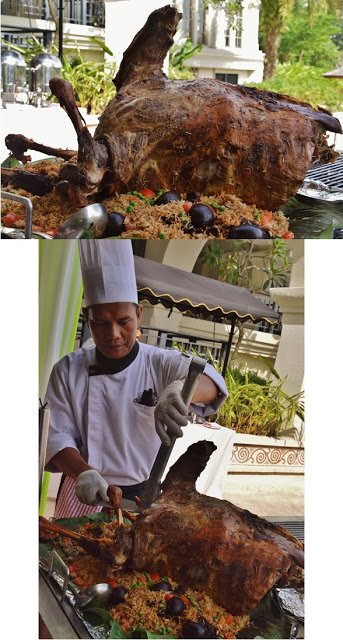 As I wandered around, they offered freshly grilled satay meat – the usual beef, lamb and chicken, but with a special addition to the selection, rabbit. Another first as I dipped my generous stick of rabbit satay into the peanut sauce – yuuuuuum! I might have felt a little guilty eating "Thumper", but frankly rabbit is delicious meat, and although they say it tastes like chicken, I didn't quite draw that conclusion. Nicely grilled on hot coals, the meat was juice and tender to bite, and was so good I headed back for more – much to the surprise of the lady serving, as it took her quite some effort to convince me to try one stick in the first place.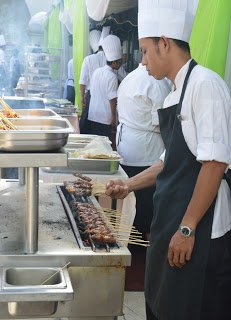 So, you are probably wondering about the seafood? I may not eat it, but I do know good seafood when I see it – and smell it – and their special wok contraption with fresh seafood created a "prepare-you-own" style. Picture this – a huge wok of seafood soup / curry – bubbling away happily, with an assortment of crabs, prawns, shellfish, white fish, and other delicacies therein – and outside on ice, an assortment of fresh seafood for you to select, and have the chefs cook your selection inside the curry pot – allowing you your very own seafood combination cooked freshly to your order. The smell was amazing, and my partner-in-crime for the day told me how delicious the outcome was. He certainly had a huge smile on his face, so I don't doubt it.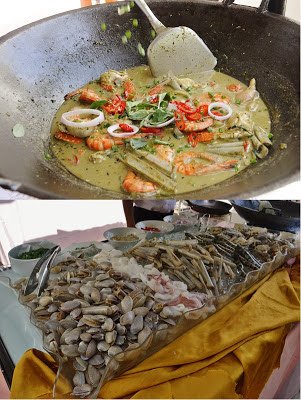 A little further around there was grilled fish with various seasoning, gearbox soup (the Malay interpretation of oxtail soup – hearty and tasty too), rendang (always a favourite of mine – tender meat in a dry coconut-based curry), and loads of others to choose from. One visit is not enough to do justice to what Senior Executive Sous Chef, Sahizal Azrul and his team have put together for us to celebrate the breaking of the fast.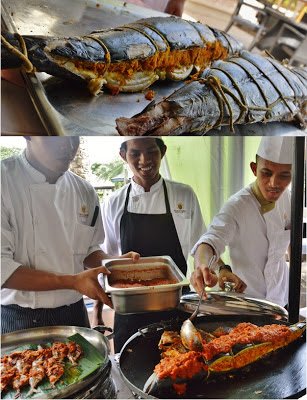 With plenty of salads, vegetables, noodles, and other traditional Malaysian favourites were on offer. Tit-bits from my friends' childhood brought back memories of what his grandma used to cook, along with the stories of him helping her as a young child; salads using popular Malay vegetables such as petai, offered the unseasoned an opportunity to try something new, and the mix and match approach provided the perfect chance to try combinations of fresh ingredients with a delightful range of dressings and sauces as well.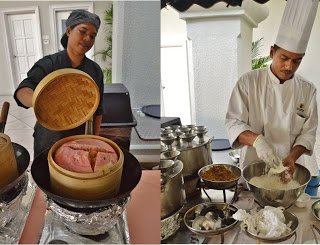 That was fun, as I got to try things I normally wouldn't, and really get to explore the various exciting flavours and how they come together.
I spent quite some time outside looking and snacking, only to head inside and find the deserts counter. Fresh seasonal cut fruit, a huge assortment of both Malay traditional cakes and more popularised western ones – wow, where do I get room to fit this in? Banana pudding, my favourite, was stewed bananas with sugar, kept warm and served in a bowl. Simple, but very delicious.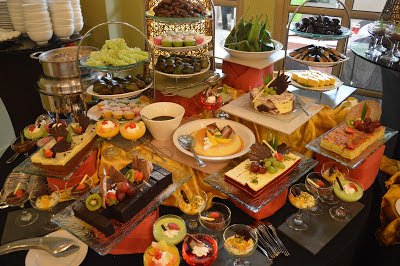 Although I didn't get to try everything, they certainly did have an awesome assortment of extremely tempting dishes. This was a great introduction to Ramadan buffets for me, and an experience I truly treasure. My next visit I'm working on the other items I didn't get to try this time.
This is one buffet that's a must to put on your Ramadan "to do" list – as the twilight disappears over the golf-course, share some amazing food and companionship with friends and family, and celebrate the spirit of Ramadan.
Kuala Lumpur Golf and Country Club
KLGCC
10 Jalan 1/70D off Jalan Bukit Kiara
60000 Kuala Lumpur
Malaysia
+6 03 2093 1111
http://www.klgcc.com/