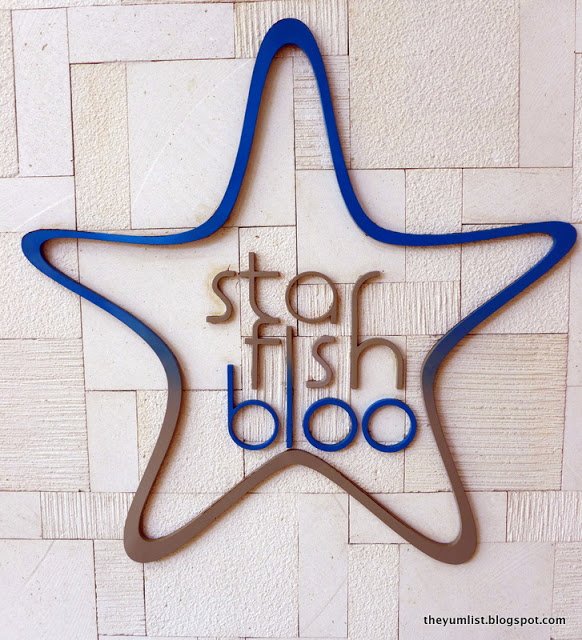 Starfish Bloo, W Retreat and Spa Bali
Words by Kirsten Durward
Photos by The Yum List (Monica Tindall)
It sounds corny I know, but Bloo is blue, turquoise blue, marine blue, sky blue. Inside delights as an undersea theme, with live fish tanks, outside relaxes by the sea. A pan Asian restaurant specializing in fish dishes, Miele Guide Nominated Starfish Bloo is perfect for a light lunch in the ocean breeze or a romantic dinner in the cool of the night.
The Chef's menu, three courses including free flow wine or Heineken looks a great choice at IDR 300 ++. Mauritian born, Australian bred Chef de Cuisine Kevin Chung is not available, so we bend to the recommendations of Director of Cuisine Richard Miller, who fed us so well at Fire.
Puffy crackers crisp in the salty air, light and puffy or thin and crunchy are dipped in a spicy tomato relish, coriander seeps through the chili and we're ready for more.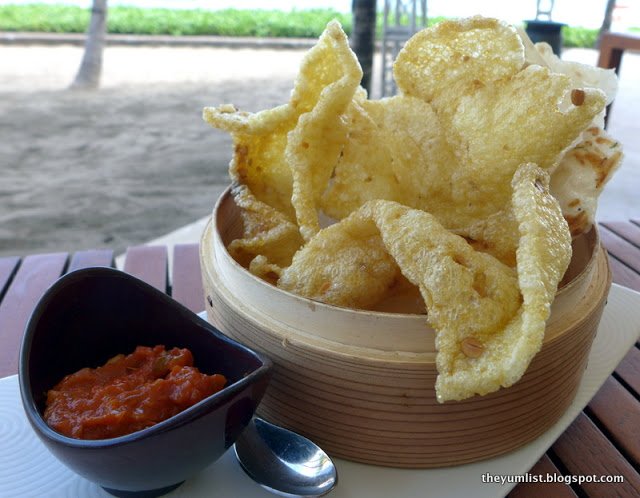 Crackers
From the 'Raw, Rare and Naked' section comes Tuna and Scallop Crudo, described as Sashimi with a Mediterranean flair. Tuna with flavours of orange and lime, scallop with green caviar, pickled cucumber and sesame. Entwined with herbed garlic virgin olive oil and compressed sweet watermelon. Like last night (dinner at Fire), we are hit again with divine contrasts, but this time with just a hint of the ocean behind, light and delicate.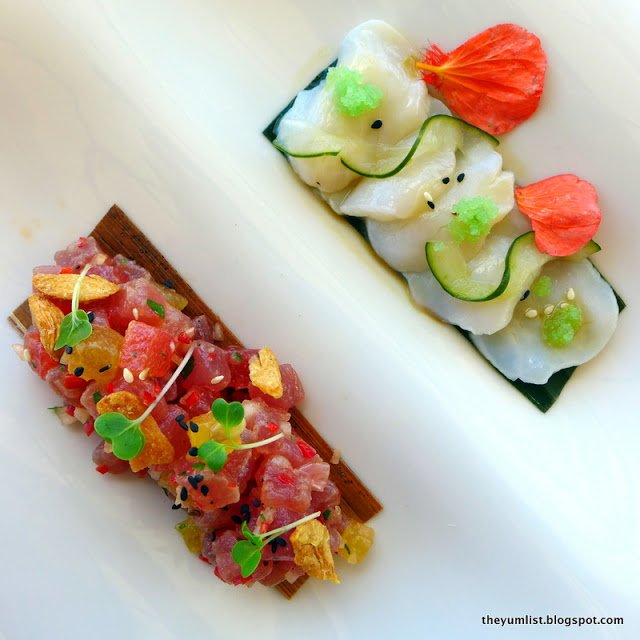 Tuna and Scallop Crudo (IDR 120k ++)
Prosciutto and prawn roll – what a great idea! Now this is what I call fusion cuisine. Thank you! Two of my favourite tastes combined. Salty ham wraps around crunchy tempura and buttery avocado with a divine wasabi mayonnaise and a touch, just a touch of black caviar. More please!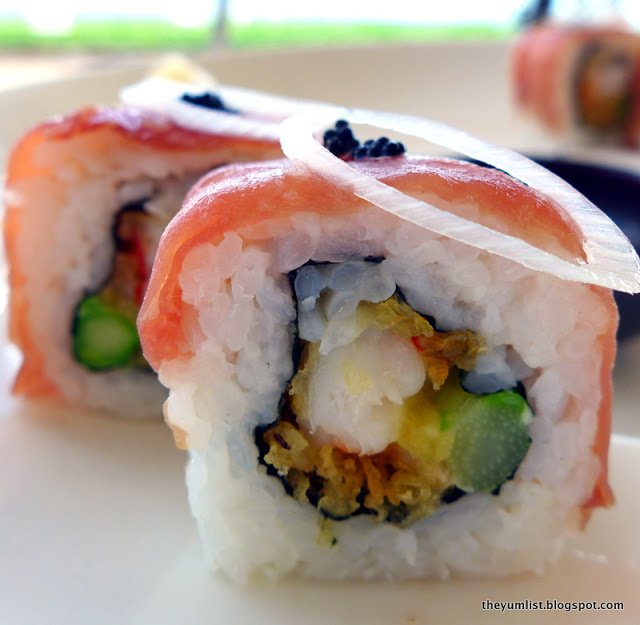 Prosciutto and Prawn Roll (IDR110k ++)
Two great, yet simple dishes! Tapas and sushi meet head on with a touch of genius.
We move into the hot main dishes. Steamed Barramundi smells delectable floating in a sea of light soup, aromas of ginger wafting up from the broth. The fish of course is perfectly cooked, dense and white but flaking on the fork. The spice is beautifully balanced to give body and interest without detracting from the main event. A tangle of baby bok choy and Asian mushrooms complete the dish.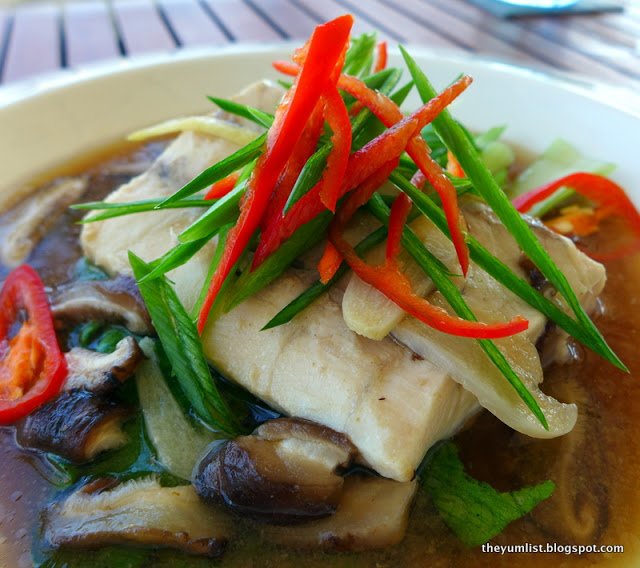 Steamed Barramundi (IDR 140 ++)
From the intriguingly titled 'Hot Rocks' list comes White Miso Marinated Tofu. And it's another performance dish! We sear the tofu ourselves on the 'hot rock' cooker provided. We love the sizzle sizzle and tiny bit of steam. We wait impatiently as tofu browns and a toasty smell fills our nostrils. We dip our fresh hot pieces in a green chili ponzu sauce and sigh with happiness. The tofu is light and floaty, and like so much at the W, the Hot Rocks are just a barrel of fun!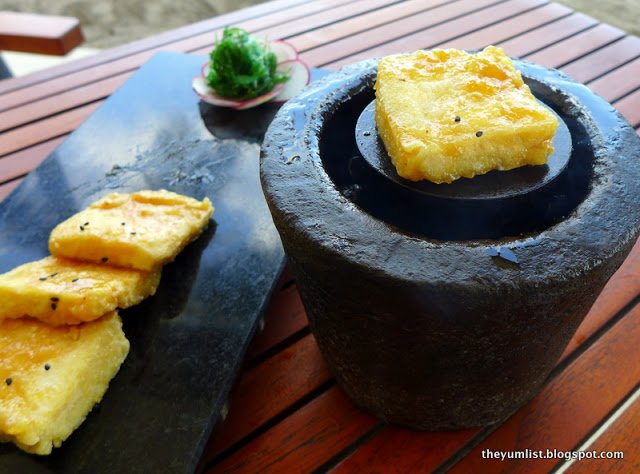 White Miso Marinated Tofu (IDR 110k ++)
We don't have time for dessert, but we're totally satisfied with our light lunch, our last repast before our return. We're airport bound, but we'll return to winkle out more bodacious Bali bounty for eager Yumlisters.
Reason to visit: Fresh creative food, wonderful seafront location, Hot Rocks!
Starfish Bloo
W Retreat and Spa Bali
Jl. Petitenget, Seminyak, Bali 80361, Indonesia
Tel +62 361 4738 106