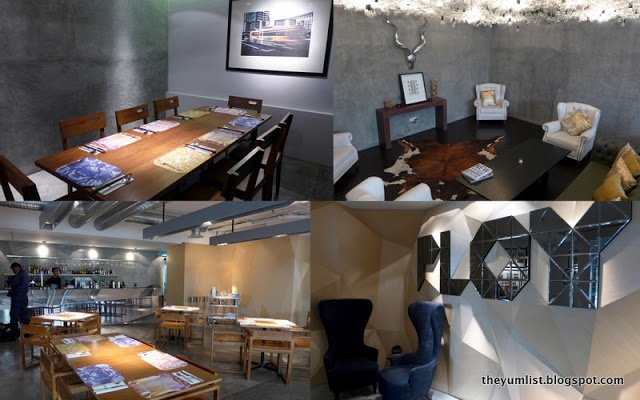 Ploy
New Dishes at Ploy, Damansara Heights
Words by Polly Szantor
Photos by The Yum List (Monica Tindall)
Ploy, meaning "gem" in Thai, is a trendy restaurant serving modern Asian cuisine. Inspired by Thai and Japanese flavours – sweet, sour, salty, spicy and umami – unique dishes are created to titillate taste buds and delight diners. The space is bright and airy, with an unusual 3D wooden laminate wall, and the geometric design is echoed in metal at the other side of the main seating area and again on the placemats. There are two private dining areas seating 8-10 and a larger function room, complete with a comfy lounge area (with golden pillows no less), which will accommodate 10 to 30 people.
I chose to drink Apple Juice (RM16) freshened with frozen sour plum, nice and tangy. If you like a sweet drink, you'll enjoy the Frozen Strawberry Iced Tea (RM16) or for something more refreshing the Lychee Mint Cooler (RM16) will fit the bill. There are several interesting smoothie choices too, for example the Tropic Thunder (RM16) combines pineapple, banana, orange and coconut syrup. For something a little stronger, try one of the cocktails found only at Ploy. Sparkling Ployground (RM31) is a bubbly combo of Peach Vodka, Cassis, mixed berries, lime and mint finished with Prosecco, not too sweet. Pardon My Pandan (RM26) is rum-based with sour rhubarb, lychee, cucumber, lime and gula Melaka, shaken over ice and served in a martini glass. I enjoyed the perfumed overtones of lychee in this drink, and it carried quite a kick.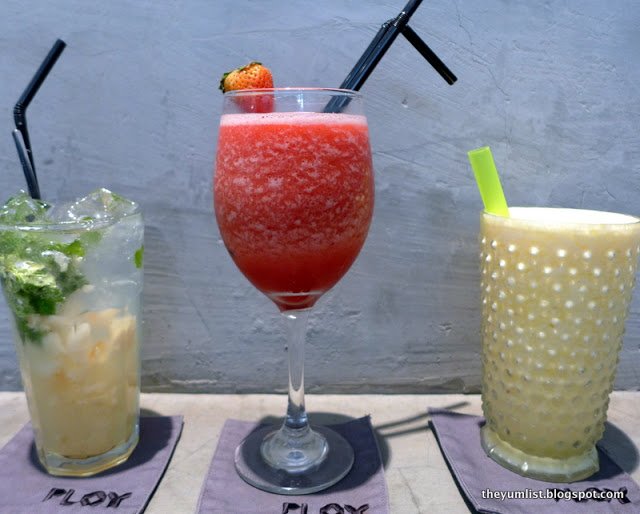 Lychee Mint Cooler, Frozen Strawberry Iced Tea and Tropic Thunder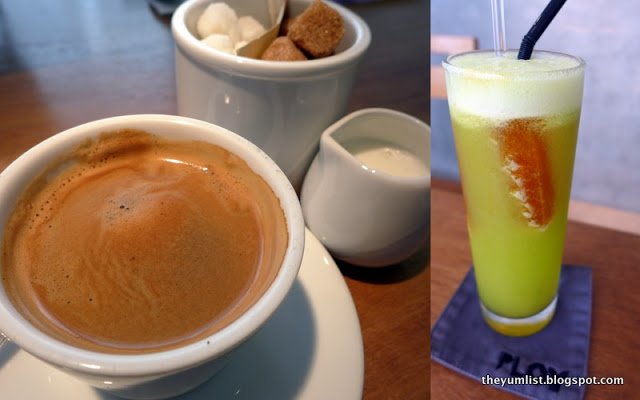 Coffee and Juice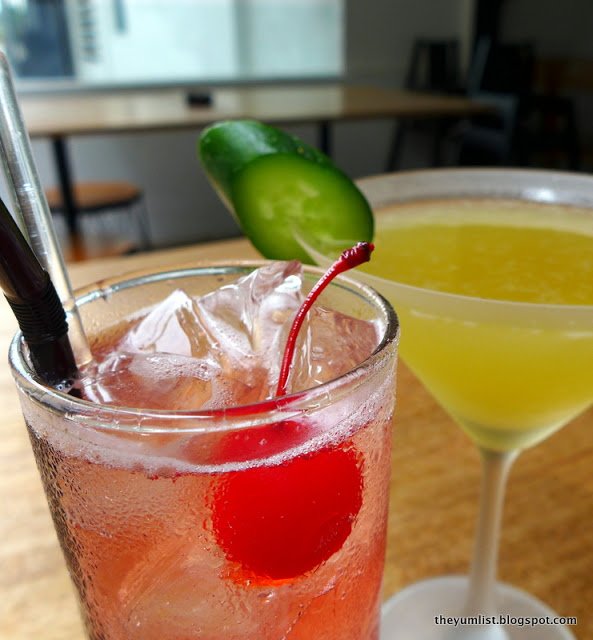 Sparkling Ployground and Pardon My Pandan
Recently, several new items were added to the menu, and it is these dishes that we sampled. Kambocha Tempura (RM8.50) was everybody's favourite. The marriage of velvety pumpkin and light, crispy tempura makes this dish a winner, especially when seasoned with salted egg. The Tempura Surprise (RM15) delivered morsels of sea bass in a crunchy coat, but it left me wondering what the surprise element might have been. Salads are served in a generous portion, large enough to share. Topped with deep-fried golden needle flower the Golden Needle Salad (RM15) is a pleasing combination of tofu, avocado, broccoli and greens in a Wafu dressing, while the Tuna Wakame Salad (RM23) boasts tuna sashimi, avocado, green leaves and a Shoyu dressing, which has a little bite to it.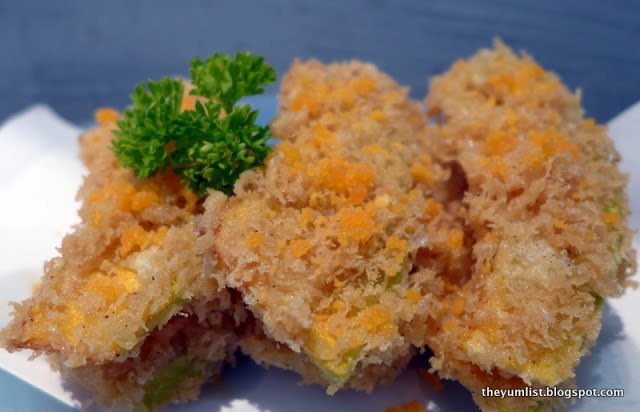 Kambocha Tempura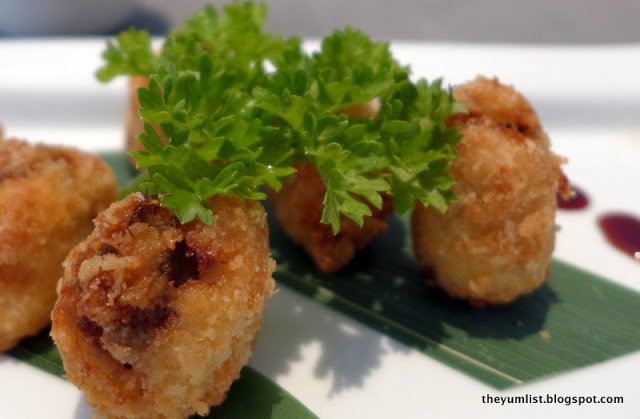 Tempura Surprise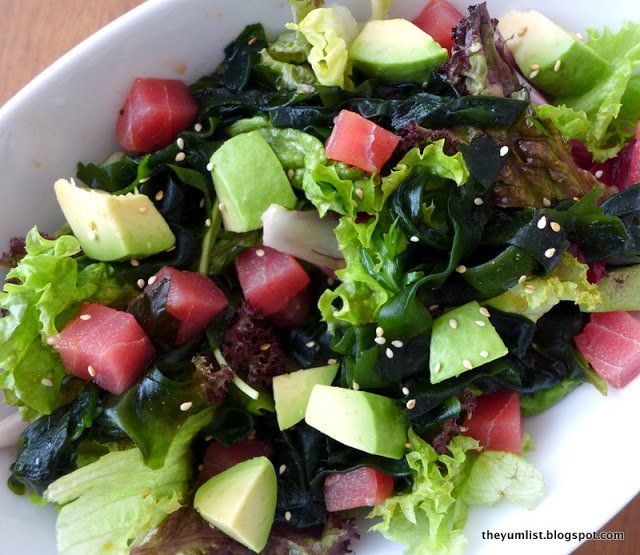 Tuna Wakame Salad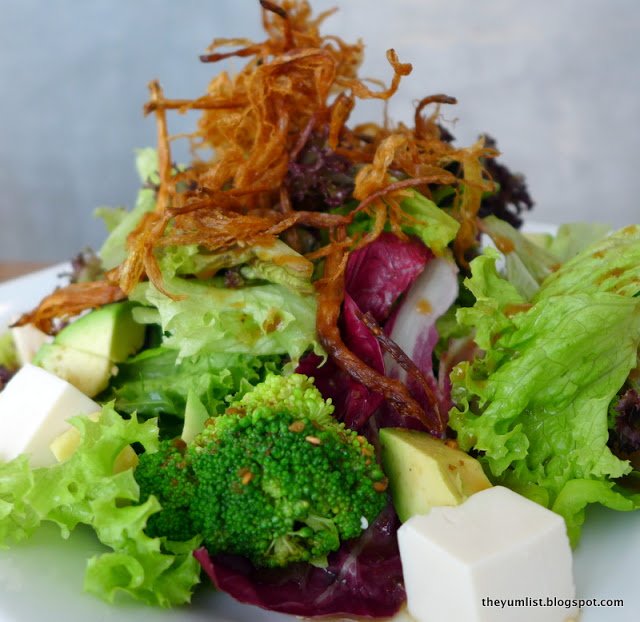 Golden Needle Salad
We all enjoyed the Godfather Special (RM22), sushi rice topped with Salmon Don, avocado, Ikura (large salmon roe), nori and tempura flakes with a light glazing of Royu (chilli oil). The salty fish eggs popping over the spicy rice introduced a new taste sensation that was lots of fun. Pasta From Heaven (RM28) was another crowd pleaser; angel hair pasta marinated in truffle oil and garnished with bonito flakes and Sakura Ebi (small shrimp prized in Japan and Taiwan). The Magic Puff (RM32), rectangles of puff pastry topped with goat cheese, truffle oil, cherry tomatoes and wild rocket was a little lacking in energy, but the Smoked Duck Breast and Chicken Ham Pizza (RM28) more than made up for it. A flour tortilla served as the base. It was covered with a layer of avocado mayonnaise and topped with plenty of smoked duck breast and julienned chicken ham. The crispy base, creamy avocado and smoky meat complemented each other beautifully and made this dish a winner. The final main was Crab in a Wrap (RM28), soft shell crab, mango, avocado, spicy kani and sushi rice wrapped in nori, a lovely grouping of flavours and textures – soft rice, crispy crab, sweet, wet mango and the savoury spiciness of the kani.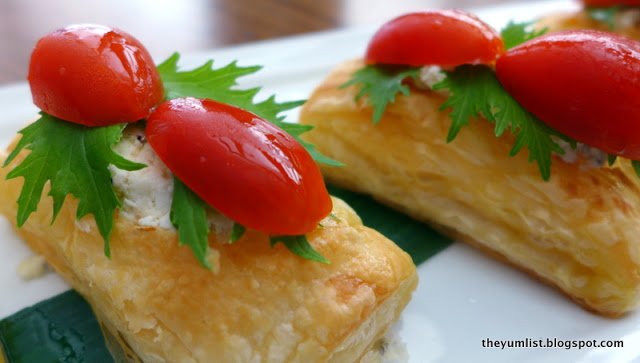 Magic Puff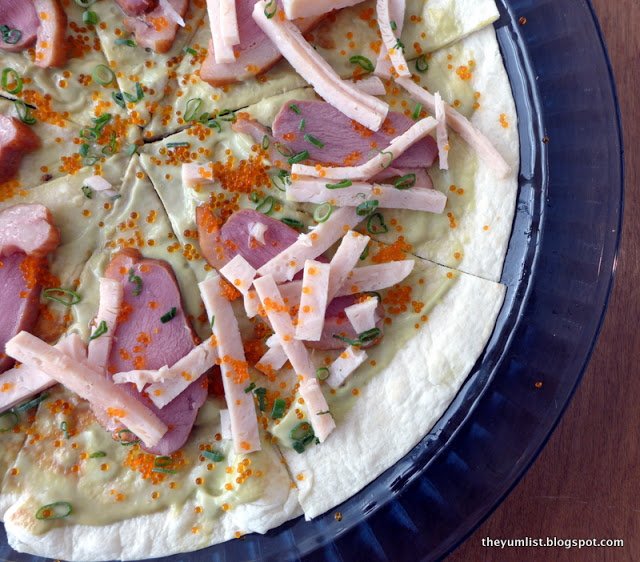 Smoked Duck Breast and Chicken Ham Pizza

Crab in a Wrap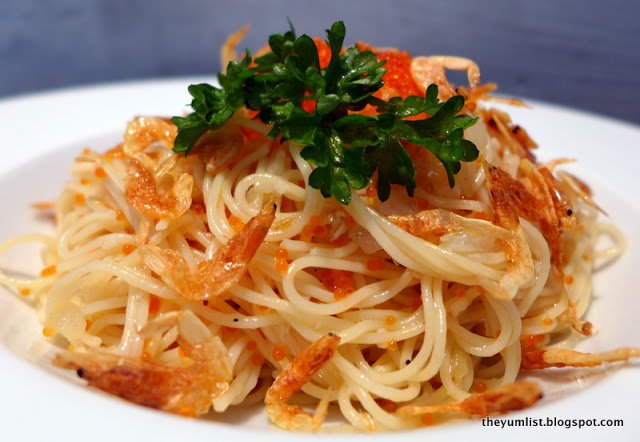 Pasta From Heaven
In one corner of the restaurant, Ploy has all the equipment to make trendy liquid nitrogen Ice Cream, so of course we had to try it. It's fun to watch the process, as clouds of steam billow around the super cold mixture, which freezes in only a few minutes. The Rum and Raisin flavour was super creamy and the Coffee was like a frozen affogato, however I had to swoon over the Durian Ice Cream, which offers double creaminess infused with the heavenly taste of durian. Durian lovers will be happy at Ploy – I noticed that Durian Gelato and Durian Panna Cotta are also on the menu. I think I'll have to return to Ploy before too long. I'm told the Panna Cotta is especially scrumptious.
Reason to visit: nitrogen ice cream, Kambocha Tempura, Godfather Special, Pasta From Heaven, Crab in a Wrap, Lychee Mint Cooler
Ploy Restaurant
G-02 Changkat Semantan
Off Jalan Semantan
Damansara Heights
50490 Kuala Lumpur
Malaysia
+6 03 2095 9189
* This is popular space for events so a reservation is highly recommended.
Pork-free restaurant