Unleashing the Beast
Words by Craig J Selby
Photos by The Yum List (Monica Tindall)
Unleash the beast within you at this innovative and very enjoyable restaurant. From the name, I was expecting large slabs of ribs and other "meaty" goodies – but what I got was something more refined, but certainly delicious.
The moment you walk into Beast, you know it will be something special. The old movie spotlights outside, the huge Hollywood-styled letters spelling the restaurant name, and the large leather chesterfields so close to the maitre'd – it all hinted that this was no ordinary restaurant.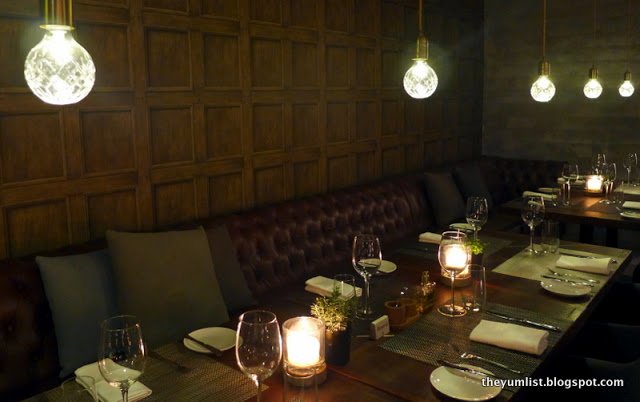 Beast Dining Table
Lavish furniture and quirky decorations all create for a great ambience, and enable different seating arrangements according to ones' own needs. We got one of the extremely long leather sofas, a bulky wooden table reminiscent of the dark ages, and a nice quiet corner. Perfection – the stage was set – and the show was about to begin.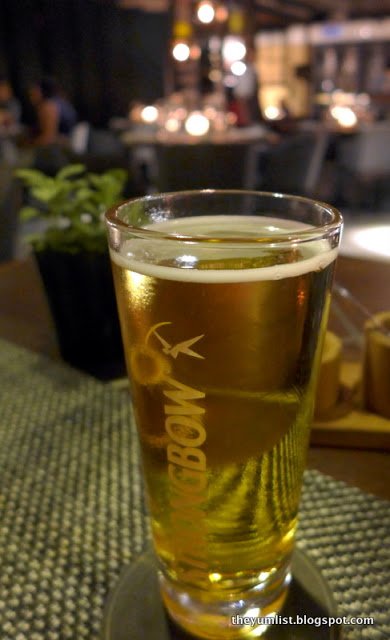 Strongbow (Caning's preferred start RM22 per glass)
Presenting, food! Yes, each dish was like a show in itself – a culinary performance from a master entertainer, and worthy of the name beast.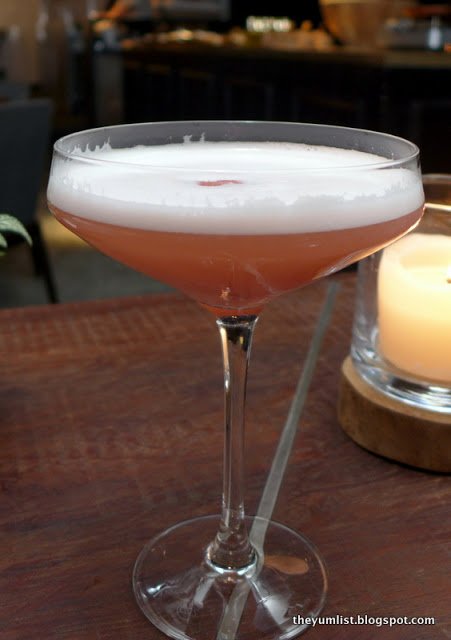 Cocktail – made to order (yes! they do that too!)
Our evening started off with a bit of a tropical kick – the Sea Breeze, a house cocktail concocted from vodka, pink grapefruit and cranberry. Not too sweet, but it did pack a punch. Yep, that's my way to kick start a great dinner.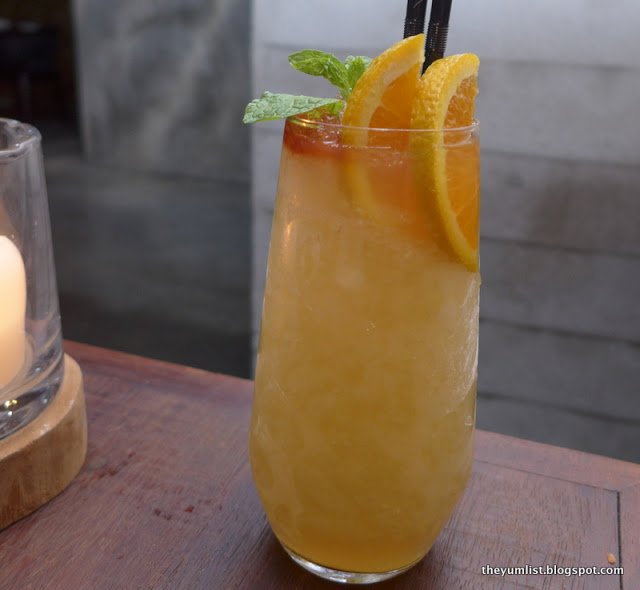 Sea Breeze (RM36)
With incredibly attentive service, my rapidly depleting drink was topped up, the wine list shown (in case I wished to move forward from cocktails), and some of the most delicious bread was placed on the table to share. Piping hot, and clearly fresh out of the oven was the Kilkenny bread. Yes, that's right, Kilkenny bread, as in the beer. With a crunchy crust, this bread was a tease as the soft and fluffy bread inside melted in my mouth just as fast as the fresh butter. Cut it with your sharp knife, and you will hear what I mean – the bread crust had a sound that was as amazing as its taste.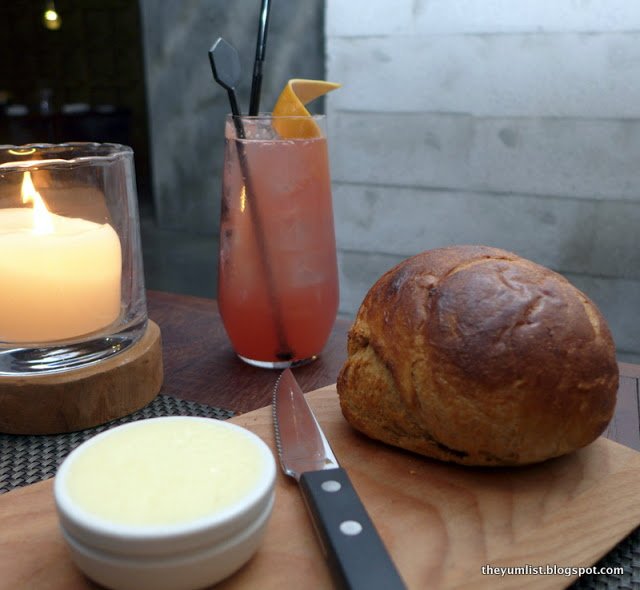 Beer Bread (oh so good) and Cocktail
The ball was rolling, and the dishes for our table now came steady and fast.
Steak Tartare, The Korean Way was the first entrée. The Koreans prepare this dish a little different to the French or the Italians – slightly coarser cut beef, giving a chunkier texture. Served with a raw quail egg on top, a subtly spicy kim-chi ball, and very finely chopped condiments, this really did epitomise the meaning of beast! I was impressed. Nice cutting. An underlying spice that really lifts it.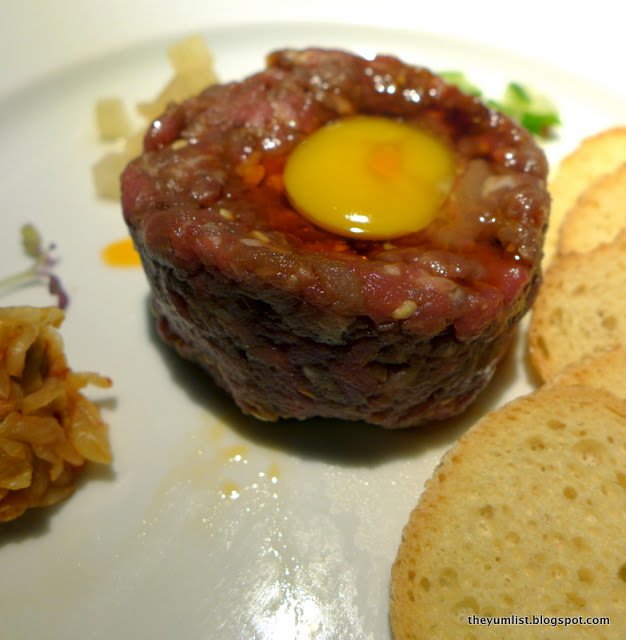 Steak Tartare The Korean Way (RM48)
The next entrée to reach our table was totally unexpected – a foie gras brulee. The mousse was so creamy, like pure silk. The beautifully caramalised topping had the right crunch, and offered a unique textural balance to the dish. With a nicely balanced sweetness to it, this entrée was very skilfully done. Definitely a talking point, and something that has come up in more than a couple of conversations since that dinner.
Foie Brulee, Toasties and Fig Jam (RM38)
The third of our table's entrée was the smoked salmon with a tangy Vietnamese salad. Using cold-smoke salmon, which garners a stunning golden colour from the smoking process, the salmon was served slightly warmed. Very distinctive in flavour, you know this is quality salmon. The pear and pecan combination in the salad offered an exceptional flavour and texture combination. A mouthful of salmon, pear, pecan, and a few micro leaves was a wonderful taste experience.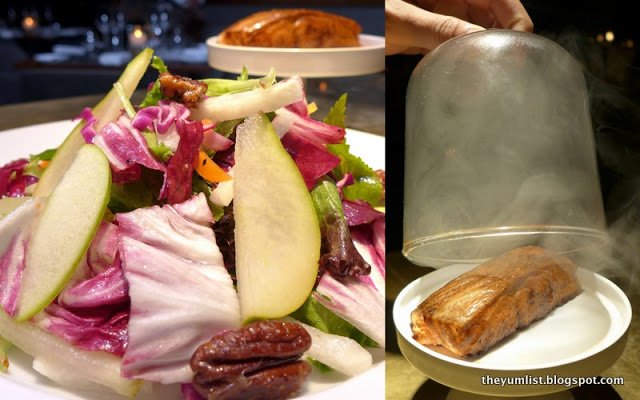 Hot Smoked Salmon (RM38)
The final entrée was a creamy pumpkin soup. A little nutty, with a hint of lime and spice. I love my pumpkin soup, and can be quite fussy. This version was very refreshing, and makes the upper end of my list.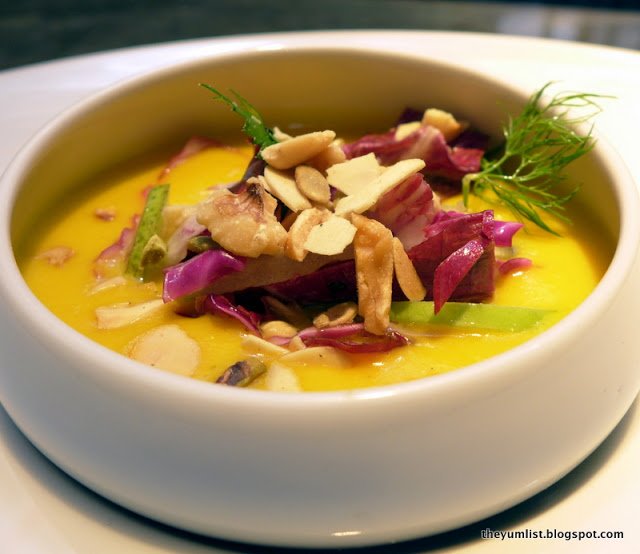 Pumpkin Soup, Seven Seeds, Purple Things (RM18)
So, beast implies meat, and we've had a few interesting dishes. Now, it's time for the beef to come out, and for us guys to really get stuck into some 'beast'. As the mains were served, I couldn't help but notice the condiments. A delightfully char-grilled-aromatic steak was placed in front of my nose – served with a choice of five different sauces (an excellent range may I add) and three different mustard grains. Not only was the steak grilled well, you could smell the charcoal grill on it – an appealing smoky flavour which made you feel they had just BBQ'd this baby straight on an open fire. The truffle béarnaise sauce was by far my favourite, but in the defence of the others – each to their own – as they were all very good!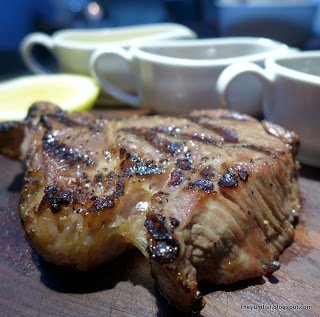 Steak
Quenching my thirst was a lovely light Semillon Sauvignon Blanc – sweet and aromatic. Forget the fact that red wine should go with beef – I have long thrown that rule out the window. I matched it to the sauce – very satisfying, and slightly unconventional. But what a great wine to go with everything tonight – not overpowering, but certainly very alluring.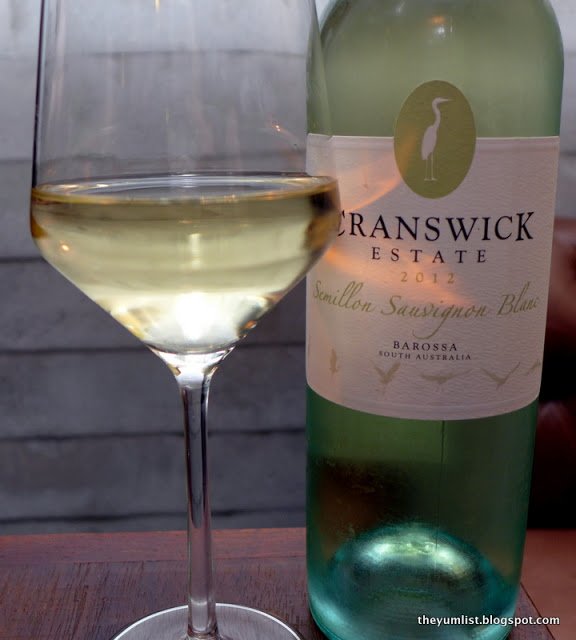 Cranswick Estate Semillon Sauvignon Blanc (RM20 per glass)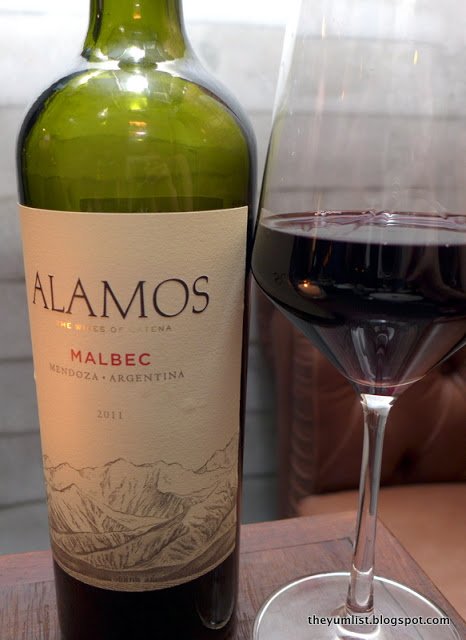 Alamos Malbec (Caning's choice for his steak RM22 per glass)
Continuing the "beef" theme was the Beast Burger with Swiss cheese. A juicy, thick and tender charcoal-grilled patty. I just loved the subtle charred flavour to this – and to the burger buns (made in house I may add) which were also warmed over charcoal. Served with crisp potato wedges, which were lightly salted and oiled, with just a hint of seasoning; this encapsulated the "beast" well – gourmet style food, recognisable to everyone.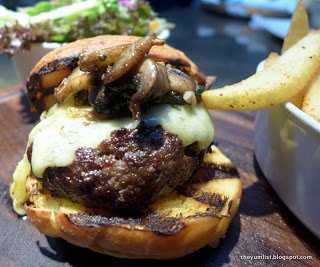 Beast Burger (RM 58)
The final main to come out was fish. OK, so I'm personally not a fish guy, but I did like the presentation and flavour on this. Firm fish fillet, smothered in a slightly buttery sauce, with little peppercorn bursts through it to enhance the flavour. My friends loved the fish, and I loved supping on the sauce! Rich in flavour, I just loved the intensity of the peppercorns as they burst when chewed – a taste explosion with the sauce. So ok, my only request – make this sauce a sixth option for the steak, and I will be a happy man on all levels. Overall though, it complimented the fish extremely well, giving nice balance and taste.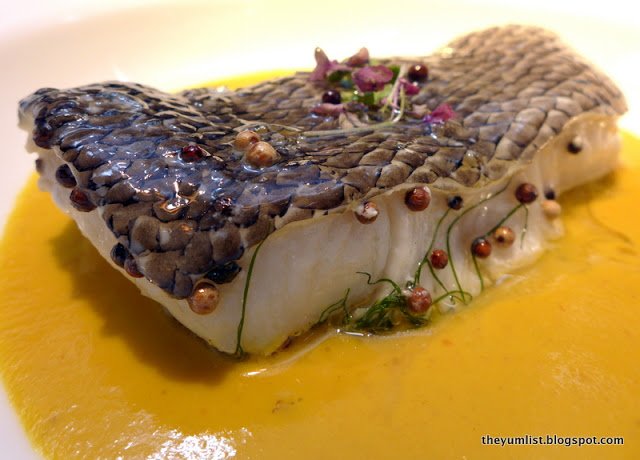 Confit of Cod (RM78)
So, about now, I am starting to feel quite full. Another glass of wine passes, and we are introduced to deserts. I am rolling out of Beast tonight, because seriously, after this meal, walking in a steady straight line is not going to be that easy.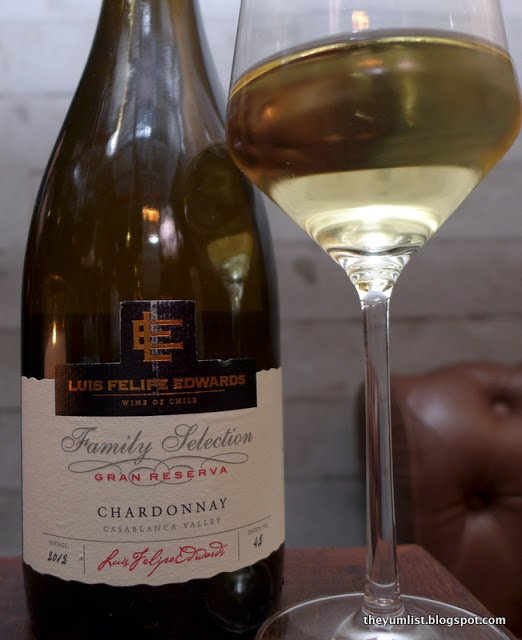 Luis Felipe Edwards Chardonnay (Monica's wine choice for the fish RM22 per glass)
Their sticky date pudding in butterscotch sauce is as indulgent as it sounds. Reminiscent of childhood and all things gooey and yummy, this desert delivers on all levels. A must have for any desert lover, for certain.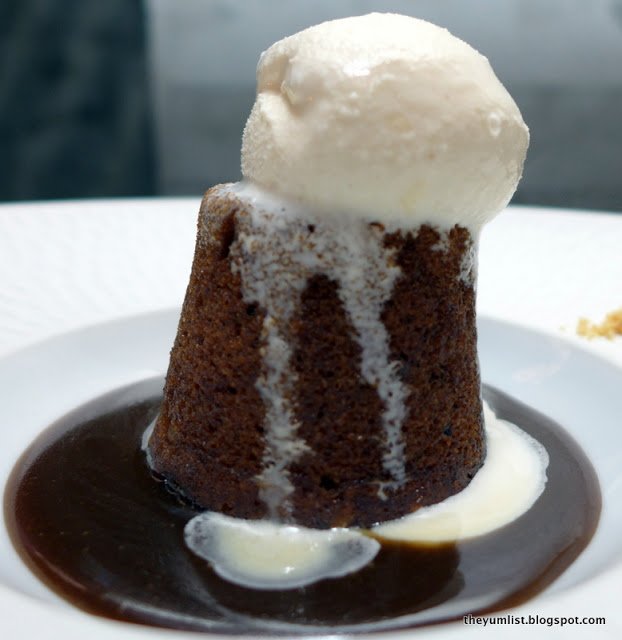 Sticky Date Pudding in Butterscotch (RM25)
Then came the bread and butter pudding; its point of difference being it was made with croissant. A strong rum and raisin influence made this slightly 'alcoholic', but what an exceptional way to finish the night. Great texture and great aromatics, with one of my all-time favourite flavours – a mild hint of vanilla. I'll be back for this one, and I'm sure you will too.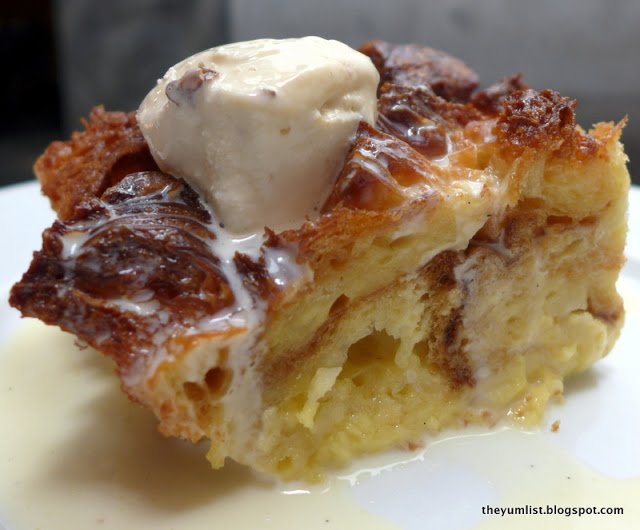 Rum Raisin Bread and Butter Pudding (RM25)
The evening finished off with tea and coffee. Whilst my friends opted for coffee, I indulged in something a tad different; Geisha tea. I am a tea fan, and I love the chance to try different tea infusions. Definitely, I was not disappointed. This tea was very soft and light in colour, and had a nice soft oak aftertaste. Not something I had experienced before, but definitely to my liking. It reminded me a little of Cherry Blossom tea – one that has been a particular favourite for the past few years.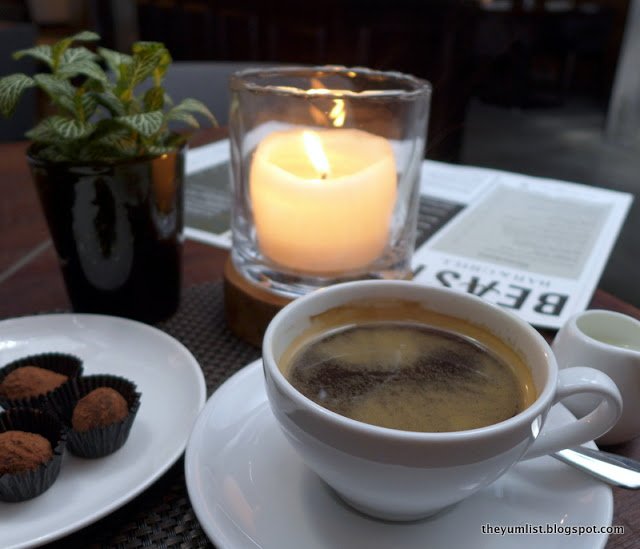 Coffee and Petite Fours
Overall, I felt like I'd eaten a beast that night, so the restaurant certainly lives up to its impressive name. Great food, great ambience, and great staff. Definitely Yum List material, no question about that!
Reason to visit: great ambience, quality cocktails, excellent service, everything carnivorous, Foie Brulee, Pumpkin Soup, Kilkenny Beer Bread
BEAST
Ground Floor, The Intermark
Jalan Tun Razak
50450 Kuala Lumpur
Malaysia
+6 03 2163 5732
Open for dinner Monday to Saturday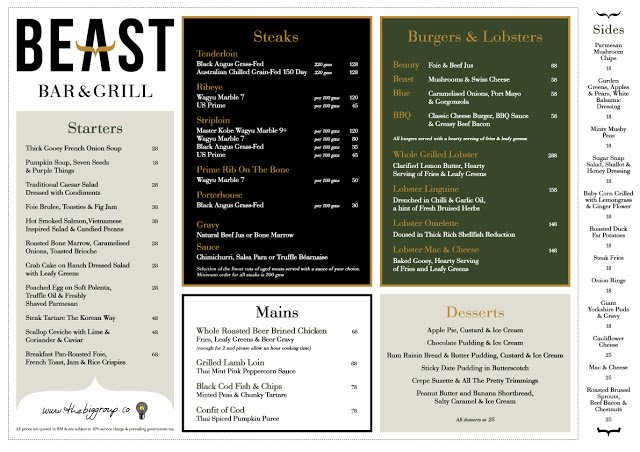 The Menu at Beast