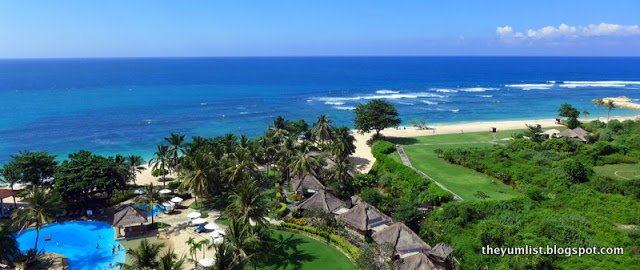 Nikko Bali
Two Distinct Experiences, One Location
Grand Nikko Bali
Words and Photos by The Yum List (Monica Tindall)
Giant seaside resort or intimate pool villa? Romantic couple's getaway or family vacation? Multiple dining options or in-room meals served by a private butler? There are so many options in Bali that the choice can often be overwhelming. The Grand Nikko Bali however, takes the pain out of decision-making and offers it all, in one property.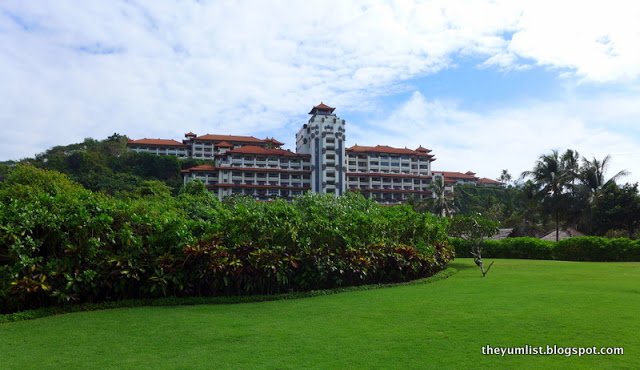 Nikko Bali
Sitting atop the cliffs of Nusa Dua, clever design has the lobby and some common areas sitting at the highest level of the precipice. Pools and recreational facilities rest at the bottom with direct access to the ocean. Hotel rooms have been built down the rock face so you begin at the highest level and descend to the ground floor. Villas get their own gated community on the hilltop. A tropical layout takes advantage of natural sea breezes with open walkways and balconies harnessing the draft to cool the building.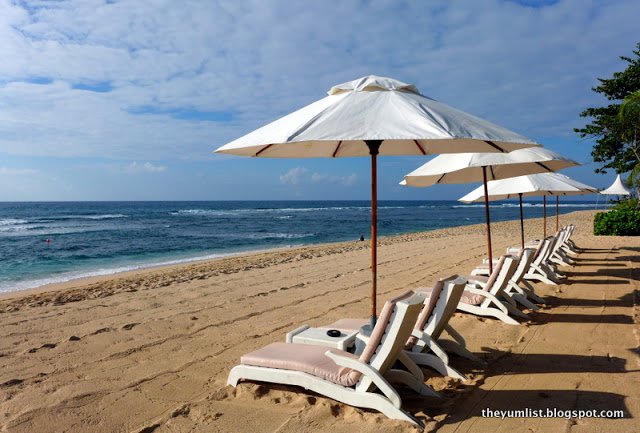 Beach Chairs
Looking out to the sea, you can capture both sunrise to the left early morning and, sunset to the right late afternoon. Sweeping views of the malachite shallows are bordered by jagged rock faces at one end and, a new glitzy property under construction at the other.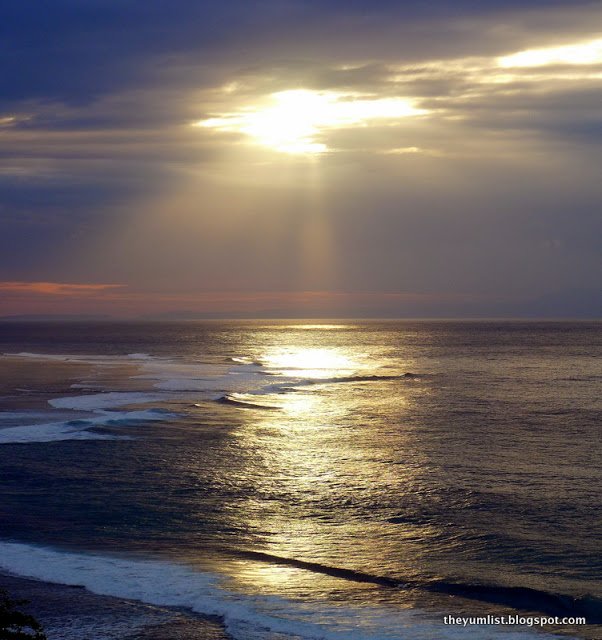 Sunrise
For those who love the feel of a big resort with all of its facilities, choice of restaurants and buzzing crowd, the hotel offers close to 400 rooms. From standard Garden View rooms with private furnished balconies to Club Rooms with spectacular ocean vistas or direct pool access, to the two-storey ultra-luxurious Presidential Suite, there is something for every budget and fancy.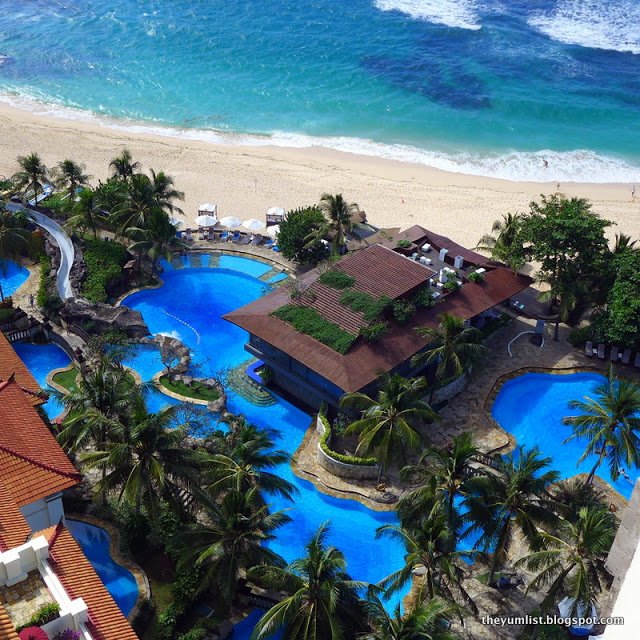 Pools
The Grand Nikko Bali however, too offers 19 one to three bedroom villas. Newly constructed, these "homes away from home" are located in their own residential area with manicured gardens, water features and buggy service. A Club (reminiscent of a grand country club of the genteel) functions as a stately living area where breakfast, afternoon tea, cocktails and free flow hot and cold drinks are available 24 hours.
Our Nikko Suite on the 11th floor featured a furnished double balcony handing out breathtaking views of the shoreline and receiving the rhythmic reverberations of waves rolling onto the beach. A fresh fruit basket and discrete clothes rack for drying out wet swimming suits, without creating a ghastly over the balcony hang, is much appreciated.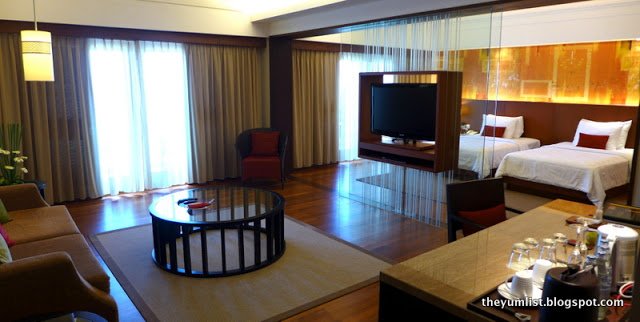 Nikko Suite
A large living area is spacious with lounge, coffee table and desk equipped with all of the necessities. A palette of warm browns and splashes of maroon, are understated hues, allowing the natural view the role of protagonist. Multiple power points meant two of us could recharge computer, camera and flash batteries and, hand phones all at the same time. Club rooms are thoughtfully stocked with a full range of tea and coffee making facilities too – a definite highlight being a quality espresso machine.
Bedding is of high standard and independent light switches added bonuses. Considerate touches such as both indoor and outdoor robes and slippers are warmly noted. Thongs and cotton kimonos are suitable throw-ons for the poolside, while house shoes and light weight dressing gowns give comfort inside.
A separate bathroom is complemented by a powder room in the entryway. The bathroom makes effective use of a smallish space including bidet, toilet, shower, sink and bathtub. Compact amenities though are not a downfall. They allow for gigantic sleeping and living areas. Bath products look sophisticated in refillable ceramic containers. Doing away with the standard plastic bottles both gives a touch of class and also adds a sense of care for the environment. Water comes in reusable glass bottles too and guests are encouraged to use their sheets for two to three days before changing them. Of course, if you choose to have no respect for Mother Earth you can opt to have yours changed daily.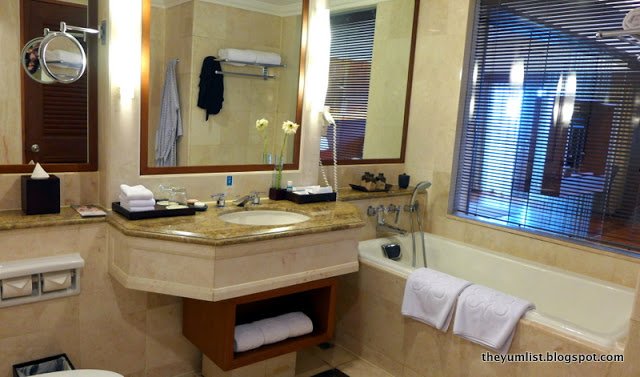 Bathroom Nikko Suite
The villas too offer a range of sizes, from one to four bedrooms. Our second night was spent in a one bedroom newly opened residence. Each dwelling is equipped with its own gardens, plunge pool and semi covered outdoor living area with barbecue and complimentary mini bar. Lounges, sun chairs, and coffee and dining tables, supply plenty of choices for sitting. The infinity edge pool pours over a recently planted (and rapidly growing) green patch then out to the sea.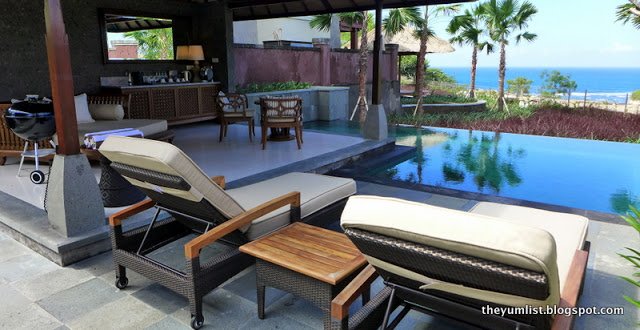 Pool in Villa
The bedroom blends contemporary with traditional, in a seamless fashion. A thatched roof and wooden furniture are complemented by bursts of aquamarine cushions and streaks of chartreuse in the upholstery. A bay window holds a daybed with pull out trundle and a duo of gondola chairs face the patio. A walk-in wardrobe is the dream of many and this one includes the safe and a dressing table.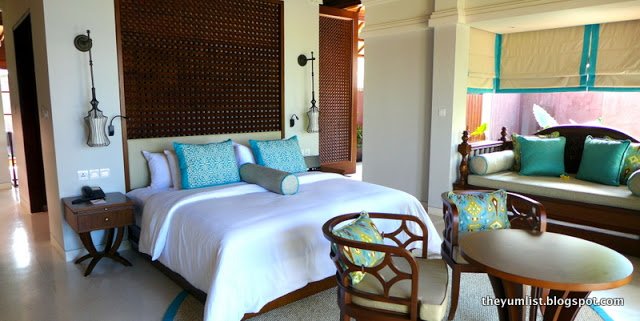 Bedroom in Villa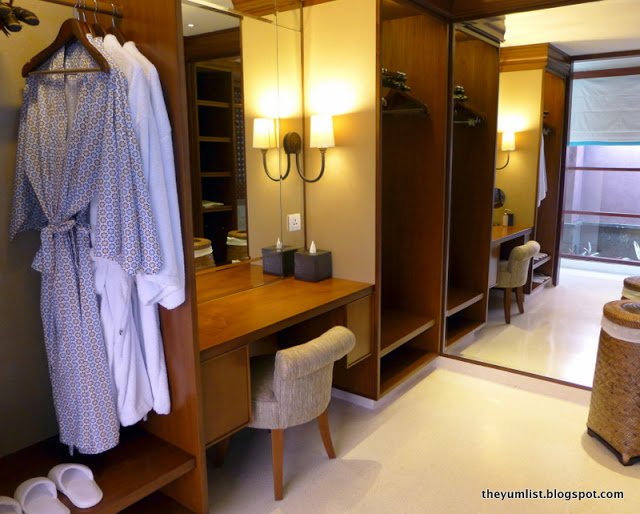 Walk-in Wardrobe
The wardrobe may be what dreams are made of, but the bathroom is the pie in the sky. A modern free-standing oval shaped tub, big enough for two western sized adults, is the centre piece. Natural light streaming in the glass walls is softly filtered by large leafed greenery. A rack crossing the end of the tub is stocked with salts and lush toiletries and begging for a glass of red wine and a good book to join them.
Guests are spoilt for bathing options with double rain and hand held showers (yes that's four shower heads – enough space for two to wash) and an outdoor shower set amongst the garden too. A large mirror above twin sinks reflects the garden as viewed through the glass walls achieving the natural feel of an outdoor bathroom but with the indoor comfort of protection from the weather and insects.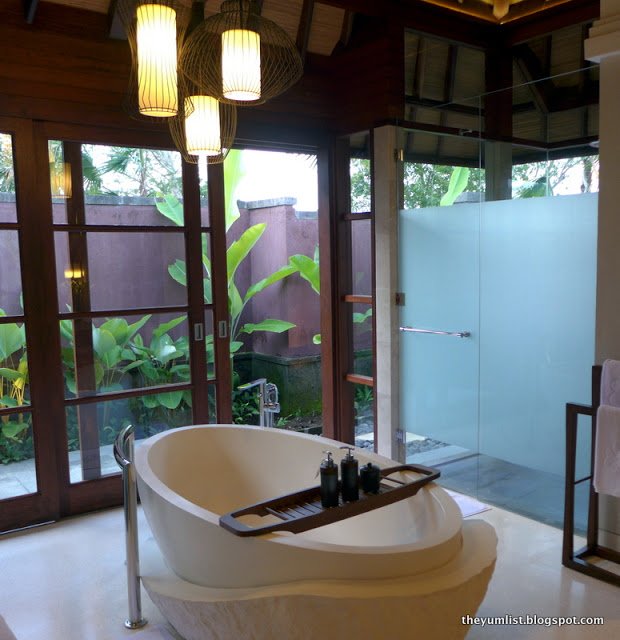 Bathroom
Hedonistic pleasures are on the agenda in the villas. Skinny dips in the plunge pool, indulgently long salt infused baths, butler served breakfast in the privacy of your villa and, even the
spa therapists
will deliver their treatments in your room, or private courtyard at no additional charge.
Guests staying in the hotel rooms too can pamper themselves with a simple upgrade to a Club Room. This is always my preferred option. Not a fan of crowds, I fancy the intimate breakfasts, free flowing beverages and snacks supplied throughout the day and, cocktail hours at sunset. Moderate eaters could even get away with not ordering any extra meals as the offerings are so abundant.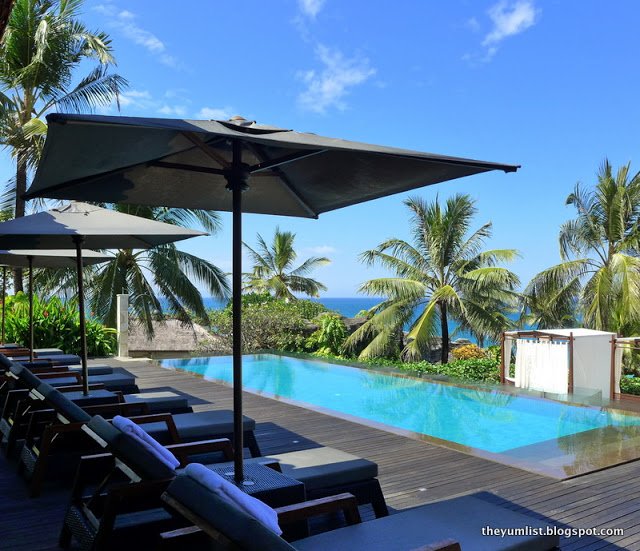 Club Pool
The Grand Nikko Bali's Club Lounge however goes beyond expectations. Not only does it present quality food and beverage, personal attention and business services, it also has its own club pool. A sophisticated row of umbrellas and deck chairs command a view of the deep blue lap pool in the foreground with the ocean licking the shore further out. Exclusive cabanas sit atop their own dipping pool and can be made more or less private with sliding curtains.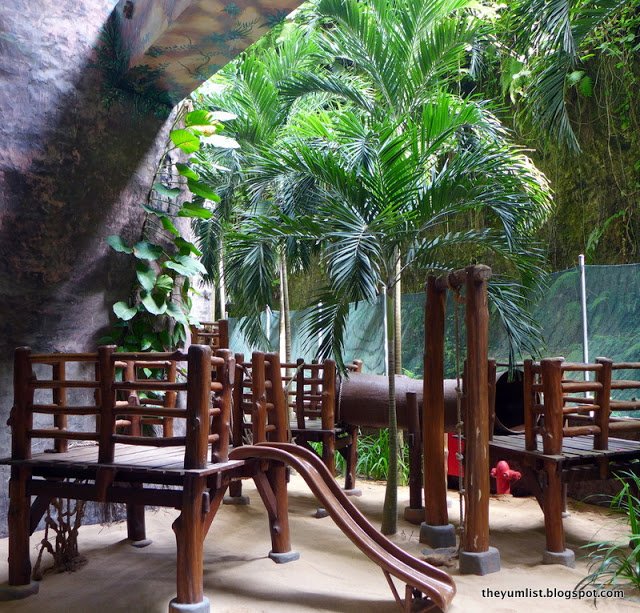 Jungle Camp (Kids' Club)
Resort facilities include multiple food and beverage outlets, a wonderland of pools (kids, adults, bubble jetted, sand rimmed) and a truly fantastic Jungle Camp (kids' club) are open for all. Some local residents in Bali frequent the restaurants making a day of eating and dipping. The
Japanese champagne brunch
,
beachside afternoon tea
and,
wine paired dinners
are worth traveling for. The property is enormous however, so even when full, there are enough seats to go around and sufficient water expanse to find individual amusement.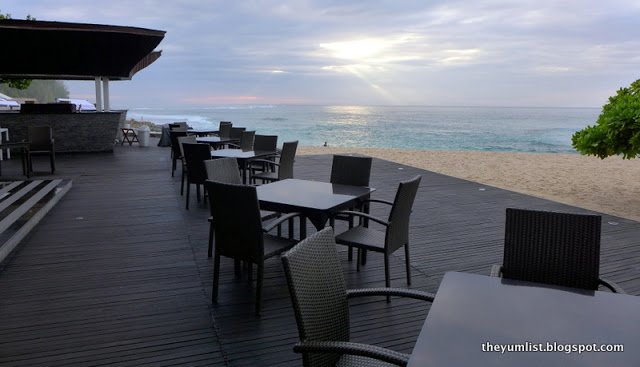 Shore Restaurant
If you can't find exactly what you're looking for in the SEVEN different outlets, you can design your own differentiated experience, such as a
beach picnic
. Stroll down to Serenity (a secluded beach retreat with private cabanas and loungers) at the prearranged time and find a canopy shading beach mats, towels and pillows set up just as ordered. Waited on by your own attendant, expect freshly brewed hot beverages, mocktails, tropical fruit platters, pastries, crusty breads, cold cuts, crepes and conscientious attention to detail.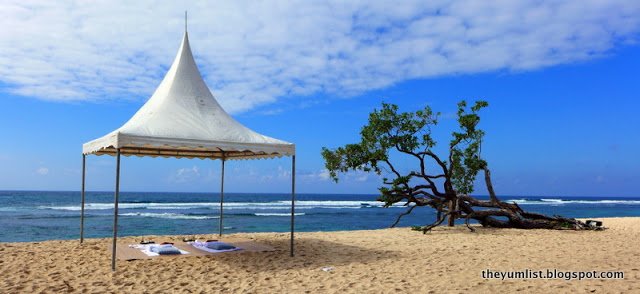 Location for Private Beach Picnic
Inspecting the white exterior of the building and noting the maintenance of facilities, it's hard to believe this property is in its late teens. Meticulous cleaning and ongoing care were both evidenced in one example by the sheer number of workers cleaning the pool at dawn. There were workers pumping, scooping, scraping and sweeping. Seaside properties, large or small, would do well take a few tips from the Grand Nikko Bali.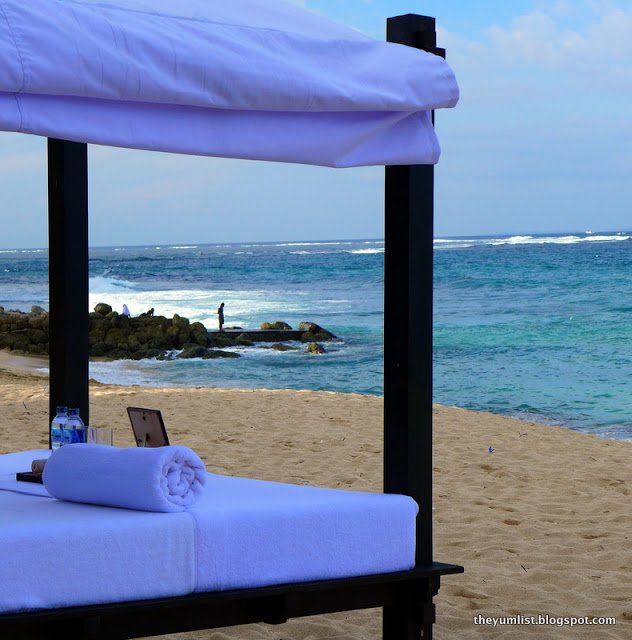 Relaxing by the Beach
Both accommodation options, hotel and villa, propose excellent service. Staff introduce themselves by name, magically appear with moist scented towels and cold water at regular intervals and, warm smiles seem genuine and heartfelt. The villas however, are equipped with their own team of personal butlers who are available 24 hours a day. Their dedication has affectionately been labeled, "invisible service." The team was so efficient and athirst at predicting our needs and going beyond expectations at every chance, we started to think that there might have been some hidden sensor alerting the staff of our movements. Putting up a strong competition with the gorgeous surrounds, the Grand Nikko Bali employees are the stars of a memorable holiday.
The Grand Nikko Bali is the answer for those who have trouble making decisions, or those who just want it all. Providing a range in accommodation, from hotel tower to private villa with personal butler, it proffers all of the facilities of a big resort, but the ability to attend to individual desires associated with a much smaller retreat.
Reason to visit: choice of hotel room or private villa in the very civilized area of Nusa Dua, good dining options, excellent kids' club. Incredibly low price on the newly constructed villas until the end of August 2013! (check out their website for half price specials!!!)
Grand Nikko Bali
Jalan Raya Nusa Dua Selantan
PO BOX 18
Nusa Dua 80363
Bali, Indonesia
+62 361 773 377
www.nikkobali.com