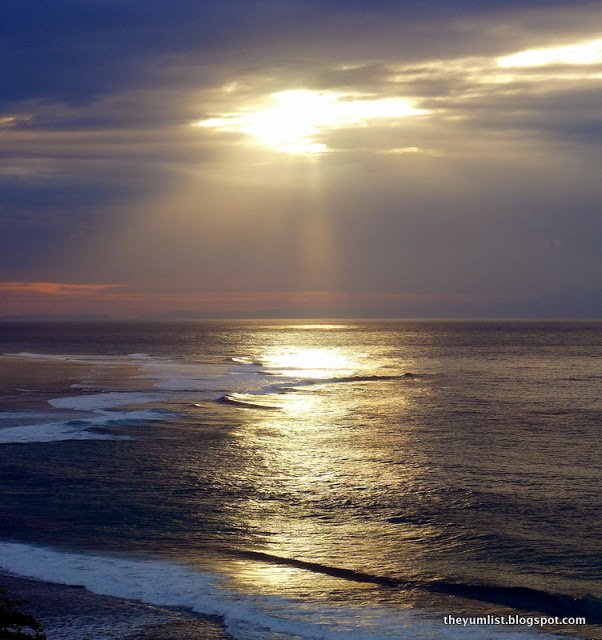 Morning View from Shore Restaurant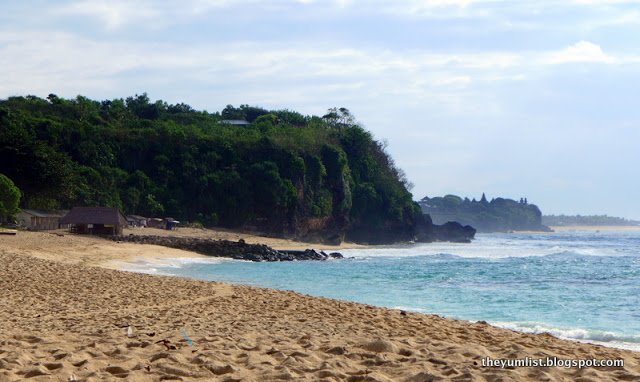 View from Shore Restaurant
Wine Pairing Dinner at The Shore Restaurant, Grand Nikko Bali
Words by Kirsten Durward
Photos by The Yum List (Monica Tindall)
By day The Shore at Grand Nikko Bali is an ideal spot to unwind and appreciate the natural beauty of the white sands and turquoise ocean. By night, two distinct personalities emerge; downstairs on the beach front the style is casual and relaxed while Aqua Mezzanine upstairs is elegant and refined. Tonight we are upstairs, in the peaceful blue tinged Aqua Mezzanine, enjoying the gentle attentions of the delightful Adi, who takes great delight and care in explaining each dish to us. The wine pairing menu changes from day to day, depending on seasonal ingredients and Chef's inspiration. We are eager to find out what delights have been created for us tonight.
Adi presents a duo of herbed spiced butter with anchovy oil and a mushroom puree with truffle oil. I try these two savoury and pungent delights on a crisp sesame cracker, while Monica digs into the brown roll, giving the bread her nod of approval.
Amuse bouche is salmon gravlax with a relish of fennel and raisins. It is a fat little mouthful, sweet and savoury, getting the taste buds ready for the rest of the menu.
A juicy fat prawn curled in its shell, rests on slender rounds of Scallop Carpaccio with prawn, salmon roe caviar and fresh dill. Deep green parsley emulsion adds colour balance in the circles of presentation on our plates. It's a delicate delight of a dish. I love the fat orange beads of caviar that burst saltily against the roof of my mouth, contrasting the slipperiness of the Carpaccio and the buttery textured prawn.
We are sipping on a New Zealand Pinot Gris, the Ohau Gravels 2011. It is a beautiful golden straw colour in the glistening light. With a sweet bouquet, all the sunny New Zealand notes of honey, elderflower and white peaches seep through on drinking. Crisp and served cold, it is a pleasant wine to drink.
Pan Seared Foie Gras with caramelised peach is the next dish. Crispy in house made lattice chips perch on top, giving a welcome change of texture with the fats of the Foie Gras and the succulence of the peach. Foie gras shows just a hint of sear and we agree it is perfectly cooked. It's a savoury dish with sweetness that suits Monica's taste buds just fine.
Our red wine is a Mencia, Gab do Xil 2012. A medium bodied wine with some mineral notes, we find it tastes better after breathing and would always recommend opening this bottle a couple of hours before drinking. As the wine develops, it has a lively nature and good wild berry flavours.
'It's a passion!' says our delightful Adi as he offers Passion Fruit Sherbet. It is one of the most unusual and pretty presentations I have seen, the sherbet popped on top of a halved, frozen passion fruit. It's a dense sherbet with an amazingly strong, slightly limey, flavour topped with a surprising slice of white chocolate.
Pancetta wrapped Barramundi comes with a Parmesan foam. This is one time I am glad to have my own dish, so I can eat it before it collapses, while Monica is still taking pictures. I love the crisp pancetta curled around the fish, and its salty smoky flavour has infused into the white flesh, keeping it exceptionally moist during cooking. With Parmesan and Pancetta there is a little Italian zing to this plating. Sweet pumpkin mash, crème sauce and buttery asparagus all conspire to give a balance of textures and flavours that have us both sighing with joy.
We are supposed to have dessert on the rooftop with our delightful private butler. But once again, photography takes precedence and the rooftop must be saved for after dinner cocktails. Adi first pours the Artemisa Late Harvest Muscat of Alexandria 2009. With a chilled glass filled to the brim with Chilean dessert wine, I feel quite expansive as our trio of crème brûlée arrives.
The natural ingredients in the plating mirror the flavours in the three miniature desserts. Star anise, lemon grass stalk and cocoa beans made from gilded dark chocolate take our attention briefly before we turn to the main event. Our trouble is, where to begin? Each dish has the gentlest hint of a brûlée only. The lemongrass is beautifully creamy with a hint of spice on top. The star anise is aromatically spiced. Chocolate is very dense, with a strong cacao taste. I'm using my spoon but Monica is dipping her biscotti, murmuring, 'I love this.' We agree that the chocolate goes best with the wine, but our personal favourites are star anise for me, and lemongrass for Monica. But it was really very hard to decide.
We move to the rooftop and gasp with wonder. If only we had known to come for sundowners here. What a stunning location! We are sipping the last of our wine under the stars on a chaise longue bench, overlooking palm trees, white sands and the Indian Ocean. Adi asks if there is anything else, and I decide that we cannot leave the Nikko without trying one of their famed 99 Martinis. And… if I am not to have it for breakfast, this will be my only chance. We ask him to choose for us and he returns with a Lychee Martini. It glows beautifully in the soft light, and its clear clean taste is a perfect end to a perfect night.
Reasons to visit: Fresh light food. Fabulous service. Drinks on the rooftop.
The Shore Restaurant
Grand Nikko Bali
Jl. Raya Nusa Dua Selatan
Nusa Dua, Bali
Indonesia
+62 (0) 361 773 377