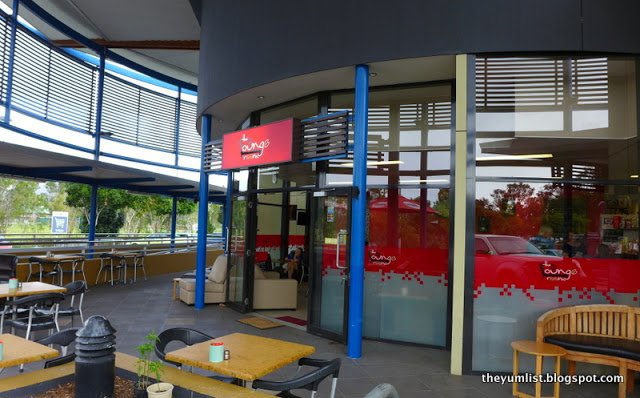 Outdoor Seating Area, The Lounge Room, Mudgeeraba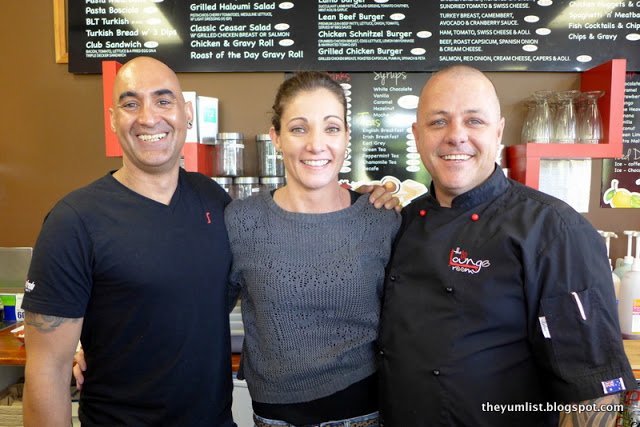 Hard working crew at the Lounge Room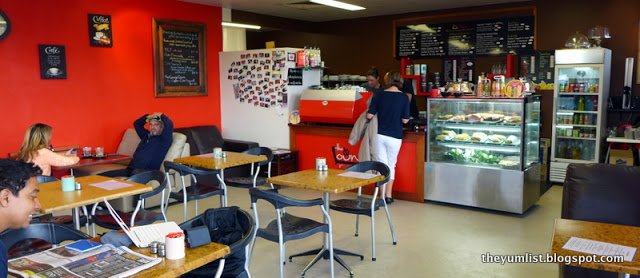 Indoor Seating Area
The Lounge Room, Mudgeeraba
All Day Breakfast – a fab start or end to any day!
Breakfast has long been my most adored meal of the day. There's nothing like rising early, getting in some vigorous exercise, then heading off to an open-air café for brekkie.
The Lounge Room, at Mudgeeraba, has a fantastic breakfast menu and what's even better, is that it runs all day. Early riser or not, there's no need to miss out on pancakes, bacon and eggs just because of a silly little time issue. It's all here, all day!
Coffee is always our first request, and with that, a generous cup of cappuccino and a skinny flat white came out expertly prepared.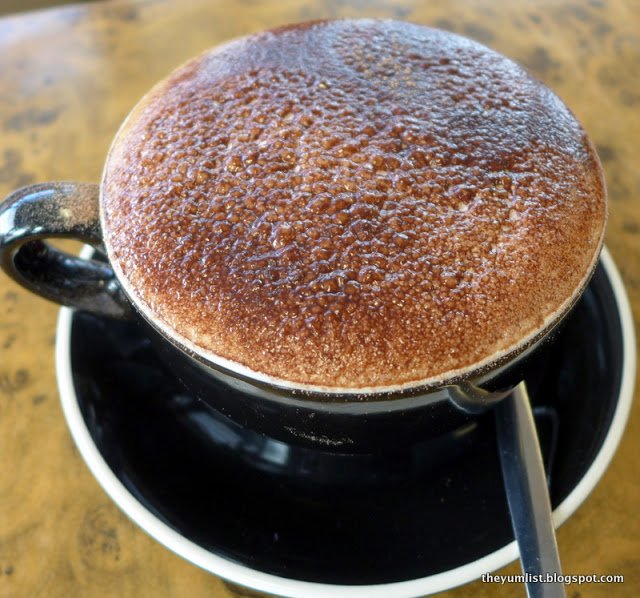 Cappuccino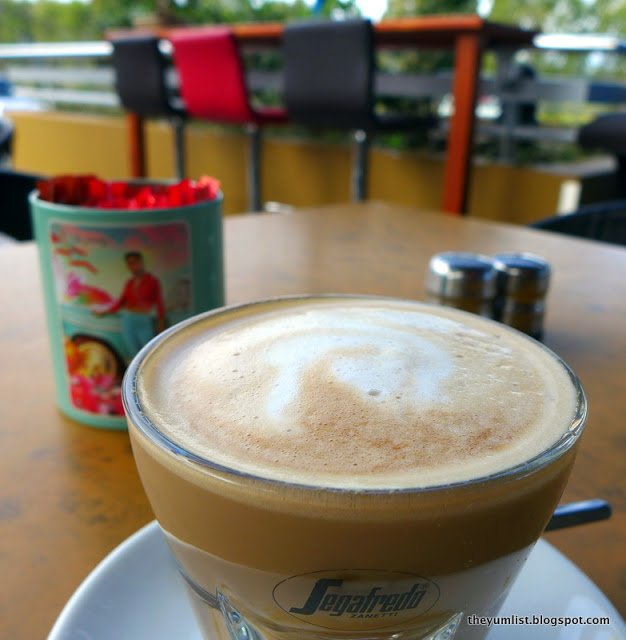 Cafe Latte
The next order was difficult. The Lounge Room's breakfast menu is packed with goodies. It was hard to choose just one. My niece, with her 10 year old sweet tooth, couldn't resist jumping in with her order of treats while she waited for us slow poke adults to decide.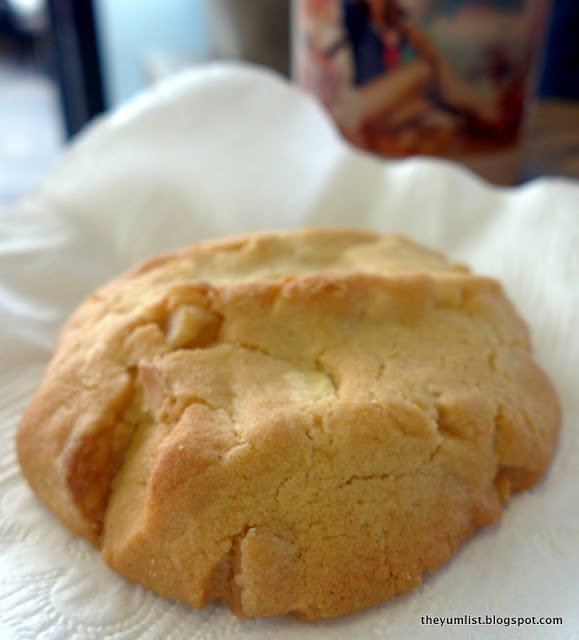 White Chocolate and Pistachio Cookie
Soon a thick slice of toasted banana bread with a slither of butter came out hot and tanned. Moist and not overly sweet, it disappeared before I could nab in for a second bite.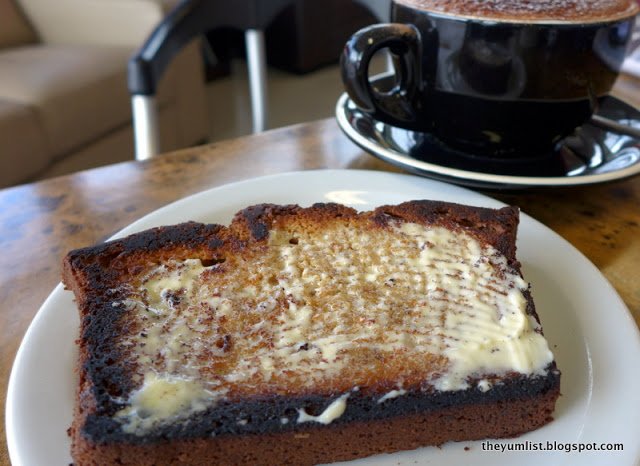 Banana Bread – perhaps a tad toasty around the edges
Oreo Pancakes with Vanilla Ice Cream ($8.50) were out next. Two giant rounds of fluffy goodness held crushed Oreo biscuits. The chocolaty crunch from the cookies was a great contrast in texture to the feathery breakfast cakes. Vanilla ice cream served in a ceramic pot on the side gave control of how much or how little you'd like melted on the stack. Maple Syrup is offered too but my niece wanted hers with a layer of butter.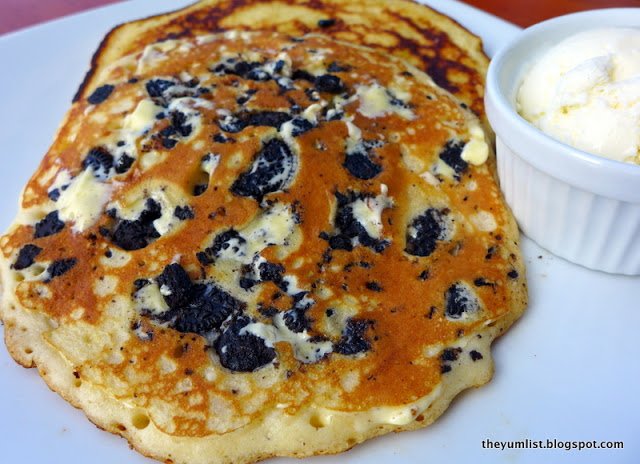 Oreo Pancakes
Hubby's choice was excellent – French Toast with Crispy Bacon and Caramelized Banana, Strawberries and Maple Syrup ($12.90). Succulent strips of bacon reminded me of how good a porky breakfast can be. A thick slice of French toast, lightly browned but retaining moisture and dusted with icing sugar, held the caramelized fruits. The combination of sweet and savoury was fantastic. A hint of acerbity from the fresh strawberries was balanced with the sprinkling of powdered sugar and 100% Pure Canadian Maple Syrup.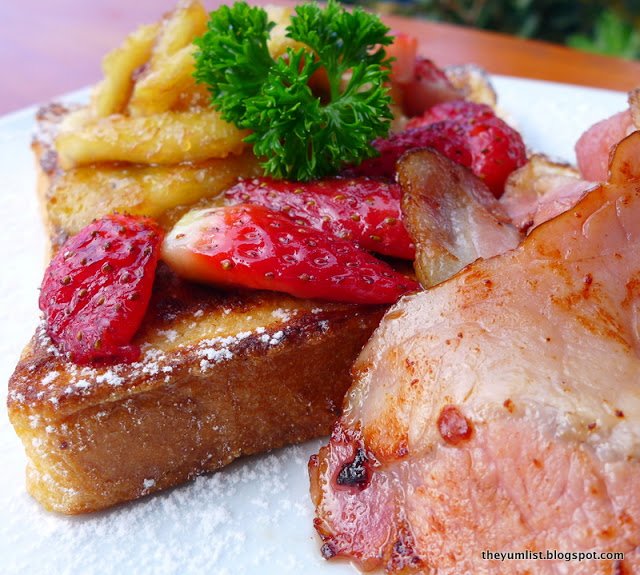 French Toast with Caramelized Banana and Juicy Bacon
The star of the show though was the Breakfast Bruschetta ($9.50). Two ovals of toast drizzled with a balsamic dressing held crushed tomatoes enlivened with fresh herbs and a cap of sliced lime green buttery avocado. Two gorgeous, round lightly poached eggs crowned the masterpiece with firm sprigs of asparagus crossing their tops. Bocconcini slices dotted the surrounds and melted just slightly underneath the warm eggs. Crunchy, smooshy, gooey. Fresh, toasted. Savoury, tangy, sweet. The balance of textures, temperature and flavours created scrumptiousness on the fork.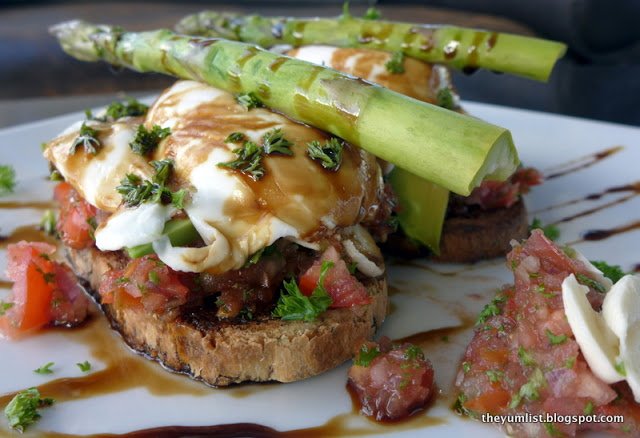 Breakfast Bruschetta
These new kids on the block (dining scene) are gaining a reputation too for the best rösti on the Gold Coast (or so they tell me 😉 ). We had to try it. A golden dune of potato tossed with garden fresh parsley sat humbly on the plate. Upon first poke the wafer thin, crispy exterior gave way to a puff of steam. Rather than the expected greasy fried shredded potato, the interior was closer to a light potato mash. Flavoured with a hint of salt, both seeded and Dijon mustards and, three types of cheese – Parmesan, cheddar and mozzarella -, this flaxen orb turned out to be quite a delight. Not your traditional rösti, but a lovely, fluffier version.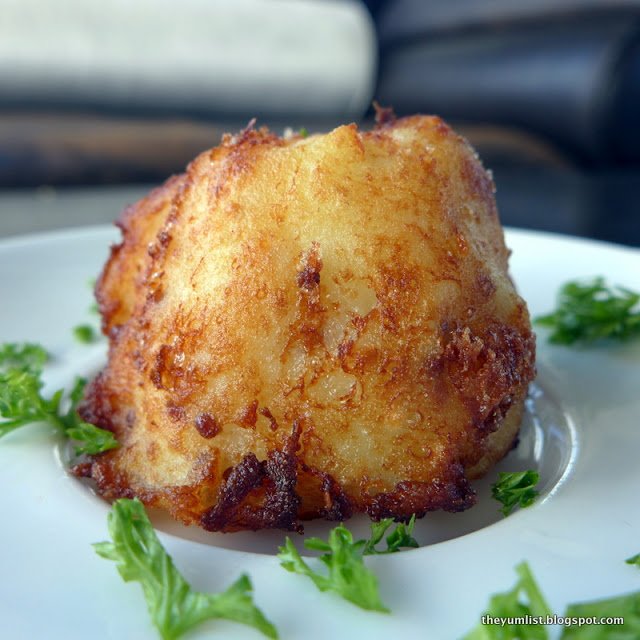 Rosti
All in all, we thought the prices were very reasonable for a good breakfast in Australia. We enjoyed the coffee, the setting and the food. We give the Lounge Room at Mudgeeraba a definite spot on The Yum List.
Reason to visit: Delicious and good value all day breakfasts.
* Sadly this cafe is now closed.
The Lounge Room
Shop 7/2 Bell Place
Mudgeeraba
Queensland, Australia
+61 07 5559 2014
Opening hours: Tuesday – Friday 8am – 4:30pm; Saturday 8am – 1:30pm, Sunday 8am – 12 noon.