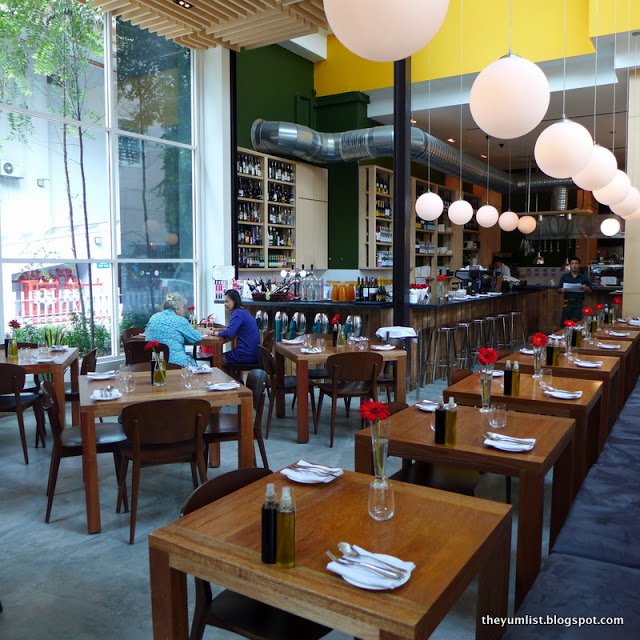 MediTeca
MediTeca – Wine, Tapas, Restaurant and Deli
Words by Polly Szantor
Photos by The Yum List (Monica Tindall)
(Mediteca has changed management since this article. We have not yet been back to check out the latest.)
If you love Mediterranean food, or would like to try it, this bright, airy restaurant in the atrium of Fraser Place is worth seeking out. Chef Riccardo uses the freshest ingredients, many of them air-flown directly from Italy, to create a tantalizing selection of dishes from the sun-kissed shores of the Mediterranean Sea.
It's relaxing to sip a glass of well-chilled Prosecco while sampling a variety of unusual Tapas. Lingua (RM12) presents tender slices of veal tongue served with aioli, parsley pesto and zesty pickled onion, while Chorizo (RM16) delivers stewed Spanish sausage in a herby tomato sauce, with a peppery finish that lingers on the tongue. MediTeca recently added pork to their menu, and these are "real" sausages, hearty and full of well-seasoned meat.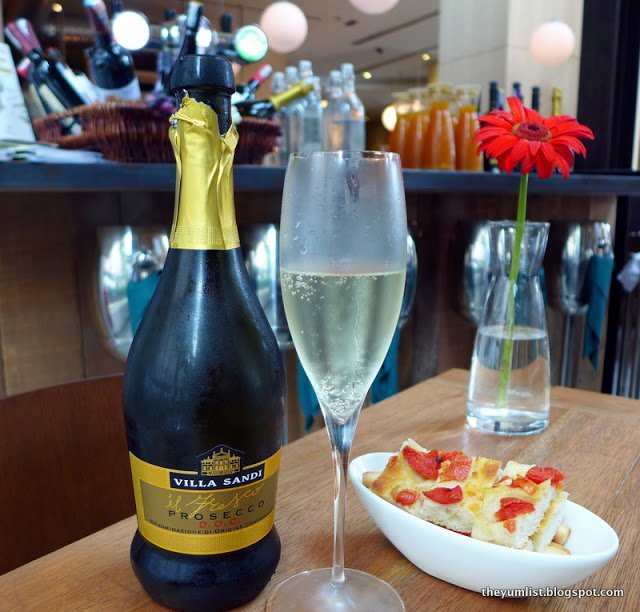 Prosecco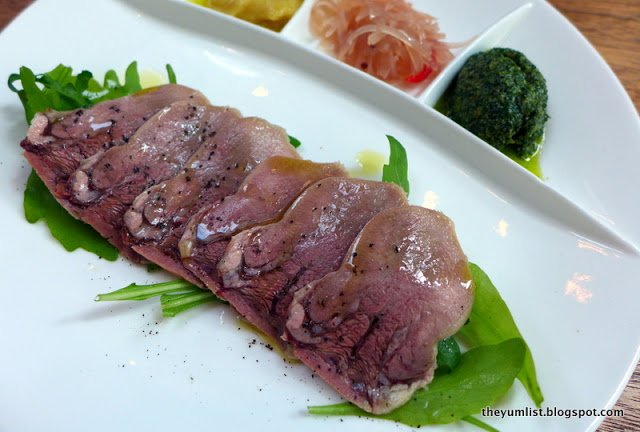 Lingua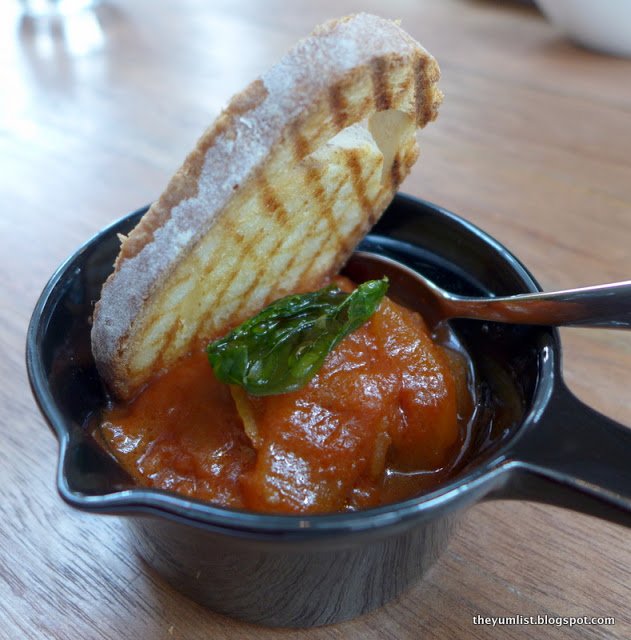 Chorizo
Meals begin with a complementary serving of Bruschetta and Bread Sticks, all made on the premises. Olive oil and Balsamic Vinegar are served in spray bottles, which is perfect for the diet conscious diner.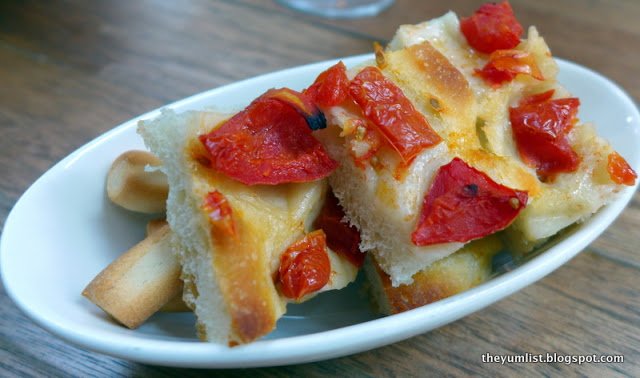 Bruschetta and Bread Sticks
We tried two of the entrées, which were both delicious. The Tomato Salad (RM24) involves sautéed, spicy chorizo, red onion and fresh tomatoes in a smoky dressing made with fennel seeds, basil and the chorizo infused olive oil from sautéing. There is something magnificently robust about this sausage, and the flavours took me back fifty years to my first visit to Spain.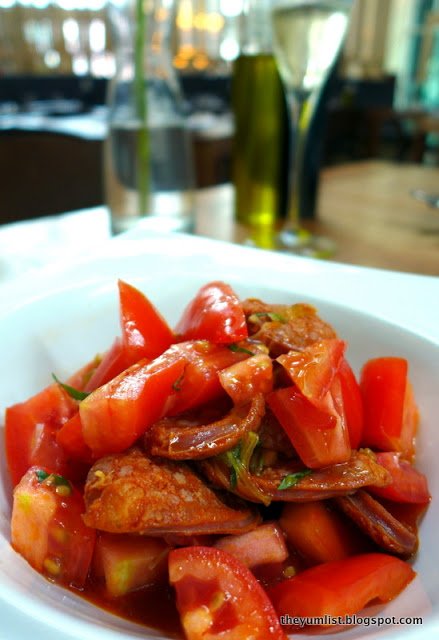 Tomato Salad
The Carne Cruda (RM38) is an inspired combination of Veal Carpaccio, marinated for two weeks in hay, honey, juniper berries and camomile, served with pickled asparagus, broccoli, Parmesan, roasted tomatoes and arugula. Oh yes, we loved this dish. The subtly flavoured, velvety meat practically melts in the mouth. With its hint of sweetness and initial burst of elderflower, a glass of Chilean Gran Vino Santa Carolina Blanco (RM22) complements it very well.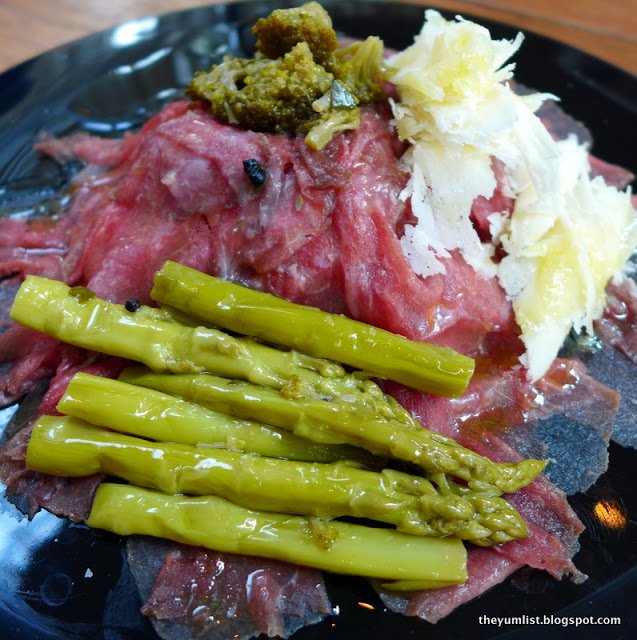 Carne Cruda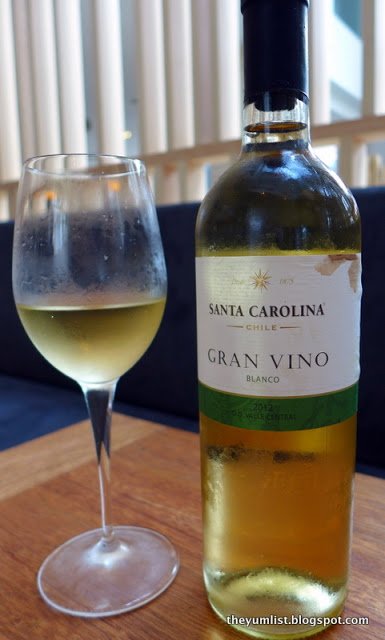 Chilean Gran Vino Santa Carolina Blanco
I love the way Chef has titles for his dishes. Next came Fiorentina (RM22) an egg nestled on a bed of steamed spinach and sautéed pancetta, moistened with besciamelle sauce and baked in the oven. I enjoy the wholesome taste of spinach; it always makes me happy to think I'm eating something super healthy. (This is probably a legacy of watching Popeye cartoons as a child!)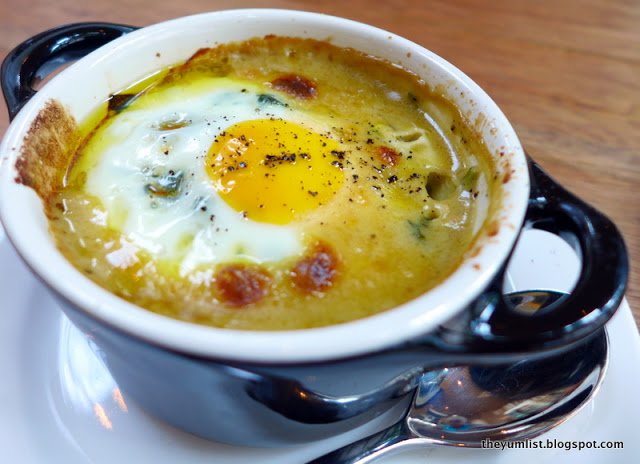 Fiorentina
The Ravioli (RM28) is stuffed with mixed ground meat, mashed potatoes, Fontina and goat Ricotta, and is served simply with melted butter. The perfect, al dente pasta with its cheesy, meat filling textured with potato didn't need a special sauce. This is another excellent dish.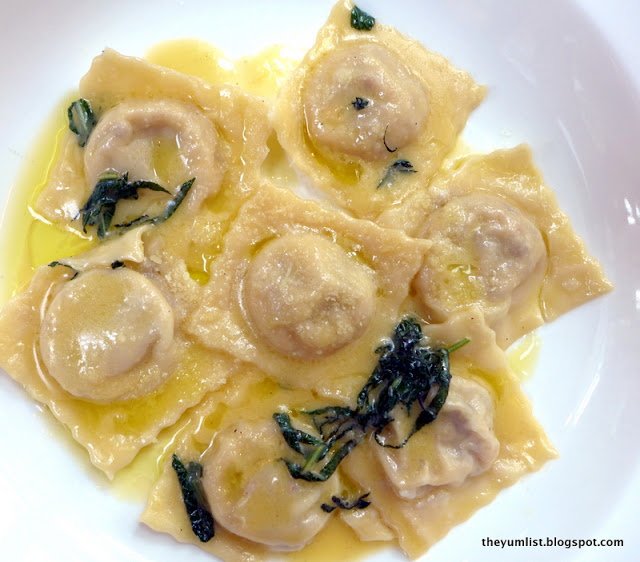 Ravioli
Presa (RM68) is a generous portion of sliced, medium-rare pork entrecote, served with a mushroom wine sauce. I have never eaten pork less than well done, but I put my trust in Chef's meat, flown directly from Italy, and I thoroughly enjoyed its delightful juiciness.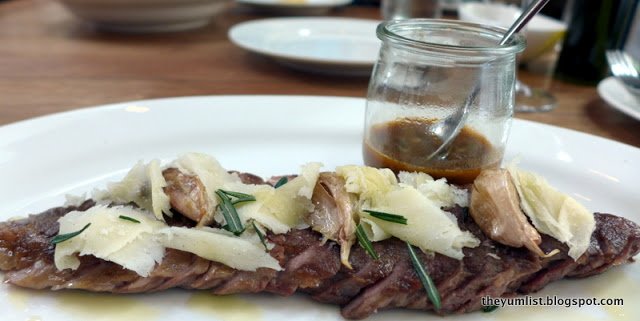 Presa
The desserts were equally appealing. Splashy (RM19) is a melange of strawberries muddled with a dash of rum, then mixed with Italian Meringue and yogurt mousse, a tangy finale for any meal. I've left the best for last though. Changes (RM19) is a chocolate gateau generously garnished with fresh fruit. Using 70% cacao creates a rich, dark dream, somewhere between a pudding, a mousse and a ganache, which combines perfectly with a creamy passion fruit sauce. Mmmm.! To my mind, this is the ideal end to a rather magnificent meal.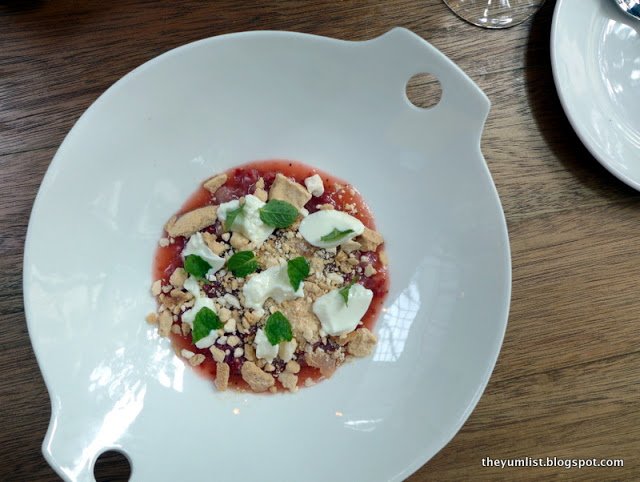 Splashy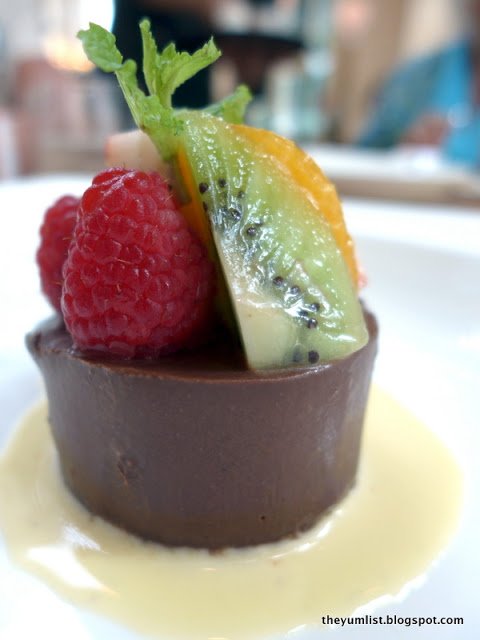 Changes
Every day, MediTeca offers a choice of five Set Lunch combinations with between 3 and 5 dishes in each. The recipes change weekly, ranging throughout the Mediterranean and moving to a different country for 8 weeks in a row. Priced at just RM25, the lunches are excellent value. A quick look at the menu on the
restaurant's website
will be sure to tweak your appetite.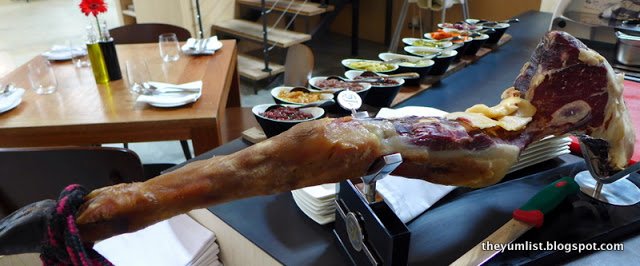 Ham from the Bone
Super Special: from 3pm to 8pm MediTeca serves Churros and a very good Italian coffee for only RM5. Now that's a deal worth trying.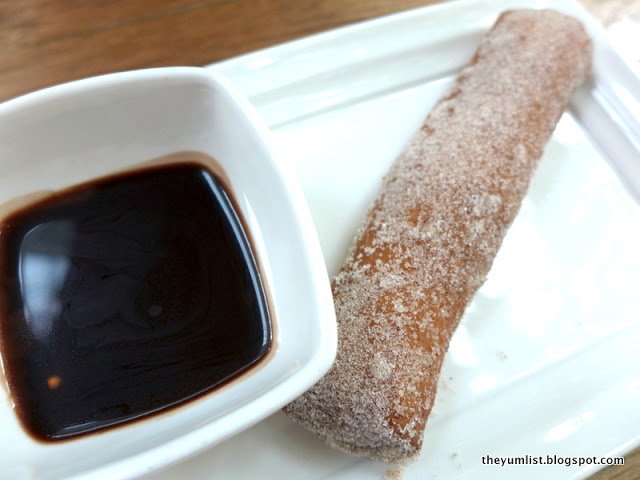 Churro with Chocolate Sauce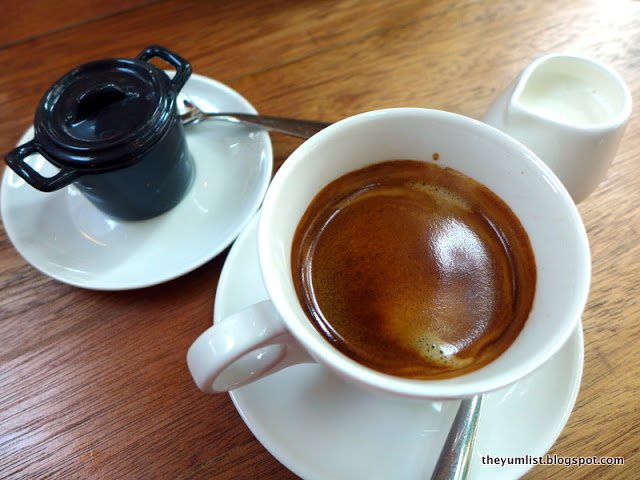 Coffee
Reasons to visit: For tasty, authentic Mediterranean dishes created with panache by Chef Riccardo, to enjoy the attentions of the friendly staff, who are always ready with a clean plate or water refill, good value set lunches, don't miss the Changes dessert, Ravioli nor the Baked Egg dishes (they make a wonderful late breakfast).
MediTeca Restaurant – Wine, Tapas, and Deli
Lot 163 Fraser Place
Jalan Perak
50450 Kuala Lumpur
Malaysia
+6 03 2181 2426