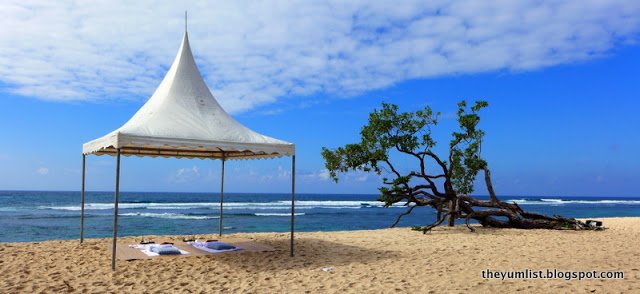 Beach Picnic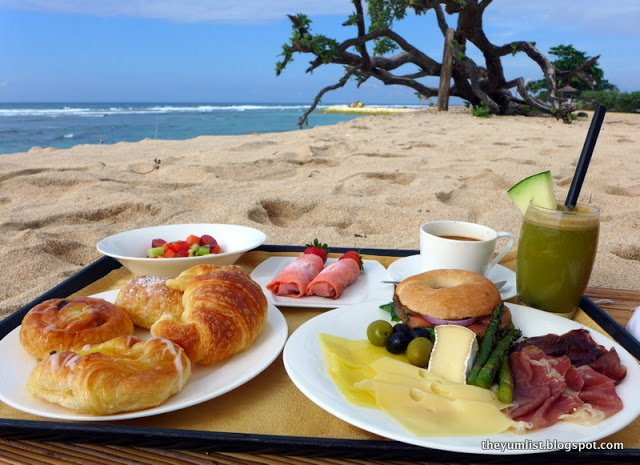 Picnic Breakfast
Private Serenity Beach Picnic, Nikko Bali Resort and Spa
Words by Kirsten Durward
Photos by The Yum List (Monica Tindall)
Walk along the beach on a breezy morning getting your feet wet in the gentle surf to find a relaxed white pavilion prepared with pillows. Relax on the pillows gazing out to sea as the wind caresses your skin and your cares fade away. The rugged coast line with its dark and stormy cliffs add character to the picture creating a perfect setting for a romantic breakfast. To the one side a picturesque gnarled tree silhouettes against the deep blue ocean, to the other a vast expanse of beach leading out, fading out, reaching out to the towering cliffs beyond. Serenity is the name of the beach and serenity is the feeling you have while lazing here in the soft morning light.
Our personal butlers arrive with trays of dishes and an exciting looking picnic basket loaded with goodies. Opened, it appears to be a bottomless hamper, an Aladdin's treasure trove of delicious goodies, as box after box is pulled out and placed between them. We open each sealed box, squealing with delight and exclaiming with wonder at what surely must be a feast for six. What a selection there is, oh where to start? I plump on spiced fruit salad, where the tiniest pieces of strawberry, pineapple, rock melon, kiwi, grapes, orange citrus tumble dressing with ginger and mint hints. Mmmmmm, everyone should try fruit salad this good.
I'm offered a glass of Go Green, a delicious concoction of green melon, cucumber and green apple, guaranteed to get you going in the morning. Coffee is poured, and refreshed and revitalized by our beverages, we lazily peruse what else we should be eating. My eyes are drawn to the selection of cheeses and cold cuts, so I select from these with a delicate pair of silver tongs. Emmental, Gouda and Camembert vie on my plate with Parma ham, and air dried beef.I cannot resist adding fat olives, buttered asparagus and home made chutney.
I really shouldn't, but a smoked salmon bagel just caught my eye. I wonder if lunch will be late, mmm perhaps just a half. Monica is raving about the lightness of the pastries so I have to nibble on the edge of the croissant. It is delectably buttery and light, even better smeared with some of that delicious pear compote, spiced with – oh what? Star anise. Tastes so good it should be illegal.
I should really, really stop now, but presented with a strawberry crepe, palest pink, how can I resist? It's the thinnest and lightest crepe ever, and packed with the most marvelous strawberry concoction. The pastry chef is super talented, and we hear stories that other hotels are trying to pinch her but she is committed to the Nikko. I'd come back, just for that strawberry crepe. I promise you!
We survey the wreckage of our breakfast then turn our heads and gaze out to sea, resting back on our pillows under the canopy. It takes some time to lazily digest all that we have delighted in, and we are happy to spend a few moments enjoying this fantastic location.
I loved being on the beach in the early misty morning, but if you prefer to have a lazy lie in, you can also choose to have one in the late afternoon and watch the sun go down as your personal butler hands you delight after delight after delight.
Reason to visit: a private gourmet picnic on a beautiful beach. Need I say more?
Nikko Bali Resort and Spa
Jalan Raya Nusa Dua Selatan
PO BOX 18
Nusa Dua 80363
Bali, Indonesia
+62 361 773 377