Writer Polly Szantor and photographer Cheryl Hoffmann join in the celebration of breaking fast at an exceptional International Buffet.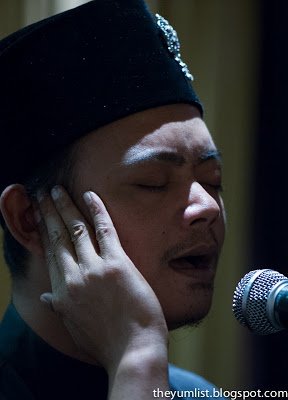 Melodic call to end fasting for the day
It's the month of Ramadan, and there are fabulous feasts to sample throughout the city. The Living Room is justifiably famous for its impeccable cuisine and every night throughout the fasting month, it offers a seemingly endless variety of dishes to discriminating diners. For this special buffet, various cooking stations are scattered throughout a night market setting, and the dining experience is enhanced by traditional music provided by a live Ghazal band.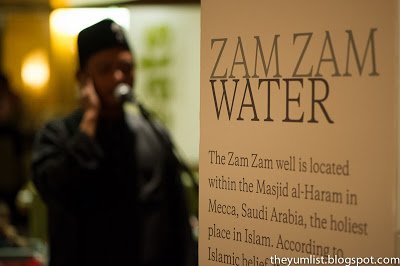 Holy water information
Start your meal with a glass of holy Zam Zam mineral water from Mecca and a plate of Five Malaysian Tiers served at your table: Kerabu Kelapa (coconut salad), Bergedil (potato cutlet), Otak-Otak (seafood pudding), Kuih Bakar (pandan cake) and Carrot Halwa.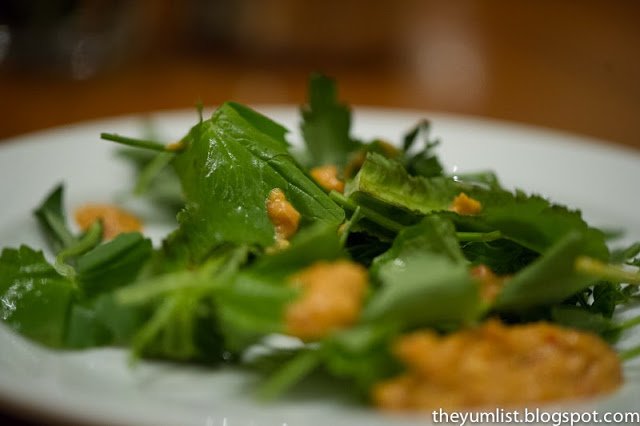 Ulam with Tempoyak
After breaking fast, it's time to stroll around the buffet and decide exactly which dishes should have priority. There's an excellent salad section, with one area for traditional Malaysian salads and another that's more Western. I tried the pleasantly spicy Kerabu Tang Hoon (marinated glass noodles with shrimp), Kerabu Sotong (a fragrant squid salad with banana flowers, lemongrass and turmeric) and a Mussel Salad with wing beans, turmeric and coconut. The most interesting selection was Ulam with Tempoyak, raw, herby leaves with fermented durian paste. The combination of pungent, intensely flavoured greens and the powerfully sour, astringent Tempoyak is guaranteed to wake up your tastebuds and set your mouth zinging.
Now the serious choices come into play. You could move to the Malaysia Noodle Station or the Pasta Section, or follow in my footsteps to the Indian Odyssey Delight. The Tandori lamb, chicken and prawns are delicious, but there are also several vegetarian selections, crafted with delightfully fresh spices, for example Paneer Tikka Masala, Shabil Jal Frezy, (mixed vegetables in a sweet and sour tomato sauce), Aloo Ghobi Punjabi and Vegetable Pakora. Scoop them up with Naan, Chapti, Puri or Stuffed Pratha, or grab an assortment of Keropok – there are at least 10 varieties of these crispy crackers.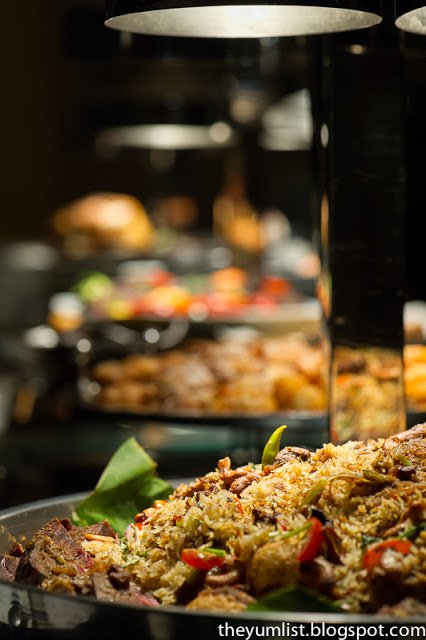 Westin Biryani
You'll probably want to try the Westin Biryani. The chef will be using different meats every night, changing the combination of spices to create new flavours as the mood takes him. Close by you'll find Oven Baked Rib Eye, Stir-fried Roasted Duck, Ayam Kapitan and Roasted Snapper.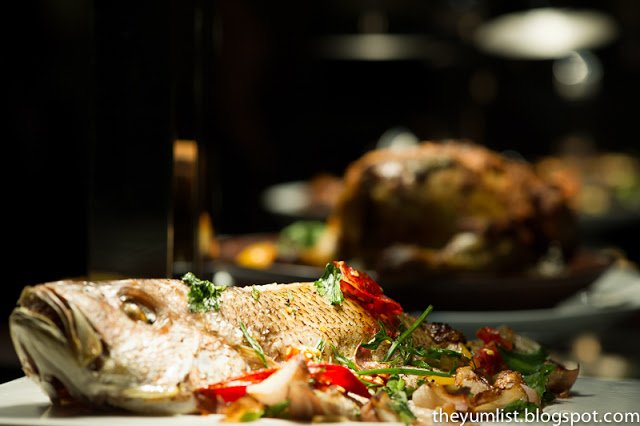 Roasted Snapper
There are traditional Malay Buka Puasa dishes too: Daging Gulai Kawah (spiced beef in coconut milk curry), Ayam Kampung Gulai Nangka (chicken in young jackfruit curry with cassava leaves), Sambal Paru (braised beef lung with chilli) and Sambal Goreng Jawa (fresh prawn sambal) to name just a few. There are several soups, a live Pasar Malam area with Hot Dogs, Hamburgers, Satay, Popiah and Kelab Ayam (steamed coconut rice with condiments) and for something completely different, why not try a taco?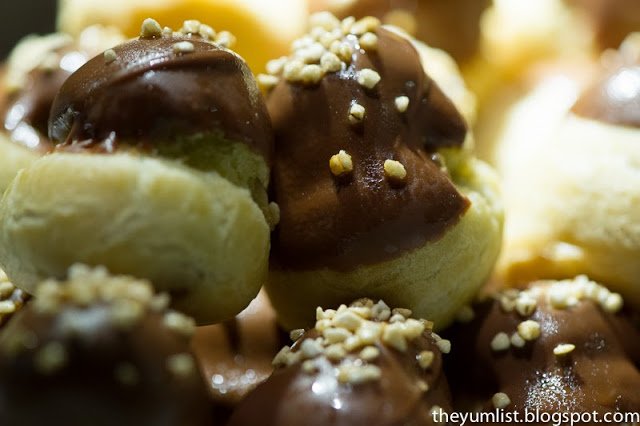 Kopi Cream Puffs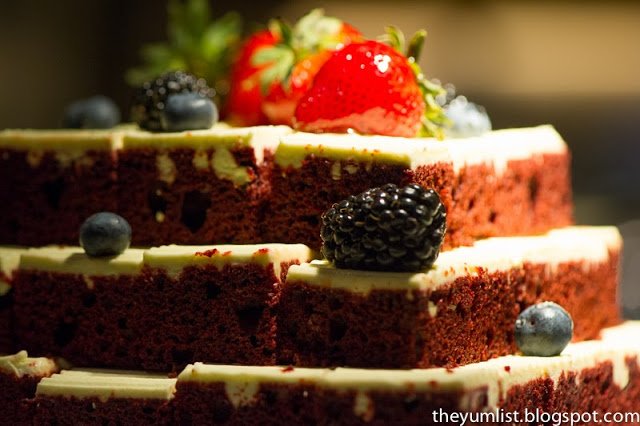 Red Velvet Cake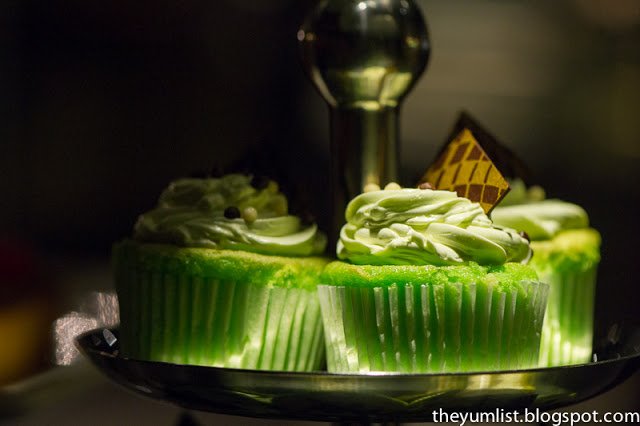 Pandan Cupcakes
Do leave room for dessert, though. It's difficult to resist the smorgasbord of sweet treats. Aptly named Forbidden Pleasures, they include specialties of all the cuisines of Malaysia plus Western favourites. The Kopi Cream Puff is a little bite of heaven; the Bread and Butter Pudding is buttery and not too sweet, while the Cherry Cheesecake is just divine.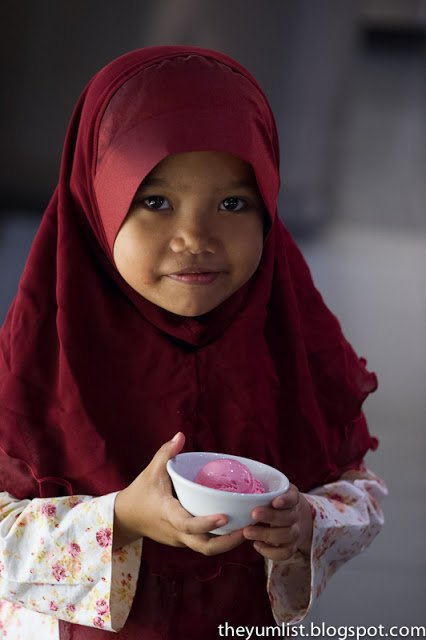 Pink ice cream, please!
There's Ice Cream, Potong and Ais Kacang, candies, cookies, popcorn and candy floss, in short, something for everyone. There's also a large selection of dates and fresh fruit, including more unusual options such as mata kucing, langsat, longan, snakefruit, pomelo and pomegranate.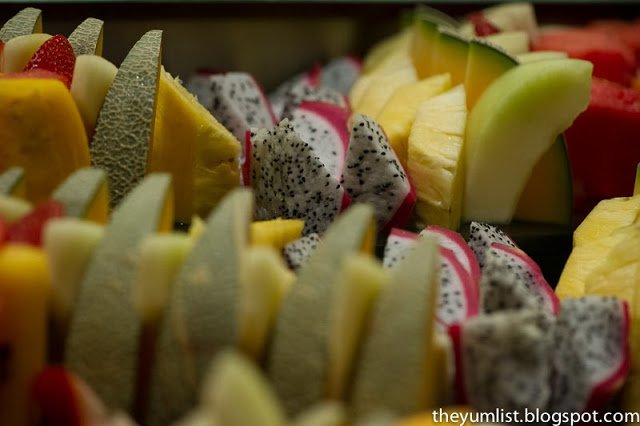 Fresh Fruit
The Juadah Iftar Buffet is priced at RM128++ for adults and RM64++ for children aged 5 to 12 (free of charge for children up to 6 years old). This irresistible Ramadan spread will be served from 6.30pm to 10.30pm from 10 – 31 July 2013.
Reason to visit: For the fabulous variety of traditional Ramadan favourites. I estimate that it would take at least five visits to do justice to all the delicious dishes.
The following discounts apply:
1. 20% for group booking with minimum of 10 diners
2. SPG members enjoy 50% from 10 July – 17 July and 30% from 18 July – 5 August 2013

Living Room
The Westin
199 Bukit Bintang
55100 Kuala Lumpur
Malaysia