Claret, Wine Bar, Troika Sky Dining
Claret, Troika Sky Dining – an elegant and contemporary bar in the city centre
Located in the iconic Norman Foster building The Troika,
Claret is one of the most fashionable wine bars in the city. With a westerly
outlook, KLCC Park and a panorama of the city skyline are viewed from the chic
setting. Come after work for a tipple with the golden sunset as backdrop and,
stay into the evening for the allurement of shimmering city lights.
An eclectic shuffle of smooth jazz tunes, cheery beats and
crooning female vocals sound the air and uncomplicated, yet stylish
architecture fill it. Low lounges, bar stools and an al fresco patio comprise
the space which links Cantaloupe and Strato restaurants, making it ideal for
pre or post dinner drinks but sufficient for an evening of fun all on its own.
A huge spiral staircase is both functional and decorative
leading to a dining area above. The bar and tables are topped with cool white
marble grounding the mood and evoking feelings of strength and a first-class
experience. Vintage exposed-filament light bulbs hang in a line above the bar,
and funkily shaped plaid and aquamarine chairs wink at retro design, but the
overall ambience is essentially contemporary.
When asked what they had hoped for when dreaming up the
composition of the space, playful co-owner Eddie replied, "we were hoping for
some customers." And… that might sum up their menu too – it's classic but
imbued with hints of jest in both recipes and descriptions.
An ample cocktail menu is aptly titled, "Twisted Classics,"
with most concoctions costing around RM36 and partnered with commentary that
will put a smile on your face before you've even had a sip. Now what to drink?
Perhaps a Vesper Martini – "shaken, stirred or you just don't give a damn?" or
a Lorraine – "possibly France's least favourite holiday destination."
It's a mature menu, made for seasoned drinkers. You'll find
no watered down sugar syrups here. Ingredients are high quality and preparation
traditional. Hubby loved the Hemingway Daiquiri –" forget about that frozen
fruity drink. Papa was a thirsty guy, make no mistake," a traditional daiquiri
with a dash of grapefruit and maraschino liquor. I was torn between the Vesper
Martini with vodka, gin, Lillet and an orange twist and, the Espresso Martini
blending Matusalem rum, Espresso and palm sugar (gula Melaka), with three
coffee beans floating on top.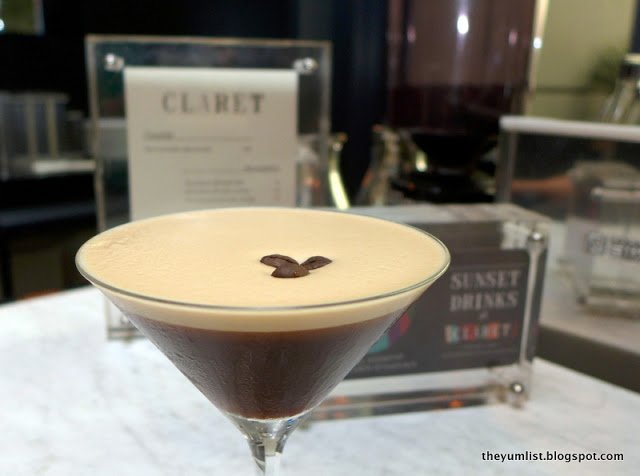 Espresso Martini
Keep an eye out for interesting specials where bartenders
clearly give thought to the many liquors stocked in this bar and in turn carefully
construe drinks to highlight the distinct qualities of each. This month, twists
on the classic Gin and Tonic are on offer. Accentuating the uniqueness of each gin
label, we found the Caorunn version lovely with thinly sliced red apple,
Schweppes Indian tonic, apple juice and cinnamon sticks served in a sizable red
wine glass. But the Tanqueray 10 with Fentimans tonic, a dash of chamomile
bitters and twist of grapefruit sounded intriguing too, as did the Seagrams
with Fentinmans tonic, pineapple slices and basil leaves. There are seven to
choose from priced at RM30++ each or you can try them all for RM180++.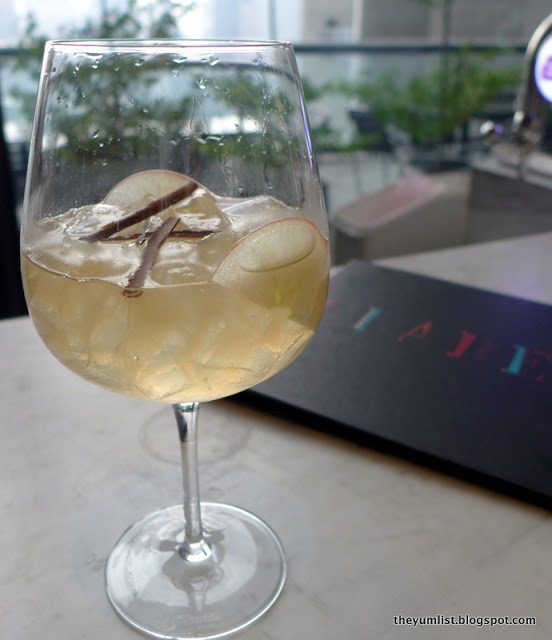 Caorunn Gin and Tonic
Sunset Happy Hours run every Monday to Friday from 4pm –
7pm. The standard red and white wine and, draught beer are priced at RM18++ per
glass. There are daily specials too such as Tuesday's Champagne deal where every
subsequent bottle you buy costs less each round. If you drink enough, it might
just become free?
Beer with a Good Head
You've probably guessed by now not to expect any cheap fried
peanuts or greasy barbecue chicken wings as bar snacks. Think more along the
lines of oysters, gourmet bruschetta, cured meats (turkey, duck, beef) and
pizzas with lush toppings.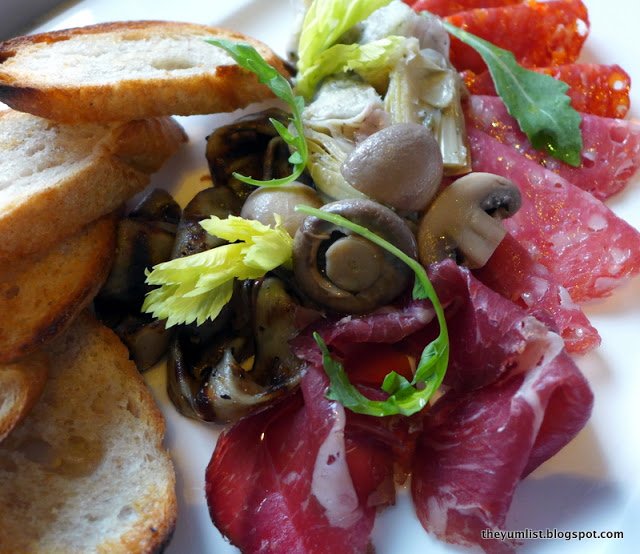 Cured Meats Platter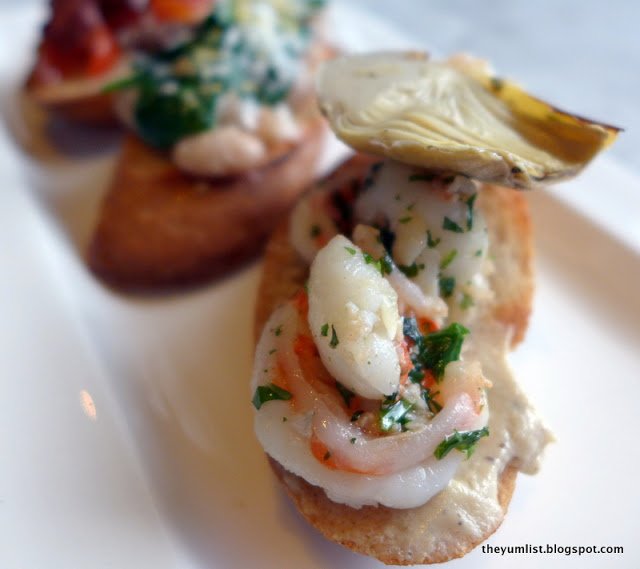 Trio of Bruschetta (RM18): Chorizo with tomato salsa; prawns with grilled artichoke; cassoulet beans with Parmesan
Crispy thin-crusted pizzas with big, bold trimmings hover
between RM30 – RM45. The Portobello Mushrooms, Cheese Sauce and Egg (RM30)
version featured meaty slices of mushroom with a wonderfully savoury sauce and
runny egg. The Carbonara, Broccoli, Asparagus, Gorgonzola and Smoked Duck Breast
(RM45) was another hit – this time a mouthful of garden greens with asparagus
and broccoli dominating. Unexpectedly the wallflower was the duck breast – it looked
pretty and tasted nice, but allowed the veges to shine.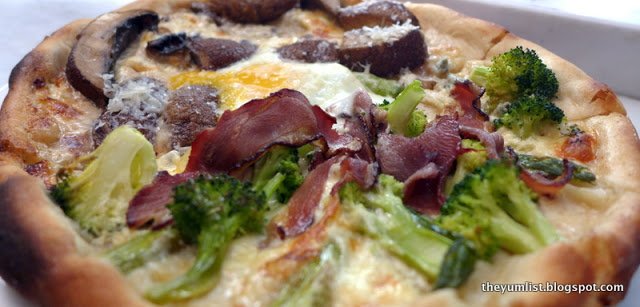 Pizza
Check out Troika Sky Dining's Facebook page for monthly
pizza nights. Free flow pizza, wine and beer runs for two hours from 6 – 8pm
for RM98++, in the Italian restaurant Strato located at the top of the
staircase.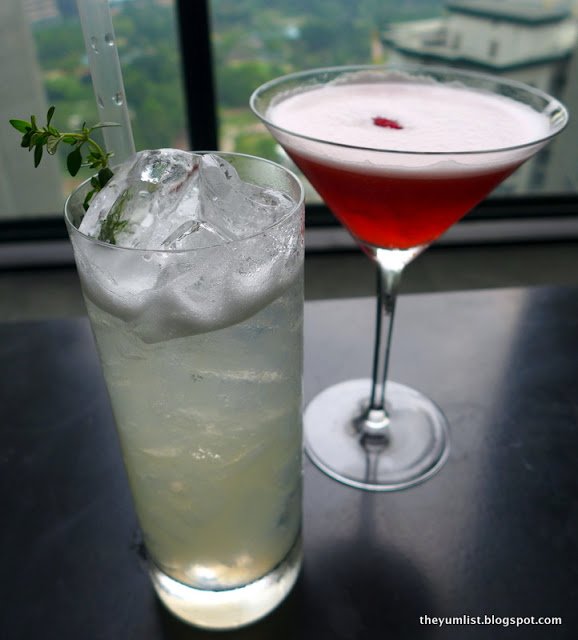 Clover Club & Ramos Gin Fizz
Sweet tooths are not forgotten. Dessert is served at Claret
with some mouthwatering options such as the Banana and Coffee Tiramisu (RM25), Chocolate
Mousse Cheesecake (RM25) and, Cherry Almond Tart with Vanilla Chibouste (RM20).
Any number of liqueurs would pair well with any of these desserts but we went
with a traditional Sambucca and Dow's Tawny Port 10 Years (RM28).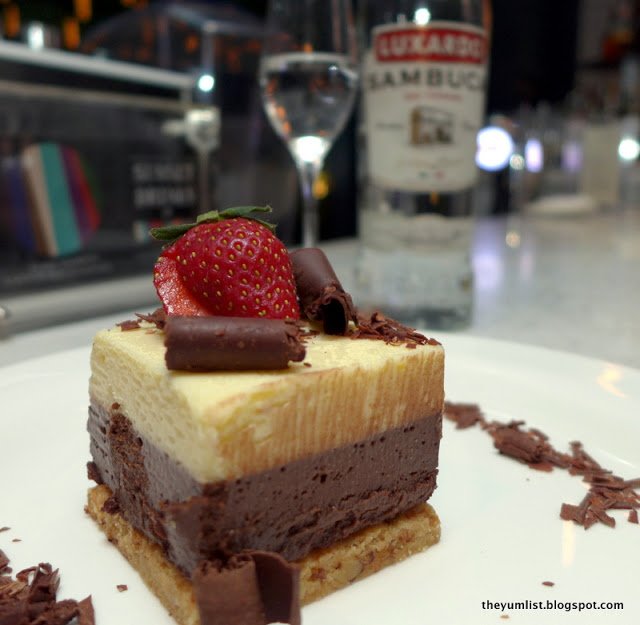 Chocolate Mousse Cheesecake & Sambucca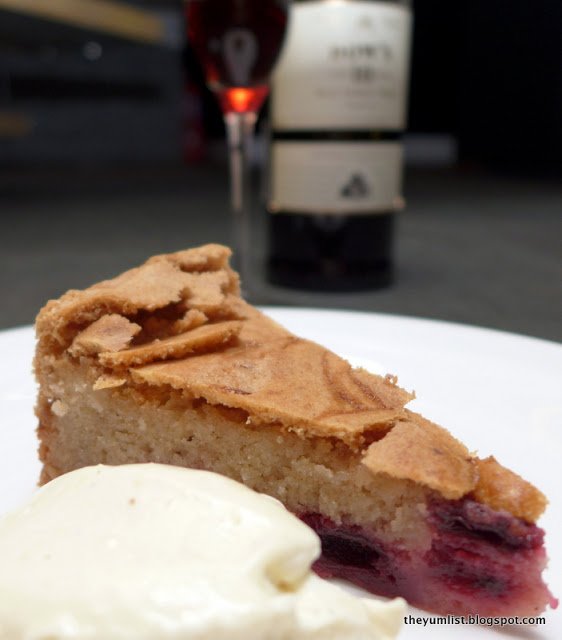 Cherry Almond Tart with Tawny Port
For a memorable treat try a degustation pairing of three
Michel Couvreur Whiskies and delicately matched desserts (RM65++). Start with
Michel Couvreur "Overaged" partnered with poached pear, 'dulcey cremeux'
Valrhona chocolate and a torched ginger meringue. Follow it up with Michel
Couvreur Pale Single Single accompanied by almond milk panna cotta, redcurrant
sorbet and cinnamon milk crisps. Finish the plate by slowly sipping on the
Michel Couvreur 'Single Grain' and, savouring the crème brûlée, torched
brioche, stewed figs, crème chilbouste and hazelnut crumble. Each sweet was
unfaultable, but the finale with its fired up ingredients pitched the image of campfire fun toasting marshmallows and drinking a drop of something
strong to warm you up – an exemplary ending.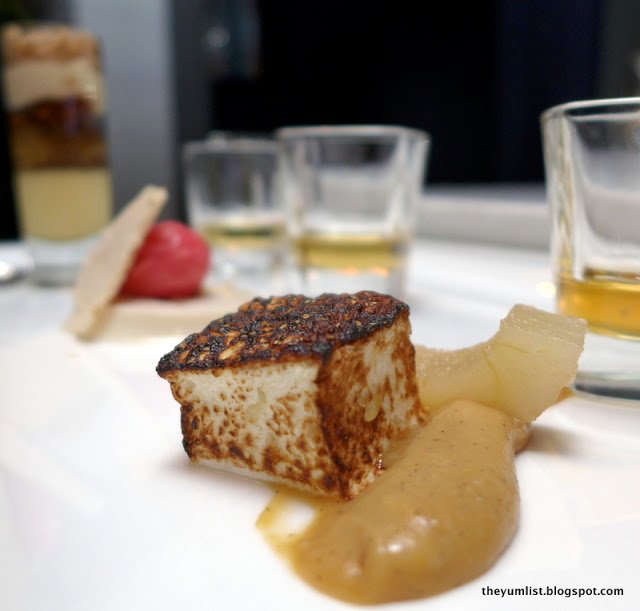 Whisky and Dessert Pairing
Reason to visit:
elegant setting and views, personally curated lists of wines predominately from
France, daily happy hour specials, yummy bar snacks
Claret, Troika Sky
Dining
Level 23A, Tower B
The Troika
19 Persiaran KLCC
50450 Kuala Lumpur
Malaysia
+6 03 2162 0886
Open 4pm – 1am daily
Pork-free