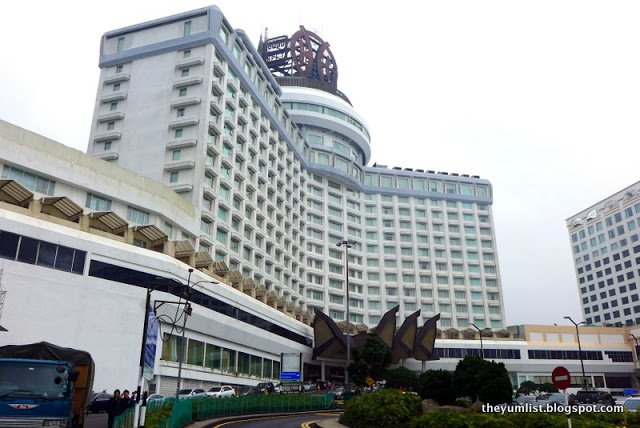 Genting Grand
Genting Grand, Resorts World Genting
At Resorts World Genting, Malaysia's highest hotels offer respite from the hot tropical climate of the lowlands, and a world of entertainment and dining.
Only an hour from Kuala Lumpur, Genting Highlands is a quick escape from the heat. At an elevation of around 1800 metres, temperatures are guaranteed cooler than the city, generally hovering between 14°C and 25 °C. A windy road up the slope is sided with lush foliage making the drive a scenic one. The ascent leads through a cloud forest and finally to an almost unbelievable metropolis on the mountain peak.
Over 10 000 rooms on top of the hill cater to all financial plans. You can get deals on basic rooms for as low as RM48++ per night, but also spend into the thousands on luxury suites. As you know, The Yum List is way past the budget years of travel and will opt for the best we can afford wherever possible. In this case, that means the Genting Grand.
Fresh from a makeover the lobby is shining with marble and looking suave with a simple, yet stylish design. Lofty roofing gives a feeling of grandness and laced woodwork separates the foyer from the rest of the busy-ness while still allowing in light. Textured walls are mirrored in geometric shapes in the ceiling and soft lighting warms and welcomes.
Even amidst the flocks of visitors (it was a long weekend) staff were quick to attend to our bags and check us in. Thirst quenched with a mango juice, we had our keys in hand and were escorted to our room within minutes of arrival.
Recently refurbished Genting Grand Premier Rooms are appointed with either a king size or twin beds. Feather pillows and cotton linens add comfort and the regular amenities such as a 42-inch plasma TV, in room safe, mini bar and, tea and coffee making facilities are all in place. A Nespresso machine is an appreciated touch allowing guests to brew their own beverages in residence.
Rooms are light and bright. Pale timber furniture and, baby blue and fawn carpeting perk up the space with a cheery, contemporary ambience. Black marble bench tops and kitchenette appliances provide a darker contrast to the lucent interior.
Depending on which side your room is on, hillside or theme park views are possible, although low cloud is the vista for the most part of the day.
The bathrooms are sufficiently spacious bearing a separate tub, shower and his and hers basins. The colour scheme echoes the sleeping area with a foundation of cream tiles and black highlights. Petite potted plants bring nature indoors in pleasant adornment.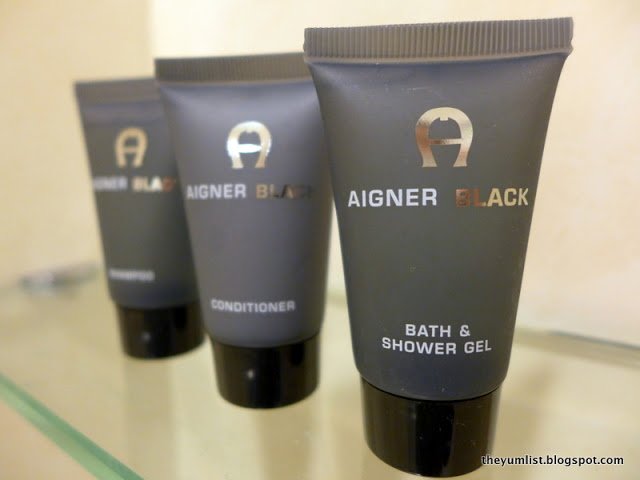 Bath Products
Complimentary WIFI is available in all rooms at Genting Grand and there are 32 TV channels for the viewing. Included in the room rate are a daily platter of fruits, newspaper and buffet breakfast for two.
Facilities go way beyond what you expect in any other hotel. Being part of Resorts World Genting means guests have access to a megalopolitan of recreation. Theme parks, 50 plus food and beverage outlets, cinemas, golf, casinos, eco sports, bowling… you name it, you can probably find it at Genting.
Jungle trekking paths have been designed for easy, medium and more challenging inclinations lasting from 30 minutes up to three hours. A jogger's trail (3.7km) is also opened to the public on Awana Golf Course from 6 – 7pm nightly. Archery, bowling and snooker can all be enjoyed for a fee.
For those who just can't stay away from the shops, there are close to 60 independent outlets including Tangs department store, selling fashion, sports, beauty, digital and gift items.
International artists perform every week and tickets can be purchased to see world-renowned music, dance, magic and even circus acts when they're in town.
A variety of attractions are too on the way to the hilltop. The Chin Swee Temple, Strawberry Leisure Farm, Orchid Farm, Lim Goh Tong Memorial Park and Gohtong Jaya are all pleasant distractions. Offering an alternative in transportation to reach the peak is the Genting Skyway. This cable car runs just over three kilometres and the station allows luggage and check-in facilities at its base.
The Olive and Bubbles and Bites are definite dining highlights. The former offers fine dining western cuisine and the latter is a more casual continental affair. The latest food, beverage and entertainment opening though is truly envy worthy. Only those willing to part with RM20 000 advance purchase of credits though will have the privilege of entrance.
The Genting Club is Resort World Genting's exclusive answer to everything. Wine lounge, bar, restaurant and entertainment area are found in a whopping 30 000 square foot of luxury. Only the best of the best is found here. Chefs brought in from around the world offer dynamic dining in a restaurant within a kitchen. A champion mixologist concocts cocktails from the finest spirits around the world and international musicians take to the stage delighting guests with softer jazz tunes early evening and heating up to high energy fun later in the night. More to come on this thrilling lifestyle product in a later post.
For visitors to Genting Highlands, the Genting Grand hotel is the place to stay. A refined calm amidst the action, it's a convenient spot from which to explore the excitement on the hilltop.
Reason to visit: bright light rooms, a place to escape the heat, go wild with the unlimited entertainment options available on the hilltop
Genting Grand
Genting Highlands