Mention the name Four Seasons Resort and eyes will often glaze over with dreamy looks of longing. The words conjure up images of perfection, of luxuriant hideaways, of supreme service and of high caliber accommodations. Winning multiple awards for excellence, this North American brand is famed internationally.
Four Seasons Resort Bali at Jimbaran Bay lives up to this reputation and possibly, with the assistance of the spectacular location and warm Balinese staff, even goes beyond expectations.
Setting
Set on the southerly end of Jimbaran Bay, the resort begins on the cliffs at its upper most point and slopes down to the beach at its outer periphery. Benefiting from both an elevated outlook and sand at its doorstep, Fours Seasons Resort Bali offers the best of the area.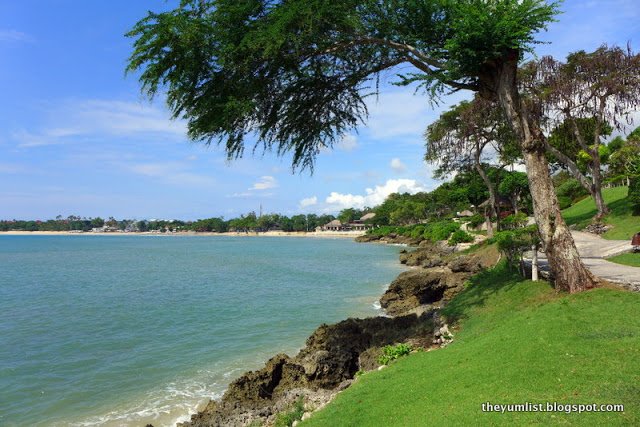 Ocean at the doorstep
Majestic gardens, planned but not overly manicured, roll down the hills to the ocean in layers. Starting at the tree-lined driveway, the facilities and villas stagger across the property with plenty of green, pools, cascades and bubbling ponds in between.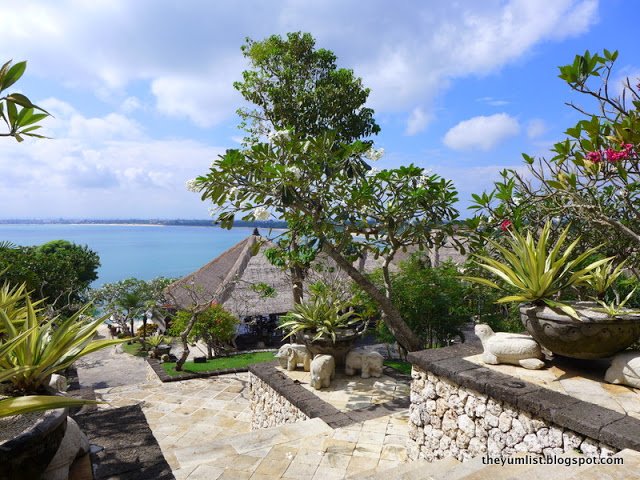 Majestic Gardens
Welcoming gazebos dot the hillside providing private shady spots to unwind and inspiriting seascape vistas. Some are made for two with love seats facing the sea. Others are for families, equipped with kiddy chairs, games and easels.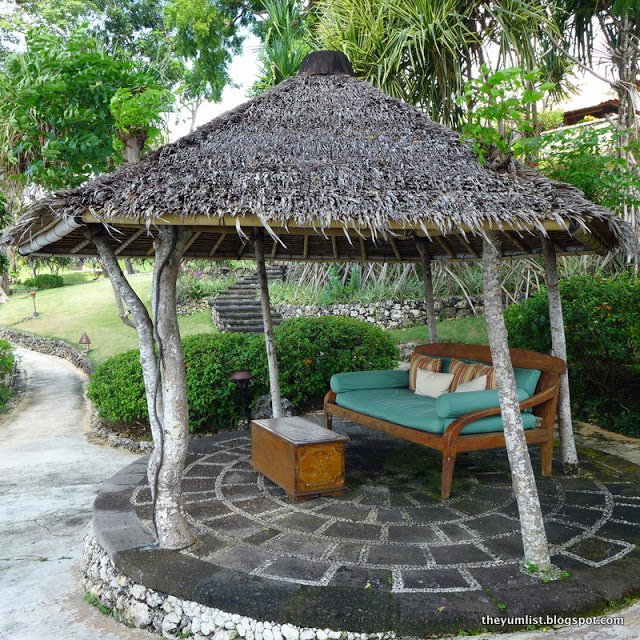 Hillside Gazebo
Secluded enclaves are formed by sections of the cliff giving way to small stretches of sand. The public beach expanse arcs in a sweeping crescent away from the lower end of the resort to the airport in the distance.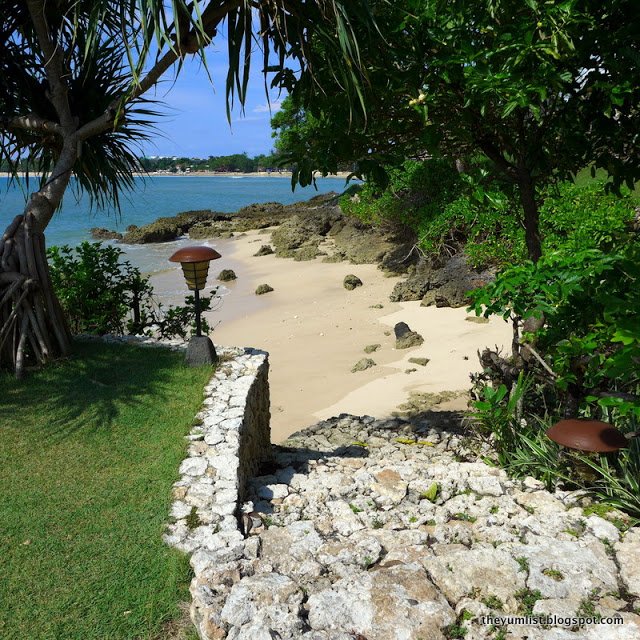 Secluded Beaches
Staff in buggies, buzz around transporting guests all over the grounds. It's a beautiful place though. I'd recommend a stroll over a ride any time.
Rooms
Rooms are so inviting, you might choose not to visit any of the facilities. Balinese in style, the living and sleeping areas are separated into distinct bales. The open-aired, thatched roof lounge invites ocean breezes and is a direct hop skip and a jump to the infinity edged pool. Fanned and decked with sofas, dining table, mini bar and, drink making provisions, it's an easy all day dip, laze and dine zone.
Thatched rooftops, gardens and the shimmering sea are viewed from the private plunge pool. A spouting fountain ripples the surface and, neighbouring umbrella shaded deck chairs summon an idle afternoon.
Private Plunge Pool
If the plunge pool overlooking the bay is not the star attraction of the villa, then the bathtub must be. An elegant freestanding tub is graced by natural light through a wall of glass, but concealed by surrounding vegetation and the stone wall perimeter. Mind calming soaks are elevated to seraphic levels with accompanying bath extravagances of bubbles, salts, incense and candles.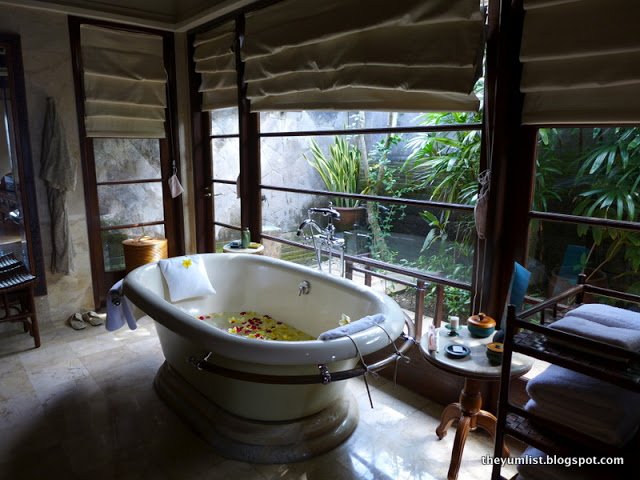 Bathroom
His and hers sinks and semi-private shower and toilet add supplementary comfort. Ceramic bath product holders and, divinely scented soaps wrapped in recycled paper show care for the natural environment.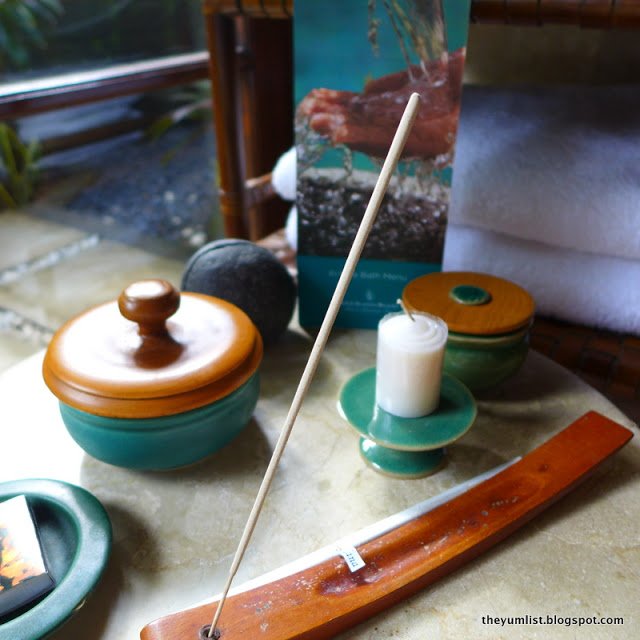 Bath Fun
Astute design allows a sizable storage and wardrobe quarters to divide the bathroom from the bedroom with sliding doors. A soft king-sized bed, made up with luxuriant linens, is the centerpiece, while bordering glass and wooden slatted doors dim or brighten the space as desired.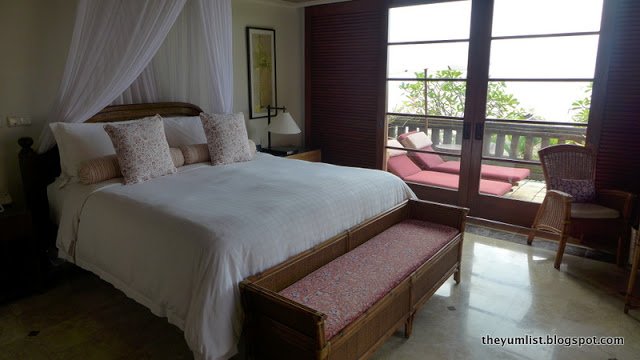 Bedroom
All the modern electronic conveniences are present, but truth be told, I bet these are rarely used. The small details are appreciated though: charger in the safe; two mini-bars, one fully stocked the other empty; choice of indoor and outdoor showers; independent air-conditioning units for bedroom and bathroom; turn down service draping mosquito nets over the bed and; plentiful power plugs.
When your skin has shriveled from indulgent immersions in the tub or pool in your own private villa, a host of recreational activities await.
Recreation
A treatment in the
spa
is a must. Therapists are expert and the menu comprehensive. The surrounds themselves however are breathtakingly beautiful, bearing their own power of healing and invigoration. Splashes of blue, neutral tiles and, timber finishings generate a Mediterranean feel, while regional products such as mud, salt and herbs honour local wisdom. Making yourself deserved of a spa session is easy in the well-equipped gym, on the tennis court or astride one of the resort's bicycles.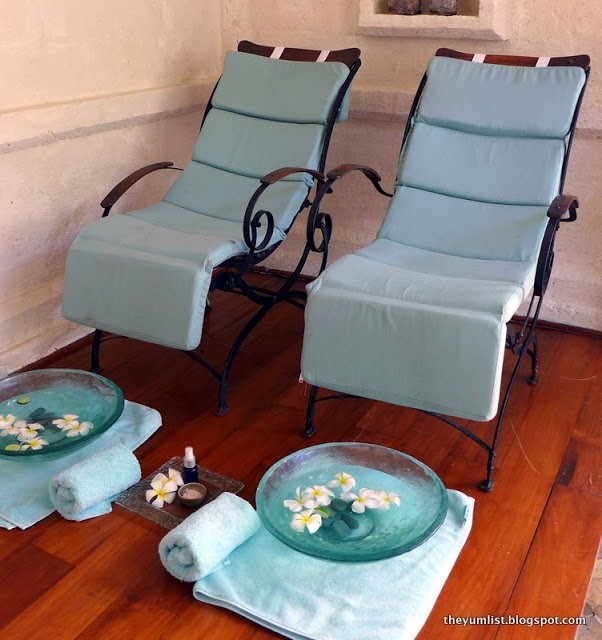 Spa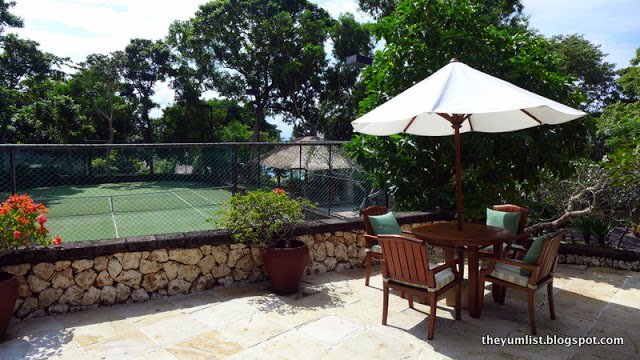 Tennis Courts
A cooking class might be more your style. Signing up for this lesson gets you a trip to the morning market guided by a local Four Seasons chef who shows you how to choose the best ingredients. Upon return, participants indulge in a light breakfast of freshly baked pastries, platters of tropical fruit, hot beverages and juices. Tummies filled, it's time to get to work (well not too much work, you are on holiday after all). This is the way I like to cook! In a perfectly clean demonstration kitchen, students sit in an arc around the instructor in their own cooking station. Ingredients are pre washed, chopped and measured. All you have to do is mix and cook. Your mess is magically wiped away by kitchen angels leaving you not much else to do other than converse with the chef and then enjoy your delicious creations.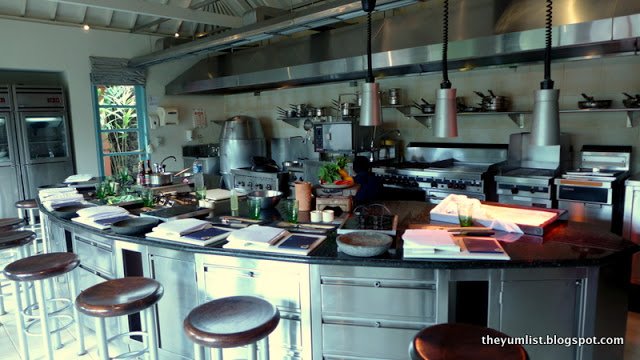 Cooking Class
Food and Beverage
Not keen on getting your hands dirty? Four Seasons Resort Bali houses multiple food and beverage outlets. Breakfast can be taken in the privacy of your villa, buffet style in Taman Wantilan or à la carte overlooking the sea. A small Thai restaurant has a wonderful reputation and is packed every night. We, however, had the great fortune to dine in Four Season's newest outlet,
Sundara Beach Bar
and
Restaurant.
It seems this spectacular restaurant was specifically designed to capture the sunset in a quintessential postcard moment every afternoon at dusk. As the sky dims, the sun lowers and its brilliant rays form a glimmering trail reflecting off the calm waters of Jimbaran Bay. An upper level renders sweeping, air-conditioned views of the seascape. The lower deck falls down to a lap pool and further on to the beach.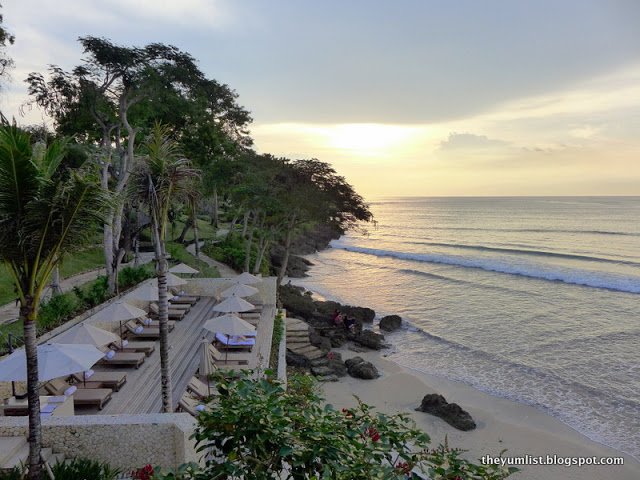 Sundara
Javier de las Muelas, internationally renowned trendsetting mixologist, designed an unforgettable cocktail menu. Determined to find the best bar in Bali, I visited no less than 10 of the reputed best. Sundara came out number one and a major part of the reason was the unrivaled cocktails. Don't miss the Smoked Berries or the Rosemary Mojito.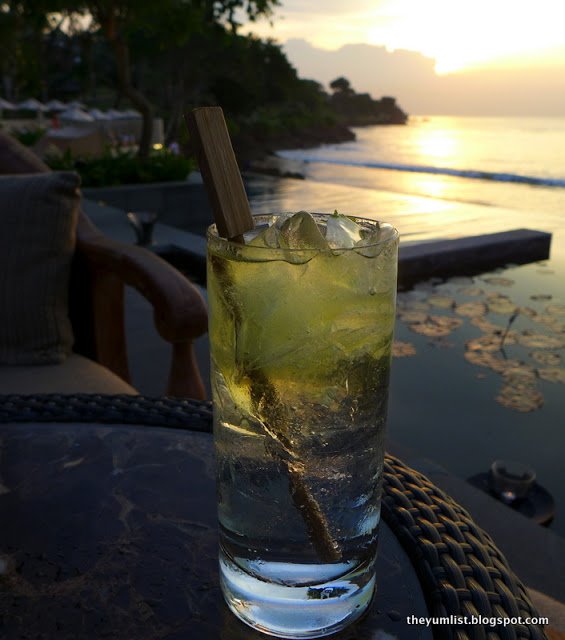 Sunset Cocktail
Food too is undeniably some of the finest on the island. Aussie chef Greg Blunt has put together a menu expressing simple flavours and utilizing local sustainable produce where possible. The Charcuterie Platter and the Salt Bush Lamb Rack are unmissable. On the sweet front, the Chocolate Bourbon and Lemon Tart should both be on your "eat before you die list."
Be it views, service, comestibles or facilities, the Four Seasons Resort Bali at Jimbaran Bay lives up to the brand's high standing international repute.
Reason to visit: gorgeous gardened property with spectacular sea and shore views; beautiful accommodations with private dipping pool; one of the best spas on the island; Sundara Bar and Restaurant
Four Seasons Resort Bali at Jimbaran Bay
Jimbaran Bay
Jimbaran, Kuta Selantan
Bali 80361
Indonesia