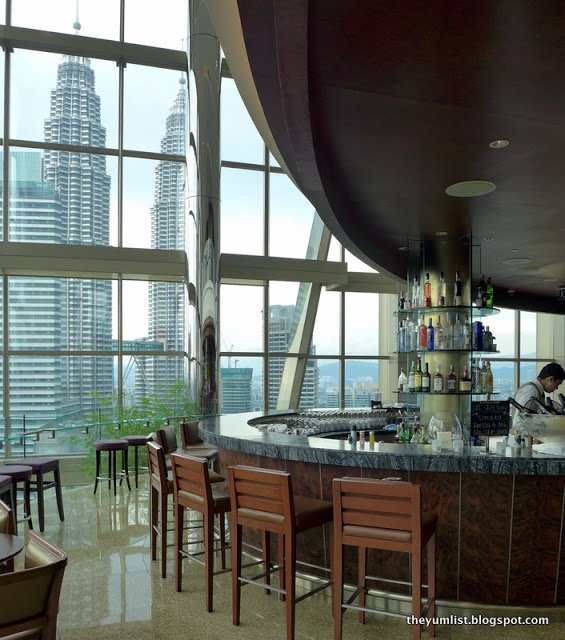 Thirty8 Bar
Cachaca by Sagatiba at THIRTY8 Bar at Grand Hyatt Kuala Lumpur, Malaysia
Words by Araceli Arismendi
Photos by The Yum List (Monica Tindall)
Saúde (Cheers) pronounced saw-OO-de in Portuguese became a part of my vocabulary at the end of a perfect evening sipping on specialty Cachaca cocktails and aromatic glasses of red and white wine. Whether you fancy a chocolate buffet, business set lunch, fine dining or a Sunday brunch, THIRTY8 at the Grand Hyatt offers but yet another innovative and crisp option to enjoy the 360 views of Kuala Lumpur.
The bar at THIRTY8 delivers the perfect setting to catch the calming effects of the sunset while soothing your sanity after a long day at the office. Its menu is so perfectly designed with dishes that can satisfy any particular taste bud ranging from spicy tuna rolls to fried crab cakes to beef burgers with caramelized onions. In addition, the charismatic THIRTY8 mixologists work along with a worldly and diverse team to create unique and delightful mixed drinks.
Beginning this month (August 2013), they will be introducing five satisfying and fresh cocktails each of them deliciously made with the 3rd top white spirit in the world, Cachaca. This Brazilian made beverage composes of distilled and fermented sugar cane juice unlike its counterpart Rum, which is mostly made up of molasses. Cachaca by Sagatiba does a fine job at producing an interesting, sweet and rich essence of the liquor that easily taps into all your senses. The long lasting caramelized taste mellows your palette and the desire to try another drink becomes passionate. Each specialized drink was thoughtfully calculated and the use of fresh ingredients was evident in every sip.
Now, let us explore THIRTY8's new and captivating Cachaca cocktails.
Summer Mix (Sama Berries)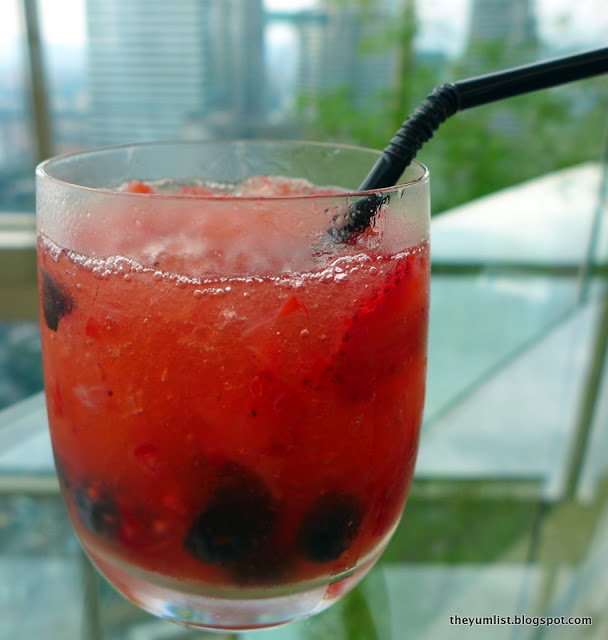 Summer Mix (Sama Berries)
Ingredients: Cachaca, Blueberries, Rasberries, Strawberries, and Club Soda
My Personal Experience: Its name says it all. As the saying goes, a first impression is a lasting one. This also applies to your alcoholic beverages. My first sip tingled my tongue with a fruity and everlasting joy. The crushed ice made this drink ideal for a hot and humid day. The organic flavors of the white spirit along with the berries made me feel strong and surprisingly enough, a guiltless pleasure. With its mixture of berries, healthy antioxidants were swimming through my body but yet sending chills of relaxation down my spine.
Osil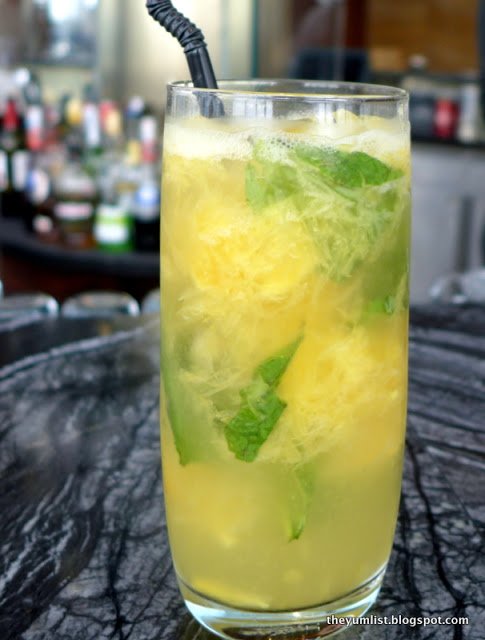 Osil
Ingredients: Cachaca, Orange, and Basil Leaves
My Personal Experience: I'm a basil lover and just how the magical herb provides added flavor to your Asian or Italian dishes, it serves the same aromatic purpose to your beverages. I can still remember this deliciousness as when I was sitting at the bar enjoying the live music. The tanginess but yet sweetness of the fresh orange combined with the basil leaves left my thirst wanting more. The urge to gulp Osil down in one drink was there but the craving to savor every drop seemed more gratifying. This is your perfect cocktail if you need something light and satisfying.
Cha Coco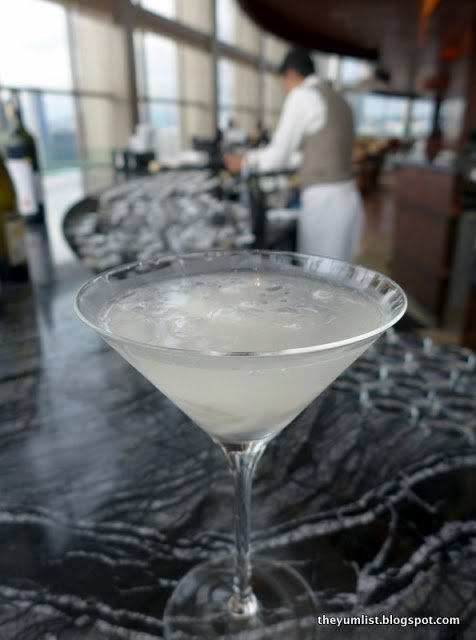 Cha Coco
Ingredients: Cachaca, Fresh Coconut Juice, Malibu and Coconut Pulp
My Personal Experience: If you are a pina colada fan, this will be your drink of choice. Cha Coco aims at elegance in its slightly cold martini glass. It's coconut crispness and Malibu addition warmed my heart and fancied my sweet tongue. So smooth and fresh, Cha Coco took me on a fantasy, magical moment sitting on the warm beach sand of Rio de Janeiro, Brazil. Cha Coco is a gorgeous drink to relish while admiring the mind-blowing Petronas Towers.
Revolution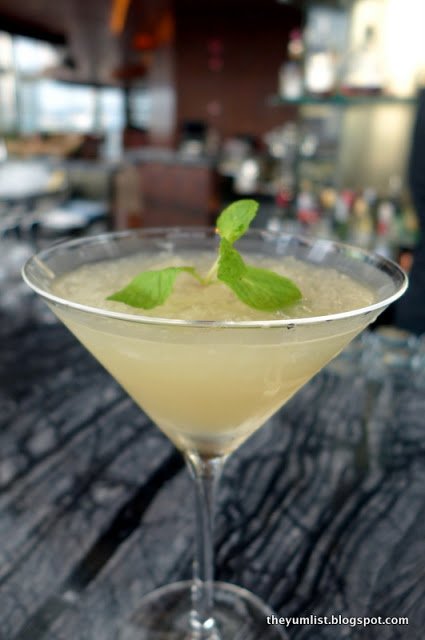 Revolution
Ingredients: Cachaca, Fresh Lime Juice, and Brown Sugar
My Personal Experience: Revolution is Thirty8's take on the popular Brazilian cocktail, Caipirinha. If you are not familiar with this beautiful drink, it's the ultimate definition of refreshment. The lime juice wakes up your tangy senses while the sugar stimulates your sweet ones. This was the perfect combo for those evenings that you crave only one drink. Unfortunately, it tastes extremely good, your will power weakens, and your free spirit side orders another. In Portuguese, Caipirinha means "little boy from the country." I would say that after a couple of Revolutions, you would feel "quite confident from a big city called Kuala Lumpur!"
Charita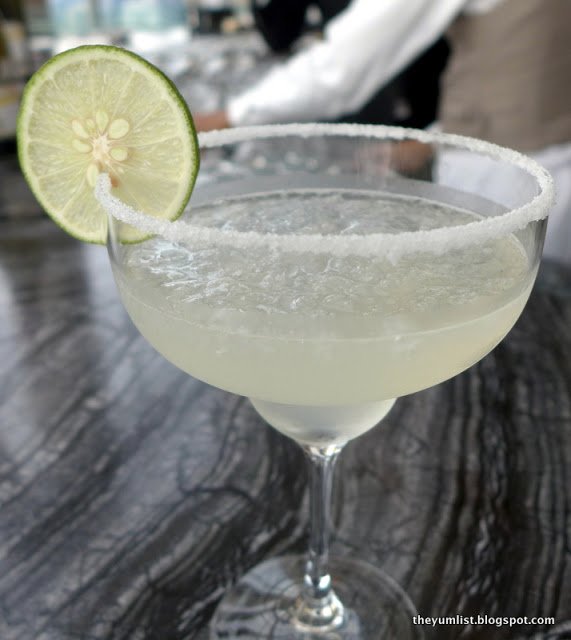 Revolution
Ingredients: Cachaca, Fresh Lemon Juice, and Triple Sec
My Personal Experience: This was my favorite! Drinking margaritas with friends are fun memories I miss from Texas. I would call Charita and Margaritas cousins. Still using the Triple Sec ingredient in the margaritas but replacing the Tequila with Cachaca, gave Charita a unique but yet similar taste to your good ol' Margarita. Tangy and, salty, my taste buds danced so joyfully. Limes and salt add so much pizzazz to your swill and with the combination of the oak from the Cachaca sent Charita to first place in my books. After this experience, my nostalgia passed, and Charita fulfilled my Texas heart.
In addition to having new and improved cocktails, THRITY8 bar offers a wide array of perfectly poured wines that pair well with their appealing snack menu. Two lovely reds and two delicious whites were at the front line for sampling and pairing.
Beginning with the Reynella Basket Pressed Shiraz 2008, the aged oak and dark colored red with berry and tobacco flavors combined well with THIRTY8's beef burger. Three bite size hamburgers filled with cheddar cheese, tomatoes, onions and lettuce were amazingly succulent and appetizing. The cheddar cheese was literally spilling out and the meat was grilled to perfection.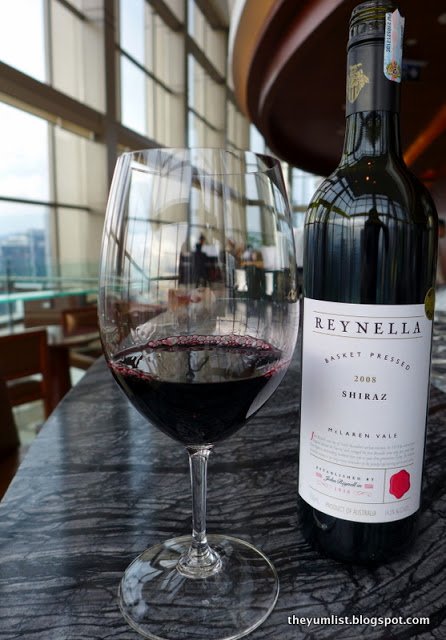 Reynella Basket Pressed Shiraz 2008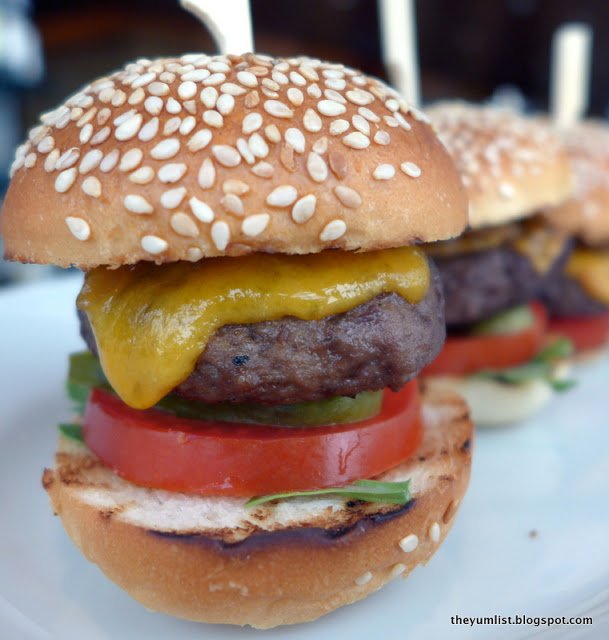 Beef Burger
Chateau Latour Martillac, a medium to full bodied red, delivers sweet berries and a nice chocolate aftertaste. This wine came to life with the cured beef bresaola, feta cheese, marinated olives and bell peppers. Nicely served in shot glasses the combination of all four bites was pleasing to the palate and delightfully savory.
Chateau Latour Martillac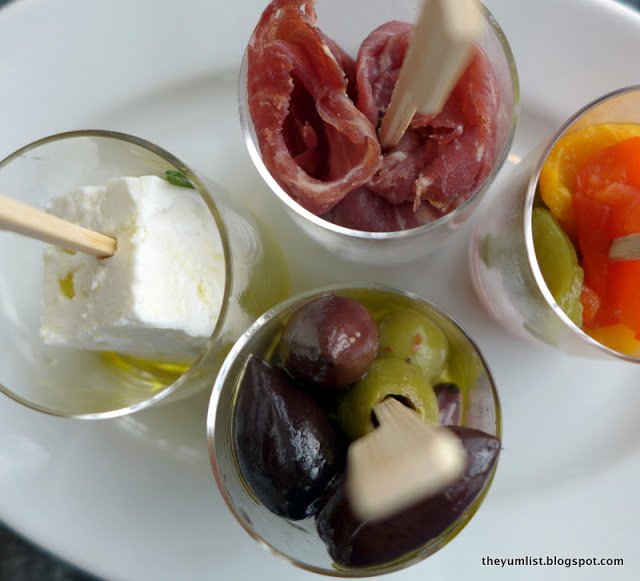 Cured Beef Bresaola, Feta Cheese, Marinated Olives and Bell Peppers
Cloudy Bay Te Koko Sauvignon Blanc 2010 serves well with an assortment of food. I'm not a lover of whites but Cloudy Bay did not disappoint. It offers an abundance of flavors including herbs and acidic fruits, and had an everlasting finish. Paired with the fried crab cakes, roasted bell pepper relish and rocket leaves, I could have stayed all night sipping on this beauty.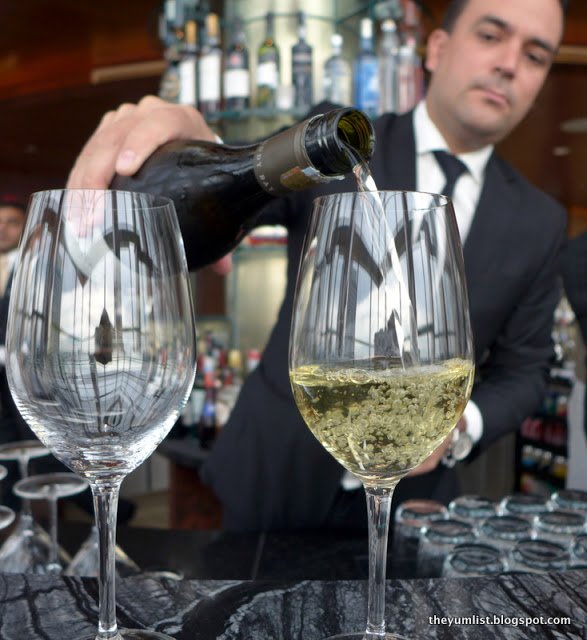 White Wine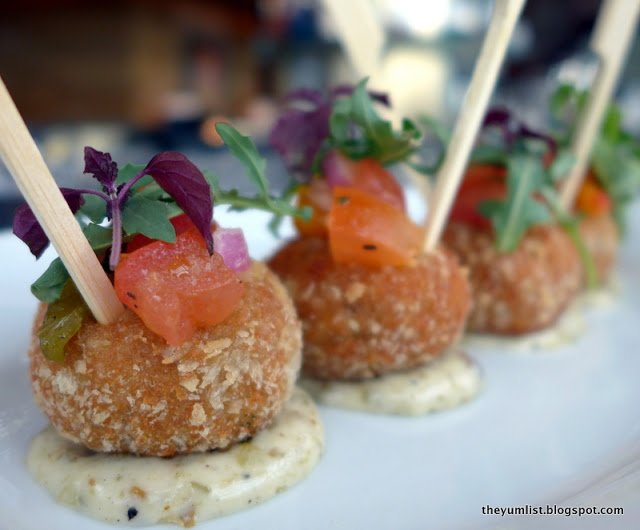 Crab Cakes
Last but not least, Shaw and Smith M3 Vineyard Chardonnay, a smooth and boastful fruity white, brought out the flavors in the spicy tuna rolls. The blend of spiciness from the tuna rolls and the tropical aromas from the Chardonnay gave this dish a rich and delectable closing to the evening.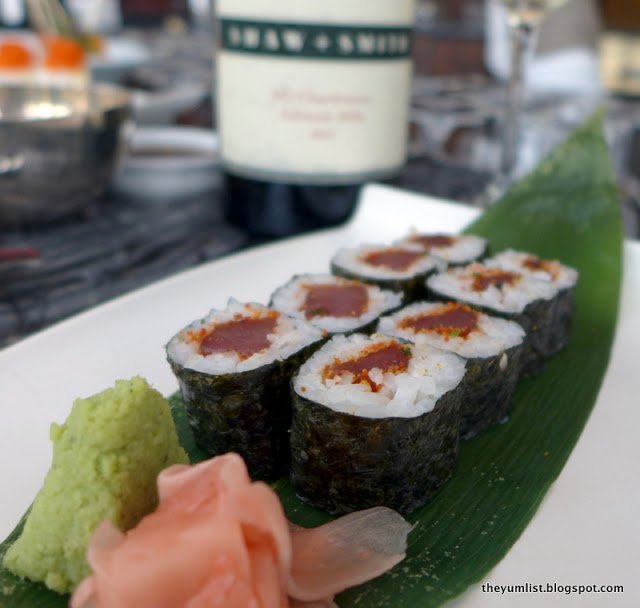 Shaw and Smith Chardonnay and Spicy Tuna Rolls
Reasons to Visit: Creative and fresh Cachaca coctails for only RM18++ for the month of August 2013 among other innovative options, a variety of gourmet bar snacks, a wide selection of red and white wines by the glass, awesome views, elegant setting
Thirty8
Grand Hyatt Kuala Lumpur
50450 Kuala Lumpur
Malaysia
+6 03 2182 1234 ext 2340