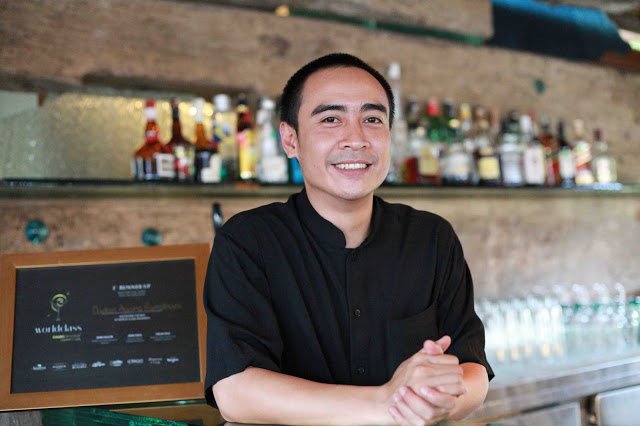 D'Agisna Ramdhani (Dadan)
Head Mixologist of AYANA Resort and Spa Bali, D'Agisna Ramdhani (Dadan), tells The Yum List a little about life as a mixologist and his favourite cocktail combinations.
What do you do and how did you got into the industry?
I manage Beverage Operations at AYANA Resort and Spa Bali, which has 13 dining/bar venues including the famous
Rock Bar
. I fell in love with bar tending because I love people. I believe this industry is growing and the sky is the limit.
What's the best part of your job?
To work at the best office you could imagine. It's got the glistening Indian Ocean as the view – from Rock Bar!
What's your favourite local food?
Nasi Timbel Komplit. A simple rice dish with plenty of spicy condiments for extra kick!
What's your personal favourite cocktail and why?
My own mix of course! Blood Diamond (Ron Zacapa, Creme de Cacao White, Extracted Beetroot Juice, Cranberry Jelly, Blood Orange Juice). I think beetroot tastes really unique and deserves more recognition. Not to mention that this cocktail secured me the second runner up place at the Indonesian National Championships at the Diageo World Class Challenge 2013. As a result of this, I now get to go to Holland to learn more about bar tending and mixology, so Blood Diamond is a special drink for me!
What's your favoured food and wine/ liquor pairing?
Fresh Oysters with Lemon Torte Bellini Cocktail.
The perfect day off would be… underwater, scuba-diving.
A life in the day of a mixologist is... to pour spirits into glassfuls of passion.
What do you do for fun?
Visit traditional markets to search for new (cocktail) ingredients and experiments.
What's something you'd like guests to know about the cuisine/ drinks prepared at Dava and Martini Bar?
We only use premium products, the best ingredients available in the market to create memorable dining experiences. We also strive to deliver the latest trend of cocktail making, at Dava and Martini Bar we've adopted a "Molecular & Speak Easy" cocktail concept.
How do you select your ingredients and why?
We select premium quality ingredients and we look for ingredients with unique elements, to infuse something different, an element of surprise for our guests.
What can guests look forward to in the upcoming months?
Great pre-dinner cocktails at Martini Bar followed by degustation menus at Dava and post-dinner soiree at Rock Bar. Or do it in reverse.
To see some of Dadan's creations visit our review of the Rock Bar here.