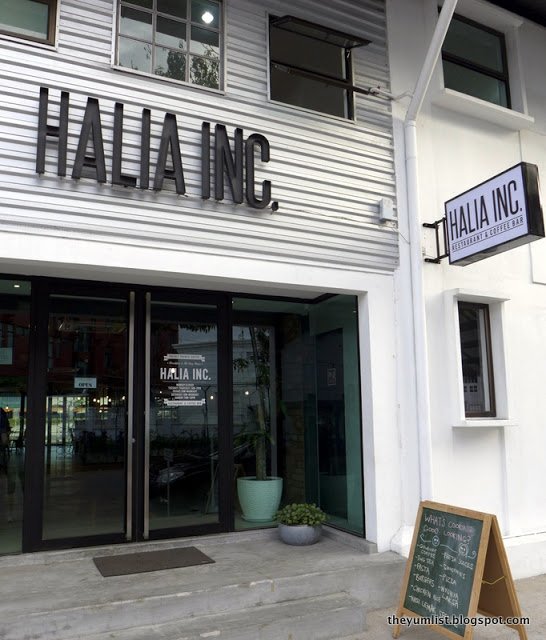 Halia Inc. Main Entrance

Halia Inc. Viewed from the Melaka River

Halia Inc. Restaurant and Coffee Bar, Malacca
Inside the renovated Customs Warehouses by the Melaka River,
Halia Inc. provides respite from the hot Malaccan weather and buzzing tourist
filled streets. Under UNESCO protection, industrial minimalistic design mimics
the original theme of the building, creating a space that is tranquil and
pleasing to be in.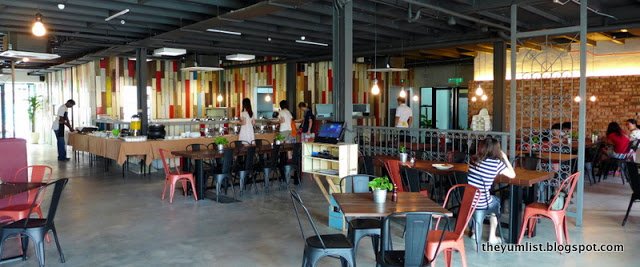 Large Interior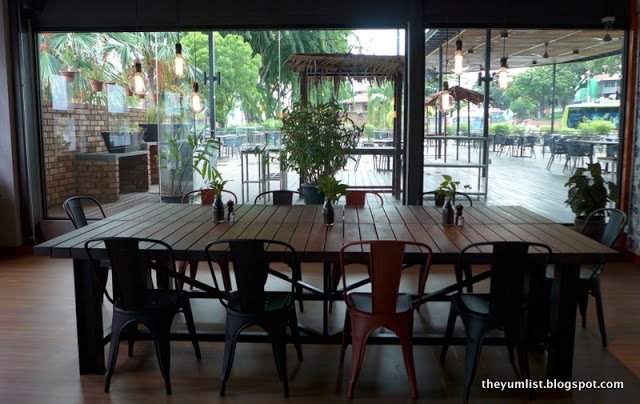 Communal Dining Table
Exposed orange bricks, recycled timber, wooden boards,
polished cement and occasional strips of wallpaper make up the walls and
flooring. Ornate metal dividers separate the enormous space, while still
allowing light and a sense of openness to pervade.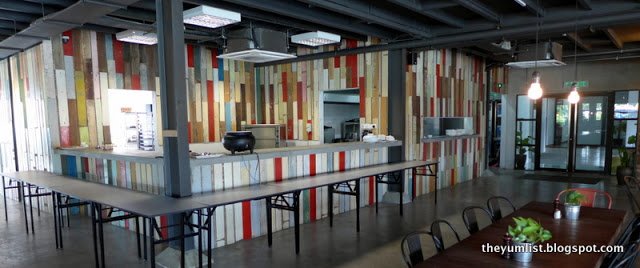 Recycled Wood Paneling Around the Kitchen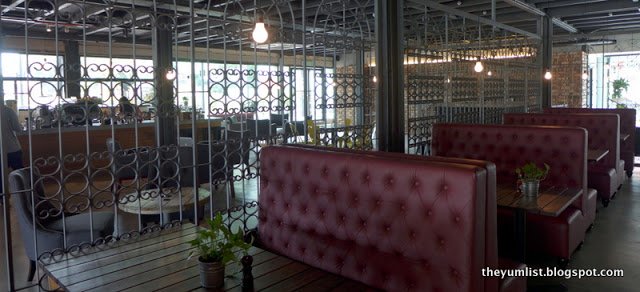 Booths
A coffee lounge, dining area, communal table, window bar and
outdoor patio are dotted with plants potted in silver buckets and glass
bottles. Drop down exposed filament bulbs hang from the open ceiling embracing
the warehouse concept of no clutter and clean lines.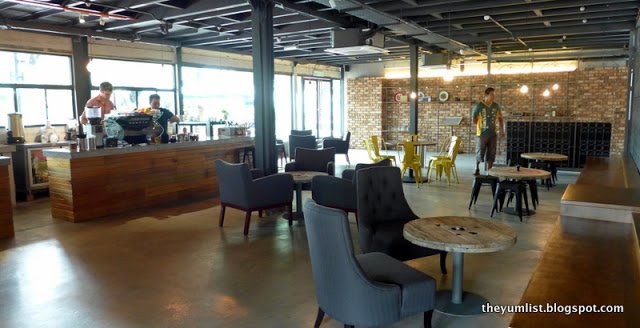 Barista Bar and Coffee Lounge
Parents with young children will be happy to know that the
space is breastfeeding friendly with a parents' room, high chairs and plastic cutlery
and crockery available too for the little ones.
Described as "part restaurant, part café" Halia Inc aims to
serve great coffee and contemporary western dishes alongside local fare in a
casual setting.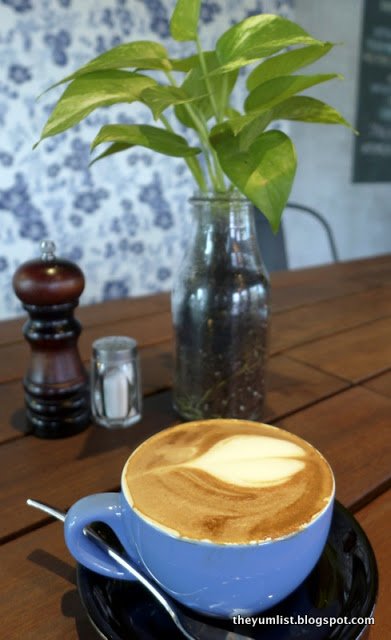 Cappuccino
Our first order was coffee. With the use of RAW coffee
beans, Farmhouse milk, a spanking new machine and an Aussie barista, expectations
were set high. Our flat white, cappuccino and latte (RM10) all turned out
satisfying well and even though another round was considered, we thought it
best to move on to some other less caffeinated drinks.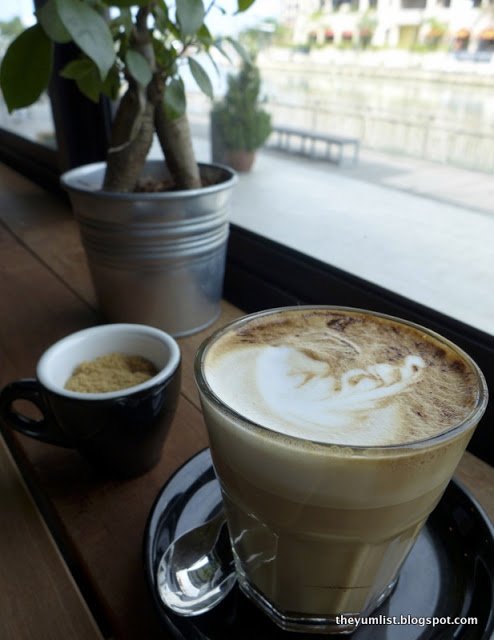 Latte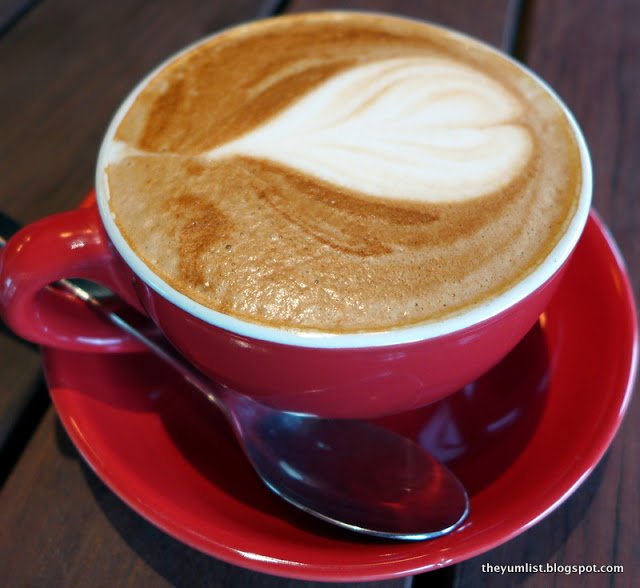 Flat White
A range of TWG teas, fresh juices and mocktails are too on
the beverage menu. Considering the warm start to our morning (a brisk run along
the riverside boardwalk), our next orders were requested with the goal of
quenching thirst and cooling our bodies.
Lychee Love (RM12), made with lychee, pomelo, mint and soda,
was a wonderfully refreshing drink. The carbonated water made it light and
bubbly, the lychee added a fruity sweetness and, the pomelo and mint cleared
the palate.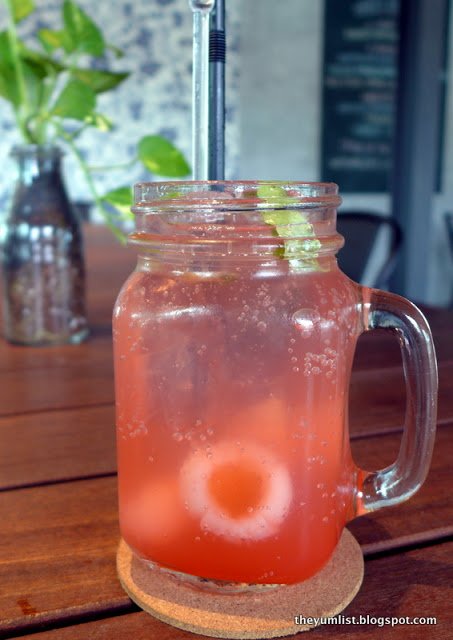 Lychee Love
Assam Boi (RM5) is a local favourite made with sweet
calamansi and preserved plum. It's very sweet (making it popular with many
Malaysians), but you can ask for the sugar syrup on the side and add it to your
liking.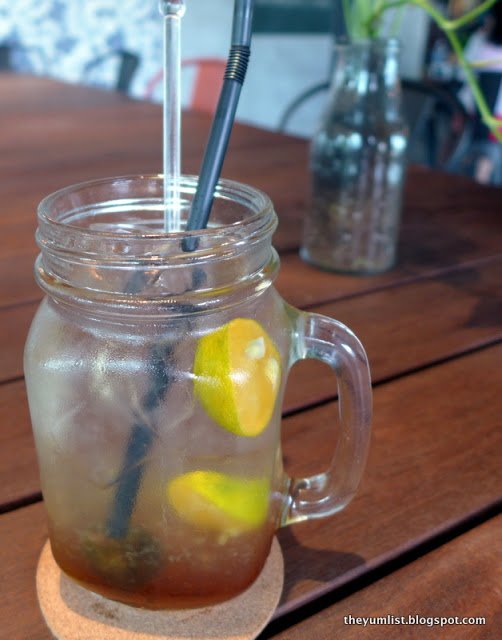 Assam Boi
Loving a good western style breakfast, we jumped straight to
our weekend favourites when ordering our meal.
French Toast (RM14) came as three soft thick baguettes slices
(cut on the diagonal to form elongated ovals) soaked with egg and milk and,
lightly toasted. Generous amounts of caramelized bananas with their sauce crowned
the summit and a dob of mascarpone and sprinkling of crushed peanuts added a
contrast in flavor and texture. In hubby's words, "rich and magnificent."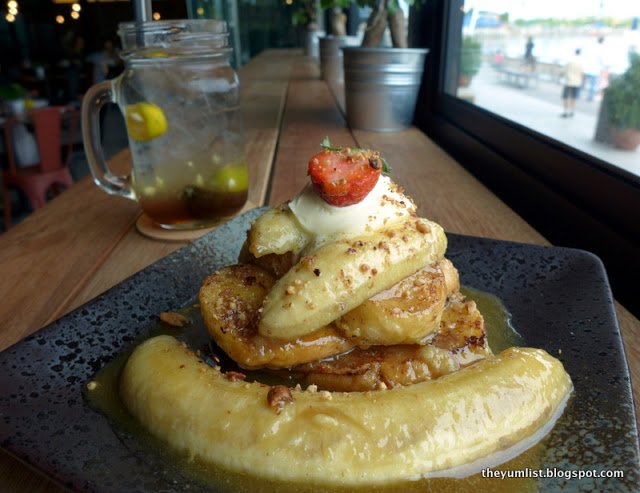 French Toast
Ricotta Hot Cakes (RM14) were three pancake rounds, slightly
denser than your usual fluffy numbers, smothered with rich, creamy tangy lemon
curd and brightened with a cheery berry compote. A shot of fresh pineapple
juice garnished with a strawberry added colour, but too acted as a cleansing
sip after a mouthful of intense deliciousness.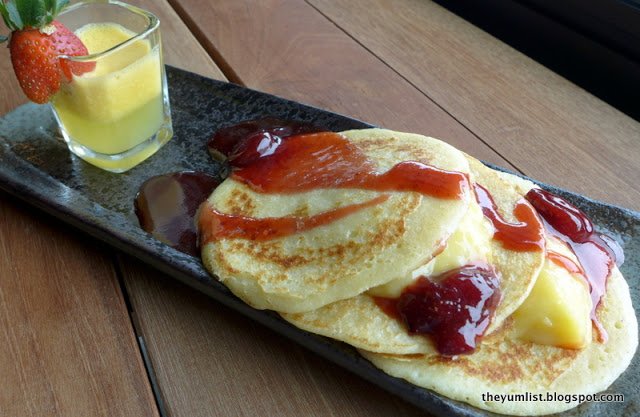 Ricotta Hot Cakes
Eggs Atlantic (RM16) were served atop ovals of soft, pumpkin
seed encrusted bread. Perfectly poached rounds were smothered with a tangy
hollandaise sauce, draped with slivers of pink smoked salmon and, a garden of
leafy arugula was balanced on top. Upon poking, the molten egg yolk flowed down
to mix with the sauce pond on the plate, creating a glorious pool of goo to
soak up with the bread, leaves and fish.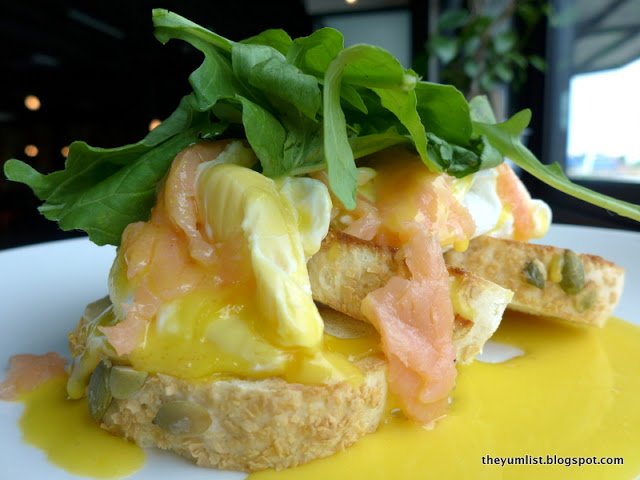 Eggs Atlantic
Vacationing in Malacca had to see at least a little local
variety in our diet so we ordered the Hearty Nasi Goreng Set (RM15). It arrived in a tiffin tin with three layers
holding: hot and tasty fried rice with prawns and a runny egg; Nyonya kuih-muih,
traditional dessert, in this case a dense moist corn cake and; local fruits. It
was a simple, but great combo providing, savoury, sweet and refreshing items
all in one order.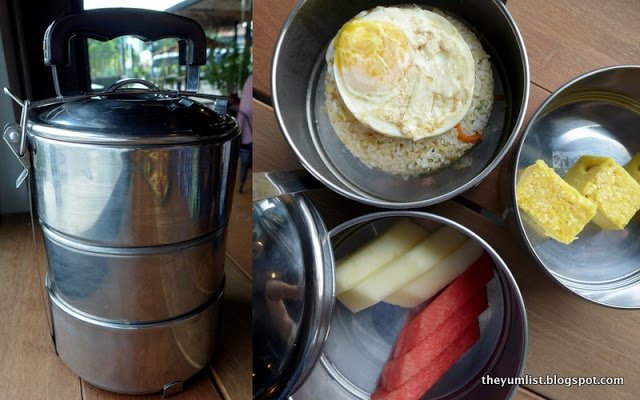 Hearty Nasi Goreng Set
Future plans for Halia Inc. might see the introduction of a
bar to the outdoor deck and will include a readjustment of the menu to include
equal offerings of both local and western dishes.
Prices are all nett (with service charge and government tax
included) and very reasonable, especially considering the nice ambience, lovely
views, good quality food and decent portions. Breakfast is served from 7am –
11am daily.
Reason to visit: excellent
espresso based coffees, good value menu, French Toast and other scrummy brekkie
items, cool and spacious with river views, a great place for Western food but
too for local fare in a nice environment
Halia Inc. Restaurant and Coffee Bar
No 1 Jalan Merdeka

Quayside Heritage Centre (opposite Bandar Polis)

Bandar Hilir
75200 Melaka
Malaysia
www.haliainc.com.my
+6 019 770 7590
+6 06 284 1011
Open 7am – 11pm 7 days