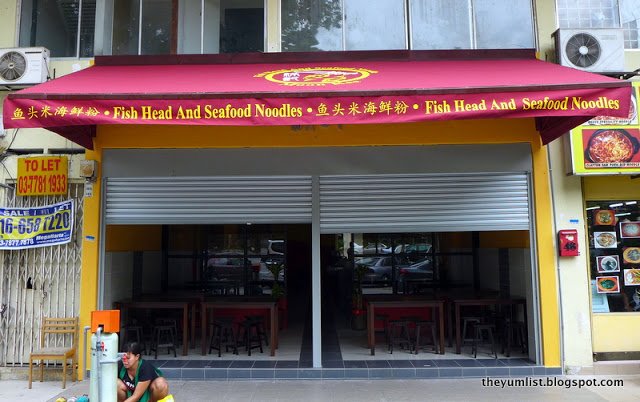 Moon Kee Section 17 Fish Head Noodles
Moon Kee Section 17 Fish Head Noodles
The latest spot to open in Section 17 is Moon Kee Section 17
Fish Head Noodles. With a chef passionate about fresh ingredients and a cool
clean location, the outlet is set for success.
Light grey and charcoal tiles mark the floor and, orange and
red walls attempt to brighten the space with a slight Mexican hacienda feel.
Dark wood tables are simply set with fresh floral arrangements and drop down
filament-exposed light bulbs hang above the kitchen counter. It's air-conditioned
within, but there's also a front patio for those who prefer the warmth.
Chef KM Lau is the man running the show. He started cooking
at an age of 16 and built up a fine career working as the executive chef of
well-reputed Chinese restaurants in Kuala Lumpur. About five years ago he was
involved in a tragic car accident where he broke and lost mobility of his left
arm, leaving him unable to manipulate the wok, a key tool in Chinese cookery.
Determined not to abandon his passion, he's slowly been reactivating
his culinary service to the community through his own stall in the Section 17
market. A steady stream of followers, lining up daily for his famous fish head noodle
soups, has created enough demand for Chef KM to open up his own restaurant.
Moving just a few minutes away, Moon Kee Section 17 Fish Head Noodles is now
located in Jalan 19/3, in Section 19 in the same strip as the famous Chinese
Vegetarian place, Milion Dolar.
A simple menu, focusing on his specialty, offers a number of
versions of fishy noodle soups and fried fish. Sourcing ingredients personally,
every morning fresh from the local market, is something Chef KM insists on to
bring only the best to his customers.
The must try dishes are the Milky Noodle Soups. Laced with
evaporated milk to give the ivory hue and, generous splashes of high quality
rice wine adding a distinctive aroma, the broth can be addictive. For fans of a
sourish tang, ask for an added dash of rice wine. Filled with vermicelli (thin
rice noodles) and fresh herbs, choose either deep fried four finger threadfin (RM9) or
poached fish head (RM12) to complete the meal.
Other simple, yet filling soup dishes are as follows:
Noodle Soup with Sliced Abalone and Fish Ball (RM7.50)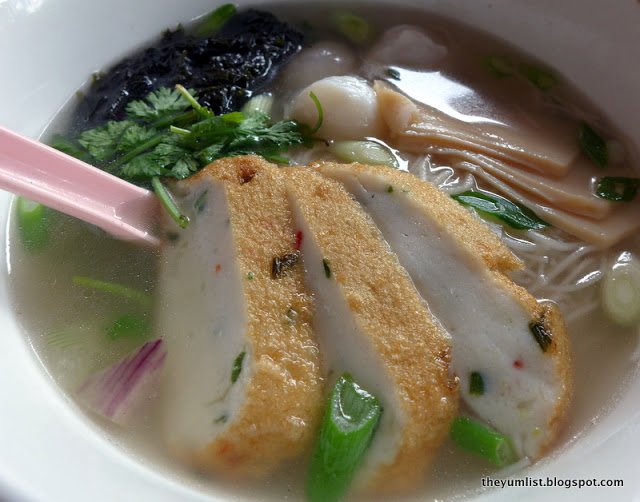 Noodle Soup with Sliced Abalone and Fish Ball (RM7.50)
Noodle Soup with Poached Pomfret (RM15)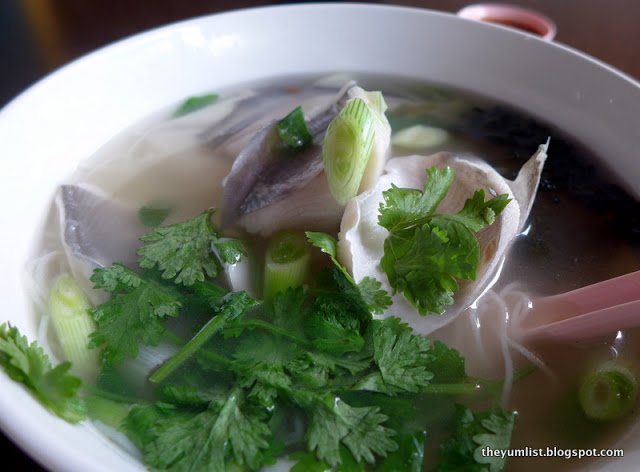 Noodle Soup with Poached Pomfret (RM15)
Noodle Soup with Fish Maw and Fish Ball (RM7.50) (Fish maw are gas filled internal organs, full
of collagen, making them popular with the ladies. They take a lot of preparation
to be ready for consumption and are considered a luxury item amongst the
Chinese. When well prepared they have a slippery, soft feel.)
A handful of light snacks add variety. Deep Fried Fish Cakes
(RM5.50) are made by a family friend ensuring quality and a home-style recipe.
The skin is salty and the texture juicy yet firm. They're almost bouncy in the
mouth, which apparently is an excellent quality as these were reordered twice
at our table.
Deep Fried Garoupa (RM15) is another side option very well
executed. Golden and light, the batter crisped in the mouth and was so thin the
fish was allowed the spotlight.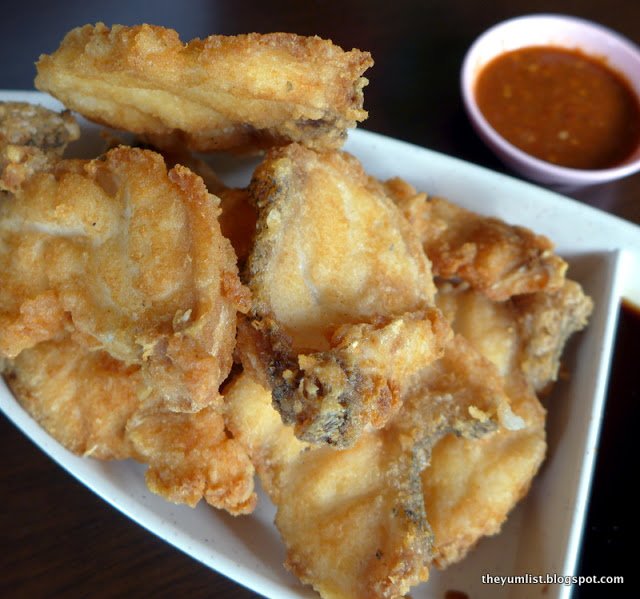 Deep Fried Garoupa (RM15)
For the freshest of soups and superb fried fish, Moon Kee is
worth a visit. If you live in the city, head out here on the weekend to avoid
traffic. If you live on the PJ side of town, lucky you!
Reason to visit: milky
noodle soups, super fresh broths and ingredients, fried fish
Moon Kee Section 17
Fish Head Noodles
48 Jalan 19/3
Section 19
46300 Petaling Jaya
Malaysia
+6 03 7954 1518
Facebook: Moon Kee Fish Head Noodles
Opening Hours 8am – 8pm daily. Two rest days a month.
Near the famous Chinese vegetarian restaurant Milion Dolar