Words: Kirsten Durward
Photos: Monica Tindall
One of the trendsetting rooftop bars in Kuala Lumpur, and winner of many 'best bar in Malaysia' awards, SkyBar at Traders is now an iconic institution and a 'must do' on many people's top ten lists for KL. The contemporary bar occupies a voluminous space high above the city with spectacular views of the gleaming Twin Towers.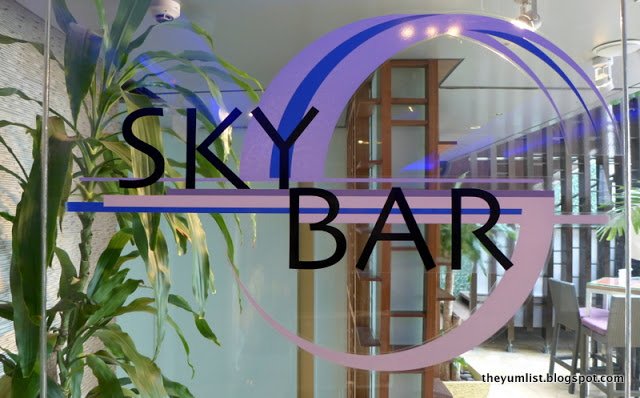 Sky Bar Entrance
Hosted by the lovely Theresa, we visit before the sunset rush to try some of their signature cocktails, and find a relaxed, amiable atmosphere around the central pool. Favourite for sunset viewing are the cushioned alcoves with open windows and skyline vistas. From 6pm – 9 pm a wonderful retro music set is played, perfect uplifting sounds for the early evening. Surely this is one of the best views in the city?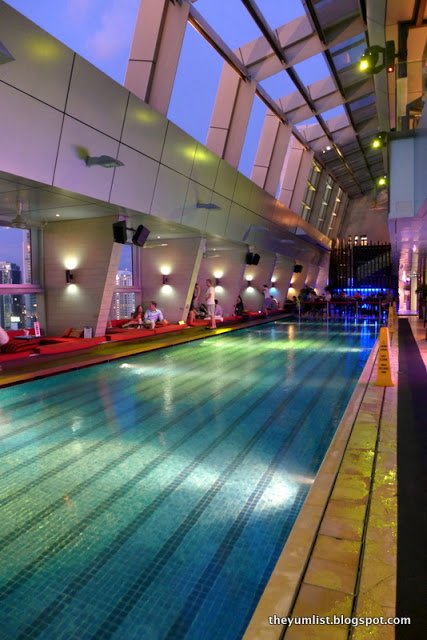 Yep, That's a Pool in the Bar
The Food
One of the most popular offerings on the menu is the 'SkyBar Bucket,' we learn that it is often bought with a bucket of beer, and when it arrives we can see how that certainly would be fun for a party of four. It's a very deep bucket, we just keep digging and more keeps coming up in this great value sharing dish: surprisingly moist shrimp, with a crisp outer; battered mussels with a slight hint of cumin and cardamom in the bite; spicy calamari that's not too chewy with that slight sea like flavour; oozy cheesy vegetable triangles; and my shameful favourite, the criss cross fries, made from russet shredded potato with a very moreish coating that has my hand going back way too many times. Marvelous munching!
Sky Bar Sharing Bucket (RM66++)
Next to arrive are the sticky and spicy signature spicy buffalo chicken wings which don't last long as Caning gives them his seal of approval with mumbling mmms. He's so fast we're hard pushed to nab one from the plate! Mind you I am busy with the dipping veggies and their intriguing blue cheese mayonnaise.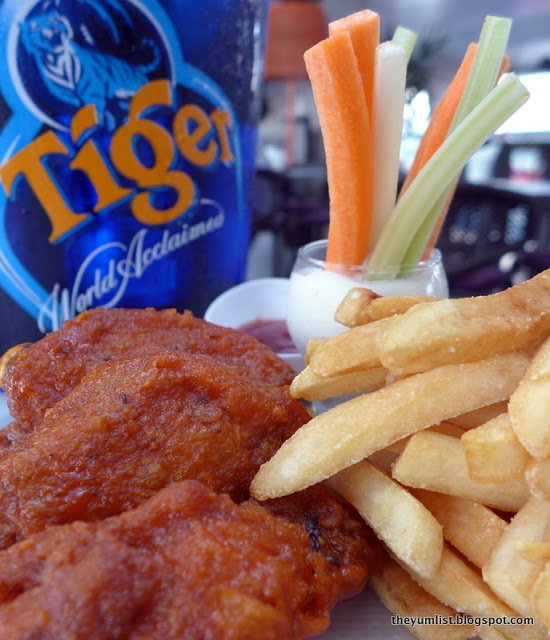 Signature Spicy Buffalo Wings (RM24++)
A crispy platter smothered in orange cheese sauce and scattered with chili beef and tomato salsa is the 'Knock Out' Nachos. The sides of guacamole and sour cream are great for dipping into.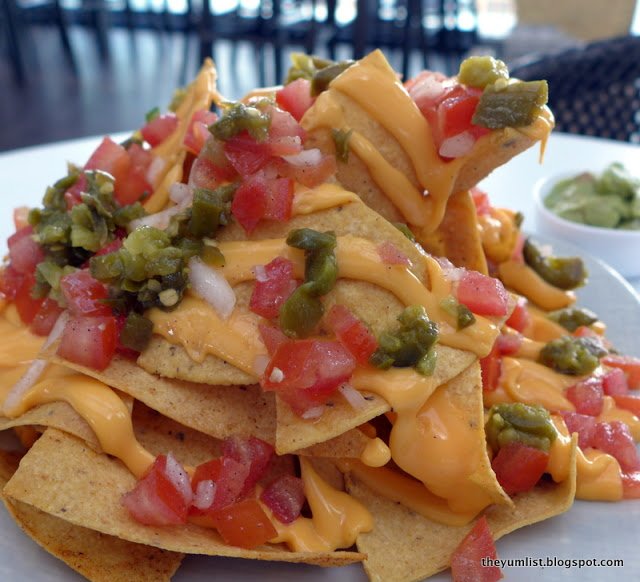 Knock Out Nachos with Chilli Beef (RM30++)
A lighter option is the veggie quesadilla with asparagus mushroom tomato feta cheese, spring onion. That was Monica's top pick.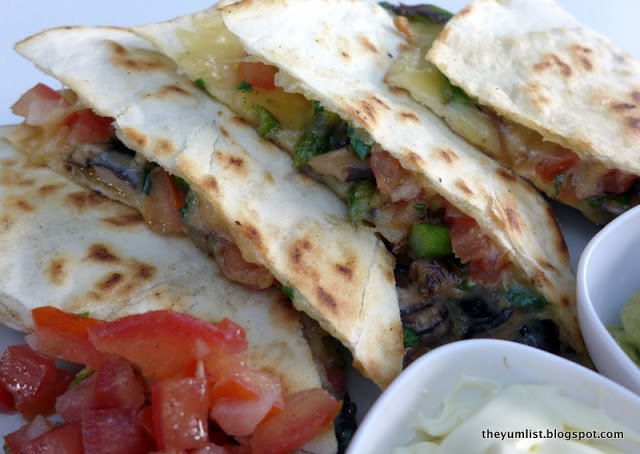 Fight Night Quesadillas with Vegetables (RM34 ++) – also available with chicken
The mixed satay nearly gets a round of applause as a mini bonfire pyre of beef and chicken is placed in front of us. My main complaint with satay is 'not enough sauce' and these are tipped upside down in a bucket, with lashings and lashings of sweet nutty sauce. We can't even finish it all. My favourite. Yum!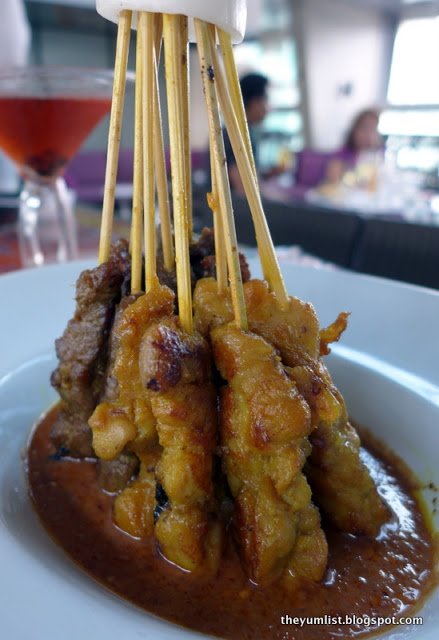 Mixed Satay Skewers (half dozen RM26++, one dozen RM44++)
We finish our table top of tasty treats with sticky sesame encrusted teriyaki salmon skewers. Soft and sticky, they're a great way to end.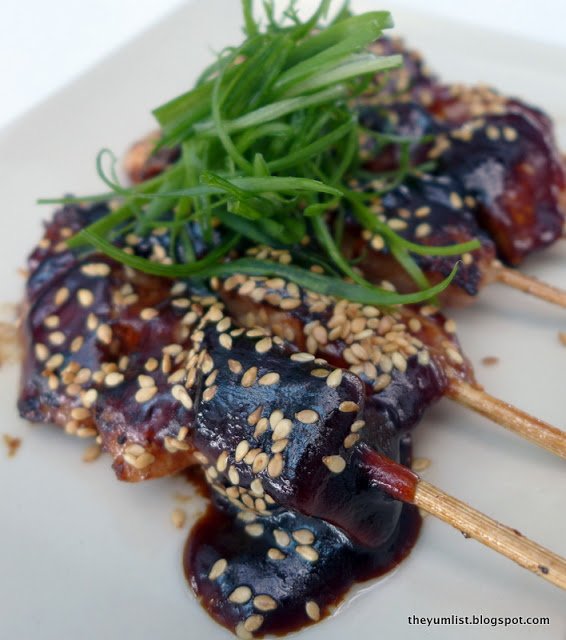 Salmon Terriyaki (RM30++)
The Drinks
Everyone loves to try a signature drink and SkyBar has five.
For abstemious readers the Mata d'ore Mocktail will be favourite. It is like a sunset in a glass.  Containing passion fruit syrup, grenadine and Red Bull, iced and layered, with a lemon rose twisted on top. It's a zingy, singy fruity waker-upper of a drink.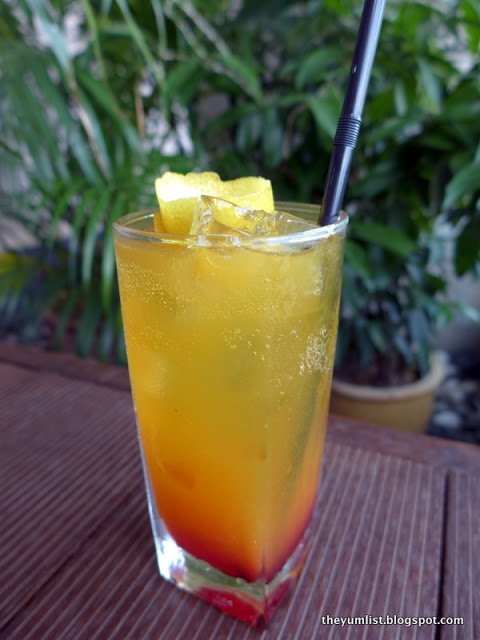 Mata D'ore Mocktail (RM36++)
Muddled fresh kiwi fruit shaken with vodka and topped with champagne? Sounds like a great idea! Pale green with just a hint of a fizz on the tongue, the Kiwitini is very smooth indeed in its beautiful frosted glass.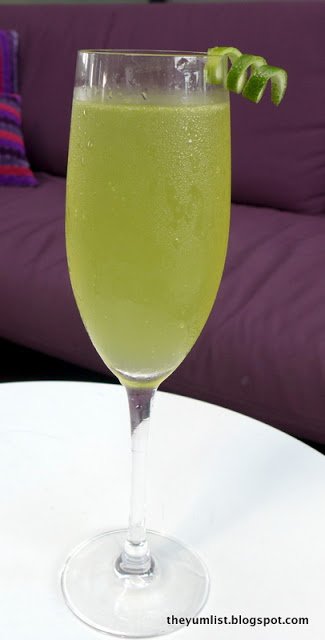 Kiwitini (RM57++)
The lychee rose martini evokes memories of fresh Turkish 'rose lokum' but with subtle alcohol undertones. The palest of pink with a plum lychee resting in the bottom of the classic glass, Belvedere vodka has been blended with lychee juice and rose syrup for our drinking delectation. It would be a hard call but I name this my favourite drink of the night.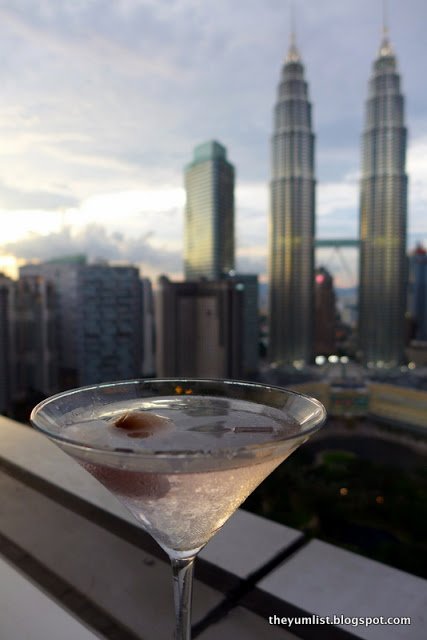 Lychee Rose Martini (RM36++)
A great play on words and a wonderful twist on a classic Manhattan, the Raised in Manhattan, features Jim Beam, Martini Rosso and Maraschino Cherry Juice blended and poured over raisins soaked in yet more bourbon. It's a vibrant evening-kick-off drink with strong clear flavours that hit the top of your tongue then dull into a gentle buzz. Yummy!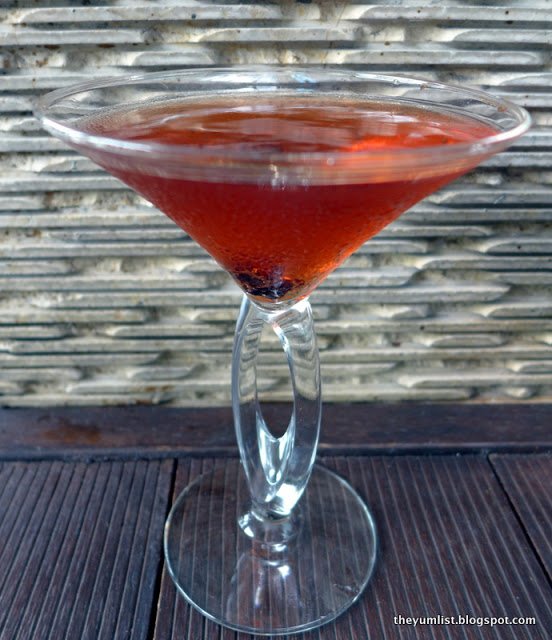 Raised in Manhattan (RM37++)
An impressive twist of lemon twirls the tall glass that's our Selangor sling. Within, a pale orange crushed ice fragrant concoction, gin combines with Cherry Brandy Liqueur, Angostura Bitters, orange juice, lemon juice and sugar syrup all topped by a Dom Benedict and soda mix. A refreshing long drink with a slight perfume to it.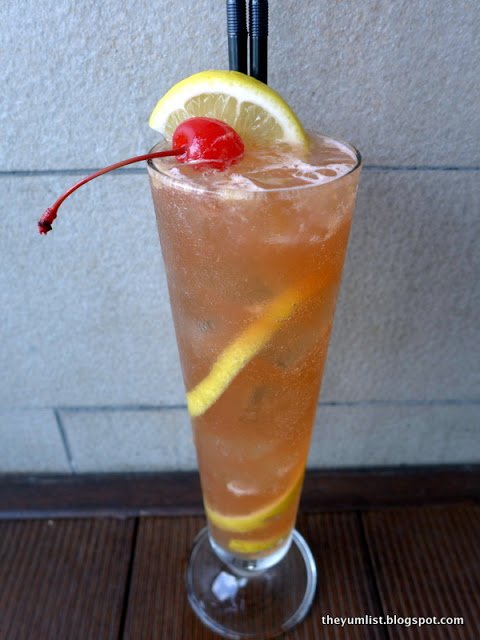 Selangor Sling (RM42++)
Not a cocktail fan?  Don't worry – we thought of you when we tasted two of the house wines by the glass.
Monica shows her national colours, choosing the Australian Pinot Noir (Capel Vale Debut Pinot Noir RM38++ per glass). A bright cherry colour is echoed on first tasting. With light tannins, it is a pleasantly dry, easy drinking wine.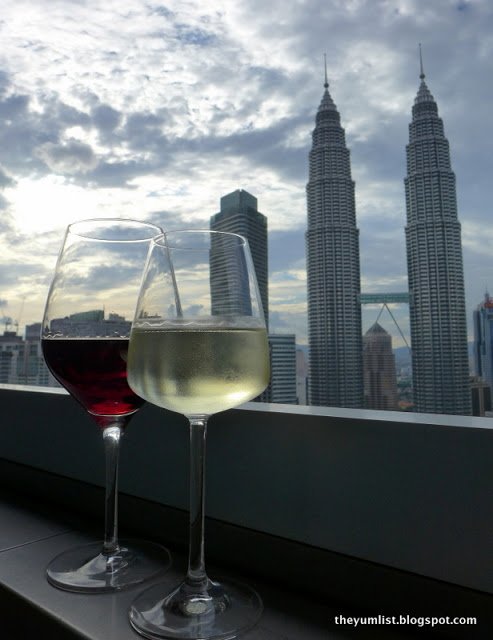 Good Selection of Wine by the Glass
I select my favourite white drinking wine – a Marlborough Sauvignon Blanc. This one is delectably crisp and fruity with hints of melon, guava and more. It hits the spot. Actually I liked it so much I looked it up and the 2012 was an award winning wine.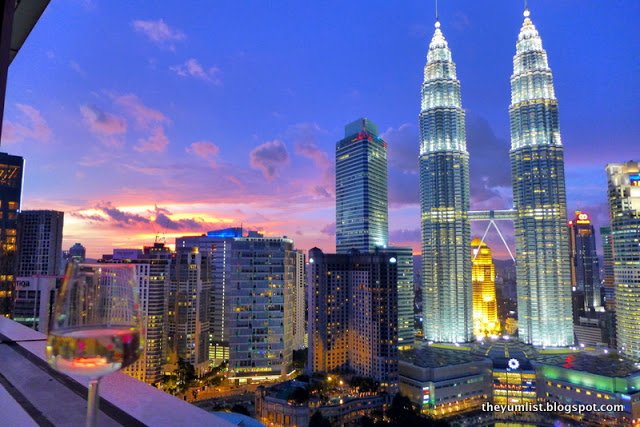 Wither Hills Sauvignon Blanc (RM38++ per glass)
The Specials
Sky Bar offers daily happy hour specials and Theresa confirms that the same high quality alcohol is used in these drinks. She maintains, 'You cannot short change people. It is not fair.' As it is Wednesday and Margaritas are free for ladies, we feel it is our duty to try one. It is the frozen type, an icy limey alcoholic slushy, and I can surely taste the tequila. No short change.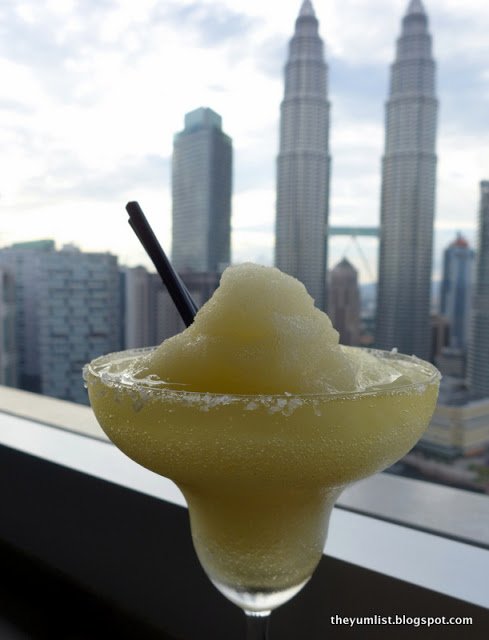 Frozen Margarita
Happy Hour Specials
Monday:  Mojito RM28++ per glass
Tuesday:  Daiquiri RM24++ per glass
Wednesday: Margarita RM28++ per glass
(free for ladies from 6pm – 9pm)
Thursday: South Side RM24 ++ per glass
Friday: Mojito RM28 ++ per glass
Saturday: Mai Tai RM24 ++ per glass
Sunday: Tom Collins RM24 ++ per glass
Reasons to visit: Spectacular views, daily drink specials, crowd pleasing bar snacks, good DJ
SkyBar
Level 33
Traders Hotel
Kuala Lumpur City Centre
Malaysia
+6 03 2332 9888