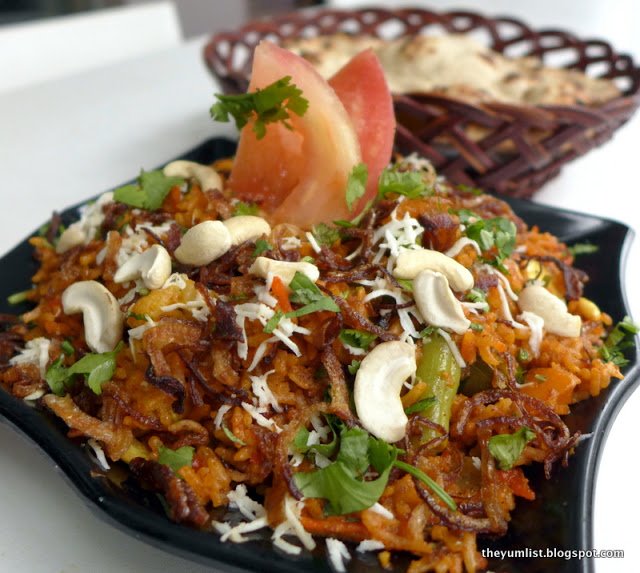 WTF Vegetable Biryani (RM14)
Words: Kristin Cosgrove   Photos: Monica Tindall
It may have a cheeky name, but WTF (What Tasty Food) lives up to its moniker with seriously delicious vegetarian fare. Visitors to WTF will find a casual, cheery atmosphere and an expansive menu featuring only freshly made – never frozen – foods with no MSG. Though the bulk of the enormous menu is Indian, there are other cuisines to choose from including Chinese, Mexican and Italian dishes.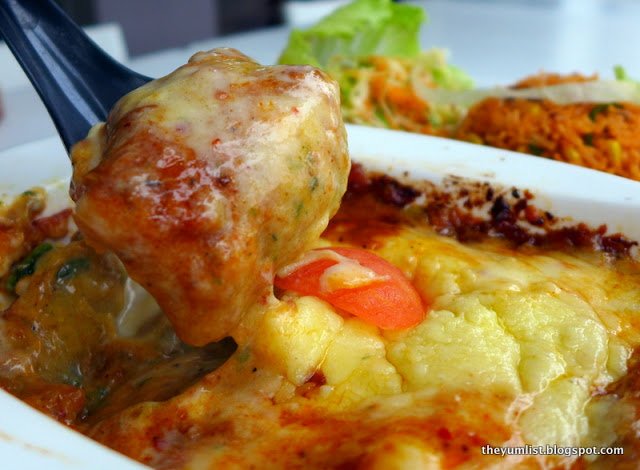 Mexican Burrito with Mexican Rice and Salad (RM25)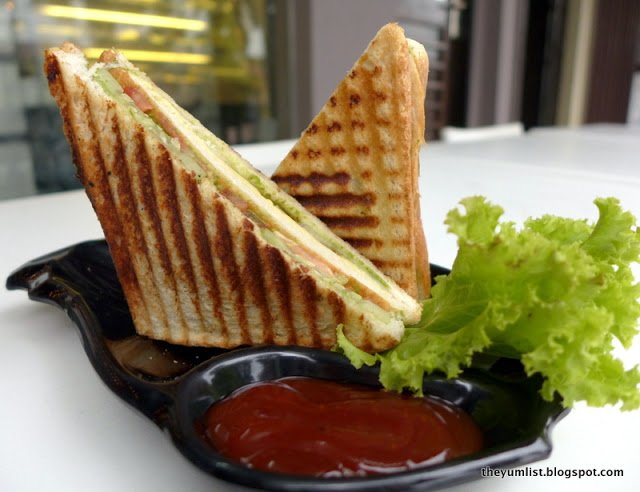 Double decker Veg Grilled Sandwich (RM10)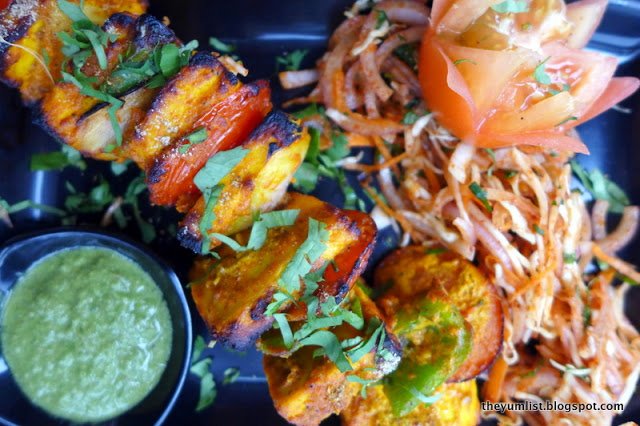 Multani Paneer Tikka (RM14)
Before we began our tasting, fellow Yum-lister, Caning, declared himself a staunch carnivore. While eager to try the food, he remained doubtful a vegetarian meal could really be all that satisfying. But by the end, even Caning was convinced that vegetarian fare can be just as filling and mouth-wateringly delicious as any meat dish.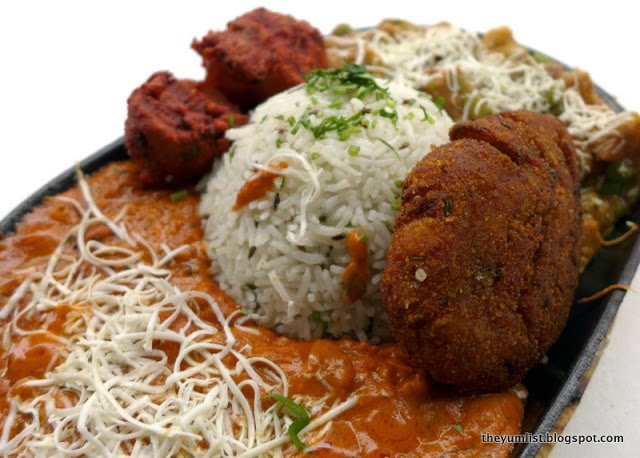 Tava Masala Sizzler (RM25)
Now, I am typically skeptical of menus that are as large as WTF's, as I often find restaurants offer either variety or quality, but seldom both. But WTF delivers both with panache. Perhaps it is because on a busy day at WTF as many as 9 chefs from all over India as well as their assistants can be found working the tiny kitchen, each specializing in food from their own region!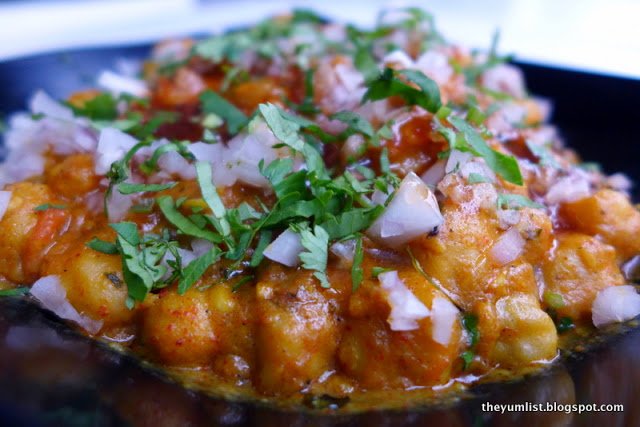 Chole Tikki (RM10)
A great way to sample the many flavors of WTF is to order several appetizers, though many are hearty enough to be a meal in and of themselves. Among the favorites were the chef's special, Hara Bhara Subzi. This colorful dish is perfect with the Plain Paratha or Butter Naan. Also be sure to try one of the many paneers – the Afghani Paneer Surprise is outstanding.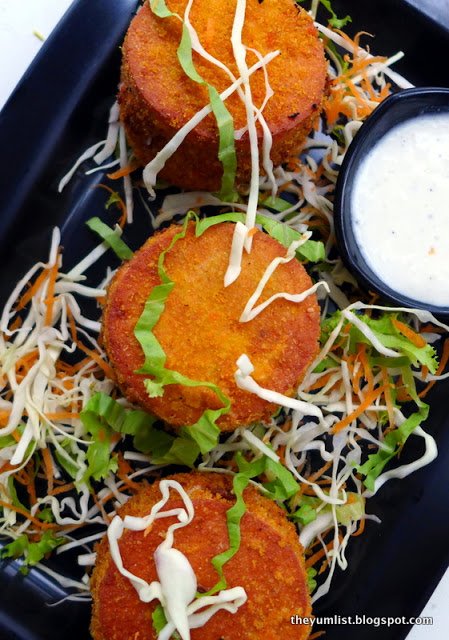 Afghani Paneer Surprise (RM12)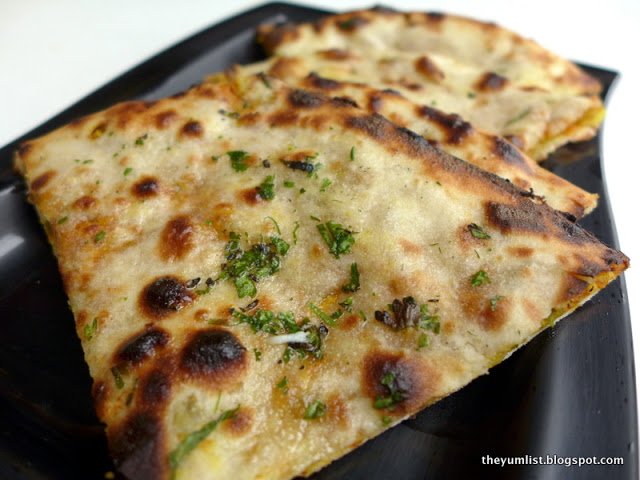 Garlic Naan
The Dahi Puri, also a starter, was my favorite dish of the evening. Exploding with flavor, this popular Bombay street food starts with a delicate shell filled with a spicy blend of potatoes and chickpeas, chili powder, and sweet chutney and is then topped with yogurt and coriander. The result is a shocking but pleasurable blend of spicy, sweet and salty – a must try when visiting WTF. It went perfectly with my absolutely dreamy glass of mango lassi.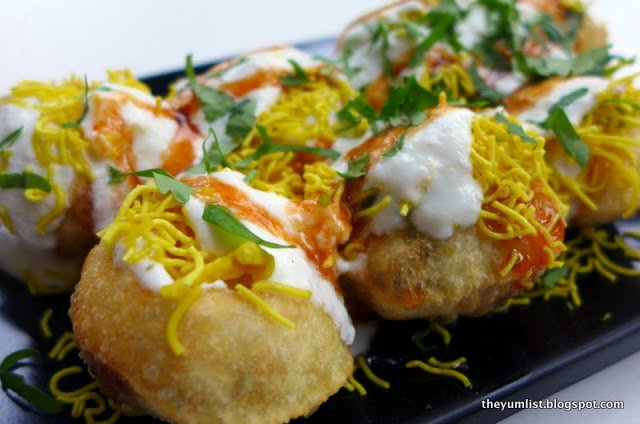 Dahi Puri (RM8)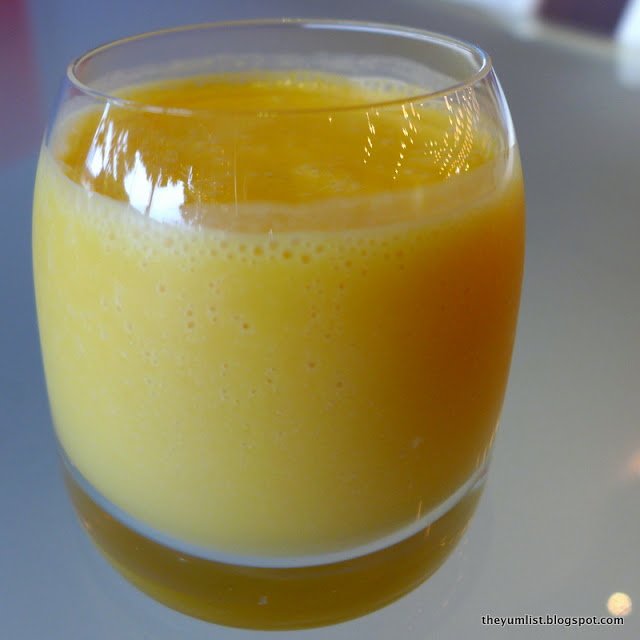 Mango Lassi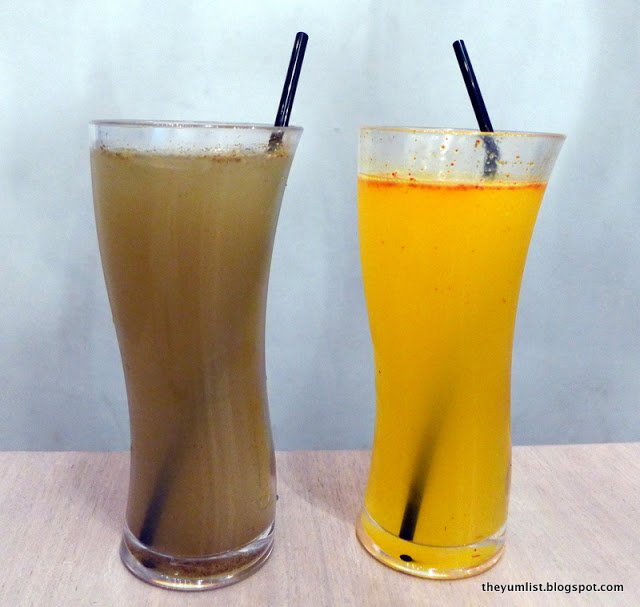 Jaljeera (RM6) and Kesar Sikanji (RM9)
A savory but similar dish is the iconic Paani Puri, the most popular street food in India. Paani Puri utilizes the same crisp shells as the Dahi Puri, but these we filled ourselves with the provided masala potatoes and coriander and mint flavored water to avoid the shells becoming soggy.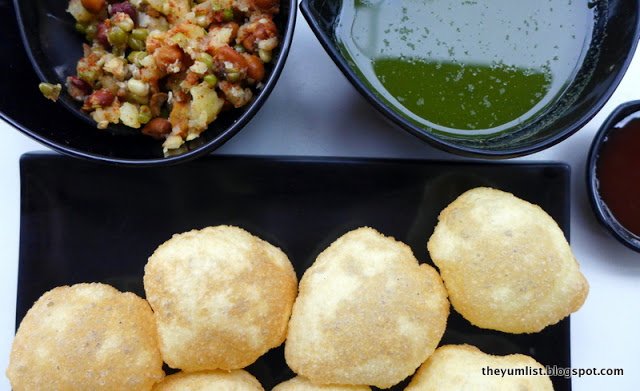 Pani Puri (RM8)
The poor man's "burger", Bombay Vadu Pau, is a simple delight.  A spicy vegetable patty is served on a small, soft bun, the buns of which are homemade by a local baker especially for WTF. It's hard to imagine finding a tastier Vadu Pau even on the streets of Bombay.
Bombay Vada Pau (RM7)
While the menu is heavily Indian based, there are other cuisines to choose from, including Indo-Chinese fusion dishes; we tried both the Dry Manchurian and Chinese Bhel. The Dry Manchurian consists of vegetable dumplings, deep-fried in a tangy sauce. These chewy morsels serve as a nice meal on their own, or are easy appetizers to share. The Chinese Bhel, a WTF special, is a heartier dish including Manchurian balls and crispy noodles – delicious!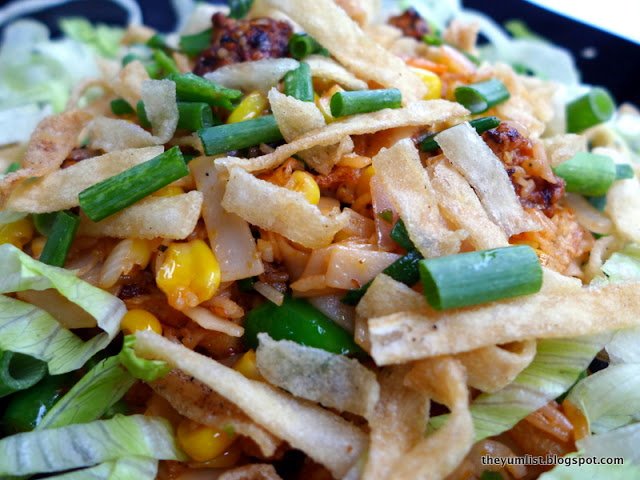 Chinese Bhel (RM14)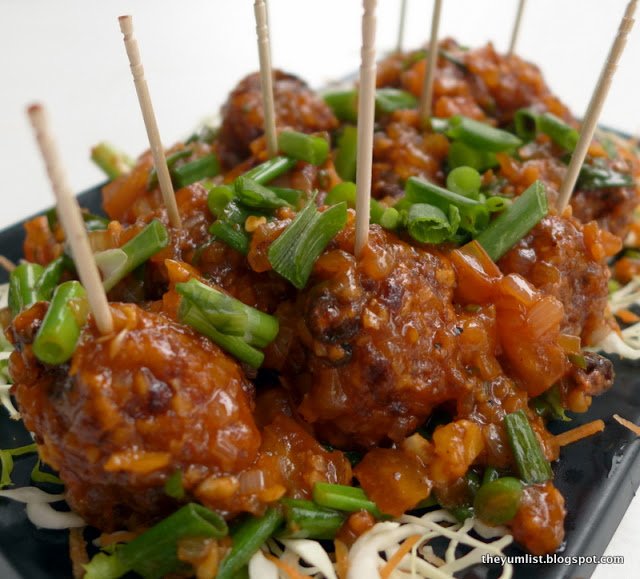 Dry Manchurian (RM14)
WTF offers an array of delectable desserts – my favorite being the mighty Falooda, an Indian/Pakistani version of a sundae. A large glass is filled with layers of rose syrup, basil seeds, rice vermicelli, and ice cream and is just the thing to put out the pleasant fire smoldering on the tongue after a spicy meal.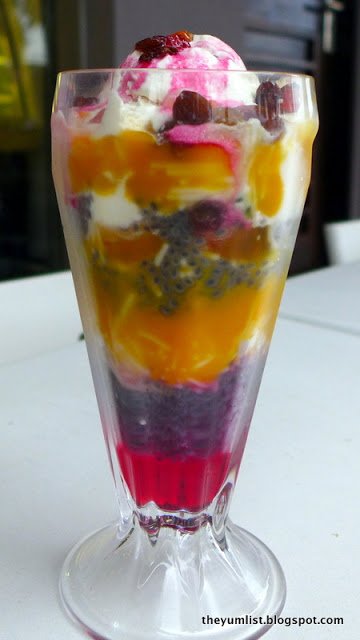 Falooda (RM15)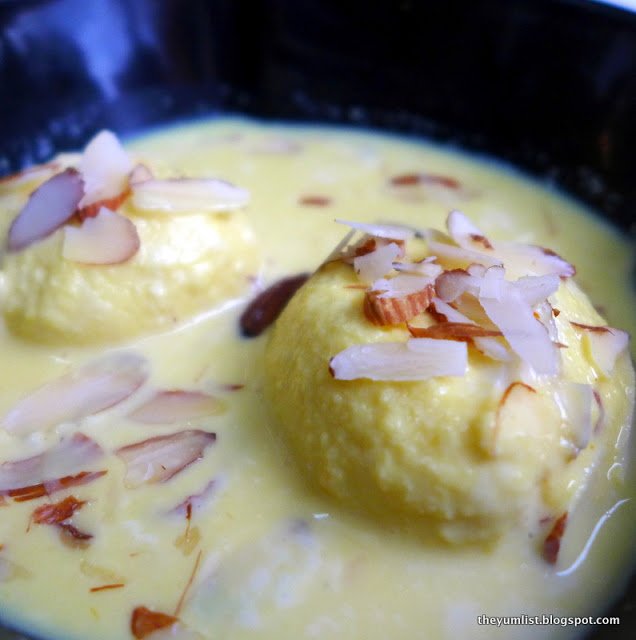 Rasmalai
The WTF Indian sweets are also a great option.  Bite sized morsels can be sold individually, or patrons can opt to purchase an assortment for gifting in a beautiful box. The nut-based candies are akin to marzipan, though I think better tasting.  We slice off bites indiscriminately trying them all, and while some were better than others, I'd be hard pressed to pick a favorite.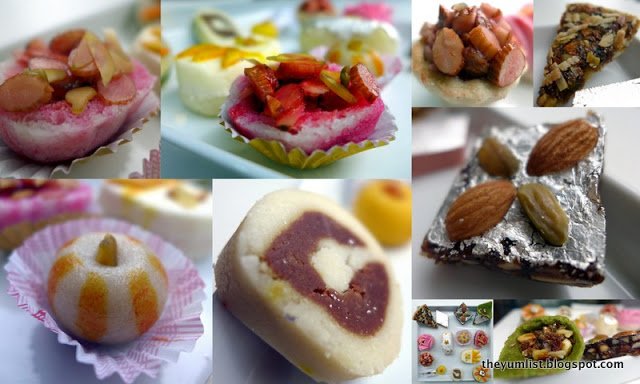 Mixed Indian Sweets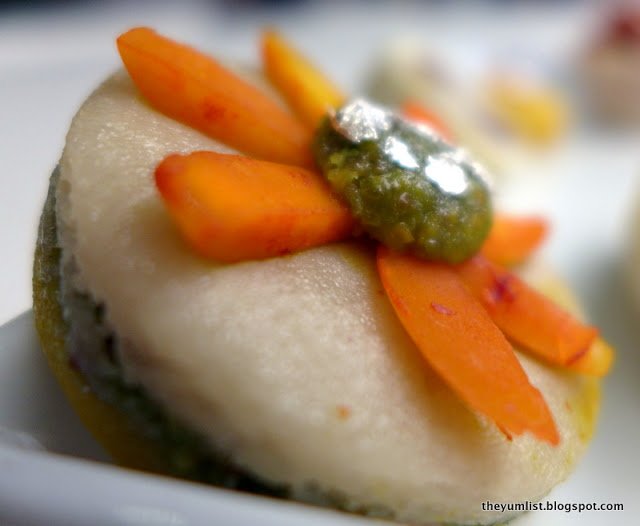 Tiranga (RM5)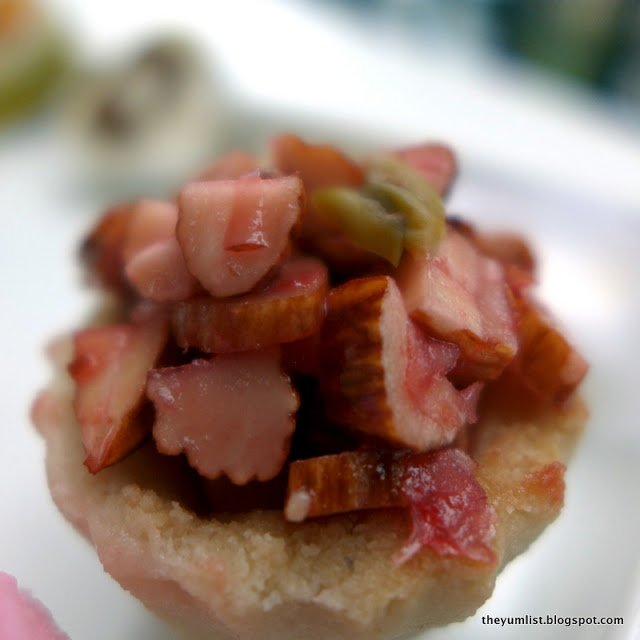 Strawberry Basket (RM5)
Surprises for the palate lurk in every corner of the menu at WTF. If the menu overwhelms, you can always opt for the "Something" (RM6), "Anything" (RM12), "Everything" (RM20) or "Whatever" (RM15) options. Order one of these and the helpful servers will choose your food for you – a clever idea to help those of us who have a hard time deciding.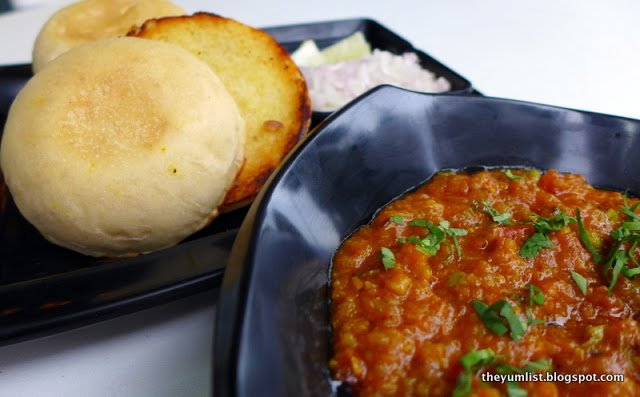 Pav Bhaji (RM12)
As we were walking – no, ROLLING – out of WTF, I was sad that I don't live closer to Bangsar so that I can partake at WTF more often. It was then I heard the heavenly word, "delivery". Yes, WTF delivers – even to Ampang – for a reasonable RM15. It should be mentioned that WTF also caters for all kinds of functions.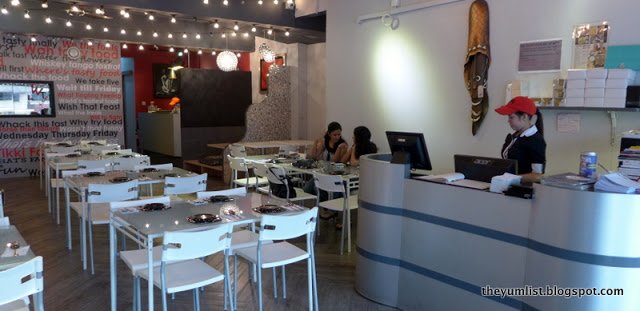 WTF, What Tasty Food
Reason To Go:  Vegetarian dishes made with fresh ingredients and no MSG, an outstanding array of Indian food in a relaxed atmosphere.
WTF (What Tasty Food)
98, Lorong Maarof, Bangsar
59100 Kuala Lumpur, Malaysia
+6 019 261 7070
www.wtfrestaurants.com.my
Open Mon – Thu: 11:30 am – 10:00 pm
Fri – Sun: 11:30 am – 11:00 pm