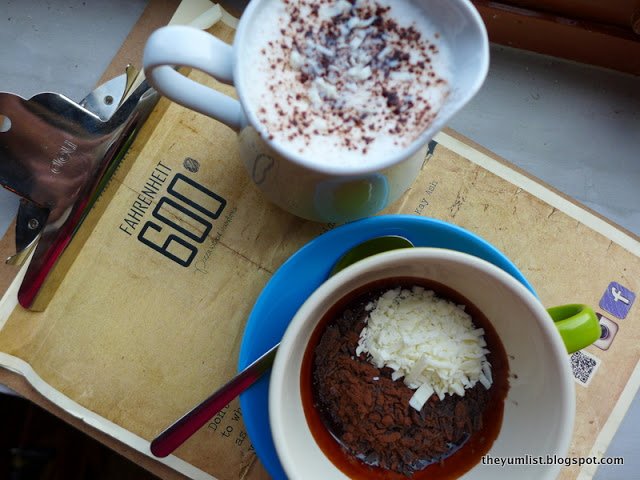 Zebra Hot Chocolate


Fahrenheit 600
Words by Polly Szantor
Photos by The Yum List (Monica Tindall)
Fahrenheit 600 is new on the Publika scene this year, but it's making quite a splash. Interesting name, isn't it? It offers a clue as to why the crust on their pizza is so fantastically crisp and well done on the outside and deliciously chewy on the inside. Here's the lowdown… their brick oven, imported from the US, has only one temperature, a searing six hundred degrees Fahrenheit, which is obviously the perfect heat for heavenly pizza.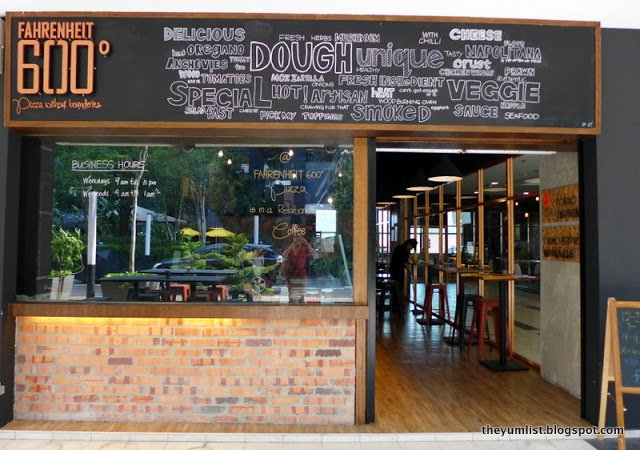 Fahrenheit 600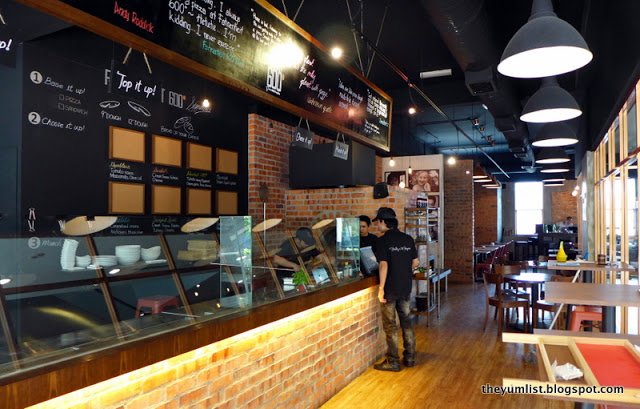 Fahrenheit 600
This is hearty, rustic pizza at its best… none of your namby pamby thin crusts here. You'll be spoilt for choice too. There are 16 varieties of pizza, and if that's not enough, you can build your own. There are perennial favourites like Meat Lover's Pizza, I'm Vegetarian Today and Fahrenheit 600 topped with sun-dried tomatoes, eggplant and feta (9" RM18-50, 12" RM22.90).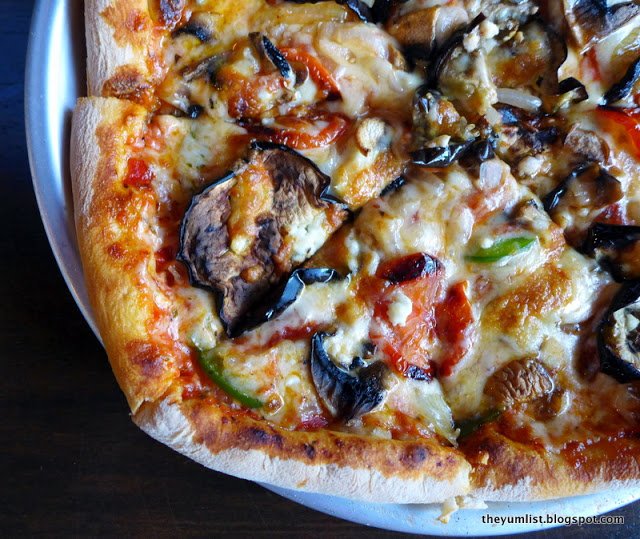 Fahrenheit 600 Vegetarian Pizza
Then, there are more unusual options. Popeye the Sailor (9" RM26-90, 12" RM30.90) delivers special cream sauce, spinach, egg and Marscapone cheese. This dish delights with its gentle flavours and there's oodles of healthy spinach to make you feel pretty good about eating it. Henry the Duck brings a visual treat… the crust is topped with tomato sauce, caramelized onions, pink slices of smoked duck, orange sections, lime green avocado and bright cherry tomatoes. The eyes react first, then the palate echoes the pleasure. This is a lively combination, smoky-rich and delicious. (9" RM27.90, 12" RM31.90.)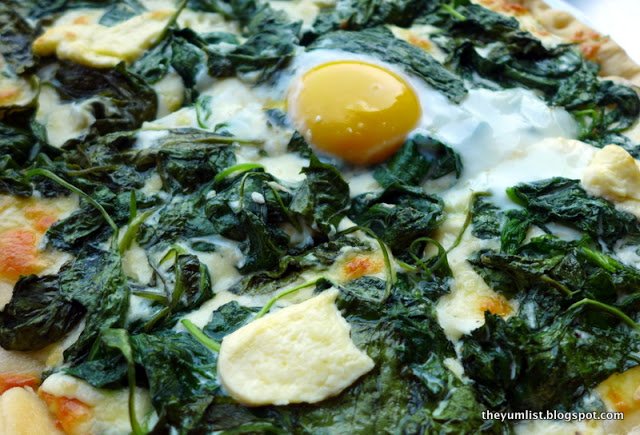 Popeye The Sailor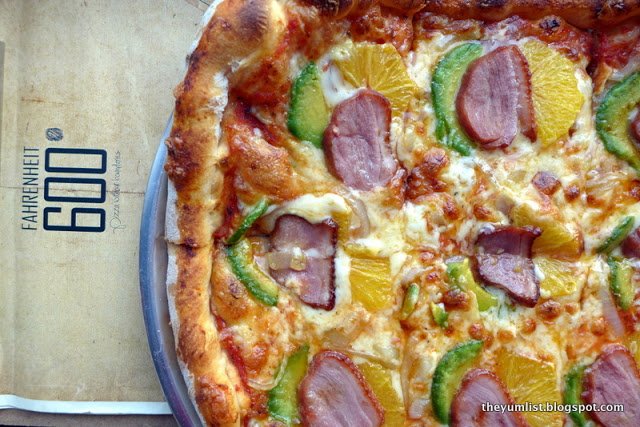 Henry the Duck
There are plenty of options apart from pizza, such as salads, lasagnas, calzones and snacks, and everything is made from the freshest natural ingredients. I must just mention my all-time favourite, Creamy Salmon Calzone (RM20.90). The same fantastic pizza dough oozes with cream sauce, hot-smoked salmon and cheese for a luxurious taste sensation. Oh, and you can take along your own bottle of wine without paying corkage. This place just keeps on getting better.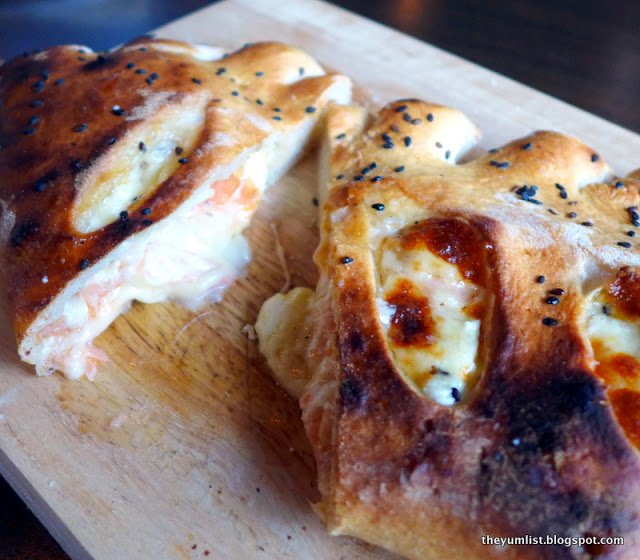 Creamy Salmon Calzone
The lunch specials are excellent value too. If you purchase the 9" pizza, calzone or lasagna of the day you will receive a complimentary dessert and a beverage of your choice. Hmmmm, I know where I'm heading when I'm next in Publika for lunch.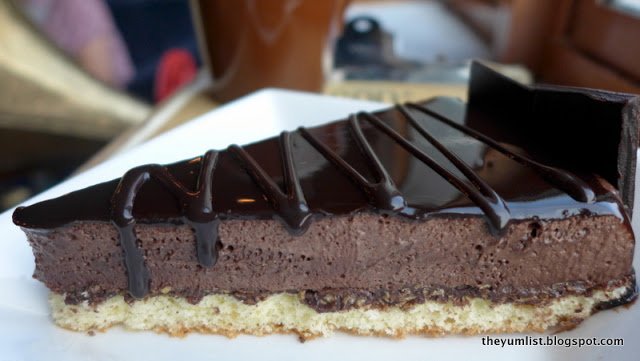 Chocolate Mousse Cake
When a little boy stands in front of a display case filled with gateaux and rubs his hands together in glee, you know you've got a winner right there. Fahrenheit 600 has a pastry chef from France, and his creations are superb. There are several cakes available every day, for example Chocolate Mousse, White Forest, Black Forest and Tiramisu, all priced at RM10.90. Apple Pie and Tropezienne Cake are RM7.90 and there's a daily chef's special at RM4.90. The Tropezienne is the most interesting. It looks like a plain sponge cake with cream, but in fact it's made with brioche dough so it's very rich and has a unique flavour; it's well worth a try.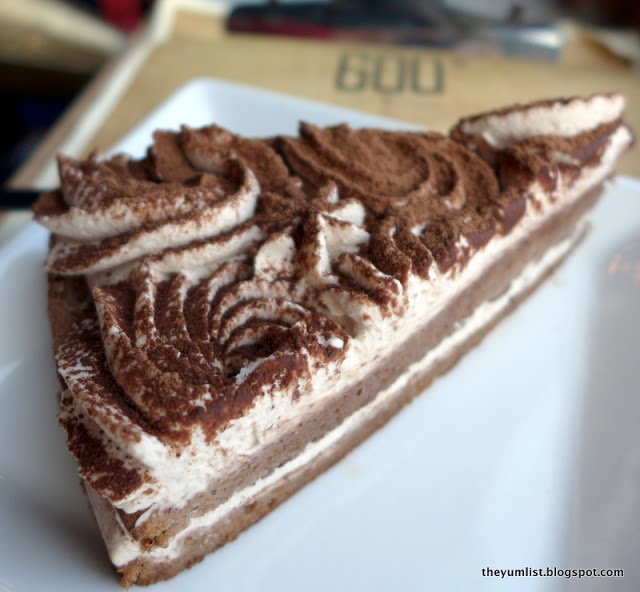 Tiramisu Cake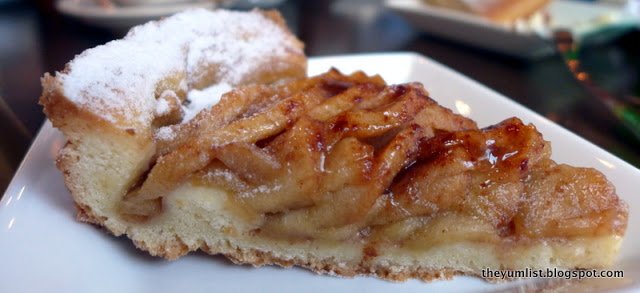 Apple Pie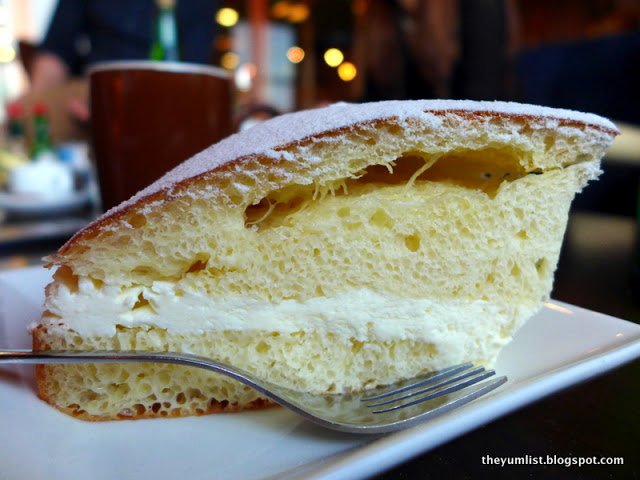 Tropezienne
Even if you don't want to eat, owners Maryam and Hamid have created a cosy space that invites guests to sit, chat and linger while enjoying the excellent beverages and free WiFi. Along with the regular caps and lattes there's a few surprises like the Minty Cappuccino. Wow! If you like a chocolate mint with your coffee, this will be just the thing. The teas are a treat too. Sourced from Trendy Teapigs in the UK, they're packed in those stiff gauzy pyramids that I've just discovered are called "tea temples". How cool is that? Using hieroglyphics on the menu you can actually choose a tea to suit your mood; now that's really fun! You may just be tempted by the names though, for example Chocolate Flake, Superfruit and Spiced Winter Red. There are also several decaf options, like Lemon Ginger and Lemongrass.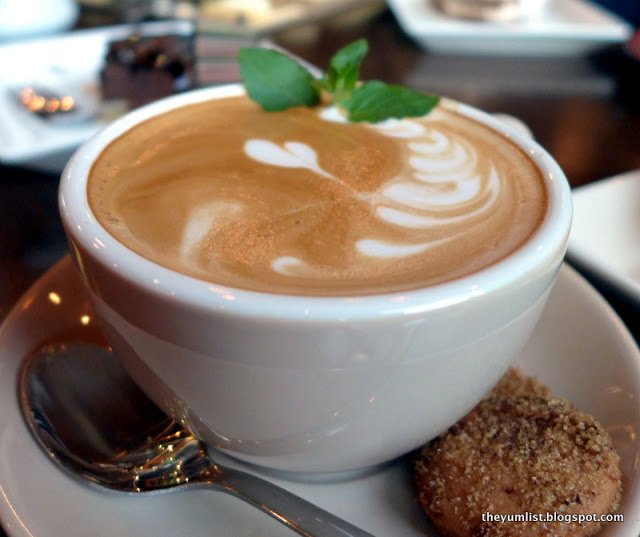 Minty Latte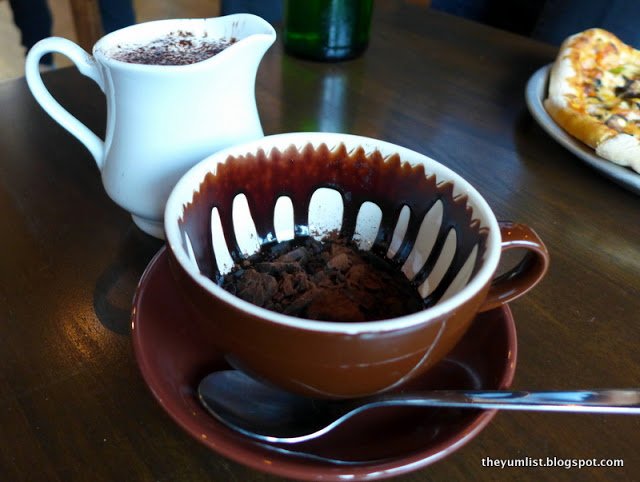 Dark Hot Chocolate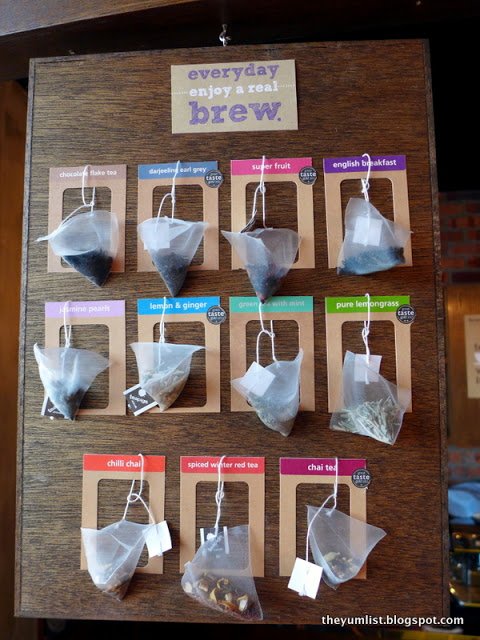 Tea Selection at Fahrenheit 600
If you're as confused as I am when it comes to finding your way around Publika, here's a tip for finding Fahrenheit 600. If you stand with your back to the White Box, the art gallery near the outdoor stage, the restaurant is straight ahead, on the left.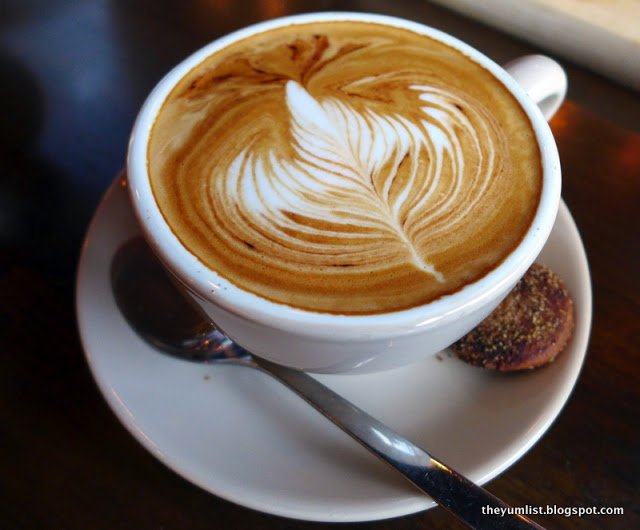 Latte
Reason to visit: It all about the perfect pizza's and calzones… end with dessert (if you have room) and a hot drink and you'll have a very delicious and satisfying meal.
Fahrenheit 600
Below Red Bean Bag in Publika Square
A4-G2-05 Solaris Dutamis
Jalan Dutamas 1
Kuala Lumpur, Malaysia
www.facebook.com/Fahrenheit600
+6 03 6206 3417
Open 11am – 11pm