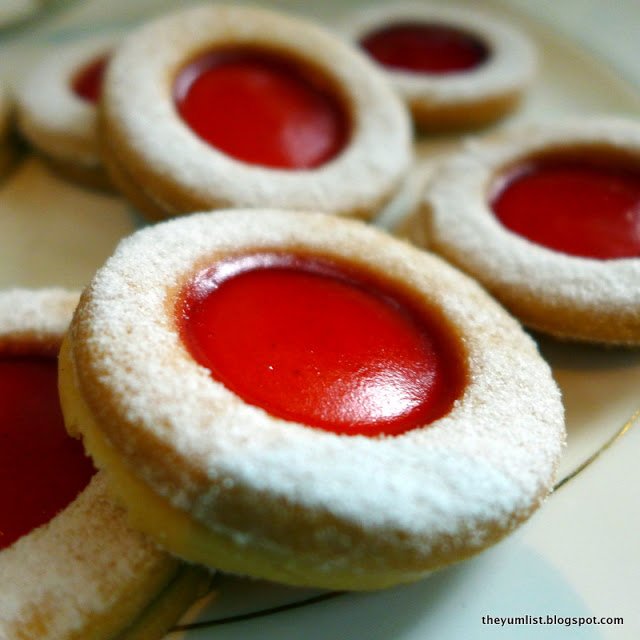 Ox Eye Cookies


Childhood Memories Afternoon Tea, Sheraton Imperial Kuala Lumpur
Words by Polly Szantor
Photos by The Yum List
Every month, the Sheraton Imperial Hotel's Executive Pastry Chef Chan Eng Hua creates a new theme for Afternoon Tea in Pavilions Lounge. For the month of September you are invited to revisit your youth by indulging in the Childhood Memories Afternoon Tea. It's served buffet-style, so bring a hearty appetite.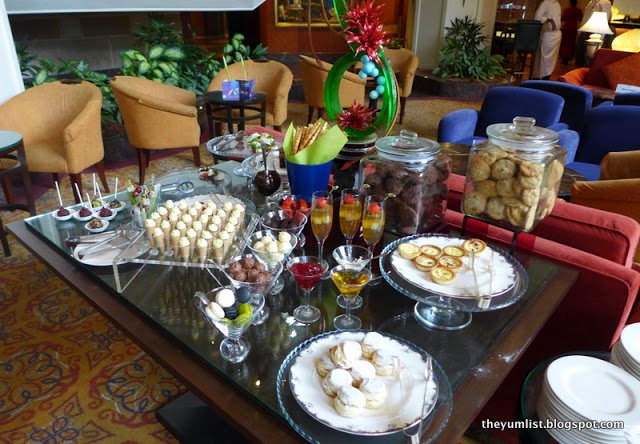 Afternoon Tea Spread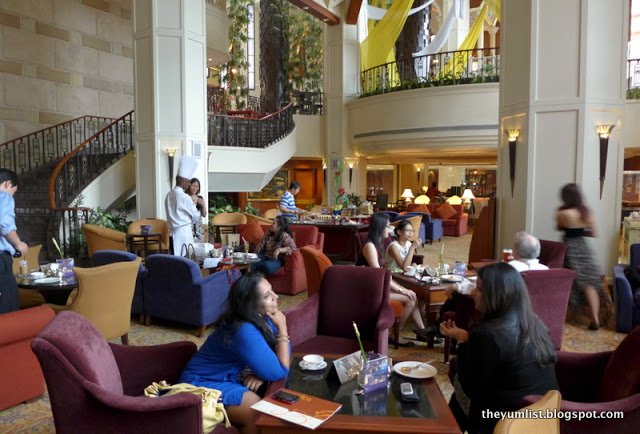 Pavilions Lounge
Begin with open-faced sandwiches, little crispy ovals of toasted French bread topped with chicken breast and pineapple chutney or choose creamy Brie, then move to Malaysian treats from days gone by. There are mini Guli Petak; they look like a classic Quiche Lorraine but they're made with a sweet pastry case. From here on, dive into sugar heaven and sample a host of sweet confections.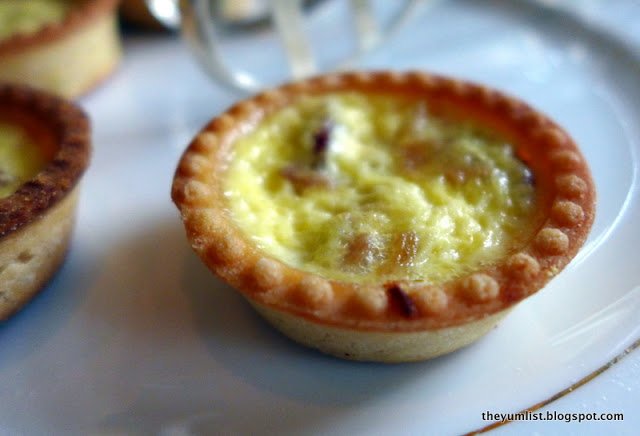 Quiche Lorraine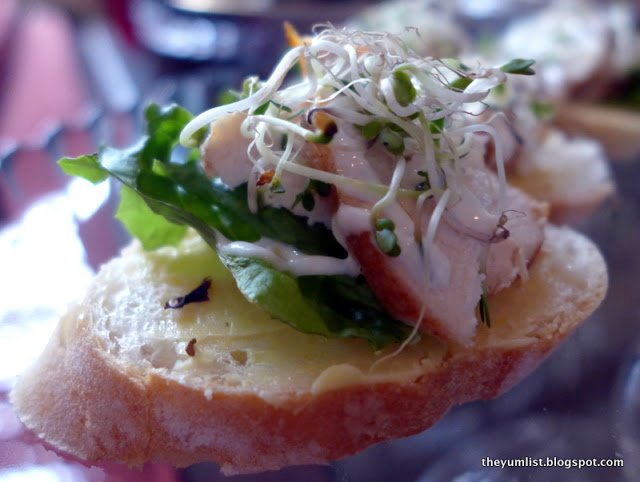 Chicken on Baguette
There's plenty to keep chocolate lovers happy. Teng Teng are brownies with marshmallows and nuts and there are assorted homemade Pralines. The tempting chocolate lollipops are called Konda Kundi. The outer chocolate shell is speckled with flecks of dried strawberry, chopped peanuts or pistachios while the inside is filled with a sinful chocolate mousse. Very yummy! Need more? Try the Galah Panjang, playful spirals of sweet grissini to dip in chocolate sauce.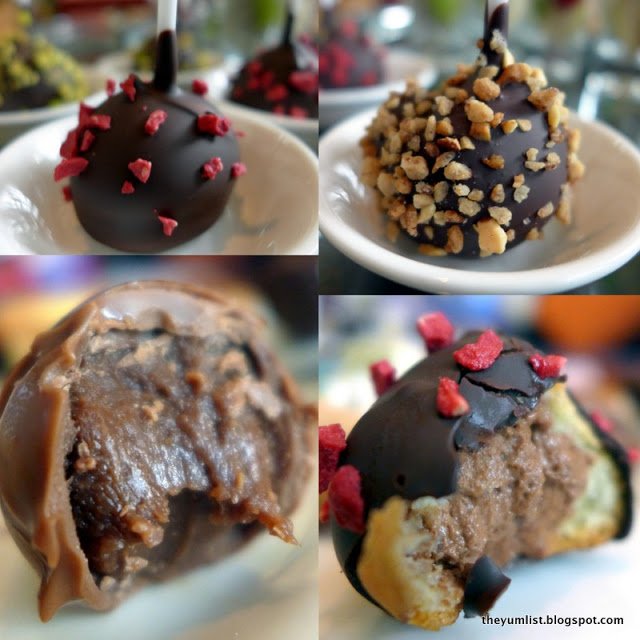 Assorted Chocolate Lollipops
Batu Seremban is a Malaysian childhood game reminiscent of Jacks, a game I loved to play in the schoolyard in England. Chef Chan's Batu Seremban are Ox-Eye Cookies, which are rather like Jammie Dodgers, round shortbreads with raspberry jam in the centre. You'll enjoy the cute little Macarons, so like mini yo-yos, and to tip his hat at an English afternoon tea, Chef Chan has included classic scones with whipped cream and jam. Let's not forget the assorted cookies and the little fruit salads, plus the attractive Plaster Sin, jelly with fresh fruit served in a champagne glass. My very favourite though, were the Gasing, which is the Malay word for a giant spinning top. These are little wafer cornets lined with chocolate and filled with passion fruit mango cream. I loved the hidden surprise of coffee-soaked sponge in the bottom of each cone, in fact I giggled in childish delight when I ate the first one.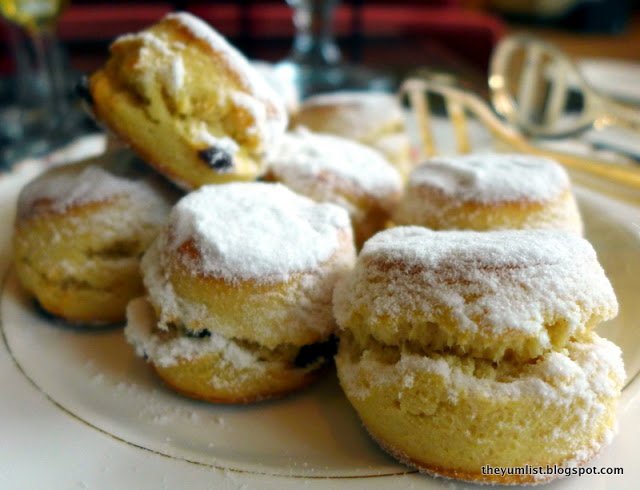 Scones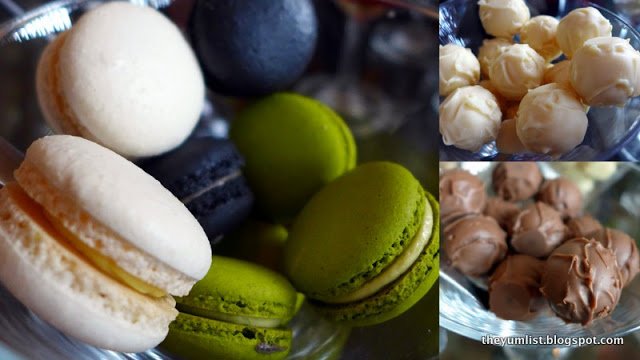 Macarons and Chocolates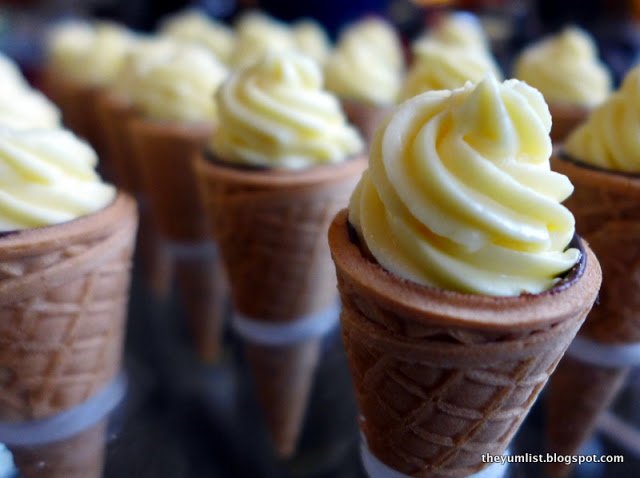 Passion Mango Mini Cornetto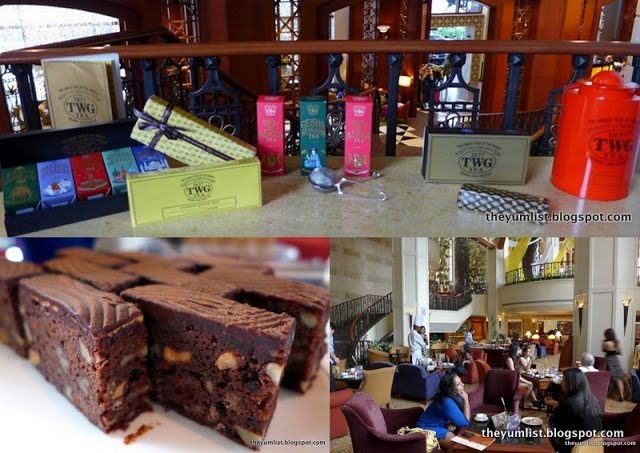 Tea, Chocolate Brownies and Pavilions Lounge
Pavilions has a lovely selection of coffees and teas and it may be difficult to make your choice. I was able to taste several varieties of their TWG tea, which is produced in Singapore and offers single origin teas and inspired blends. I liked the Fruity Black Tea blended with sunflowers and exotic fruits, but for a decaf option try the South African Red Tea or the Lemon Bush Tea, both made with the leaves of the Rooibos bush. Two of their exclusive blends are the Grand Wedding Tea and Sakura! Sakura!, a green tea delicately flavoured with cherry blossoms. I think this was my favourite, though they were all excellent.
TWG Tea
Reason to Visit: To enjoy nostalgic, sweet treats while luxuriating in the comfortable, spacious atrium of Pavilions Lounge.
The special promotion for the Childhood Memories Afternoon Tea is very reasonably priced at RM40++ per person. It will be available until the end of September from 2pm to 6pm, Monday to Friday.
Pavilions Lounge
Sheraton Imperial Hotel
Jalan Sultan Ismail
50250 Kuala Lumpur
Malaysia
+6 03 2717 9900