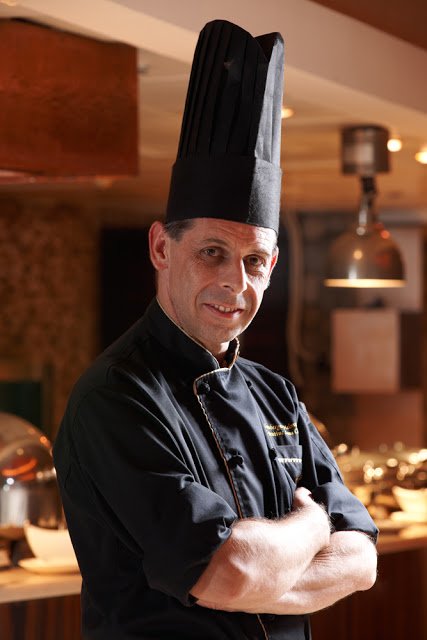 Chef Helmut Lamberg
Executive Chef of the Impiana Hotel, Helmut Lamberg, talks with The Yum List about life as a chef and the pros and cons of the industry.
What do you do and how did you got into the industry?
When I was small I always admired the pastries at all the nice Coffee Houses in my home, and some when I got really interested to make them by myself. With the age of 14 I got the chance to do a cross exposure training at a very prestigious hotel in our home. Six months after I started my apprenticeship as Pastry Commis at the same hotel, and soon after I decided that I wanted to learn more than only pastry. I graduated after four years as a professional Chef and Pastry Chef.
Share with us an interesting story from behind the scenes.
Behind the scenes it can be very hectic and after you enter the restaurant or event room it all seems to be so peaceful.
What's the best/ worst part of your job?
The best part is that as a chef, if you want, you are able to travel the whole world and your gaining of knowledge never stops. Which profession also can tell that they have their own TV channels? On the other hand the worst is the long and hectic hours especially when the hotel is really busy.
What's the best thing about working in Impiana Hotel?
The opportunities to continually grow are great. Our hotel too is in the prime location of a fantastic country and a booming city.
What's your personal favourite meal/ drink at Impiana?
Actually I have two favourites at our hotel. One would be the Pumpkin Seed Crusted Codfish at Cedar on 15 and another I absolutely love is the local Mee Mamak Goreng at our Tonka Bean Restaurant. For beverages, I like our Cedar on 15 cocktails. Many of them are inspired by and infused with local ingredients, such as the Mango Tango.
What's your favoured food and wine/ liquor pairing?
Privately I consider myself as rather simple and I really like to enjoy the local cuisine of all cultures. Malaysia for my opinion has the greatest variety food wise. Besides my personal favourite foods are still also our local Austrian authentic dishes and in particular the homemade dumplings of my mother. Usually with this meal we choose a fantastic Austrian Wine called Muskatelle Federspiel, from Winemaker Josef Jamek in Wachau, Northern Austria.
Tell us a story about one of the dishes you prepare…
The first one coming to my mind is the Venison Loin baked in Sour Cream Dough. This dish I created more than 13 years ago in Austria in a small restaurant. The guests' response was enormous at that time. Over the years I haven't made that dish in other restaurants because it didn't fit the restaurant's concept or I simply didn't think about it anymore. A few months ago one friend from Austria came and reminded me that he still thinks about that dish and, I thought for Cedar on 15 that would be a perfect choice. Today the dish is one of the favourites of our valued guests at our new restaurant.
The perfect day off would be…
… just to be with my family in a peaceful spot, such as a beach or greenery.
A day in the life of a chef is...
… long hours and a busy life, but always with many highlights throughout the day.
What do you do for fun?
For fun I like to learn more about modern cooking techniques or other countries' cuisine.
What's something you'd like guests to know about the cuisine/ drinks prepared at Cedar on 15?
We only use the freshest products, which are air flown in from all over the world. Some of the products are not even available or very hard to find in Malaysia, such as Topin Ambour.
How do you select your ingredients and why?
First thing I look at is our guests and whether they might like these new ingredients. Then I'll use them for a special promotion first, or simply as our Amuse Bouche (small complimentary bite size starter), which every guest will experience if they step into our Cedar on 15's Dining Room.
What can guests look forward to in the upcoming months?
Guests can look forward to new creations I am currently working on. We are also planning a personalized Chef's Table to be prepared in front of our guests at our special Cedar on 15's Private Room with plenty of fun.
Previous posts on Cedar on 15