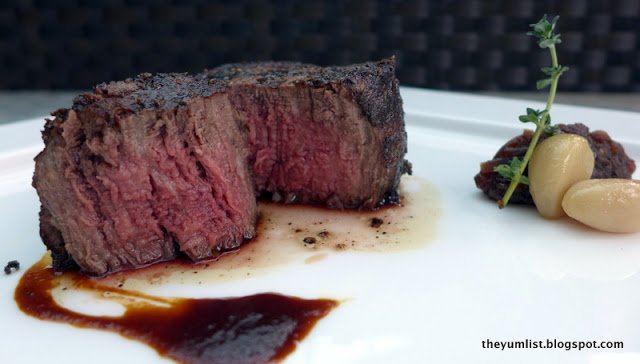 Tasmanian Tenderloin
Cedar on 15, Bar and Restaurant
Excellent food, professional service and a good drink list
are not enough for a restaurant or bar to be successful these days. More
demanding customers want something that goes beyond the standard – a celebrity
chef, unique ingredients -something that says, "wow." Cedar on 15, with the
basics covered, takes care of the wow factor with an incredible view.
Located on the rooftop of Impiana Hotel in the city centre,
Cedar on 15 is a restaurant, bar and private room with vistas worth making the
ascent for. A transparent ceiling in the restaurant lets in natural light
during the day. Glass windows in the personal dining room open up to the
shining peaks of the twin towers and, the bar, with its breezy open balcony,
catches the golden rays of sunset and the twinkling city lights at night.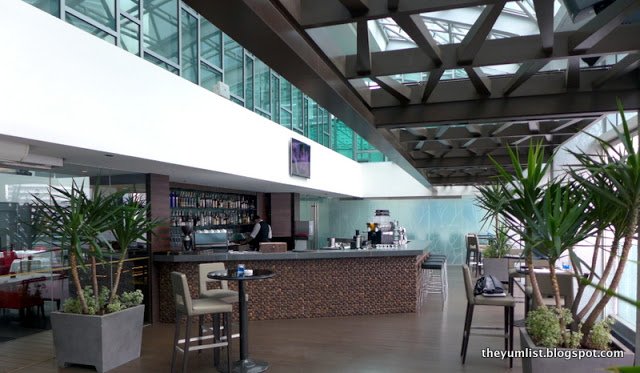 Bar – Cedar on 15
As the sun kowtows to night and the warmth departs the air,
Cedar on 15's bar pulses with contemporary chill music. This is the prime time
to visit. Happy hours run a generous 5pm – 10pm Monday to Saturday and 5pm to
2am Sunday. One-for-one specials on house selections of beers and spirits make
it a popular after haunt or a pre-dinner drinks meeting place. With a
professional mixologist whipping up the classics, but also some signature
concoctions, a cocktail is a fine way to start.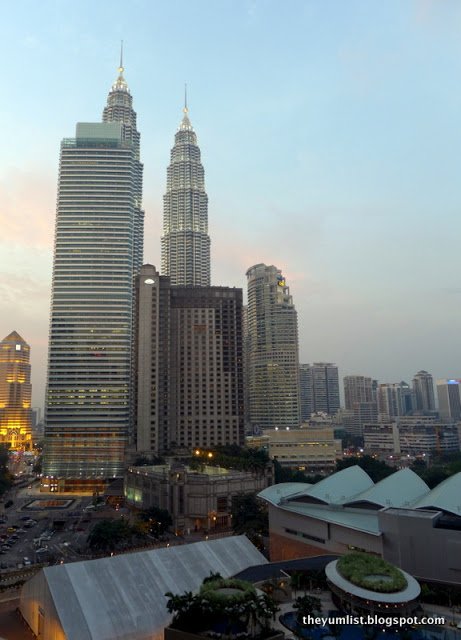 Sun fading
Pandan Runner (RM25) blends Matusalem Platino rum, screw
pine (pandan), green apple and Monin cucumber into an energizing beverage.
Leaves of green dominate the glass fitting in with the tropical jungle climate.
Pandan Runner
Kaffir Martini (RM25) makes use of kaffir leaf providing a
kick, Monin lychee to add local flavour, Monin Elderflower for sweetness and,
Skyy Blue vodka for strength. This is a cocktail with punch.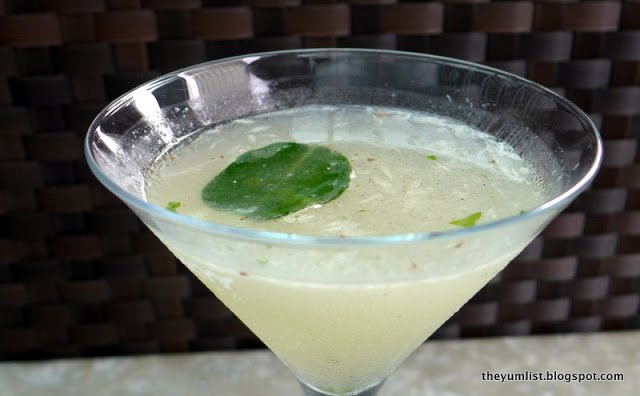 Kaffir Martini
Cedar's Whisper (RM25) is a rosé wine based cocktail,
elegant and pink, with an edible flower simply adorning the surface. It's so
graceful it makes you want to put on a pretty dress. Apparently appealing to
both men and women though, as hubby supped the last drop from my glass.
Cedar's Whisper
The golden rule of alcohol with food should definitely be followed, especially when you have bar snacks as tasty are these ones. A classic tapas plate, Gambas al Ajillo (RM45), is fresh and
flavoursome. Fine specimens of juicy Malaysian tiger prawns are sautéed with
garlic, chili and olive oil and sided with toasted slices of French baguette
and a large sprig of fresh dill.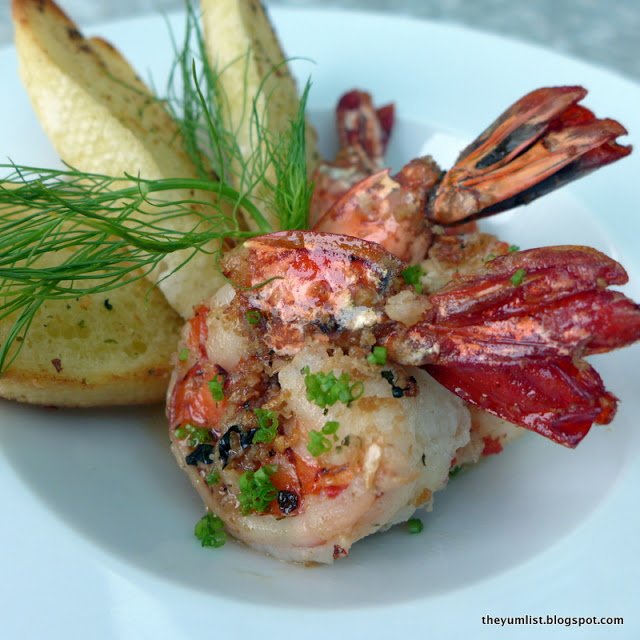 Gambas al Ajillo
Not missing out on the KL burger craze, Cedar on 15 has
their own stylish version in the Slider (RM32). A house made Scottish Angus
beef patty is jacketed with melted cheddar cheese, wiped with a hit of Dijon
mustard, browed with cornichons and sided with seasoned crisp fries. No
complaints for this dish.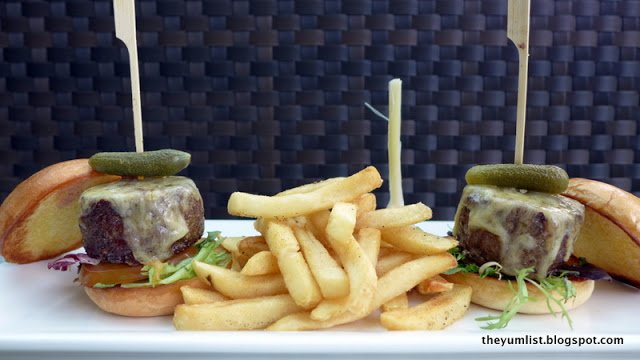 Slider
Vegetarian or not you can't go past the Quesadillas (RM25)
filled with soft roasted capsicum, pan-fried mushroom, aubergine and cottage
cheese. They're a gorgeous mouthful of lush.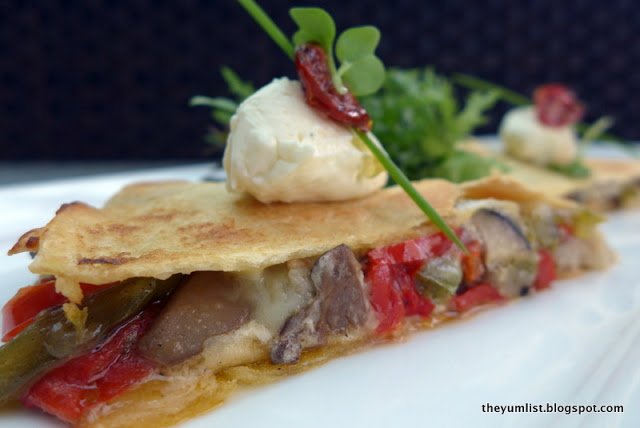 Quesadillas
As dusk darkens to night and you've had your fill of the
glittering romantic skyline, move inside to the restaurant where a different
but equally enchanting scene awaits.
The wine menu offers a reasonable selection of old and new
world labels with 13 wines, including champagne, rose and dessert wine by the
glass. We sipped on a white from Australia and an Italian red while deciding on
what to eat.
Cape Mentelle's 2011 Sauvignon Blanc, Semillon from Margaret
River (RM35) was mineraly on the nose, crisp to start and round in the finish.
The Tuscan 2009 Lamole di Lamole, Chianti Classico, DOCG (RM35) presented a mix
of dark cherries and whiffs of slate on the nose, with a bitter chocolate
beginning in the mouth and a saliva inducing dry finish. This red was served
chilled but improved when reaching room temperature.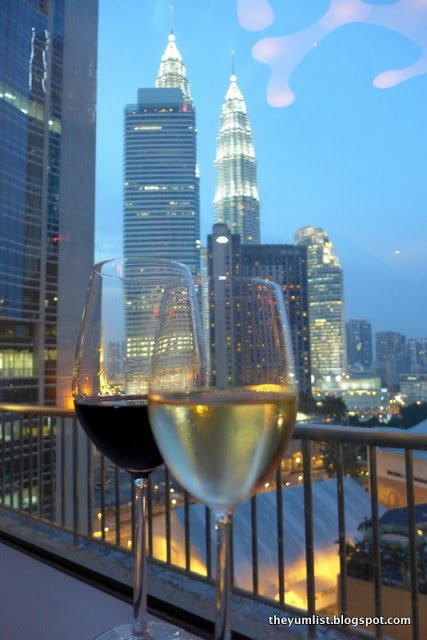 Red and White House Pouring Wine
The dinner menu is a two page selection of European
specialties featuring vegetarian, fish, poultry and red meat catering for most
preferences. There's too a grill option where the best cuts of meat are
chargrilled and finished in the oven to your liking. A choice of sauces: Green
Peppercorn with Cognac; Classic Béarnaise; Memphis BBQ; Sweet Brown Mustard and;
Mushroom Cream come with your meat while, vegetable dishes can be ordered on
the side (RM12 each).
Black Angus Tenderloin (220gram RM80) from Tasmania was an
incredible piece of meat cooked to absolute perfection. Caramelized on the
outside and luscious within, the flesh was nothing short of amazing. Our sides
of Creamed Baby Spinach (RM12) and Wild Mushrooms with Herb Butter (RM12) were
so good they are worth ordering on their own. We chose the Memphis BBQ sauce
for our steak, but truthfully barely dipped our forks in, as the steak was the
epitome of magnificence.
Black Angus Tenderloin with Mushrooms and Creamed Spinach
The Pumpkin Seed Crusted Codfish, popular since opening, has
stood the test of time. A pumpkin seed crust crests flakes of white flesh.
Pumpkin seed and yellow carotene oil (according to chef this latest trend in
oil is even healthier than olive oil) fringe the edge. Fennel puree and
mushroom confit are exciting sides, but nothing can distract for too long from
the delicate, lean, moist fish meat. Whether visiting Cedar on 15 during night
or day, this dish is an a la carte must order!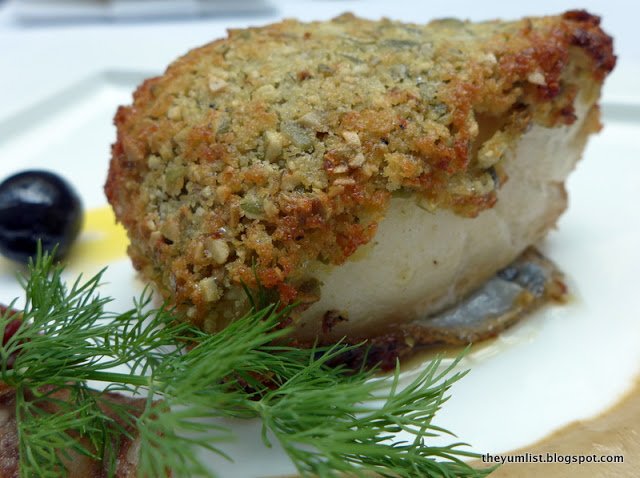 Pumpkin Seed Crusted Codfish
Pavlova (RM30) is a fluffy light meringue served sandwich
style (topping and base) filled with fresh cream and strawberries. Obviously a
well-honed craft, the meringue is crispy, crumbling upon slicing but held
together with fluffy cream.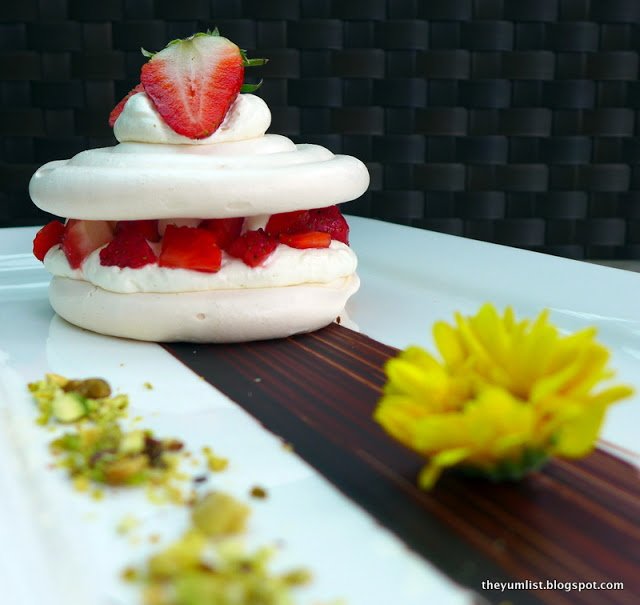 Pavlova
A touch of chocolate is always welcome in dessert and again
Chef Helmut has perfected this item, the American Walnut Brownie (RM28). Dense
chocolate interior is lightly crisped on the outside and topped with homemade
sour cream ice cream and poached pear. Brownie fans should not miss it.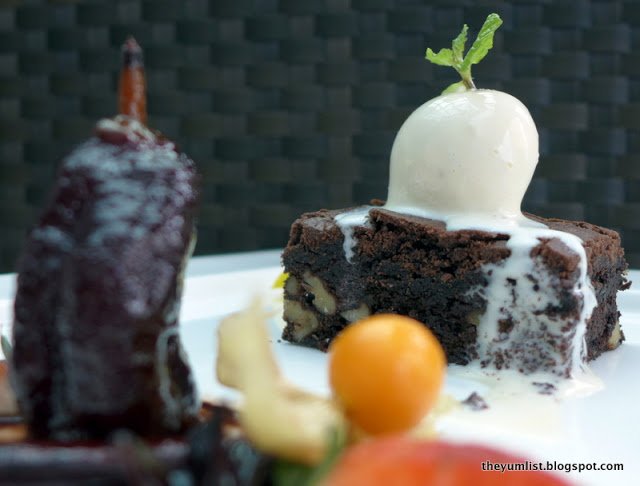 American Walnut Brownie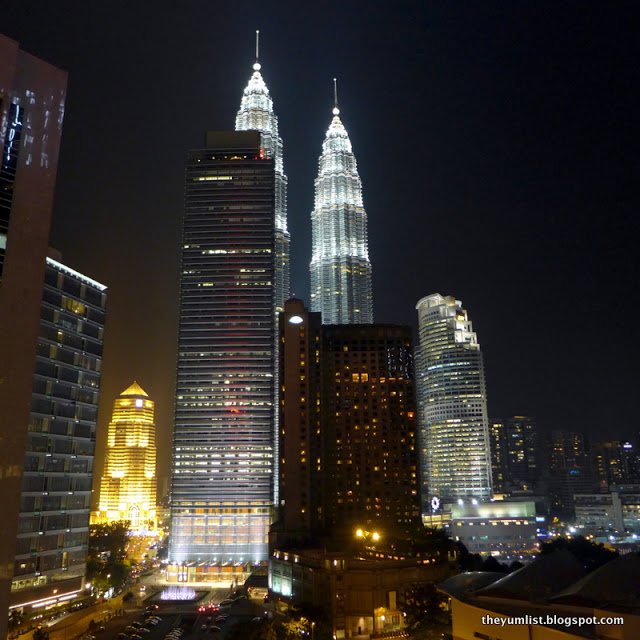 Night View
Reason to visit: Vegetarian Quesadillas, Pumpkin Seed Crusted
Codfish, Tasmanian Tenderloin (!), Creamed Spinach, Cedar's Whisper Cocktail
(as long as you wear a pretty dress), all of Chef Helmut's desserts
Cedar on 15
Impiana KLCC Hotel
13 Jalan Pinang
50450 Kuala Lumpur
Malaysia
+6 03 2147 1111
Opening hours:
12pm – 2:30pm (Monday to Friday)
5pm – 2am (Daily)