Mantra Legends Hotel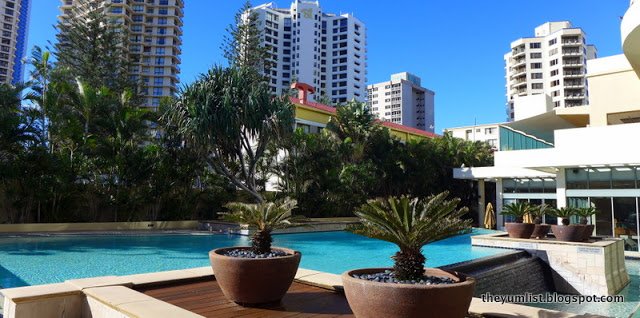 Pool
Mantra Legends Hotel Gold Coast
What's Your Mantra?
I will relax. I will enjoy. I will get lots of fresh air. I will exercise. I will limit my time spent working. Whatever your mantra, Mantra Legends Hotel in Surfer's Paradise, Australia vows to help you realize it. My personal mantra… all of the above and… I will find the best places to stay, eat and drink on the Gold Coast.
I will relax.
Pristine beaches, theme parks and sunshine have given the Gold Coast a well earned reputation as a vacationer's dream. Most don't realize though, that vineyards, a blossoming boutique gourmet and art scene and, well-managed national parks are too desirable attractions promising joy and delight.
Being a tourist destination however, it does have its shortcomings. Tourist traps abound with both poor-quality over-priced eateries and, less than desirable standards of accommodations widespread. A centrally managed group sometimes is the best way to go. While you might not get the attention of a smaller family owned hotel, you are usually guaranteed a certain standard that can be expected across properties and, some type of recourse if you don't. Mantra Group manages over 130 hotels, resorts and retreats within Australia and New Zealand, so it seemed a reliable choice as part of my search.
I will enjoy.
Mantra Legends Hotel is in the heart of the fondly nicknamed, "Glitter Strip," only minutes walk to shops, restaurants and nightlife, but too is an indefectible base from which to explore the southern end of the Sunshine State. Surfing, clubbing, dining, shopping – they're all within walking distance. Wine tasting, roller coaster riding, exploring the wild countryside and its inhabitants – these can all be arranged directly with the hotel concierge with convenient pick up at your doorstep.
The hotel holds 403 guest rooms, reaching 22 stories high. All accord either ocean or hinterland views. A variety of rooms, studios and spa suites are neatly decorated and the studios and suites come with kitchenette facilities. Our stay was in a refurbished Deluxe Studio Room with an ocean outlook.
I will get lots of fresh air.
The first thing we noticed entering room on the 19th floor was the magnificent view. To the right was a small balcony opening up to beach views and a skyline of high-rise apartments, luxury homes and holiday rentals. Directly ahead, beyond the bed, was the blue ocean. Rhythmic surges of white crested waves pummeled the shore in an irrefutable display of puissance. Floor to ceiling windows on two sides of the room espoused extended gazes.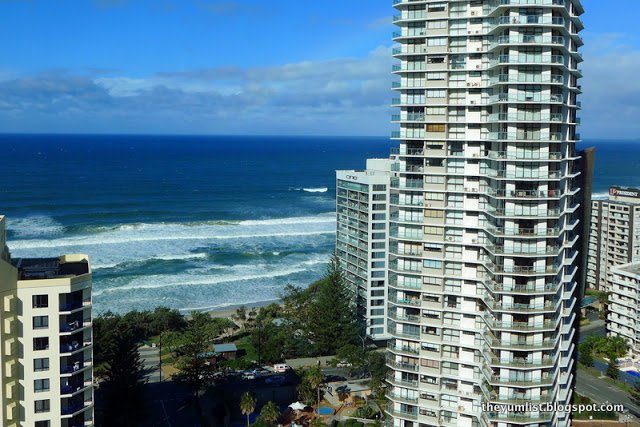 View from our Room
A dining table for two was gently lit with a lamp and dressed with a welcoming bottle of red wine and Gold Coast dining guide. Unnoticed upon first glance, but much appreciated was the kitchenette. A mini-fridge, microwave/ oven, hot plate, dishwasher, kettle, toaster and a handful of pots, pans and cooking utensils gifted us with the option of taking advantage of the gorgeous local produce and saving a few dollars on meal expenses at the same time.
Thomas Mitchell Cabernet Merlot
The king size bed was bordered with twin bedside drawers and lamps. A small wardrobe held a safety deposit box and more storage, in the form of a chest of drawers with a sturdy top to rest suitcases, was below the flat screen TV. Austar (cable TV) and in-house movies-on-demand were both accessible. Wireless Internet was available for an additional charge or, a free half hour of connection time could be taken in the hotel's small business centre in the foyer.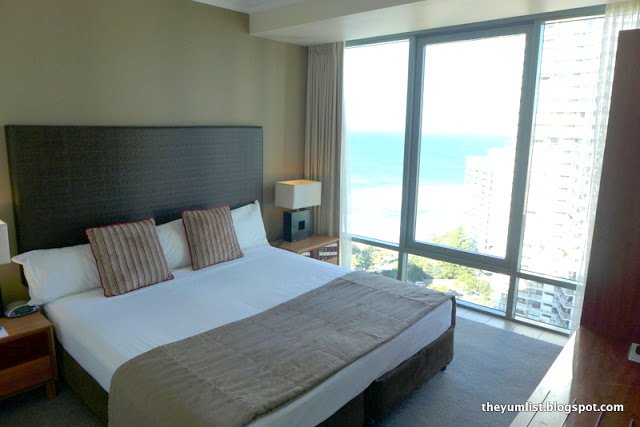 Bedroom Ocean Studio Deluxe Room
The bathroom made excellent use of a compact space. The shower flowed into a bathtub just the right size for one adult and, splashes from cleansing gaiety, were kept at bay with a glass divider. The basin was sunken into a slab of emerald green marble adding a touch of luxuriousness. A large mirror, mounted with a flecked camel and olive frame atop the vanity, made the small area appear larger.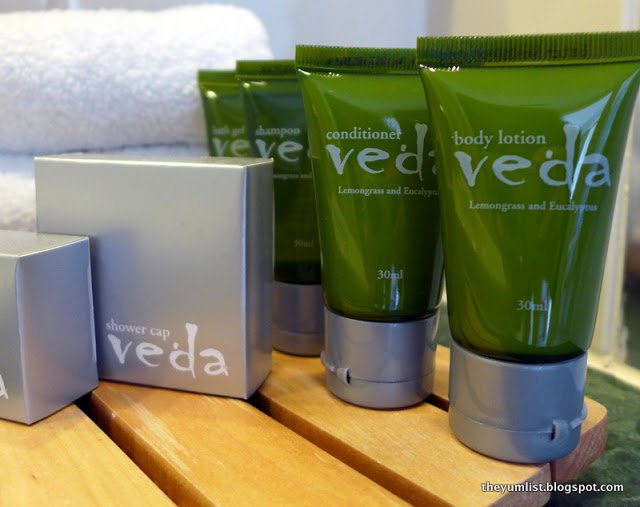 Veda Bath Products
In reality, our room was humble in size. Effective use of space however, the outdoor balcony and, window walls, conveyed a feeling of openness.
I will exercise.
For recreation, most guests will head straight outdoors to the beautiful coast and parks that line its shores. With temperate weather year round and an abundance of well-maintained open-air facilities, anything done al fresco is generally of great pleasure on the Gold Coast. For rainy days though, or those who prefer a more controlled environment, Mantra Legends Hotel has a suitably equipped gymnasium with sauna and steam room. An infinity pool is lined with sun chairs and spills at the edges forming a pretty waterfall feature for anyone sitting in the lobby.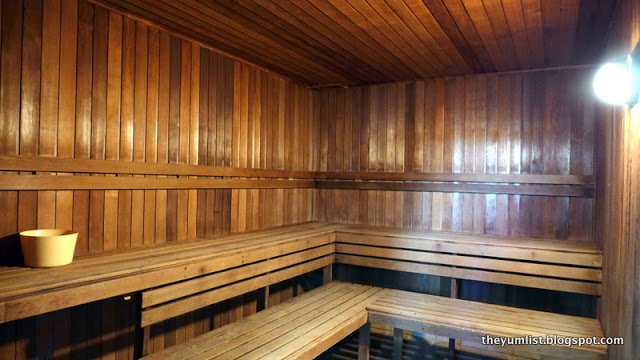 Sauna
I will find the best places to stay, eat and drink on the Gold Coast.
Fables Restaurant and Tales Bar are on the ground floor too with water views. Daily buffets and cocktail specials entice many visitors to spend more time in the hotel. An additional $19.50 to your room bill gets you breakfast in Fables Restaurant. Outside diners are welcome too at a cost of $28. Open from 6:30am until 10:30am, a casual buffet is set up with views of the pool and cascading water features. The option to eat indoors or outdoors is yours and you may sway either way depending on the weather. Standard breakfast options of bacon, eggs, sausages, cereal, fresh fruits and variety of breads are on display. The poached and dried fruit section is quite impressive. Don't miss the apricots poached with cinnamon and citrus. Juicy rashers of salty bacon were piled high on hubby's plate and there's a small Asian section too.  Congee, miso soup, white rice and a delicious pumpkin curry got us salivating on the morning we visited. Gluten free bread and homemade jams were thoughtful touches.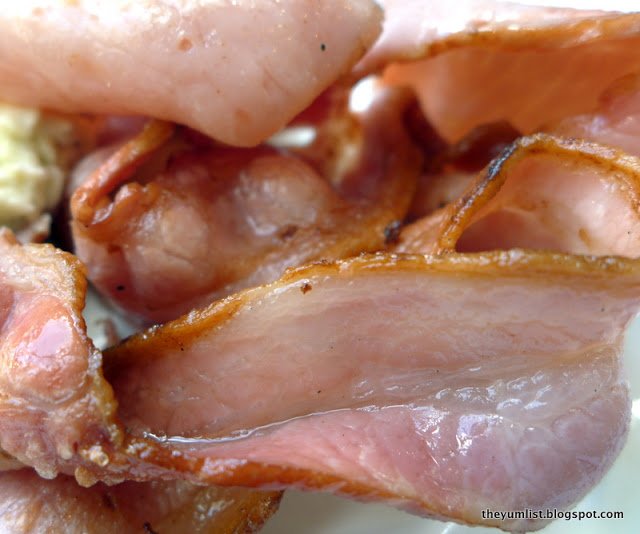 Breakfast Bacon
Air Asia flies directly into the Gold Coast from Kuala Lumpur with Coolangatta Airport being about 30km from Mantra Legends Hotel. Malaysia Airlines flies direct to Brisbane International Airport, which is about 80km from Surfer's Paradise. Being a popular destination for Aussies, many drive from the south to find warmth and sunshine on the Gold Coast. Other visitors flying into the city often hire cars, making it easy to visit regional attractions such as wineries, mountains and theme parks. Undercover parking can be purchased from the hotel for $17.00 a night, which is a bargain for the city centre. With such a central location however, many choose to go carless, at least for a few days.
Aussie check-in times are similar to what is found in most of Asia – 2pm being the general rule. Check-out time however is a good deal earlier, with most hotels, including Mantra Legends Hotel, requesting guests exit their rooms by 10am. Luggage can be stored with the concierge though and, changing facilities in the gym are made available to guests who have a few extra hours before departure.
Stays in a standard room for two adults at Mantra Legends Hotel start from the low $100s (AUD) in low season and go up to the mid $400s (AUD) for a suite with breakfast in peak season. Payments made with credit card incur a 2% surcharge.
I will follow my mantra.
The excellent location, good use of space and nationally well-reputed management team of Mantra Legends Hotel, fit the bill for helping me to actualize my mantra of finding some of the best places to stay on the Gold Coast.
Reason to visit: central location, good use of space, excellent prices in off peak seasons, ocean views
Mantra Legends Hotel
Corner Lycock St and Surfers Paradise Blvd
Surfers' Paradise
4217, Queensland
Australia
+61 07 5588 7888
1800 811 454