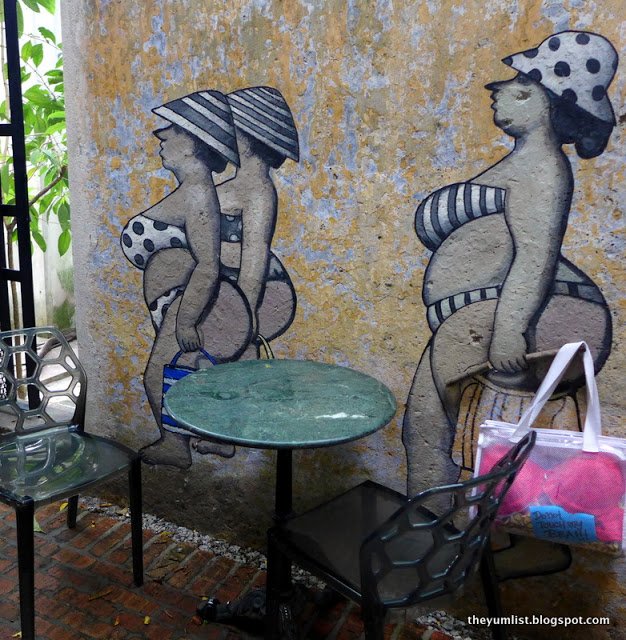 Outdoor Seating Burps and Giggles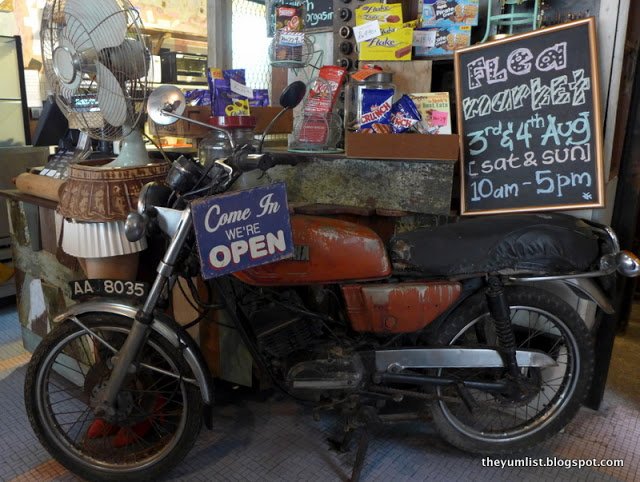 Who thought a motorbike would make such good decor?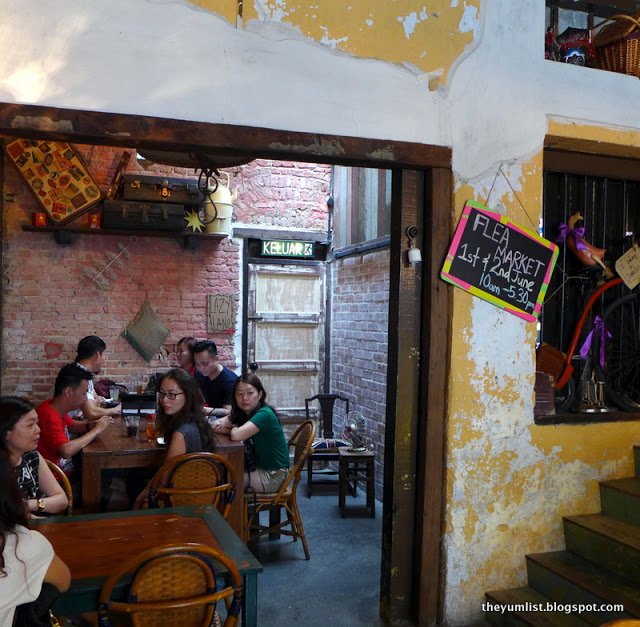 Seating
Funky, artistic and recycled, Burps and Giggles is the hottest spot to hang out in Ipoh. Three old shop lots sitting side by side have been rescued and lovingly adorned with bits and bobs. There has been no facelift here, just lots of make up.
The main entrance sees a two storey transparent ceiling letting in natural light, but at the same time the area is shaded with giant umbrellas hanging from high above and tall skinny trees with some gauzy foliage. A giant wall mural livens up the space and disparate cushions decorate the mismatched seating.
Homemade lanterns bejewel the walls with cinnamon sticks, ribbons and random other odds and ends used as decoration. An old motorbike stands proudly at the crepe counter and ladies in their swimsuits are painted on the back alley wall looking as if they're headed to the pool.
It's a maze of intrigue. Everywhere the eye looks it's confronted with new ways to use old things.
Inventive design of interior is matched with an equally creative menu. Burgers, crepes, bagels, sandwiches and spuds provide the canvas, while innovative toppings and fillings make the artwork. There are healthy, decadent and vegetarian options to satisfy every artist's fancy.
Just reading the wall menu stimulates salivation and animation. Sweet crepes with exciting fillings such as pears, Mars chunks, mascarpone and ginger butterscotch, draw dribbles. Bagels topped with foie gras mousse, smoked duck and oven dried roma tomatoes too may make the reader's heart skip a beat.
Hubby was fast to order the Bam Bam Burger (RM28). A wagyu beef patty, beetroot, egg, cheese, tomato, red onion, shredded carrot and horseradish formed a tower of fillings held together with a steak knife stabbed through the core. I don't know if any human has ever been able to get their mouth around the monster, but hubby was more than willing to give it a try…
I went with something a little more elegant but just as indulgent, a Crepe filled with mushroom, smoked duck, potato and basil. As owner, Dexter told me as I was ordering, "this is something for people with the fancy palates". Well, I guess mine is fancy, because this dish too was a winner. A delicate crepe was just sturdy enough to hold the moist filling, which spilled out upon slicing but thin, dimpled and fragile as it should be. The creamy texture at first filled the mouth, while the smokiness lingered long after swallowing.
A 'real' bagel is hard to find in Malaysia. Often when I find one on the bakery shelf, it's just bread with a whole in the middle. A bagel should be soft but chewy. You should be able to get a good few chomps in before it disappears. It should be supple, never crunchy or fluffy, but with substance. Excited that Burps and Giggles had a whole bagel menu, I couldn't wait to see if they had, what I considered, a veritable artifact.
The Brother Dick Bagel (RM14) was brimming with luscious lamb rashers, gooey feta cream and a soft egg was plumped in the hole in the top. Roasted red peppers added a sweetness balancing out the savoury and a drizzle of dill sauce completed the extravagance. Nicking the canary yellow yolk caused it to spill, showering the whole turret. The onion bagel was soft, yet chewy and the fillings fabulous. Yes, I'll be back for more bagels.
A drinks menu offers fresh juices and a standard, consistent coffee. Wine too and other alcoholic beverages are available from the bar. Hubby loved the Passionfruit and Pineapple Juice blend (RM12) and I was satisfied with both a Cappuccino (RM10) and Iced Coffee (RM12).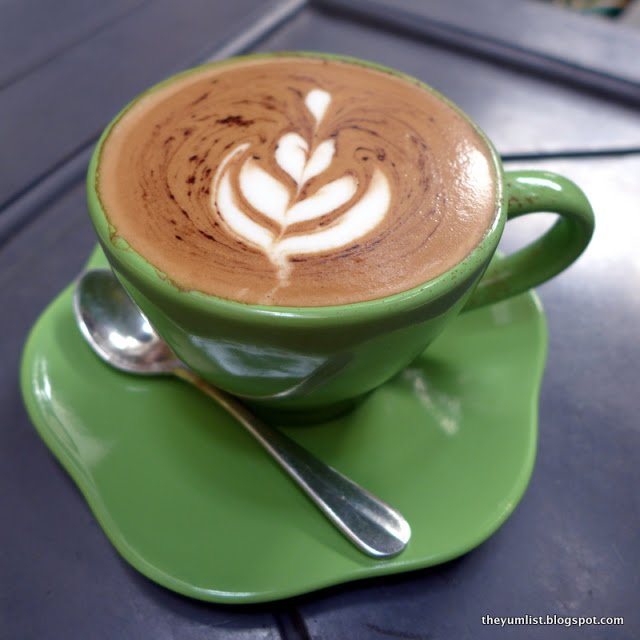 Cappuccino
Sweets are a must and they're generally served in smaller sizes making it easy to try a couple if you're a sweet tooth, or to keep the calories in check with a light portion. Expect to see old time favourites such as cheesecakes and brownies, but too look out for unexpected combinations such as the Elvis Banana Peanut Butter and Lamb Bits Tart!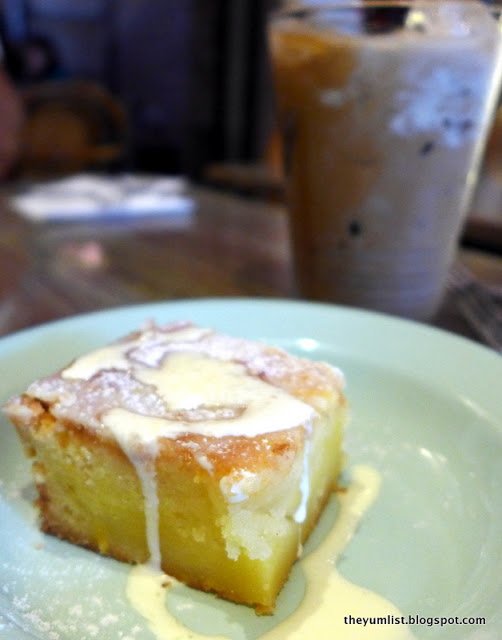 Lemon Cake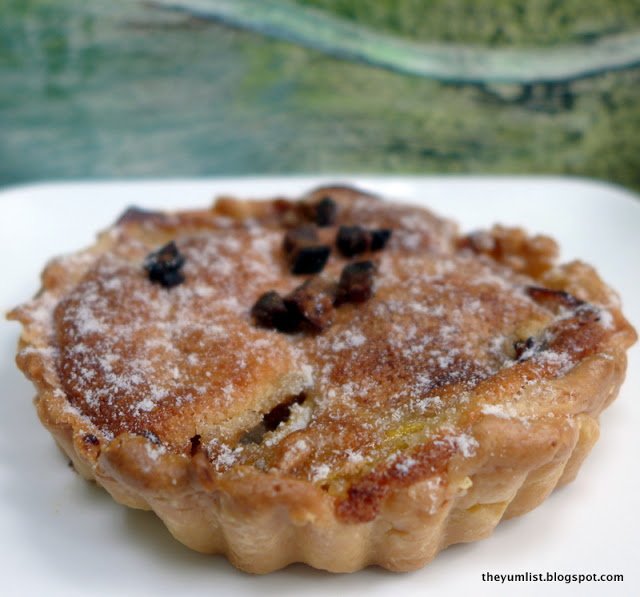 Elvis Banana Peanut Butter and Lamb Bits Tart
This pork free cafe of wonders is a must visit when in Ipoh. I'd even say it's worth the two-hour drive from KL for a bite of inspiration.
Reason to visit: incredibly arty ambience, delicious inventive food, good coffee,
Burps and Giggles
93 – 95 Jalan Sultan Yussuf
30000 Ipoh, Malaysia
+6 05 242 6188
Open 8:30am – 9:00pm. Closed on Tuesdays.
Pork free.