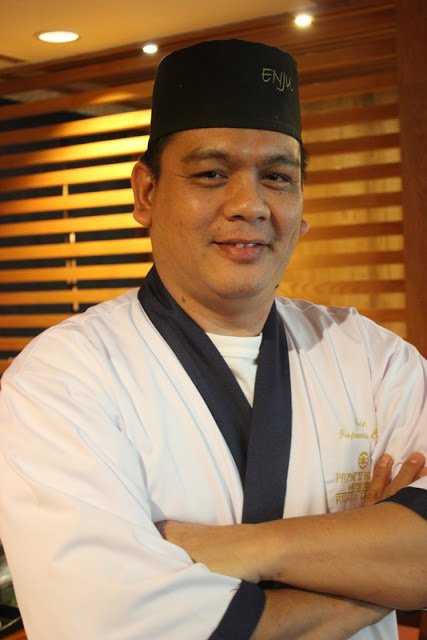 Chef Arie
After a meal of unlimited sushi and delicious Japanese cuisine at Enju, Prince Hotel and Residence Kuala Lumpur, The Yum List had a chance to quiz Chef Arie about his background and thoughts on the industry.
What do you do and how did you get into the industry?
I am the person in charge of Enju's kitchen operations. I develop new menus for the outlet and conduct staff training. I also control the food cost and manage staffing for the restaurant.
It's a funny story on how I got into the industry. I was actually a bartender for a five star hotel and I fell in love with the kitchen when I saw a friend of mine working as a chef. The way he prepared and plated the food really impressed me so I thought I might try it out to expand my creativity. My interest in Japanese cuisine sparked in November 1991 when I was working at a Japanese restaurant in Johor Bahru called Tokugawa, from there I have never looked back.
Share with us an interesting story from behind the scenes.
I was put in a situation where I needed to make guest who was unsatisfied with the service of the hotel to be happy with a delicious meal. As the guest walked in the restaurant I was told by the Guest Service Manager of the issue that the guest is facing. With the head chef not available at the restaurant, I was put to the test to create something not from the menu. I managed to create a beef teriyaki with my very own personalized teriyaki sauce. To cut the story short, the guest became a regular customer at the hotel and I perfected my special teriyaki sauce which I am still using until this day.
What's the best/worst part of your job?
The best part of my job is I get to be creative with what I want to serve to a guest. It's a challenge that keeps me on my toes to deliver the best dishes from the kitchen for them. Also being a chef gives me a chance to explore different countries such as being invited as a guest chef to Hong Kong and also cross exposure training in Japan.
The worst part of my job is when I receive a complaint from a customer on the dishes that is served to them. It would show that I have failed in preparing up to the customers expectations. Also, a delay in air flown ingredients. This would definitely affect my dishes as I always try to serve fresh and quality ingredients to my customer.
What's the best thing about working in Enju?
The best thing about working in Enju is the ambiance of the restaurant; it's very small yet cozy. I have a team of six chefs under me and we are more like a family instead of co-workers. Enju is also easy to manage and I can do a lot of interaction with the customers.
What's your personal favourite meal/drink at Enju?
It's hard choosing a meal at Enju but I do have a favorite promotion at Enju. That would be the Unlimited Weekend Sushi every Friday and Saturday night! All sushi are made fresh per order and as a sushi lover, I would go for this if I have the chance.
What's your favoured food and wine/liquor pairing?
As a Muslim, I can't consume alcoholic beverages but I do love drinking hot tea or warm water with any kind of food.
Tell us a story about one of the dishes you prepare?
As you may know, most Ramen are non–halal and as such, it's hard for Muslim customers to enjoy it. I have created a Ramen that is suitable for the Muslim customer and vegetarian customer. A tomato based ramen which will is pork free.
The perfect day off would be… traveling to a different country and eating as much as I want.
A life in the day of a chef… is very hectic yet enjoyable. Every day I learn new things and sometimes even surprised.
What do you do for fun?
I like to play badminton; it keeps my mind and body healthy.
What's something you'd like guests to know about the cuisine prepared at Enju?
The food is healthy, fresh and uses many colorful ingredients.
How do you select your ingredients and why?
I select the ingredients from the market by comparing different grades and quality before choosing the best one. When I receive the ingredients from suppliers, I personally check them first before accepting them.
The reason why I select my ingredients explicitly because it will affect the food quality that I'm serving to my guests. I would not want my guests to complain about the poor quality of food that is being served at my restaurant. My motto when serving my guests is, to make sure they get the best so to give them the best. My ingredients will have to be the highest quality.
What can guests look forward to in the upcoming months?
In October, Enju will be serving Makimono, a variety of rolls in Japanese in a cylindrical piece, formed with the help of a bamboo mat. Makimono is generally wrapped in seaweed but occasionally wrapped in a thin omelette, soy paper or cucumber and usually cut into six or eight pieces which constitute a single roll order. It's something new for Enju so I hope the guests will try it out.
Find out about Enju's fantastic Unlimited Weekend Sushi offer here.