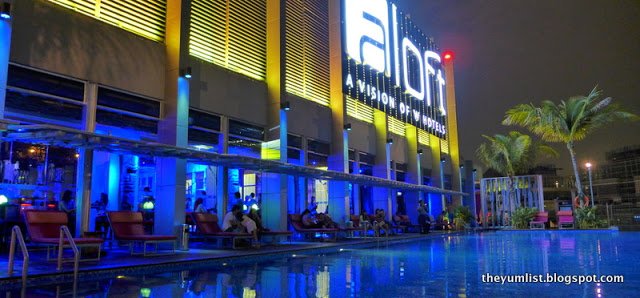 Mai Bar, Rooftop of Aloft
Thursday Ladies Night at Mai Bar, Aloft Kuala Lumpur Sentral
Words by Araceli Arismendi
Photos by The Yum List (Monica Tindall)
"Oh yes it's ladies night and the feeling's right oh yes it's ladies night oh what a night, oh what a night." The lyrics by Kool and The Gang repeated in my head as I entered the Mai Bar Roof Top bar at Aloft Kuala Lumpur Sentral. Every Thursday night from 7:00 pm- 9:00 pm Mai Bar, on the 14th floor of the modern and chic innovative hotel Aloft, honors ladies and pampers us to free sparkling Banfi Bellagio Blanco and Banfi Bellagio Rosso wines.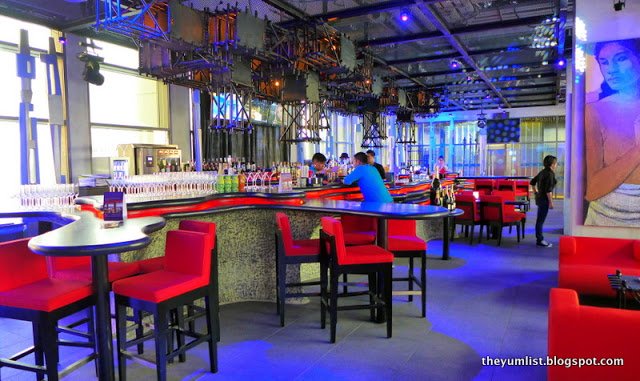 Mai Bar, Rooftop of Aloft
Feeling so cool and fancy free, I hopped on the elevator and automatically my hips began to shake from left to right to the sound of disco music playing on the lift. When the elevators doors opened, I sashayed directly to the poolside for my first drink of the evening. But, before I could get my hands on a champagne glass, the views of Kuala Lumpur skyline along with the groovy and artistic details of the outside bar comprising of Tiki totems, funky lounge chairs and seating, cool bar tables and a lovely turquoise landscape distracted me in the most positive way ever. My stressors and tension from a long day at work seemed to fade in the distance as the laid back and hip atmosphere was the only thing on my mind.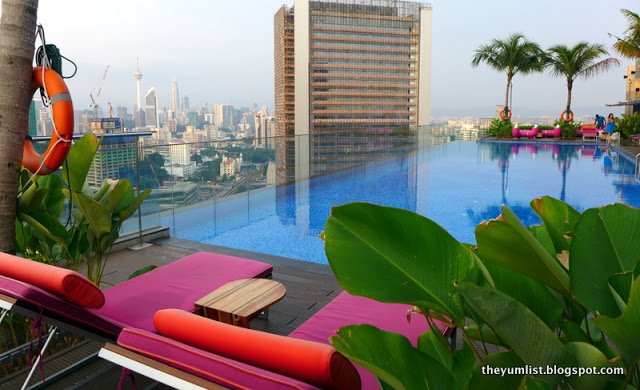 Pool at Mai Bar
I sat down to admire my environment and the sounds of laughter, cheerful conversations, clinging glasses and a DJ that spins House music every Thursday night radiated throughout the place giving Mai Bar a unique and FUN vibe. After a couple of glasses of sparkling wine, I was ready to venture out and try some cocktails and appetizers from the menu.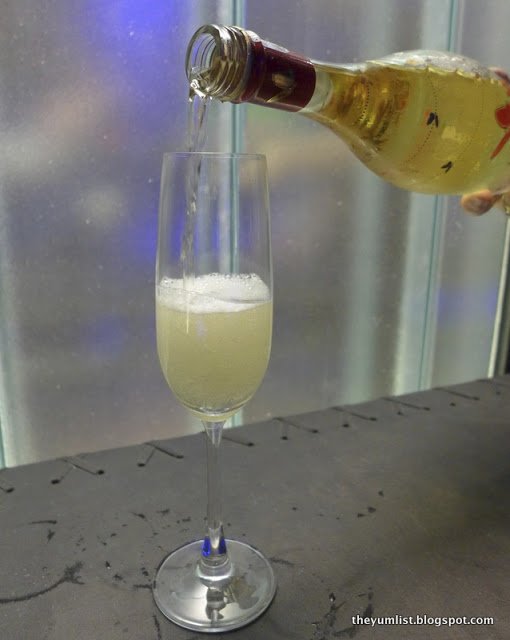 Bellagio Sparkling White (free for Ladies Thursday nights 7-9pm)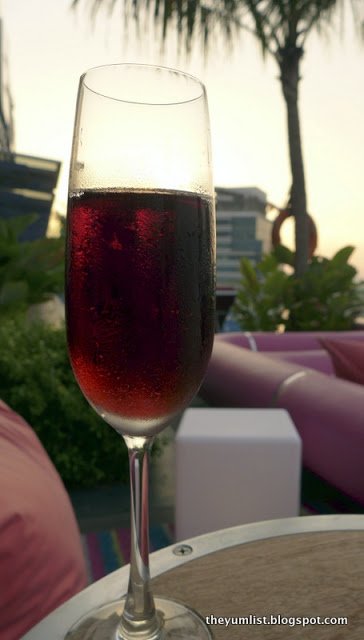 Bellagio Sparkling Wine (Free for the Ladies Thursdays 7-9pm)
I sampled three rum and two vodka based concoctions. I decided to go with their specialized Malaysian "Mixin'it Up Freestyle" selection. With a combination of dark and silver rums, blueberries, fresh lime juice and kafir leaf, the Malaysian Princess Mai Tai makes the perfect and enjoyable poolside drink at this Polynesian decked out bar. It was my personal favorite as its freshness and unique ingredient kafir leaf spiced this version of a Mai Tai that it was tempting to order another round. Not to mention this beverage is served in a green tiki style glass, which makes this potion even more appealing.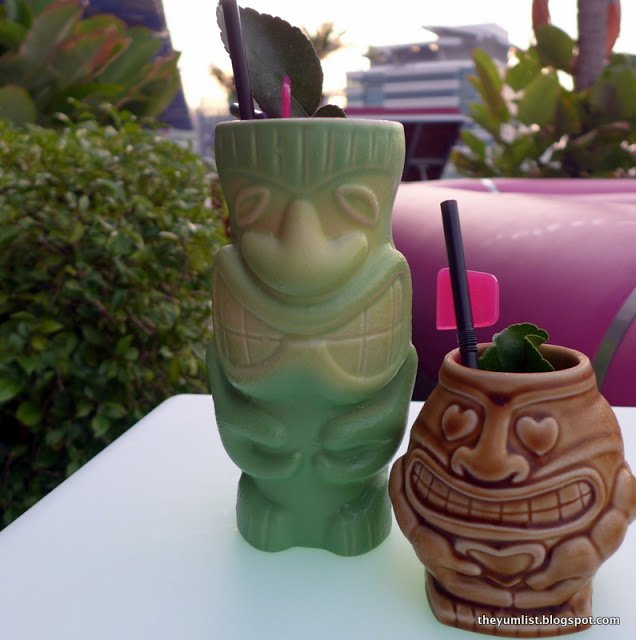 Malaysian Princess Mai Tai (RM35)
Another Rum favorite was Mr. Jack. This drink, with its combination of jackfruit, coconut cream, mango juice and dark rum, tingled my tongue and sweetened my palate. The mango and banana flavors from the jackfruit gives this drink a slushy but yet feel good sensation.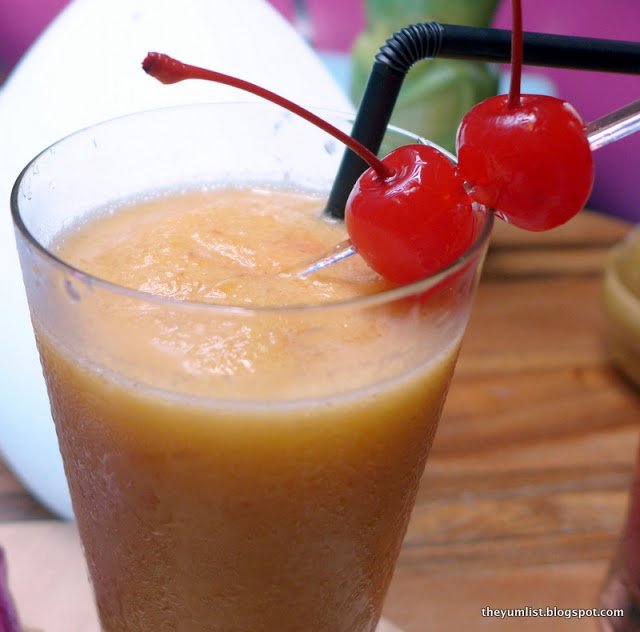 Mr Jack (RM35)
The Belle Fizz filled all my senses. The fragrance of the dark rum, tanginess of the lime juice, sweetness of the various berries (raspberry, strawberry, and blueberry), and the carbonation from the ginger ale fizzled and electrified.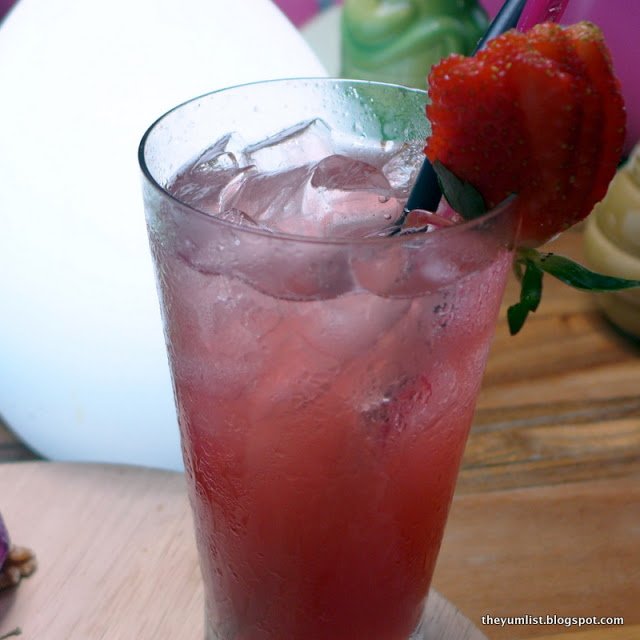 Belle Fizz (RM35)
The vodka-based drinks were just as satisfying. This light and mild liquor blends well with any cocktail fixings. Smoky was a big hit in our group! Flaming drinks are usually a great way to start a party and of course add so many flavors to your swill. Dressed up in a martini glass, the flavors of the plum fruit, lemongrass, lemon juice and pineapple juice were enhanced and your first swig tasted just like its name, Smoky. It was a blend of something grilled and fruity together. It was different, original and addictive.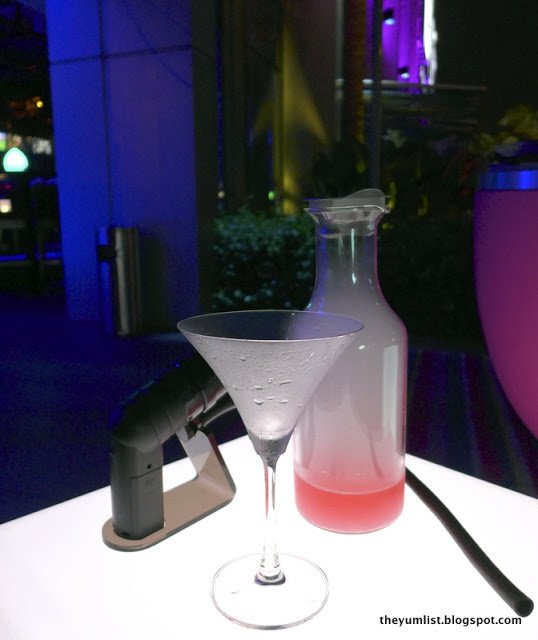 Smoky (RM35)
Our last vodka drink for the evening was Green Paradise. Sweetened by the midori liquor but yet balanced by the pineapple and lemon juice, Green Paradise was delightful and reviving.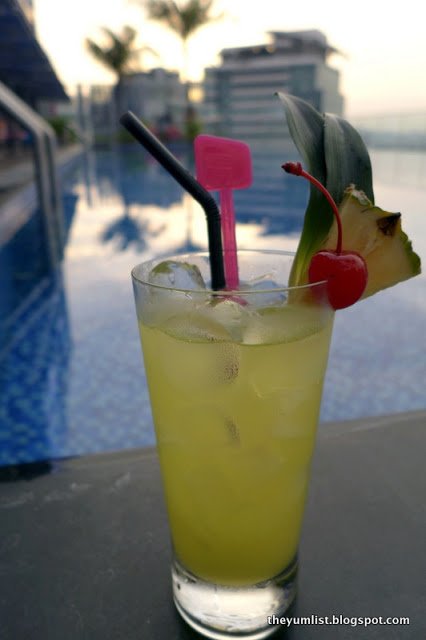 Green Paradise (RM35)
Last but not least, the Happy Birthday cocktail. This was my first time to see an alcoholic drink in a baby's bottle. I was quite amused by its container and even more amused when drinking it. I definitely felt like a big baby! I might add the Mai Tai mixologists came up with a really inventive way to make the birthday girl/boy feel young again.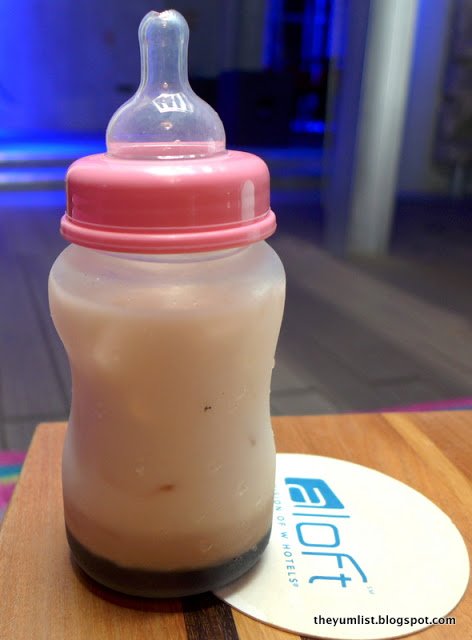 The Birthday Drink (White Russian in Baby's Bottle RM35)
While the bar crew did a superb job creating fun and delicious Malaysian "freestyle" specialties, the Mai Tai kitchen crew was just as productive. The top four appetizers of the evening were:
Double Stuffed Jalapeno Peppers with Cream Cheese, Coriander, Paprika and Lemon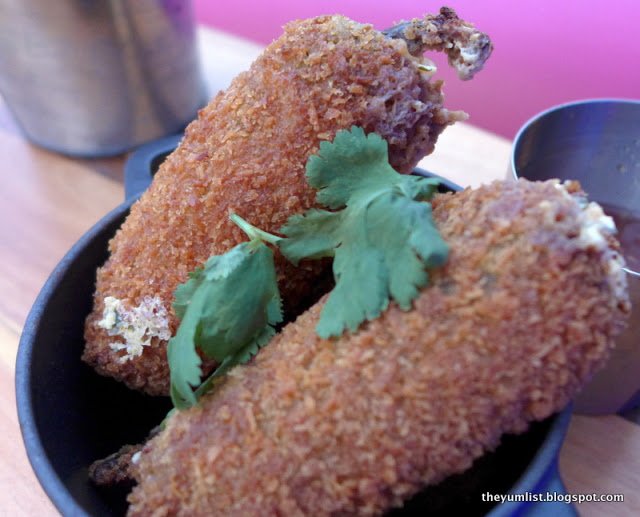 Double Stuffed Jalapeno Peppers (RM20)
Oh, my mouth begins to water just thinking about my first bite into the stuffed poppers.The crunchiness of the breadcrumbs and richness of the cream cheese made this snack unbeatable!
Bucket of Cajun Seasoned Steak Fries with Lime Honey Mustard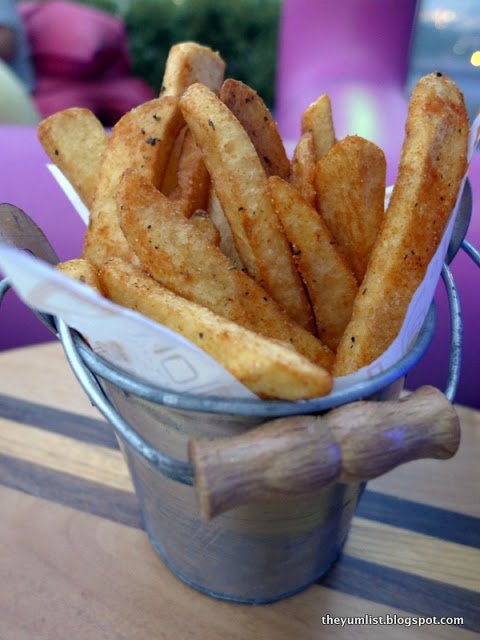 Bucket of Cajan Seasoned Steak Fries (RM18)
There is noting more satisfying than munching on thick slivers of potato fries. Golden yellow in color, these fries were out of this world. The Cajun seasonings dipped in the sweet dressing will make you order seconds.
Corn Tortillas with Minced Beef, Refried Beans, and Pico de Gallo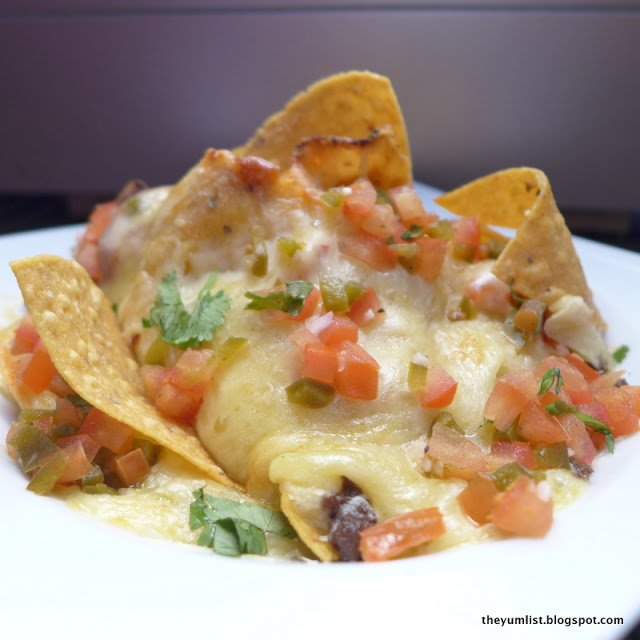 Corn Tortillas with Minced Beef, Refried Beans, Pico de Gallo and Mornay Sauce (RM23)
Nachos at its best! A mixture of beef, beans, cheese, jalapenos and veggies all on top of corn chips provides the ultimate blend of flavors. They say you can't just have one chip; this is true when nibbling on Mai Tai's Corn Tortillas recipe.
Chicken Liver Pate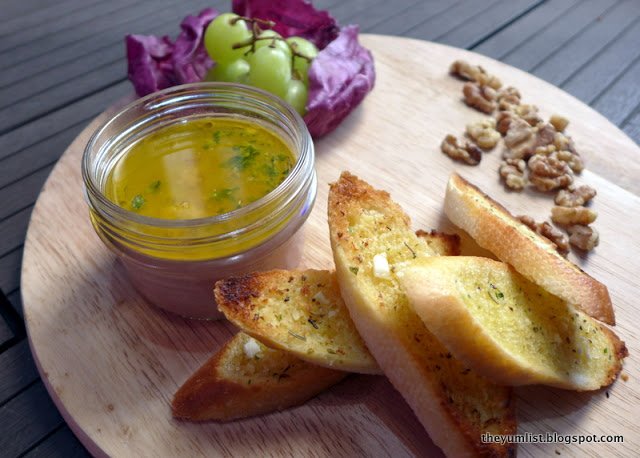 Chicken Liver Pate (RM18)
Very generous in its portion, the Chicken Liver Pate was quite interesting in taste. It was my first time to try chicken liver pate. My first bite was a punch to my face but then I gave it a second try, and my palate adapted to its uniqueness. Monica and Caning enjoyed its rich and nutty flavors.
Reasons to Visit: Free bubbly for ladies every Thursday, funky and hip rooftop bar; close to KL Sentral train station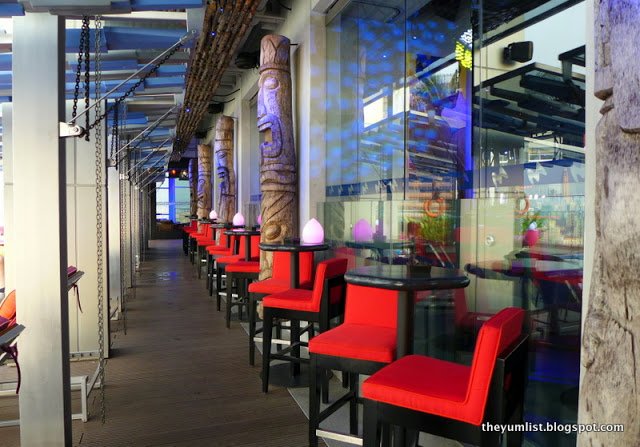 Mai Bar, Tables for Two
Happy Hours at Mai Bar
Monday to Friday 5pm-9pm
Saturday and Sunday 3pm-9pm
Red and white wine at RM15+ per glass
Carlsberg full pint at RM 19+ per pint
Musical Beats at Mai Bar
Monday-chillout, funk jazz & swing
Tuesday-hip-hop rnb
Wednesday-retro
Thursday-house
Friday-commercial top hitz
Saturday-electro
Mai Bar
Aloft KL Sentral
5 Jalan Stesen Sentral
50470 Kuala Lumpur
Malaysia
www.alofthotels.com/kualalumpursentral
+6 03 2723 1188