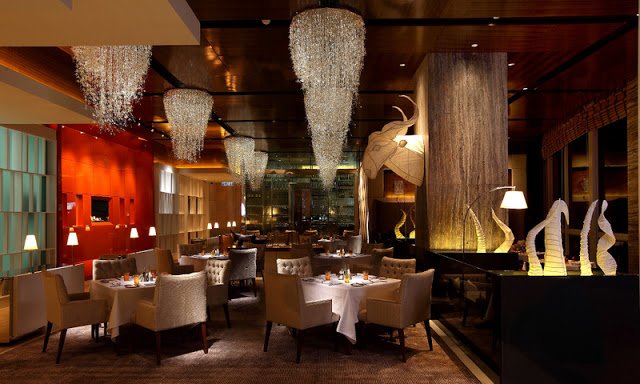 MO Grill at Night
MO Grill, Mandarin Oriental Kuala Lumpur
Words by Kristin Cosgrove
Photos by The Yum List (Monica Tindall)
Stepping into the Mandarin Oriental (MO) Grill is something of an ethereal experience. Walk through the circular entrance and you will find an elegantly appointed dining room adorned with animal head-shaped wire sculptures and illuminated paper objet d'art reminiscent of animal horns. Chandeliers drip crystal from the wood ceiling and the contemporary recessed fireplace adds a romantic glow.
At a recent tasting we settled into the plush chairs and readied ourselves not just for a meal, but a gustatory event. One of the best chefs in KL, Swiss-born Reto Weber, delivers a meal worth savoring, beautiful to look at and complemented throughout with fine service from attentive staff. Expect to want to linger, appreciating and relishing a meal well worth splurging for.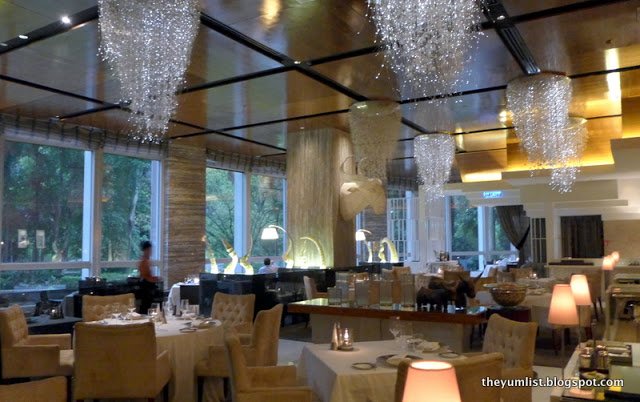 MO Grill
We begin our tasting by noshing on some fresh, chewy rolls and sipping champagne. A dry smoked salmon amuse bouche topped with caviar stimulates the appetite. I take it in tiny slivers, enjoying each salty, fresh bite, which pairs perfectly with our sweet bubbly.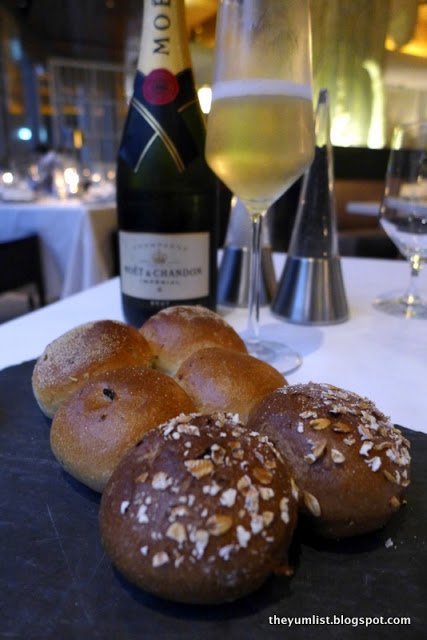 Champagne and Fresh Bread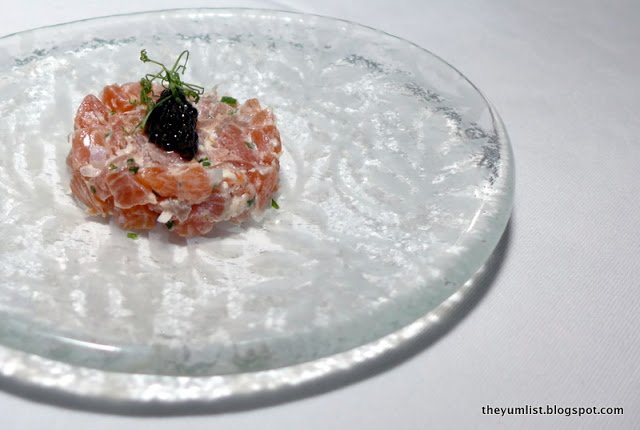 Amuse Bouche
The appetizer, Fois Gras Ballotine, is actually a beautiful presentation of several small bites. The "main event" here is the Barbary duck confit wrapped in foie gras, then rolled lightly in dried morel crumbles. The duck is lean and flavorful, balancing well with the buttery and mild foie gras, like melting velvet on the tongue. The morels add an earthy flavor and a slight crunch to finish – sublime! Sharing the plate are fresh greens with vinaigrette and blanched pear, a perky profiterole, daubs of cranberry chutney and a decorative smearing of Granny Smith apple puree. The sweet flavors of the fruit are the perfect balance to the rich and savory foie gras.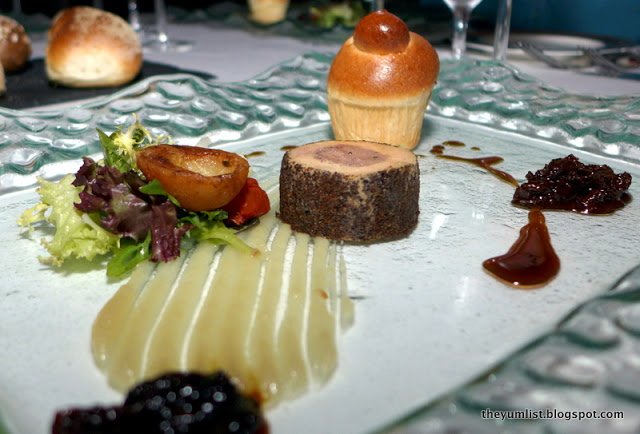 Foie Gras Ballontine
The foie gras is a hard act to follow, but the John Dory Fillet served with turnip puree, chorizo and Venus clams certainly holds its own. Elegantly situated on butter lettuce, the fillet is moist and there is just enough sauce on the plate to sample without feeling too heavy.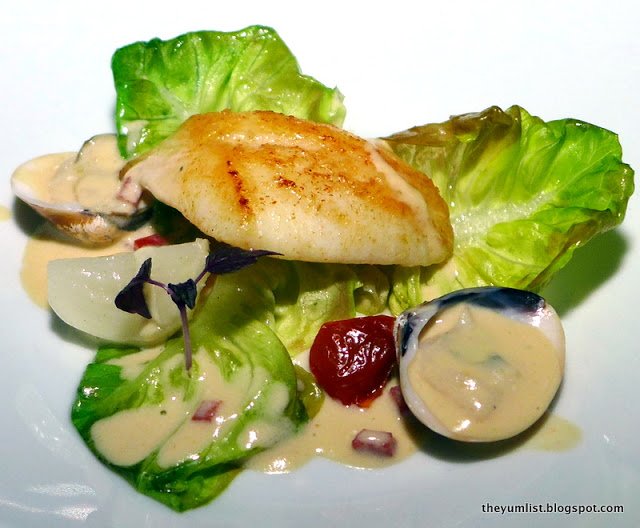 John Dory Filet
The main course is itself a showstopper as the server brought out the generously sized Hay Smoked Wagyu Beef Steaks (marbling score: 6) for our viewing. As they lay still smoking in the hay, the steak's wafting aroma teased us with what was to come.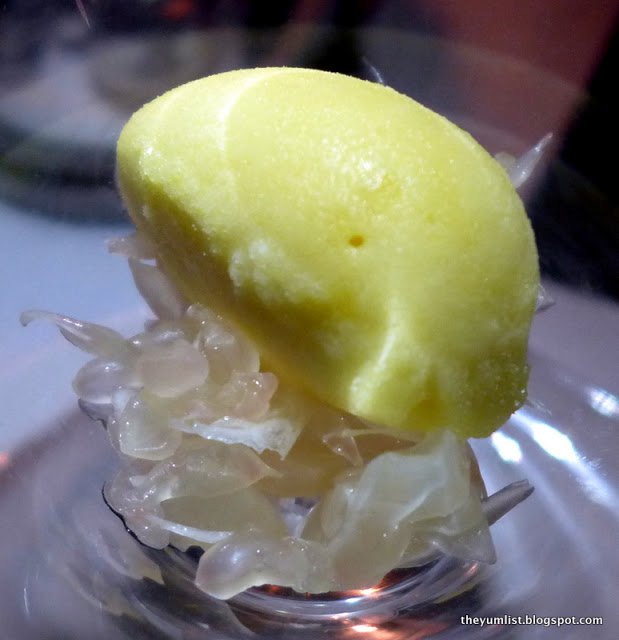 Passionfruit Sorbet and Pomelo Palate Cleanser
While we waited for the preparation of the beef to be complete, we were entertained by an elegant offering of steak knives from which to choose.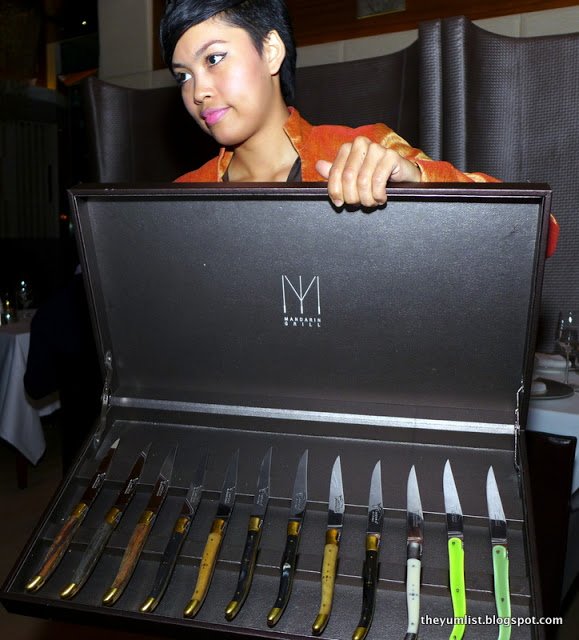 Choose Your Steak Knife
Upon the return of our now-ready course, we were pleasantly surprised by the presentation. The strips were sprinkled with peas, broccoli, sprouts and greens, and drizzled with a black truffle jus, all combining into a symphony of colors and textures that danced on the palate as well as the plate.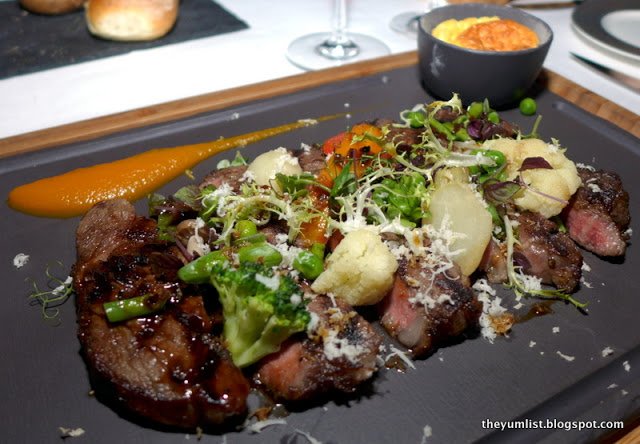 Hay Smoked Wagyu Beef Ribeye, Marbling Score 6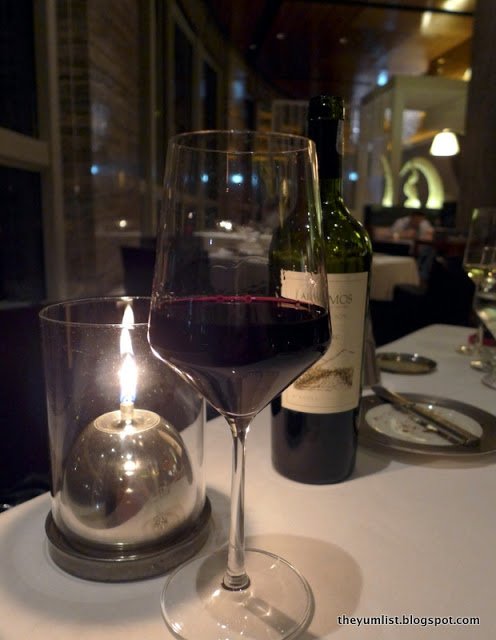 Alamos Malbec
A divine Malbec served with the Wagyu Beef numbed my stomach just enough to (almost) comfortably fit in dessert, despite my already very full belly. The Valrhona Chocolate cake was large enough to share, but we easily finished off our own, loving each decadent bite. The moist, rich cake was heavenly, and a thin layer of almond crunch inside gave the cake a nice depth of texture.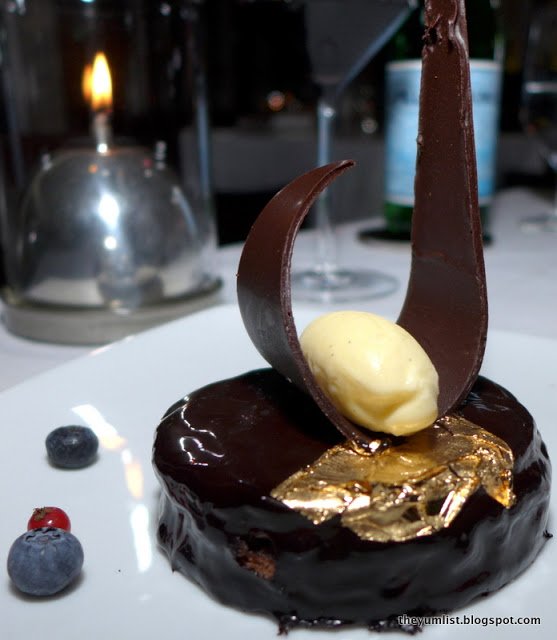 Valrhona Chocolate Dessert
Who says there's such a thing as "too much of a good thing?" The Petite Four tray contained four bite-sized morsels for each of us, my favorite being the chewy lemon poppyseed macaroon. With choice of coffee or tea, it was an indulgent end to a truly fantastic meal.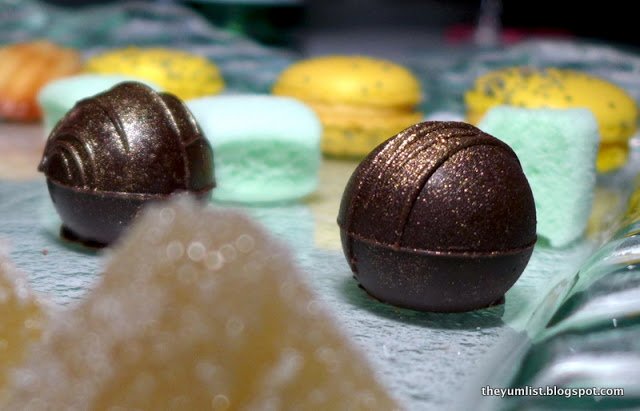 Petite Fours
The starters and soups at MO Grill are priced from RM32++ to RM180++. Main courses run RM68++ to RM285++ per dish and desserts can be enjoyed for RM18++ to RM56++.
Reason to visit: One of the best fine-dining restaurants in KL, a romantic ambiance and incredible food.
Hours
Lunch: 12pm – 2:30pm; Dinner: 7pm to 10:30pm
MO Grill
Mandarin Oriental, Kuala Lumpur
50088 Kuala Lumpur City Centre
Malaysia
+60 (3) 2380 8888