YEAST Bistronomy – Boulangerie, Bistro and Bar a Vin
Monica Tindall
"Very Frenchy," Hubby says to describe Yeast, French bistro, bakery and bar in Bangsar. He says this with utmost admiration and joy, gleefully remembering our delicious travels around the backstreets of Paris.
Yeast's mood changes over the day. The breakfast and lunch atmosphere is distinctly different to the evening scene. A bright buzzing day-lit bistro morphs into an elegant dining setting with wine glasses and candles adorning the white clothed tables as the sun fades. Soft French tunes tickle the air and the smell of freshly baked bread teases the nostrils. It's not just the music that resonates with the nasal sounds of the French language though – the owner, chef and pastry chef all being natives, converse in French and, a regular strew of diners too continue the sing-song cadence. Close your eyes and you might believe you're in a side street of the capital.
As mentioned, there's not one, but two (!) French chefs attempting to share a piece of Europe with Malaysia. Executive Chef, Clara Champonnois specializes in traditional French cooking. She's determined to bring authentic French food to the city but to also maximize her use of local produce, ensuring freshness and taste. This young lady (only 27 years old), already has vast international experience under her belt having worked in America, Monaco, Scotland and of course her homeland France. Possibly the most drool worthy line on her resume is the three years she spent under the mentorship of Alain Ducasse (a legendary chef with 27 (!) Michelin Stars to his name.)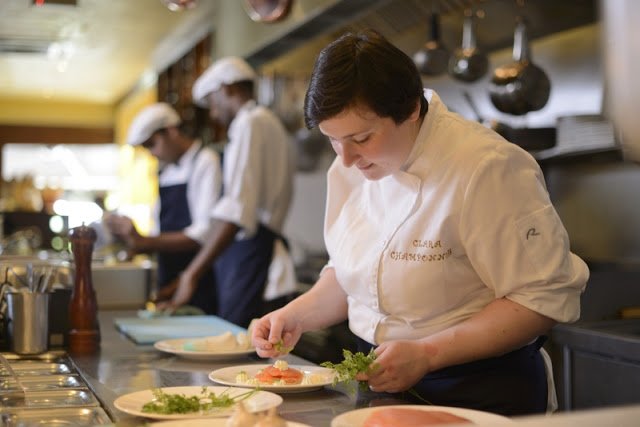 Chef Clara at Work
Christophe Gros is the artisan boulanger, responsible for the fine baked goods for which the bistro has grown a mouth-watering reputation. He whips up rustic style breads, sweet and savoury tarts, croissants and pastries, which often disappear before early afternoon. His secret is a home recipe of natural yeast created with local fruits. It makes bread last longer and gives them perfect crusts.
The third human ingredient behind Yeast is owner Christophe Chatron-Michaud. With a jaw-dropping resume in leading 3 Michelin Star restaurants, and others of high repute around the world, he is the driving passion and force behind Yeast's quick rise to roaring success.
Encouraged by a previous delicious experience with the brunch menu, this round we returned for dinner. A brown paper menu was cleverly wrapped around the cloth napkin at our table and, a wine and drinks list was presented once we were seated. A waiter brought a separate print out of the day's specials, which presented a great opportunity to converse about our personal preferences and take some recommendations for our meal.
A short list of cocktails made an easy choice for an aperitif. Some twists on the classics such as the Pineapple Mojito sounded familiar but refreshingly local. Hubby finds it hard to resist bubbly, so the Elderflower Champagne Cocktail (RM30) made with Champagne, Grand Marnier and elderflower syrup was the foremost order.  First the bubbly tingled the palate, then a thin slice of citrus spread across the mouth and, finally a sweet film of elderberry coated the taste buds causing a drag of the tongue around the mouth to capture every last drop. My request, the Patron Silver Ginger Margarita (RM30) came rimmed with sugar instead of salt providing a balance to the ginger in the classic Mexican cocktail. The ginger was gently presented, not overpowering (as it so easily can be with an over zealous hand) adding just enough bite to make the beverage interesting.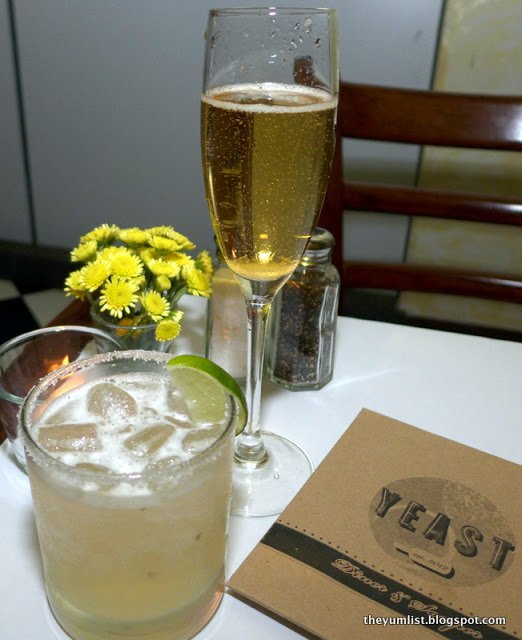 Cocktails – Patron Silver Ginger Margarita (RM30) and Elderflower Champagne Cocktail (RM30)
A basket of crusty half baguettes (white and grainy) had our mouths salivating and begging for some French butter to slather on top. They're the last batch of goodies to come from the baker's oven in the afternoon so are delightfully fresh and served warm.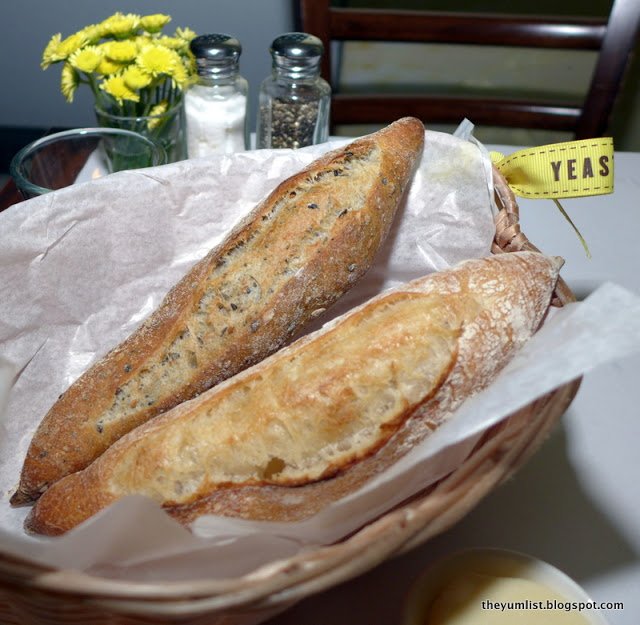 Bread Basket
From the daily special's menu we sampled the Salad Parisiene (RM26). Asparagus, delicately quartered cherry tomatoes, haricot vert, yellow corn kernels (supplying an edge of sweetness), wafer thin slices of red radishes (a touch of sharpness) and, Gruyère cheese cubes filled the plate with a garden of freshness. Tiny crunchy croutons were sprinkled on top. Everything was cut so daintily, allowing each ingredient a spot in the limelight on the palate. A light lemony dressing varnished the leaves bringing an energizing light acidity to the tongue.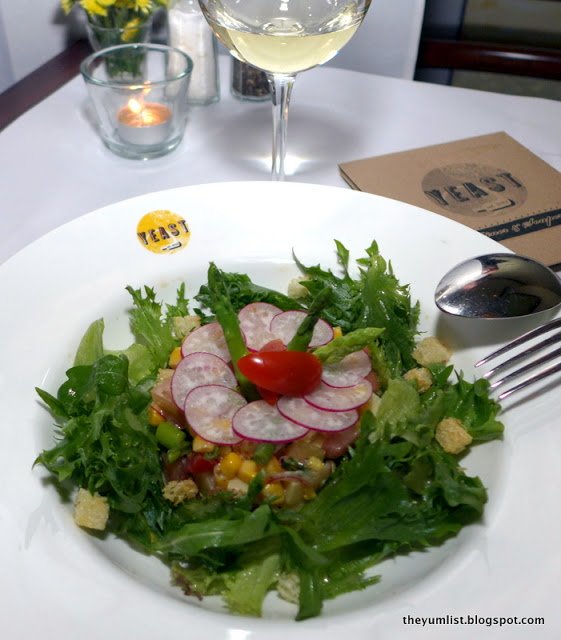 Salad Parisieene (RM26)
We took the advice of our host and paired the salad with a German Riesling Troken, Dr. Burklin – Wolf, 2011. Wachenheim, Pfalz (RM26 per glass). We smelt slate on the nose, and saw a pale hay hue in the glass. The slight acidity of the wine sliced through the light oil dressing, but also mimicked the crispness of the salad.
We didn't try the Steak Tartare but I couldn't resist asking a diner at a neighbouring table (who did order the dish and reported pleasure with the outcome) if she'd mind if I snapped a shot of it. Surrounded by a mass of potato matchsticks it looked like a bird's nest filled with fresh meat and raw egg.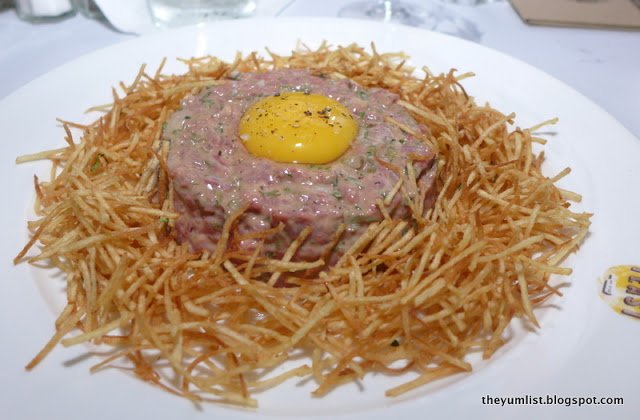 Steak Tartare
We don't eat French that regularly, so often go for the classics when ordering. Both the Escargot and Foie Gras came highly recommended.
Brioche d'Escargots and Champignons en Persiallade, Salade de Fenouil (RM26) is a top seller. Escargots on house-made brioche, Shimeji mushrooms, garlic, parsley butter and shaved fennel, initially gave an intense mouthful of rich cream, mushroom, garlic and snail. Afterwards, slender slices of fennel served to clean the palate. A fun way to eat this dish is alternating between creamy snail and cleansing vegetable, much the same way that pickled ginger is used to clear the mouth in between sushi bites. Beware if you're on a first date though, as you'll be tempted to swirl the buttery brioche around the plate to soak up the very last drops of rich sauce (perhaps not the most refined manners to showcase when trying to impress). We continued with the dry Riesling with this plate, which served to cut through the cream but intensify the fennel. Save a final drop of the wine for the very end. As the wine slowly warms to room temperature, the flavour evolves delivering a final oomph to this course.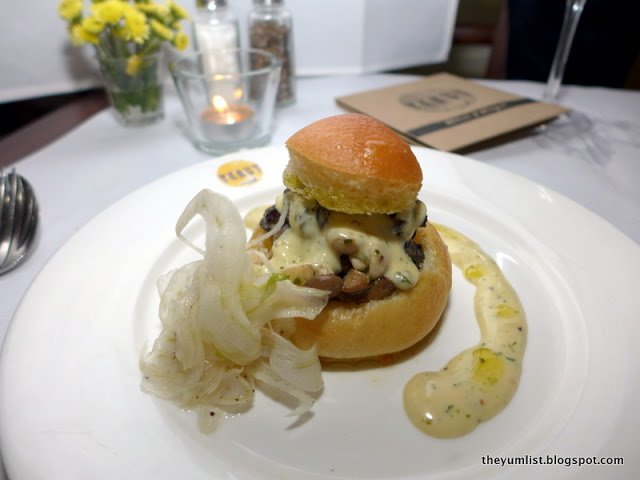 Brioche d'Escargots and Champignons en Persiallade, Salade de Fenouil (RM26)
The Foie Gras Poele (RM45) was accompanied with caramelized mango and a ginger reduction. Incredible! I don't know if my words can do it justice. To start, the foie gras was cooked perfectly, lightly seared on the outside and rich and buttery within. The ginger sauce (ringed around the outside of the plate) and flimsy slivers of mango were amazing counterparts to the dish. And, just when we thought it impossible to reach a higher food orgasm, we took a sip of the Muscat Beaumes de Venise, Michel Chapoutier, 2010, Rhone Valley, France (RM34 per glass) that our host suggested as a pairing. This sweet wine had a heavenly perfume of apricots, honey and peaches making me consider dabbing a few drops on my wrist.  It started off which a cool sweetness in the mouth but finished with a hint of candied ginger mirroring wonderfully both the fruit and spice in the meal.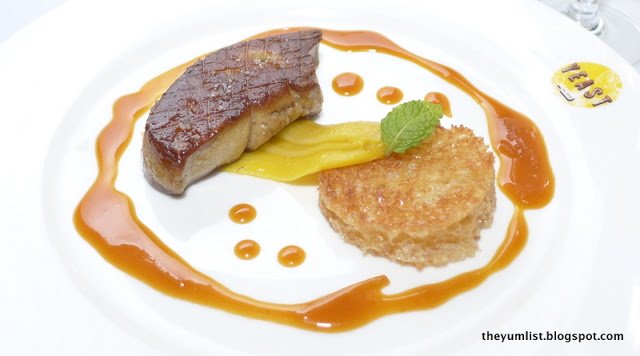 Foie Gras Poele (RM45)
Duck and fish were our chosen mains. Raie Bouelee "Grenoblaise" (RM46) was a full flavoured pan seared skate fish served over mashed potatoes with capers, diced tomatoes, croutons and a lemon butter sauce. The skate had a thin layer of crunch on the golden outside but was fleshy and juicy within. Capers brought strength, but the creamy mashed potato balanced it out. A little crunch from croutons changed the texture while the melted butter sauce coated the tongue and stabilized the well-seasoned fish. This was another plate scraped clean.  We enjoyed this typical bistro dish with a Petit Chablis, Domaine Sainte Claire, Jean Marc Brocard, 2011 from France (RM 28 per glass). It was a step up in body from our preceding drinks and the acidity and chalk notes served to carve through the richness of the butter and mashed potatoes.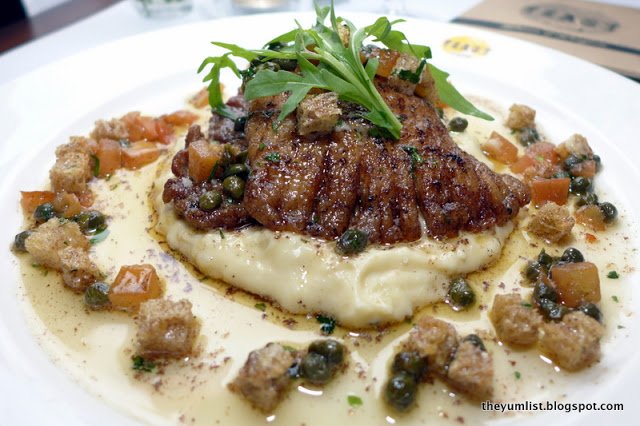 Raie Bouelee "Grenoblaise" (RM46)
Margret de Canard au Jus, Champignons Sauvages et Topinambourgs (RM62) is a dish that has been on the menu since opening and not likely to be leaving anytime soon due to its popularity.  The seared duck breast was pink and succulent. The wild mushrooms contributed further to the meatiness and, the gently sweet and tart crushed Jerusalem artichokes provided equilibrium. The duck jus sauce proved irresistible when mopped up by the lush poultry flesh. A Cotes du Rhone "Saint Spirit", Syrah, 2011, Delas, Northern Rhone from France, (RM24 per glass) was a young vintage brandishing light fruits and a touch of pepper without being too astringent as some shirazes can be. This was yet another match where not a drop of liquid or solid were left remaining. In hubby's words, "this is the place you bring a gourmet chic to conquer her." I wonder what he had in mind for later…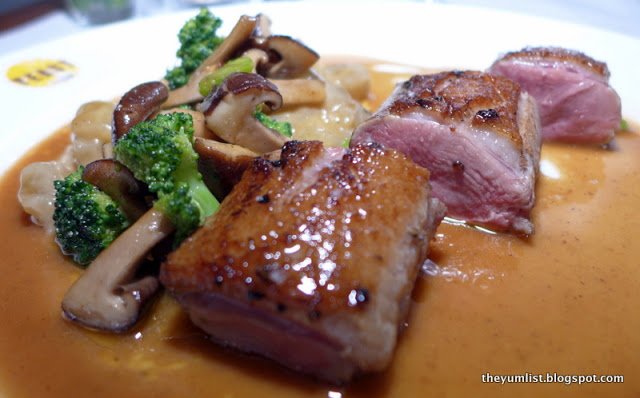 Margret de Canard au Jus, Champignons Sauvages et Topinambourgs (RM62)
Although happily satisfied by this stage, there's always room for dessert and, leaving a French boulangerie without trying something sweet would just be foolish.
Petite Madeleines Chaudes (RM8) are served warm from the oven. Lightly dusted with icing sugar and shaved almonds these simple treats are best eaten with your fingers.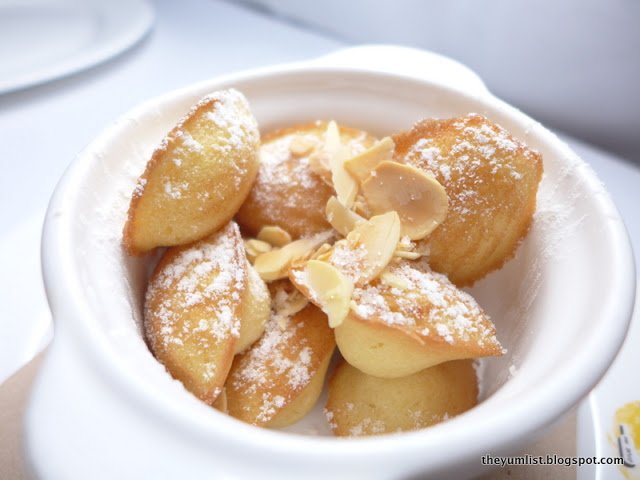 Petite Madeleines Chaudes (RM8)
Vacherin Mangue et Passion (RM17) had hubby giggling with amusement. A parfait class filled with mango, passionfruit, meringue, vanilla ice cream and passion fruit sorbet was the source of delight. Served with two long handled spoons, you must dive all the way to the bottom to try to capture all layers in one scoop. Refreshing. Delicious. Hubby and I were clanging spoons to get the last tangy sweet drops of this dessert. If I hadn't quietly hooved hubby in the shins, I think he would have unashamedly tried to lick the insides of the glass.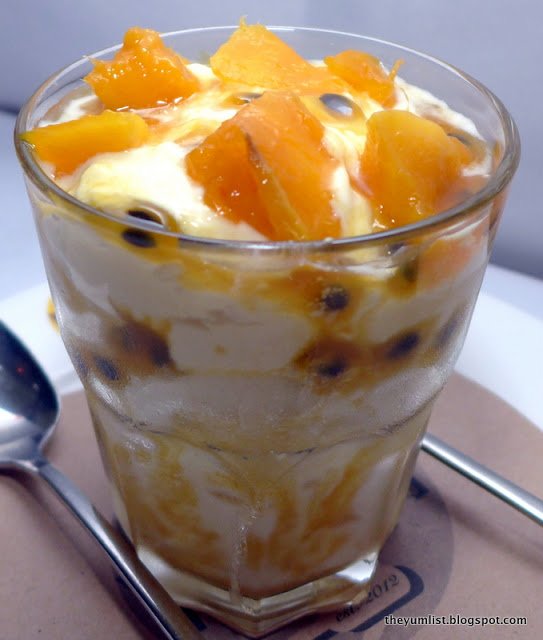 Vacherin Mangue et Passion (RM17)
The grand finale, Souffle au Chocolate, Glace Noisette (RM22) deserved a drum roll. This Valrhona chocolate soufflé with hazelnut ice cream is made on the spot so allow 15 minutes for it to be baked. Billowing over the top of the ceramic holder, the brown sponge was powdered with icing sugar and a generous spoon of ice cream awaited gentle placement on top.  The slow submergence of the gelato further heightened anticipation and when it finally caved, our spoons plunged in close behind. An intense chocolate enveloped the mouth with warm, gooey and cold sensations making us smile. Even hubby, who's not traditionally a chocolate fan, fell head over heals for the gooey bowl of richness. Reverting to his native Spanish language, all conversation with me was forgotten as he cooed softly to the dessert, "que rico, que delicioso estas." Bringing him back to reality, a coffee faultlessly finished our meal.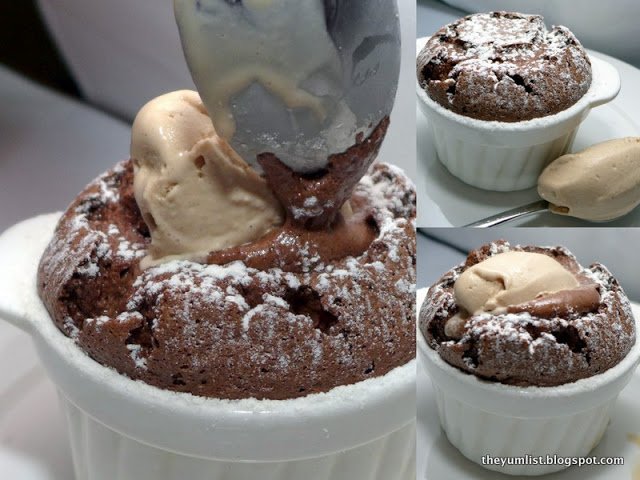 Souffle au Chocolate, Glace Noisette (RM22)
While Yeast boasts an understated French atmosphere, when the food arrives, there's a clear message that this food deserves full respect.
Reason to visit:  rustic French bread created with natural organic yeast, traditional French cuisine, Elderflower Champagne Cocktail, casual feel but serious food
Yeast
24 Jalan Telawi 2
Bangsar
59100 Kuala Lumpur
Malaysia
+6 03 2202 3535
Open Tuesday – Sunday 8am – 10pm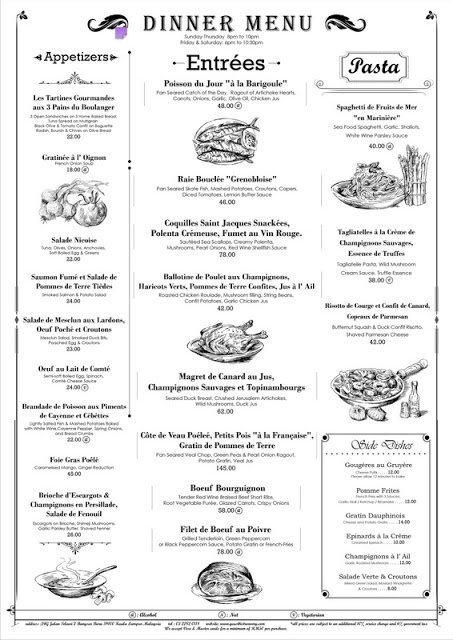 Dinner Menu

Dessert Menu