Gobo Upstairs, Traders Hotel, Kuala Lumpur
Gobo Upstairs Lounge
and Grill
Said to grill some of the best steaks in the city, we had to check out Traders Hotel's  Gobo Upstairs Lounge and Grill. Finding out further that all meat (lamb and beef) come from Australia, we were even more excited to have a meal here. 😉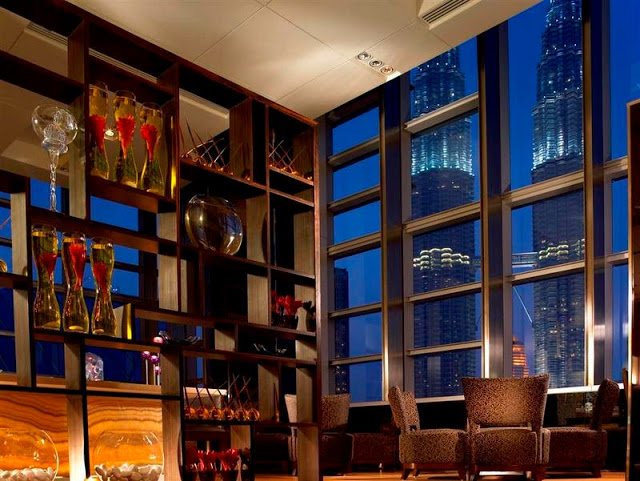 Gobo Upstairs Lounge
Sleek, warmly lit and, showcasing postcard perfect views of the Petronas Towers and surrounding high rises, Gobo Upstairs provides an intimate and stylish ambience. Start in the lounge with a signature cocktail or aperitif. Dark wood, soft up-lighting and, rhythmic lounge music caressing the background, offer a classy atmosphere while allowing the towers, viewed through the large ceiling to almost-floor windows, to steal the spotlight. A glass of champagne, Moet and Chandon Brut Imperial NV, makes a fitting start.
Moet and Chandon Brut Imperial NV
In the restaurant, a choice of warm breads is passed around to begin. Olive ciabatta and a white roll are our choices. The ciabatta is crusty on the outside and chewy within, while the white is soft all the way through.

I wasn't expecting an amuse bouche, but we're presented with a Potato Fondant with Prawn Salsa. Mayonnaise coats the mouth and the seafood entices us to enquire about what else is on the menu from the sea.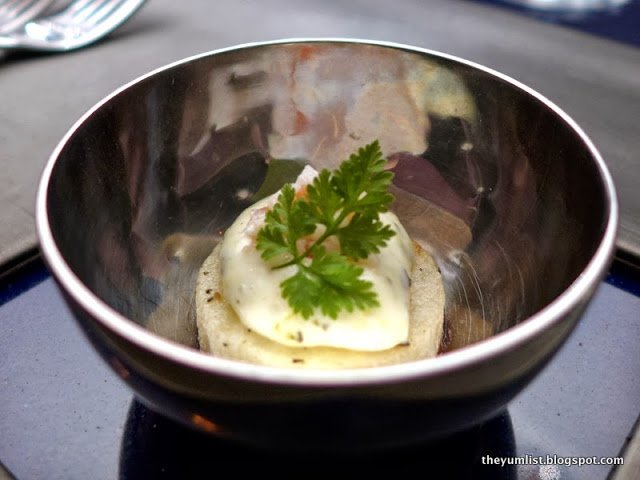 Amuse Bouche
It turns out the menu is quite simply divided into seafood and meat. Half yearly all items change and every couple of months there are seasonal promotions too. For September and October there's a lamb promotion running. In November, mushrooms will be the highlight.

From the promotional menu, Grilled Lamb Striploin Salad (RM32) comes with Italian buffalo mozzarella marinated tomato cherry caponata style, baby lettuce and basil pesto dressing. Wow! Lamb is lean and pink. It melts in the mouth. Pesto and tomato puree offer additional flavor – delicious, but not needed. Crisp lettuce leaves are perfect envelopes to encase the juicy meat. Baby soft mozzarella rounds are mild in flavour and enhanced with the pesto and tomato. It's a highly recommended order this if you are fortunate enough to visit before the end of October.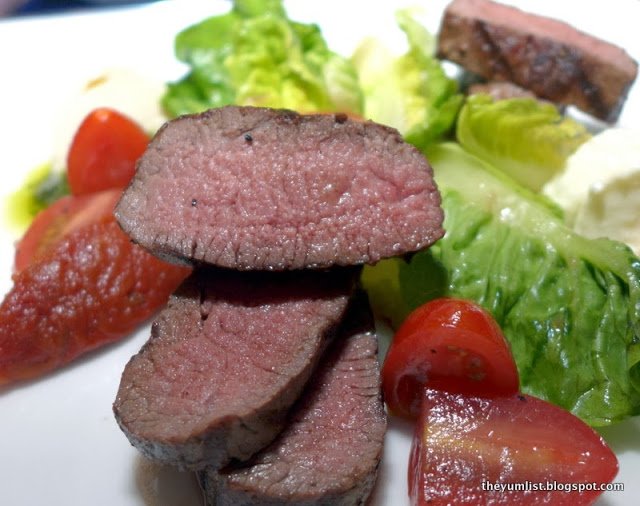 Grilled Lamb Striploin Salad
Hubby's selection, Grilled Asparagus (RM32) is sprinkled with Parmesan cheese and oak smoked duck. Mesclun greens form a base for the tender asparagus, which is given a salty edge with the flavourful strips of poultry. It too is worthy of a repeat order.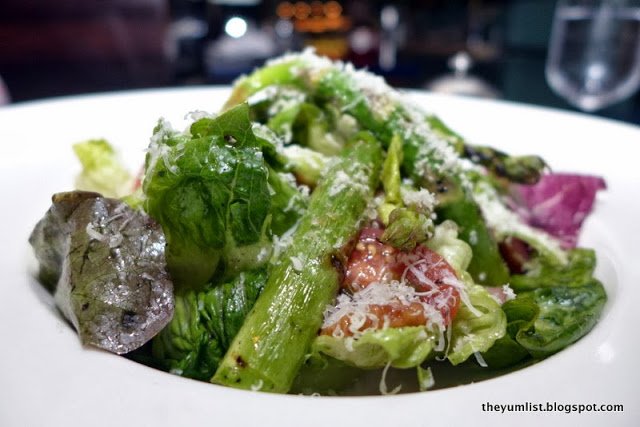 Grilled Asparagus
Happy to leave the wine pairing in the hands of our capable host, we begin with a Wither Hills sauvignon blanc from New Zealand (RM38). Long stemmed glasses enrich the feeling of elegance. Wonderfully aromatic, guava and passion fruit rush to the nose. Passion fruit is mirrored on the palate with a crisp finish, making it a lovely drop on its own or with shellfish.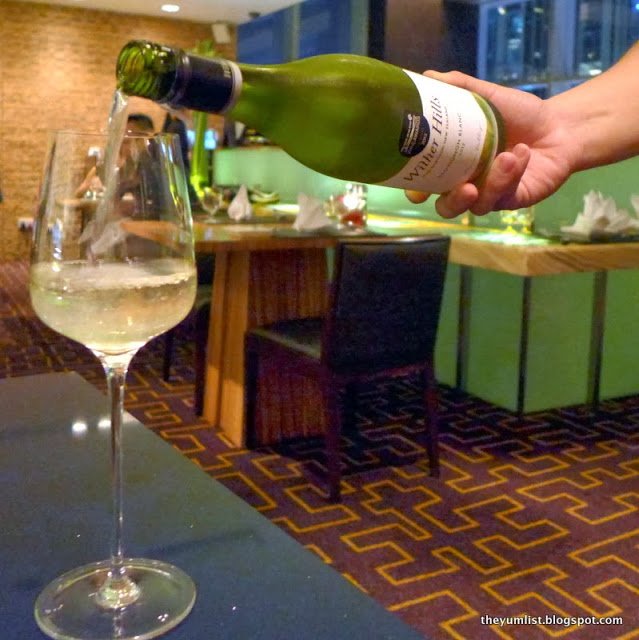 Wither Hills Sauvignon Blanc
Mushroom Soup (RM24), made with forest mushrooms and croutons, is a good example of a standard dish.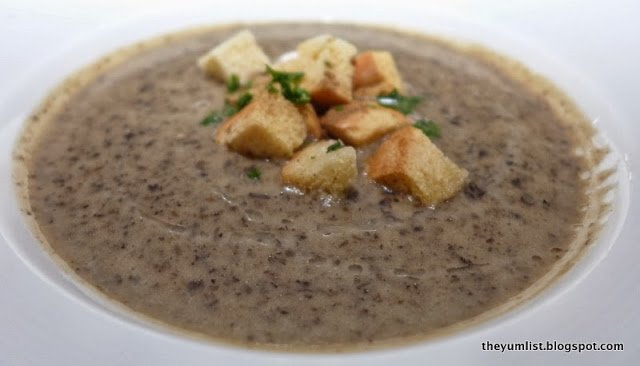 Mushroom Soup
Lobster Bisque (RM26) is one of Gobo Upstairs' signatures. Filled with lobster ragout and tinged with vanilla oil, I can see why it has stayed on the menu for so long. It's surprisingly thick and creamy with a nest of chopped crustacean congregating in the middle. At first the flavours seem simple, but then the palate detects something extra… brandy! The liquor gives an added wham and leaves a decadent aftertaste.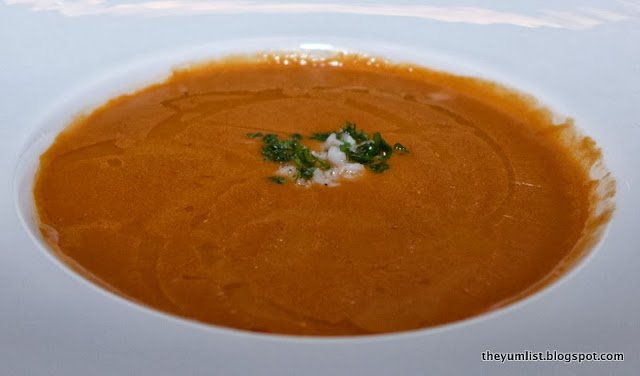 Lobster Bisque
Domaine Chandon Shiraz 2010 is the suggested wine for the meat and a very suitable friend too. Australia is known for its bold shirazes and Chandon produces a terrific example. Plum and cherry on the nose with a rounded palate and light peppery finish make it very well suited for red meats. Perhaps now is a good time to mention the benefits of a big hotel group… close to 20 wines available by the glass! While we enjoyed the selection paired with our meal, it's great to know that there are an abundance of individual serve options.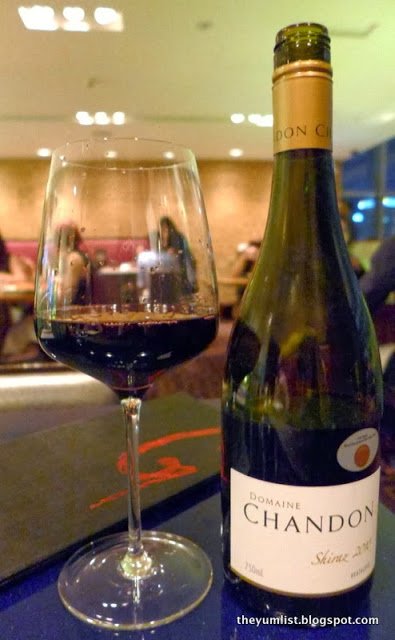 Chandon Shiraz
Again from the lamb promotion the Milk-fed Lamb Rack (RM98) is suggested. Smoked with sweet paprika, "modern navarin" style, and sided with vegetables and lamb jus, it is a great choice. Vegetables are just as flavourful as the lamb – peas, potatoes, asparagus and baby artichokes. The meat is pink, with an ever so slight ooze of blood. It's full flesh too, rimmed with fat, but very meaty. I know Malaysians love the fat, but I'm a good Aussie and when I order meat, I want meat. Fat is counted as bad value at home. I want the flesh, and this flesh is tender. It melts under the knife and is clean in the mouth. There's no taste of grass in this beast (which incidentally, I don't mind… the grass taste is a sign of natural healthy grazing… which I could go on and on about but I'll save that for another day…) Anyway, it's not gamey (which is actually a good thing, but I digress). Hubby loves it and declares it the best lamb he has eaten this year. He sucks the bones clean.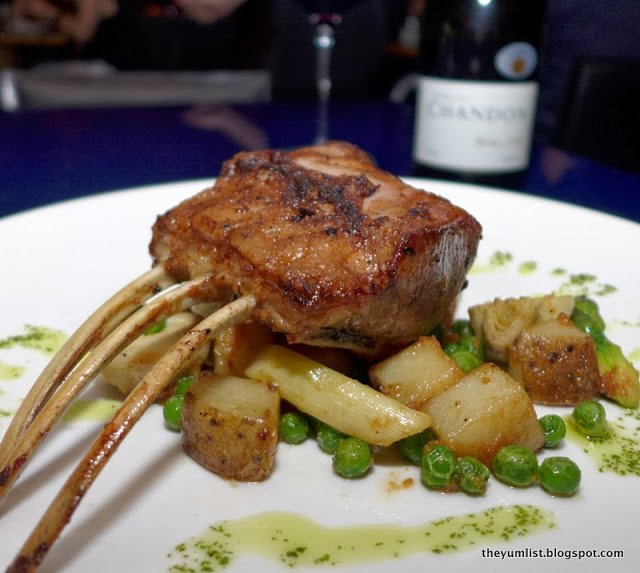 Milk-fed Lamb Rack
One of Gobo's Signature mains is the Grilled Black Angus Tenderloin with King Prawn (RM155). Truffle mashed potato, braised asparagus and Bordelaise sauce fill the rest of the plate. A hunk of beef is browned on the outside with the clear tattoos of the grill criss-crossed on the flesh. It's also rosy in the middle and easily gives way to the knife.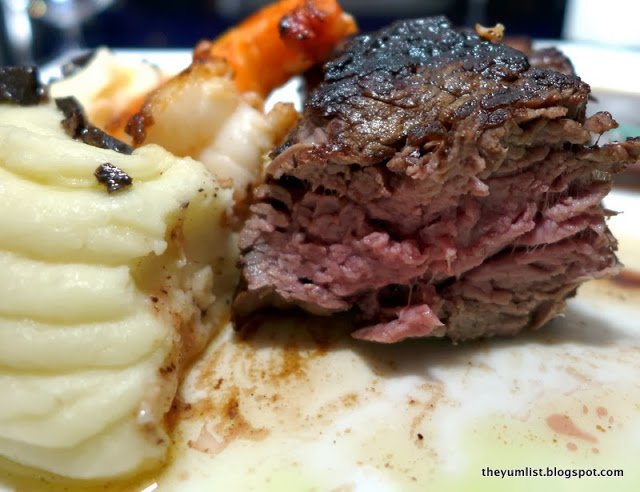 Grilled Black Angus Tenderloin with King Prawn
We always have room for dessert (even though hubby always declares beforehand that, "no, no" he doesn't need sweets and then proceeds to eat most of mine). A separate dessert menu is presented, helpfully supported with pictures.
The Warm Chocolate Lava (RM22) is a signature, so a must order. A cherry compote and vanilla ice cream side the dish. Allow 20 – 25 minutes preparation time for this beauty. The dense chocolate round is topped with a thin layer of almond biscotti and a blob of vanilla ice cream. On top, a tangle of crisp pastry resembling a ball of yarn is carefully balanced. Upon slicing, the centre oozes a dark chocolate sauce and, the brittle extras that look like mere adornment, make an excitingly crunchy contrast to the gooey base.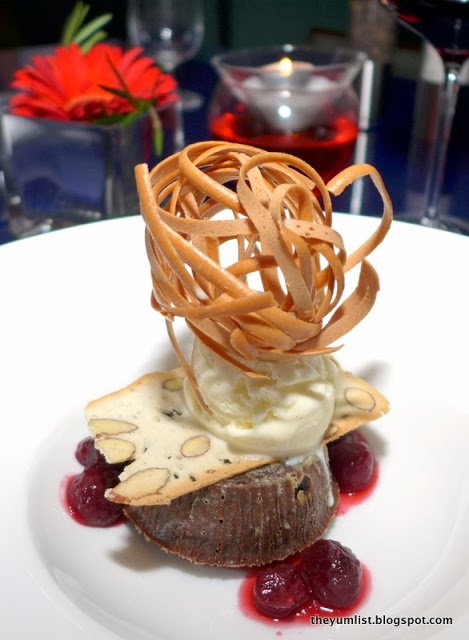 Warm Chocolate Lava
When there's cheesecake on the menu, and hubby is at the table, it must be ordered – in this case Ricotta Cheesecake (RM22) with a cherry compote. The cheese is dense but light at the same time. We both enjoy the texture and, even will bellies bulging, we polish it off to the final crumb.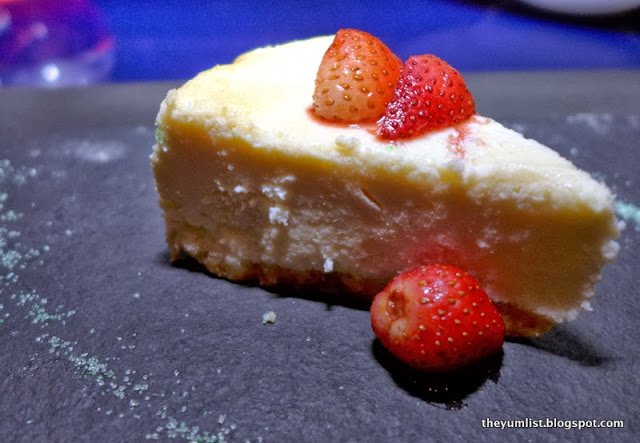 Ricotta Cheesecake
One thing to keep in mind at Gobo Upstairs is that, even though it is an elegant dining restaurant with bread, amuse bouche and professional service, portions are generous and good value. When you order think in terms of sharing plates. Staff are very good with toning down enthusiastic diners by suggesting they eat first and then order more if needed. They've obviously seen a lot of very full tummies in their time.

Reason to visit: generous sharing sized portions, don't miss the lamb specials this month

Gobo Upstairs Lounge and Grill
Level 6
Traders Hotel
Kuala Lumpur City Centre
50088 Malaysia
+6 03 2332 9910