Pictures: The Yum List      Words:  Kirsten Durward

La Boca Café is a brigh slash of Latin cheekiness perched between the monochrome towers of KL. Offering authentic Latin American café cuisine and a friendly atmosphere, this tiny nook will perk you up at any time of the day. Perch at the bar for a barista coffee, enjoy the colourful Cuban murals while munching your way through nachos, or sit on the terrace with a beer watching the world go by.  Whichever way, you're going to feel in a different country for a while.

We grab our spots as cheerful Cuban cha cha cha tinkles in the background, and giggle at the colourful menu sprinkled with crazy jokes and anti pick up lines. Styled like a 1950s Magazine bearing the legend 'Hola Kuala Lumpur!', it's a work of spirited fun that immediately pulls us into a frivolous mood. Like her Pavillionesque big sister, we hear La Boca Cafe is a fun party venue, and you'd certainly be getting to know your fellow guests well in this warm and friendly atmosphere.

Colourful Latin Food
Ensalada Latina RM16++
Oh! I love, love, love the palette of plates, we each get a different colour; turquoise, orange, lemon adding again to the party atmosphere. Salad is quickly spooned out of its bowl and onto our forks as we dive into a curling combination of punchy beetroot, suave palm hearts, kalamata olives, and creamy avocado mingled in garden greens with an apple vinaigrette for a refreshing zing.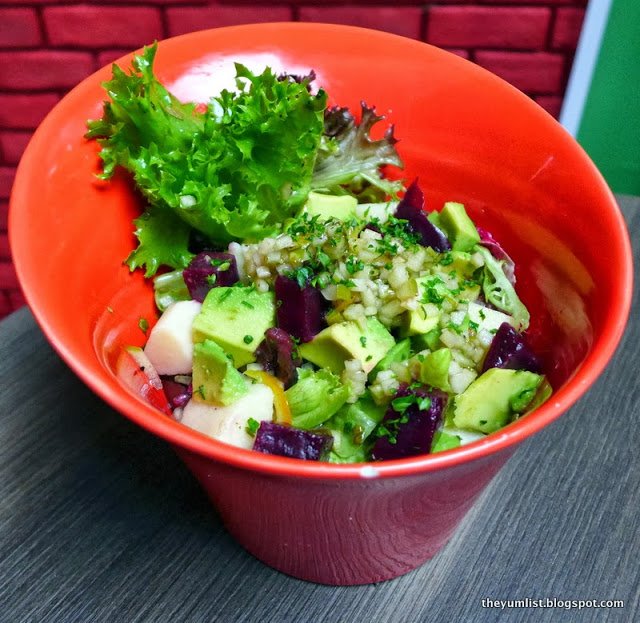 Ensalada Latina
Nachos Rancheros RM19++
After so many disappointing wimpy Nachos around town, I'm hysterical with joy to see this splendid plateful heaped with beef chili, oodles of guacamole, splurges of sour cream on crispy pale taco crisps.  And the taste doesn't disappoint. With a slow burn chili infusing the meaty sauce, cooled by the rich smoothness of the accompanying sides, I'm in Nacho paradise. This is co-owner Alfredo's favourite dish and mine too so far.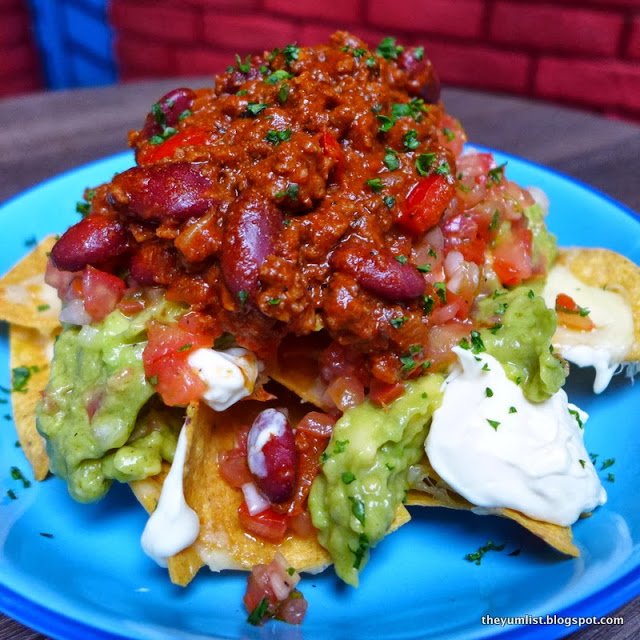 Nachos Rancheros
Panini 'La Boca'
Pizza dough stuffed with turkey ham and chorizo baked in the oven with mozzarella, basil leaves and kalamata olives makes a filling midday muncher. Served with a rich garlicky tomato salsa and a small pasta salad topped with an arugula citrus dressing and pine nuts. Caning's the only one who manages to get his mouth around this melting monster and even then it takes some doing. Gooey filling and goofy smiles all round.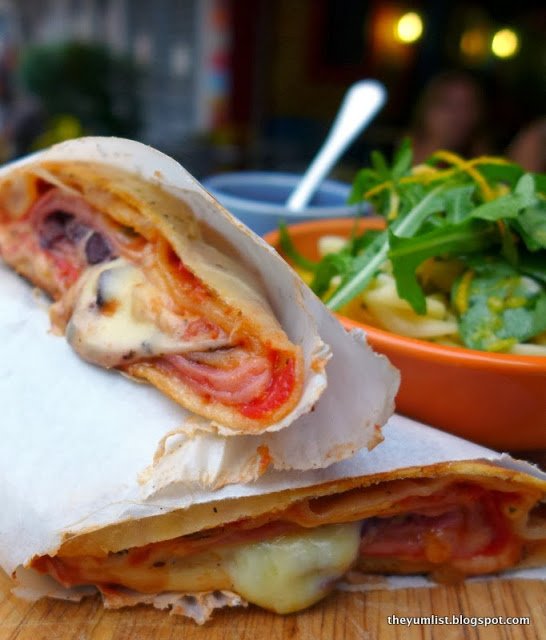 Panini "La Boca"
Milanesa de Pollo RM23++
Our plates are changed from circles to squares. Melted mozzarella and herby tomato tops a spatchcocked chicken breast. With home made skinny fries and side salad this is a man-sized plateful. Milanesa de Pollo, originates from Italy but with global migration has become a popular lunch dish for hungry Porteños, who've diversified its delights into Milanesa de Pavo and Milanesa de Carne too.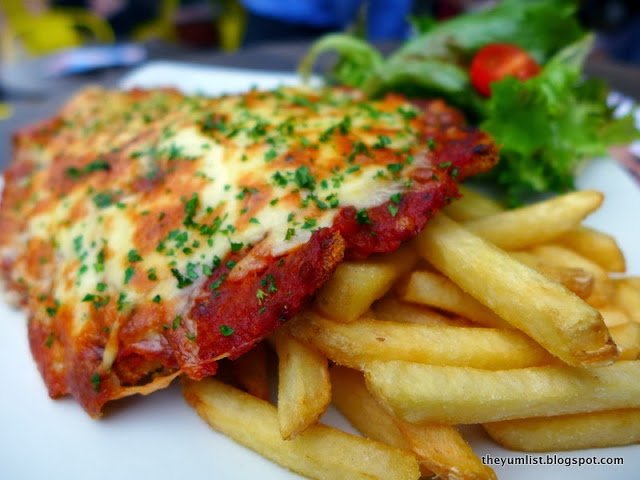 Milanesa de Pollo
Empanadas Borrachas
A tropical twist on a strudel, raisins soaked in rum with banana baked in soft pastry, served warm with a side of divine dulce de leche to dunk into, it's no wonder Caning is saying 'esta buenissimo!'  Meanwhile Monica is demanding take out of the delicious caramel…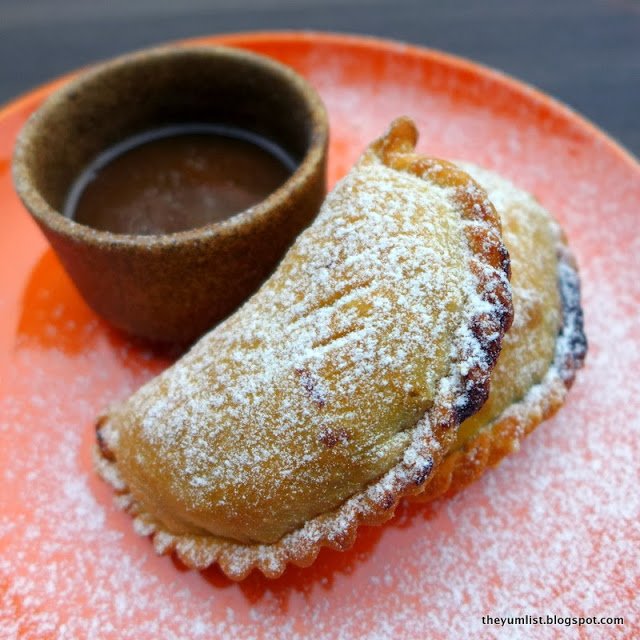 Empanadas de Chocolate and Borrachas
Empanadas de Chocolate
The next tasting is truly totally indulgent. Oozingly opulent, dark orange chocolate pours (and yes I do mean pours…) out of fresh short pastry; if you dare – drip over more of that delectable dulce de leche and melt into yourself into a mouthful of ecstasy.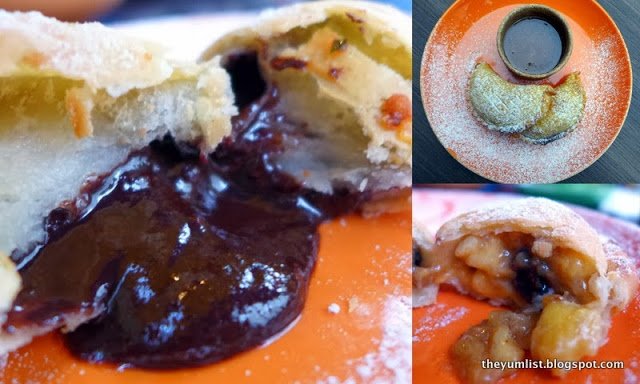 Dessert Empanadas – Chocolate and Borrachas
Coffees and Chocolates
Something that has been missing in the city centre is a decent coffee spot. Now with La Boca and experienced barista Rohit, that spot is filled. Whether you hanker for decaff, full hit, black, milky, hot or cold, you're sure to leave 'satisfecho'! I count 20 variations of Illy inspired coffee on the menu, and a few delicious hot chocolate suggestions too. Served in colourful cups and mugs at the bar, on the street or in cartons to go…
We try a range to give you a flavour:
Café con Leche RM9++
The Latin version of the Caffe Latte appeals to Monica's particular coffee tastes. She pronounces it 'excellent.'
Cortado RM7++
The single expresso comes with such a cute face on the top of milk that it's almost too hard to for us to knock back. It's a short sharp shock if you need something to get you going after a night on the town.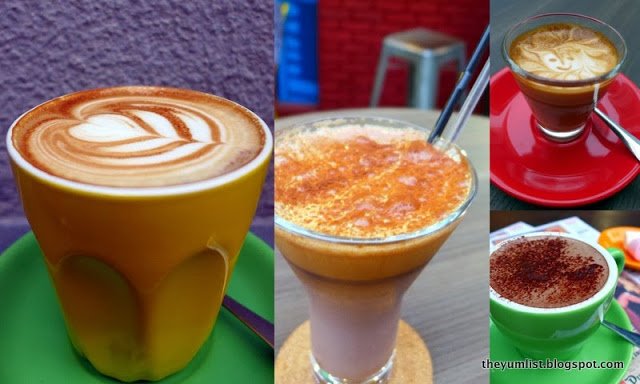 Coffee and Chocolate – Latte, Mocha, Cortado, Spanish Hot Chocolate
La Alemendra RM12 ++
A visual delight of three layers of dark, white and light, proves to be delectably smooth and frothy after stirring together. It's the almond milk and the ice whipping which gives it such a special texture and flavor.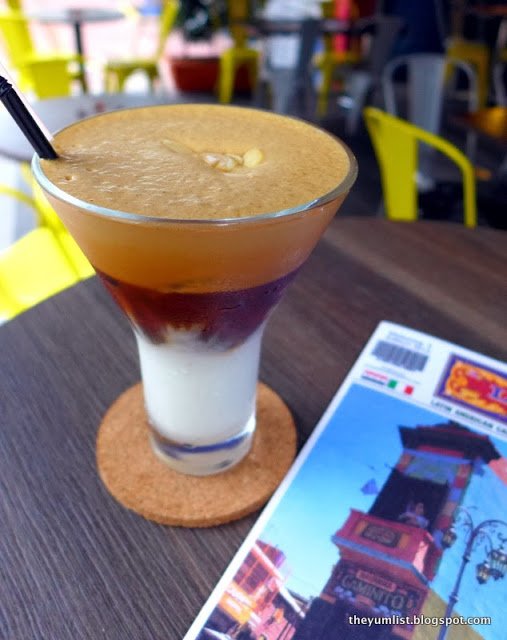 Cafe con Almendra
Spanish 'Bom Bon' RM8++
A sweeter version of the expresso shot is carefully layered with condensed milk that you stir before shooting. A double hit of sugar and coffee, watch you don't take off!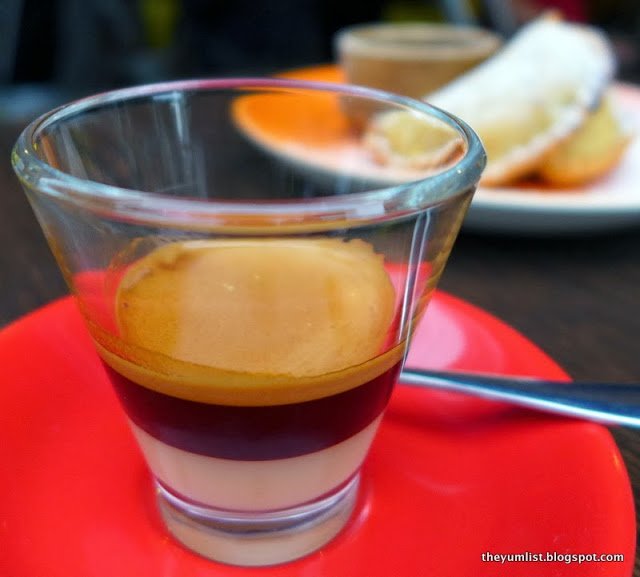 Bom Bon Coffee – Sweetened Condensed Milk and Espresso Shot
Spanish Hot Chocolate RM10++
Creamy frothy dark and rich chocolate topped by marshmallows appears as a tantalizing temptation– a grown up child's dream! I abhor milky chocolate but this thick dark concoction has me slurping to the bottom of the cup.

Aztec Hot Chocolate RM10++
The little devil in me also likes a spicy touch to a warm drink so spotting a signature chocolate chilli twist on the menu, I have to beg a taste. The rich creamy chocolate almost has me fooled but the chilli creeps in afterwards leaving a very pleasant buzz on my tongue and the roof of my mouth… mmmhhmmm!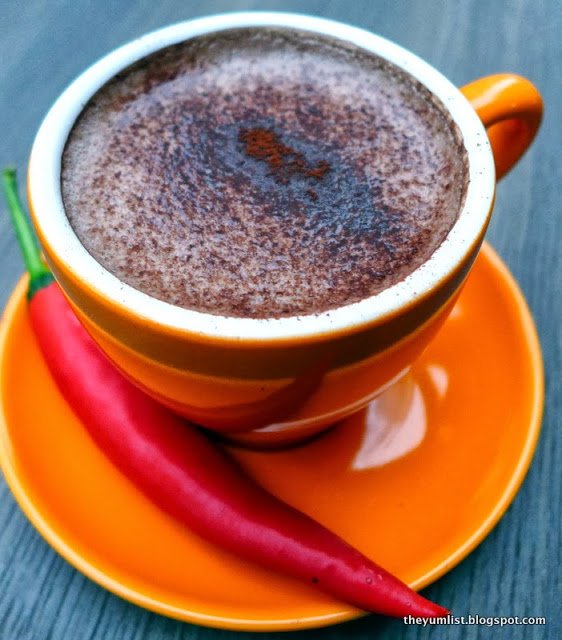 Chocolate Azteca
Mocha Frio RM12++
Combining the best of the coffee – chocolate tastes, a truffilicous afternoon refresher of melded cold milk, expresso and chocolate is happily slurped through a straw.
I can't remember when I last drank this much coffee and I've a feeling I wont be sleeping much tonight, good job it's mainly been decaff and you really can't detect the difference with this quality of product.
Don't miss out on the current special of Churros and two coffees for RM22 ++ between  9 am – 12  and 2pm – 10 pm.  Perfect for an after work fix.

Fruity Drinks
La Boca also offers a range of refreshing fruity mocktails, smoothies and shakes to accompany the generous dishes. Or beer, if you prefer…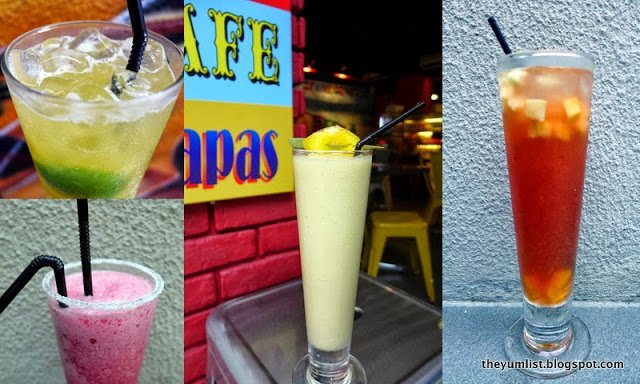 Mocktails
Spanish Sangria  RM13++
Paler than her alcoholic sister, this virgin sangria is long, fruity and fresh. Enjoy at least two of your 'five a day' with oodles of strawberries and apple floating in soda with orange and grape juice.

Caipirinha RM13++
Passion fruit, lime wedges and sprite combine to please Caning's sweet palate. It obviously hits just the right spot as he grabs it quickly back across the table after my simple sip, exclaiming, 'Delicious! The passion…'

Paraiso RM13++
The Paraiso is my personal preference with its lemony tinges bringing out the sharpness of the pineapple and passion. Washes down the meaty chili like a treat.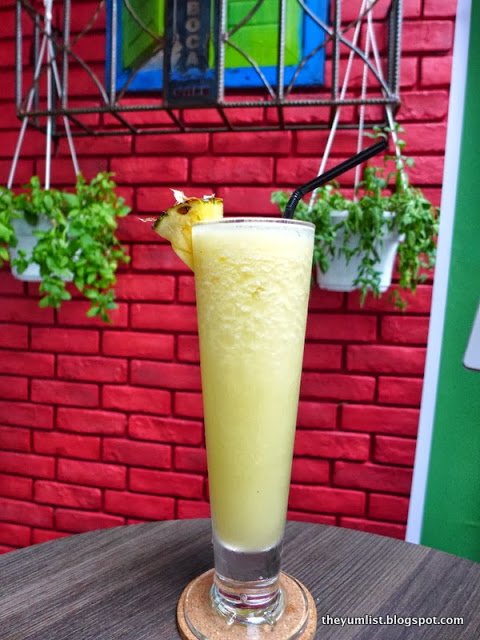 Paraiso
Fruit Smoothies RM12++
Smoothies are made the healthy way, with yoghurt. We try the mango, which is completely creamy and slurpable. A-topped with a fresh slice sprinkled in cinnamon, I could sink this for breakfast every day.

Margarita RM13++
The Virgin Margarita is a sweet foamy shake. We try the berry flavour which glows pink in the glass. A princess style drink for attention seekers.
With an extensive menu that belies its tiny size, and a range of tapas tasting offers, La Boca is a fun and funky boost to your day. I even noted a Cuban cigar list at the back of the menu… Stop in on your way past or make a special trip over to Sultan Ismail, you surely won't regret it!

Reasons to visit:  brilliant barista coffee, generous fresh and tasty platefuls, the best nachos in town, and… a friendly touch of Latin colour.

La Boca Café 
KL Life Centre
20 Jalan Sultan Ismail
Kuala Lumpur, Malaysia
+6 03 2162 4333
Open Monday to Saturday 9am to 10 pm.
Soon to be open for brekkie from 7am.