As an
international Jazz Vocalist
I have had the pleasure and privilege of traveling the globe extensively. Although I have sampled a wide variety of food through the years, I was thrilled to be asked by The Yum List to explore unknown territory in the culinary delights of Nepal.

I had some preconceived ideas of how traditional Nepalese food may taste because of where it is placed geographically. I expected a heavy Indian influence with a sprinkling of Chinese. What I discovered however, was something very different and unique.
Restaurant Nepal in Plaza Damas surprised me from the start with its simple yet chic decor. It's comfortable, warm and inviting. Owner Robin Sherchan is the perfect host. He is genuine, passionate and his great sense of pride, coupled with a wonderful depth of knowledge is self evident and is something that will no doubt contribute to this restaurant becoming a favourite amongst locals and travelers alike.

The other half of this dynamic duo is not Batman, but you will Marvel at her creations. Its Robin's sister, Amrita Bhattachan who is the chef. Together with traditional recipes and cooking styles passed down from their mother they have created something very special, here in the heart of Asia's culinary capital.

The menu is quite extensive and varied with dishes ranging from Chowmein with Indian spices to mutton shanks in a pumpkin puree.
The wines have been carefully selected to compliment the food – fruity, fresh white wine, a beautiful light, Spanish red and, my personal favourite, Shangri-Lla. No that's not a spelling mistake, it's their take on Sangria. I have visited Spain many times and enjoyed this popular local drink. However to my surprise and delight these guys even topped the Spaniards. Their subtle flavours and presention with thinly sliced apple made it a stand out for me. You can actually enjoy the fruit and wine at the same time instead of fishing out the fruit at the bottom of an empty glass which is usually the case with Sangria.
It's this extra thought and attention to detail that makes this place really quite special. I started with the traditional Momo. Nepalese chicken dumpling with a special blend of spices. You can choose to have it steamed, deep-fried or pan-fried. Deep-fried was the one for me. It was absolutely delicious. I can understand why 6 million, more than the entire population of the capital of Nepal, Kathmandu, are consumed each day.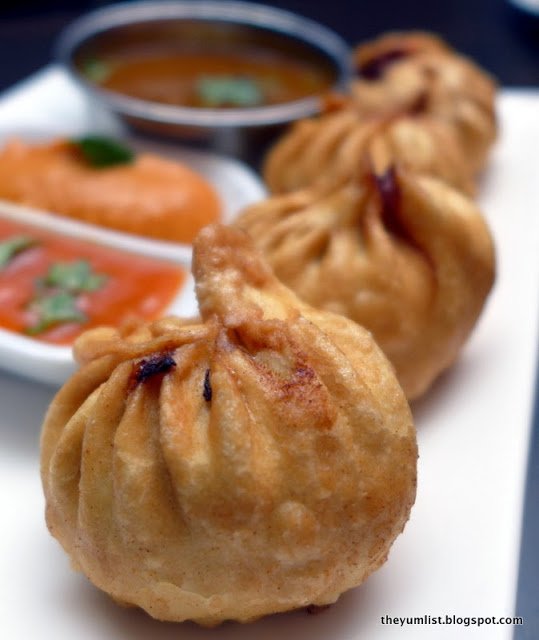 Deep Fried Momo – Nepalese Chicken Dumplings (RM7)
I then went on to enjoy a feast, sampling most of the dishes on the menu: Chowmein, Tawa Maccha (grilled fish), Alloo Silam (boiled potatoes marinated with red onion and silam), Nepali Salad, Buteko Simi (stir fried green beans with garlic and mixed spices) and Fapar Ko Roti (buckwheat bread).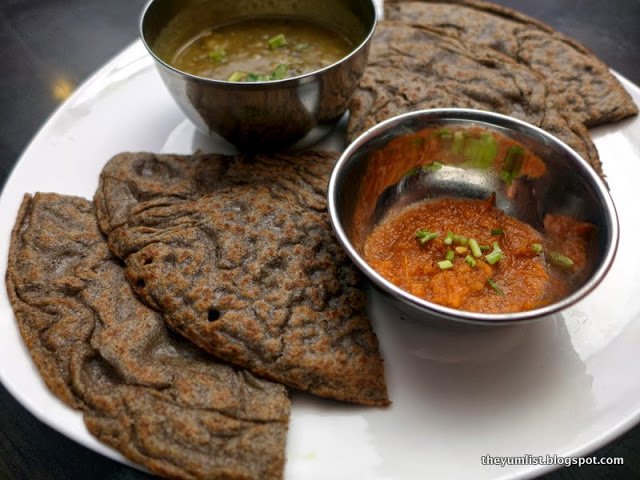 Fapar Ko Roti – Buckwheat Bread (RM7)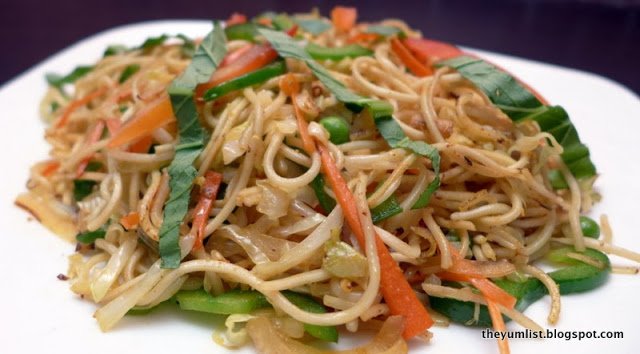 Chow Mein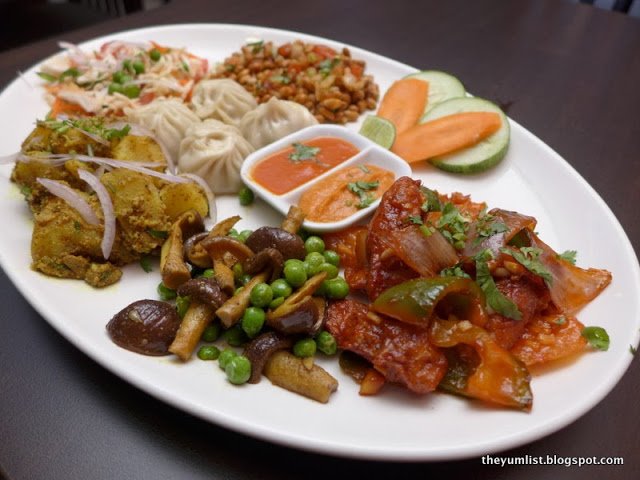 Snack Platter (RM24)
However the stand out dishes for me were:Khasiko Masu Bhat (Traditional Thali set with rice, black bean dal, Nepalese lamb curry, curry vegetables, green spinach, chutneys and salad).
Chata-Mari, Nepalese version of pizza, also similar to a Spanish tortilla, which has a thin crust rice flour base and is topped with minced chicken, spring onions, tomatoes and egg.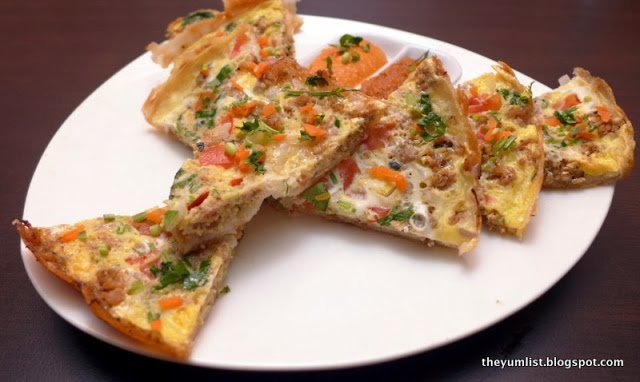 Chata-Mari – Nepalese Egg and Rice Crepe Pizza (RM12) Yummmy!
Monica oohed and aahed over the Farsi Ko Dal with Mutton. Tender mutton shanks are stewed with sweet pumpkin making a thick, baby food-like consistency, sauce.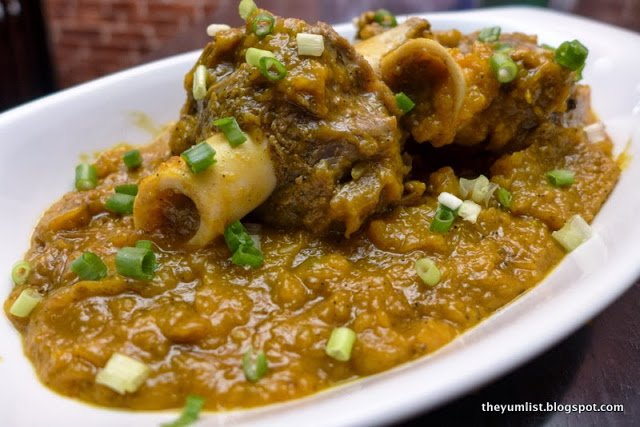 Farsi (Pumpkin) Ko Dal with Mutton (RM18)
Caning found the fish curry to his liking. The fresh herbs, used as both adornment and flavouring, give the dish a healthy colour and freshness in the mouth.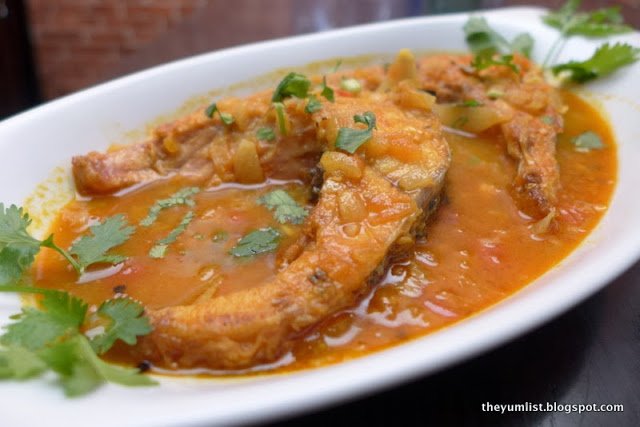 Jhol Machha – Fish Curry RM18
There are some milky desserts too, but we were too full to really appreciate them. We were quite happy to end with the toothsome mains and finish with another glass of Shangri-Lla.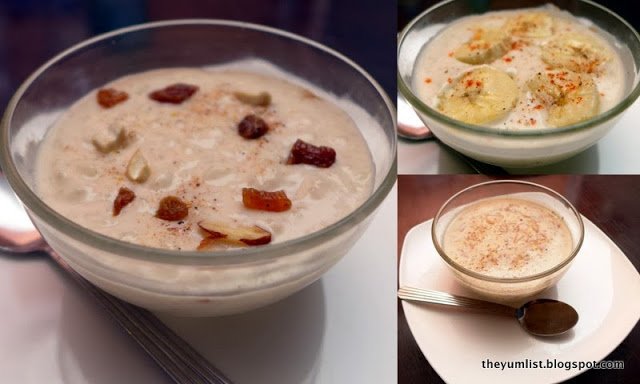 Nepalese Desserts
All the food is prepared from scratch. Nothing is pre-cooked. They also cater for vegetarians and vegans and is tremendous value for money.
It is definitely going to added to my KL itinerary for all future visits. I recommend to get there soon before everyone finds out about it. Enjoy 🙂Reason to visit: a fine opportunity to sample homestyle Nepalese cuisine in a cheerful, clean environment; very reasonable prices for both drinks and food; Farsi Ko Dal with Mutton; Chata-Mari (!); Momo (!); Khasiko Masu Bhat; and Shangri-Lla
Restaurant Nepal
Opposite TGI Friday's (outside)
F-O-6 Ground Level
Plaza Damas Shopping Centre
60 Jalan Sri Hartamas 1
50480 Kuala Lumpur
+6 016 9770 718
www.facebook.com/RestaurantNepalKL