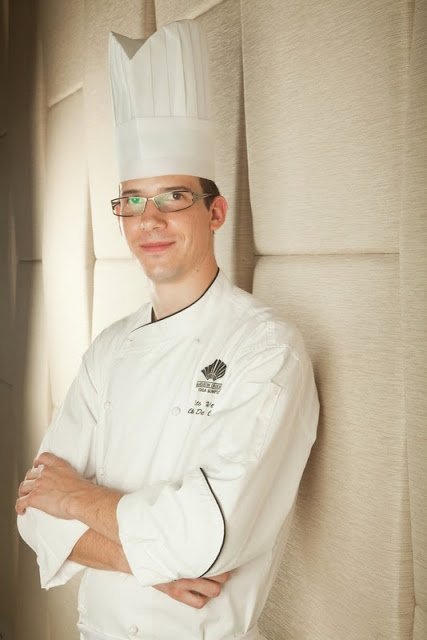 Chef Reto Weber
The Yum List was lucky enough to spend a few moments with the super busy Chef Reto Weber of the Mandarin Grill and find out some of his passions and thoughts on the food industry.

How did you start off as a Chef?
I started my career as an apprentice in a small Swiss fine dining restaurant. All products used were locally sourced from the region. We cooked seasonal with fresh ingredients and herbs. I later had my first experience in a 2-Michelin star restaurant as a commis chef. Having the desire and urge to travel the world and experience the local culture and cuisine, I took up the plunge to work overseas namely Australia, Asia and the Middle East.

What is the most memorable thing you have done as a Chef?
I will always remember my time in Dubai. I was part of the opening of two 5 Star Hotels and the first Armani Hotel, as well the highest restaurant in the world located on the 122th floor of Burj Khalifa, designed by famous designer Adam Tihany. Being part of pre-hotel openings are memories which one would need to experience to be able to fully understand.

What do you most enjoy about being a chef?
There is no limit to what you can create. Our craft is rooted in technique and tradition, but I am also continuously inspired by travel and by the creativity of the young chefs around me. Most of all, the most rewarding part of being a chef is to be able to see customers/diners enjoying food I've created.

What is one of your favoured food and wine pairings?
Syrah is a high alcohol wine with a medium-full to full body. It has medium tannin and acidity, which is perfect for braised beef. Don't forget, even though short ribs are a very fatty cut of beef, their fat has been mostly broken down by the long, slow cooking method. The molasses of Syrah will seemingly melt in your mouth with the soft texture of the rib.

Tell us a story about one of the dishes you prepare.
Each and every dish I combine with a story in my mind, be it the smell of a flower, memories of a nice vacation stroll in a market in Thailand, or the unbelievable smell of freshly smoked fish or meat in the highlands of Scotland. To sum it up, my creativeness and inspiration come from the many travels I have had to different countries and cultures as well as through the experience and knowledge gained from my supervisors over the years.

What do you do for fun?
I enjoy a nice cold swim or sometimes just a bicycle ride. These help me maintain a work-life balance lifestyle after a busy week in the kitchen.

What's something you'd like guests to know about the cuisine prepared at Mandarin Oriental, Kuala Lumpur? 
Mandarin Oriental, Kuala Lumpur works very closely with many suppliers, local farmers and artisan producers to ensure that all ingredients and products are consistently delivered with the finest quality and freshness on a daily basis.

How might you define your culinary creations?
I enjoy keeping it to the minimal so that guests are able to taste the natural flavours of each ingredient in the dish.

What can guests look forward to in the upcoming months?
The a la carte menus in Mandarin Grill change regularly. I am always making seasonal changes, with monthly promotions such as Truffle promotion in November and frequent wine dinners. Not to be missed will be our upcoming Christmas Mega Brunch on the 25th December, and other festive promotion menus.