Monica Tindall
The glorious Georgian style mansion built on the estate of Sir Francis Light, founder of Penang, which has been meticulously restored celebrating its former elegance and grandeur, is home to one of Penang's small, but growing, number of fine dining establishments, Suffolk House Restaurant.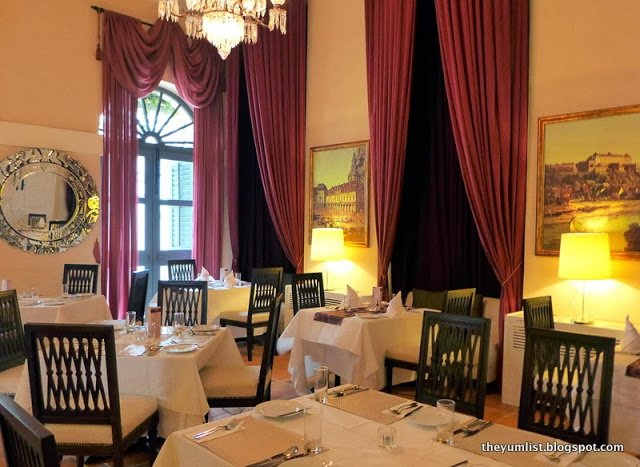 Indoor Dining
A narrow driveway through old bungalows off Jalan Air Itam leads to a majestic fern covered giant of a tree. Based with an arched bridge over the flowing creek, it marks the entrance to a magical experience. A verdant manicured lawn contrasts the beige coloured building, Suffolk House, and a pebbled path guides guests to the entrance.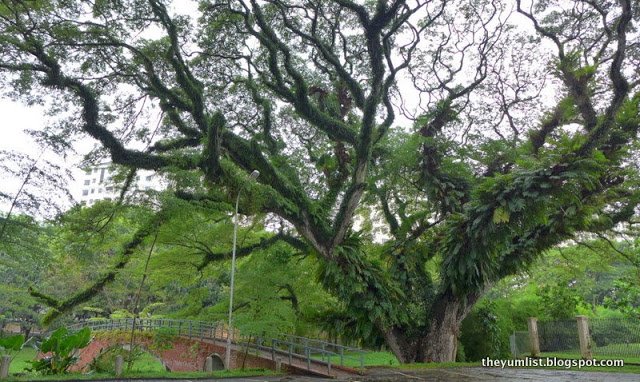 Carpark
Elevated on a slight hill, the manor affords views of the surrounding greenery and gives a sense of spaciousness that is carried through to the interior. As with many buildings from this period, dark wood floors and furnishings are brightened with paler toned walls and curtains. Lofty ceilings create a sense of airiness while framed mirrors and, portrait and landscape paintings lend a peek into the life of the past.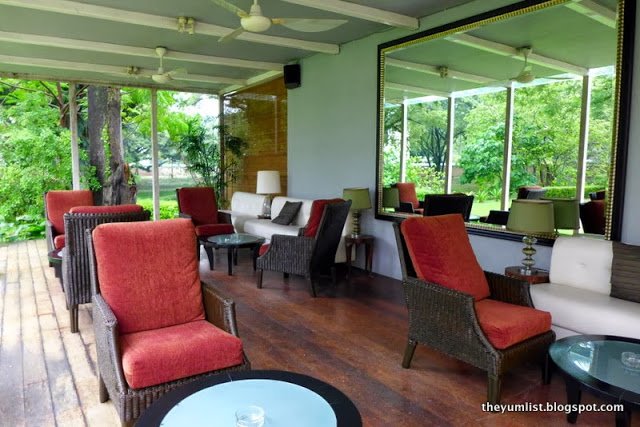 Open Walled Lounge
Diners have a choice of a number of areas in which to take in the colonial atmosphere. A covered but open porch affords garden vistas, while indoor dining areas are cooled with air conditioning and adorned with dramatic full-length curtains, arched windows and period paintings.  An open lounge is perfect for pre or post dinner drinks.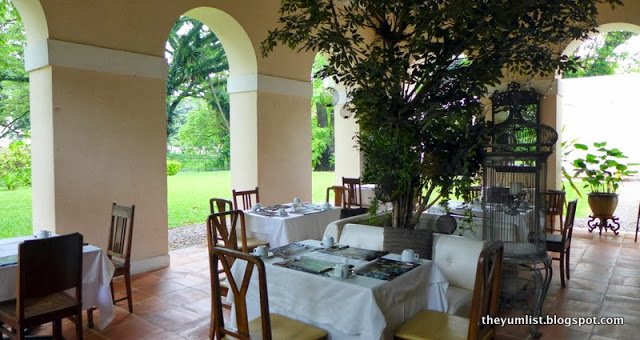 Patio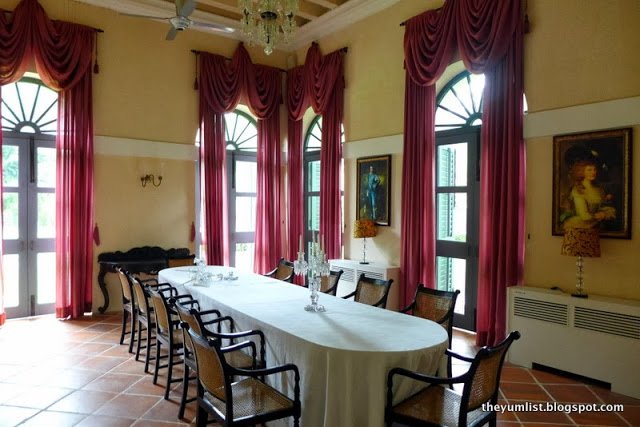 Private Room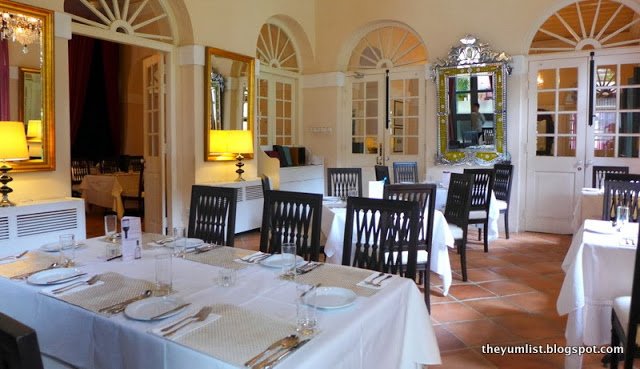 Indoor Dining
Thrown into the hot seat, Scottish Chef Gordon had only been with Suffolk house for a week when we dined. Most recently coming from London, growing up in Nigeria, Kuwait and Hong Kong and with a tremendous resume covering the world, it was no big challenge for him. In fact, as I learned more of the chef's bio, the more in awe I became of just how lucky we were to be eating the dishes of such a master.
Switzerland, Milan, Brussels, Paris, Puerto Rico, St Barts, Hong Kong, Beirut and London are all on his resume. So too are a number of famous restaurants and catering companies such as French maison – Fauchon, Casper and Gambini, Admirable Crichton, Alison Price, Chester Boyd, Compass and Sodexho and most recently he worked as Head Chef at the Royal Albert Hall where he oversaw 3 restaurants, 17 bars, 160 private boxes, 12 function rooms and banqueting for up to 2300 people!
Penangites are tremendously lucky to have this man on the island. In hubby's words, "If I were you I'd drop everything and run to Suffolk House Restaurant right now."
The meal began with an amuse bouche of Scallop, Confit of Smoked Salmon and Coffee Oil. Presented in a white curvaceous spoon, the fish formed a bed of orange, which supported the plump round mollusc. A sprig of green parsley and sole coffee bean jewelled the top. Looks deceive in this dish. What appears something commonly served in many a fine dining restaurant to begin, is on a whole other level taste wise. The smoky oil coats the mouth and, the coffee bean gives a crunch of roasted bitterness at the end which plays well with the buttery fish. It was a promising beginning.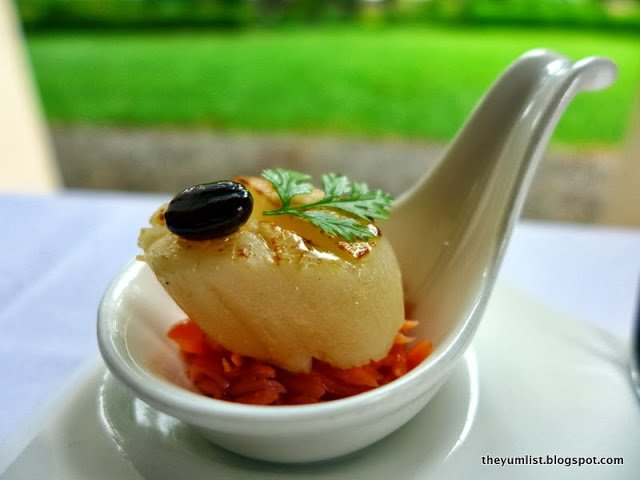 Scallop, Confit of Smoked Salmon and Coffee Oil
A Garden Salad of leafy greens was another dish that initially looked common but again took us by surprise at first bite. Packed with fresh herbs such as dill and chives, a tangy lemony dressing gave the leaves oomph. If eaten alone, the mouth might detect a tad too much salt in the condiments, however, eaten together with the rolled shavings of cucumber and the mild elderflower jelly cubes, the savoury was balanced, creating harmony between flavours. Chef Gordon was fast challenging me to not judge a book by its cover.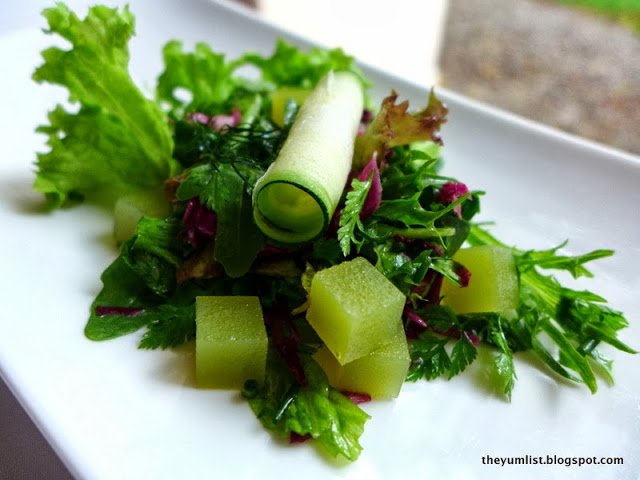 Salad with Elderflower Jelly
An Argentinian house wine, Arrabal chenin Semillon, was paired with our meal. Light and fruity, the match went well not only with our salads and seafood but also Penang's warm weather.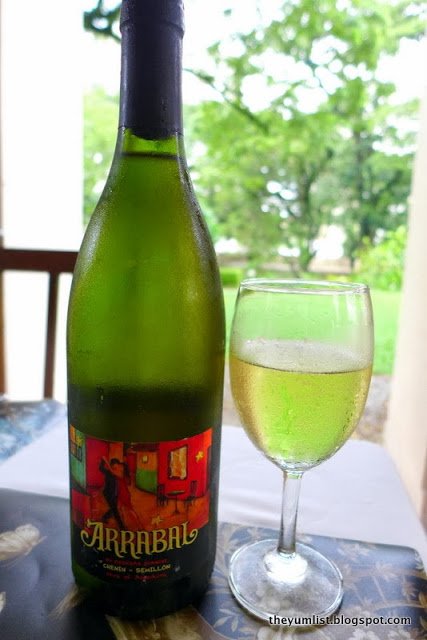 Arrabal Chenin Semillon
A bowl, cupped by another bowl, and covered with a dome lid was delivered to the table keeping the soup at the perfect temperature for degustation. Pumpkin and Honey Bisque with Spiced Sour Cream made a fabulous soup. Diaphanous wafers of toasted bread were not merely an afterthought but an important part of the dish. Eating the trio of soup, seasoned cream and a corner of the delicate Melba toast made ménage à trois suddenly a very attractive proposal. Combining seductively in the mouth, each brought to the taste buds its own valuable contribution.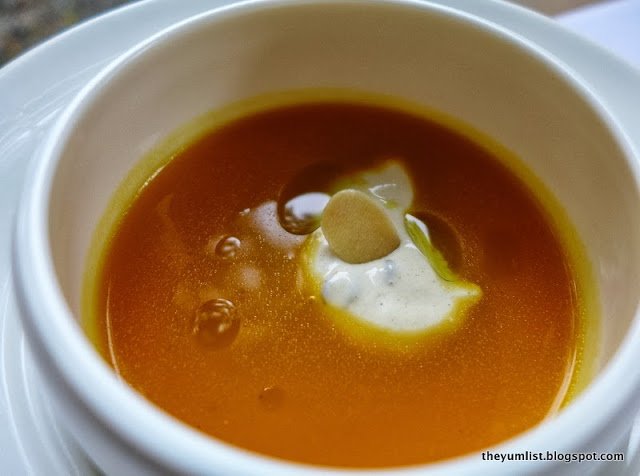 Pumpkin and Honey Bisque with Spiced Sour Cream
Poultry and fish were our chosen mains. Boneless Cornish Hen and Corn Quartet came as a palette of yellow and brown. Tight rolls of bird wrapped around a grainy corn cylinder of polenta peaked the plate, while a spread of lime salted popped corn, grilled corn and creamed corn covered the base. Fresh micro greens unfurled across the surface. The grilled corn yielded bursts of juiciness in the mouth, the popcorn stuck to teeth, the cream sauce coated the mouth and the gristy polenta hiding out in gums begged to be licked clean with the tongue. This was another dish well balanced with flavour, texture and wow factor.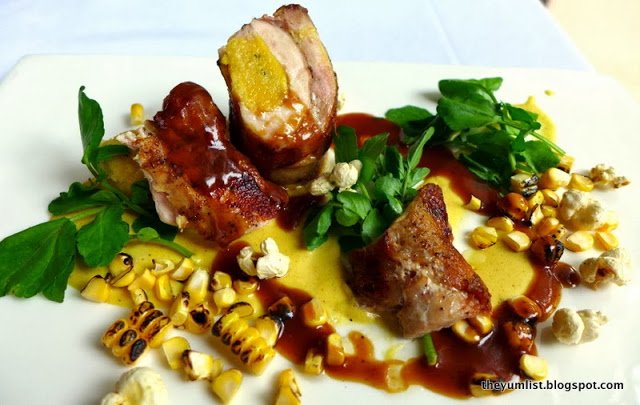 Boneless Cornish Hen and Corn Quartet
The Pan Roasted Salmon with scallops, caviar, cucumber and creamy horseradish sauce was showered with hubby's wooings.  In a pond of pale green sauce sat criss-crossed asparagus and cucumber cones. A mattress of spinach and fennel held pink flaky moist salmon – the subject of hubby's fond attention. Dots of black caviar added a natural straight-from-the-sea saltiness to the dish. Plates were scraped clean.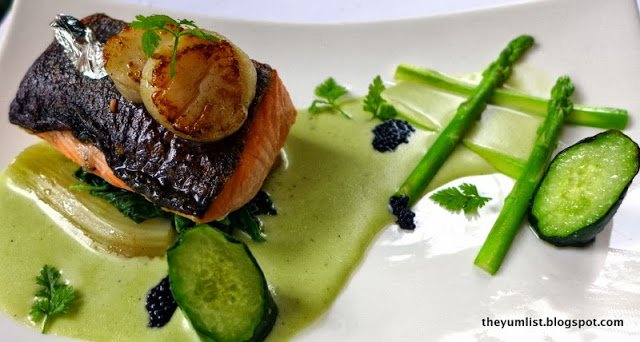 Pan Roasted Salmon
A Burnt Lemon Tart in a strawberry soup gave a magically sweet ending to a crackerjack meal. The top gently splintered like a crème brûlée, breaking way to a light whippy tart lemon filling. A thin dense pastry cased the curd and a chilled strawberry lime soup was the perfect washdown. Hubby declared, "It's a knockout."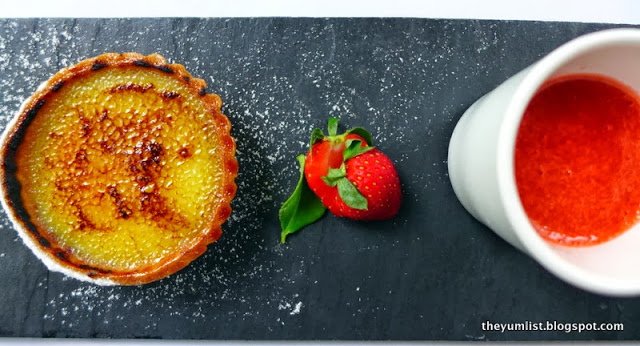 Burnt Lemon Tart
Coffee and Tea were served with Suffolk House Butter Fudge with Vanilla Salt. Chef Gordon's week old, (I predict soon to become signature) creation for the restaurant might just become something that diners will demand to purchase as a take-home treat. Coming with a witty warning that the waiters have the number of the Diabetic Association on hand, the salty vanilla flakes combat the saccharine base just enough to fool you into taking another piece – heaven in a cube.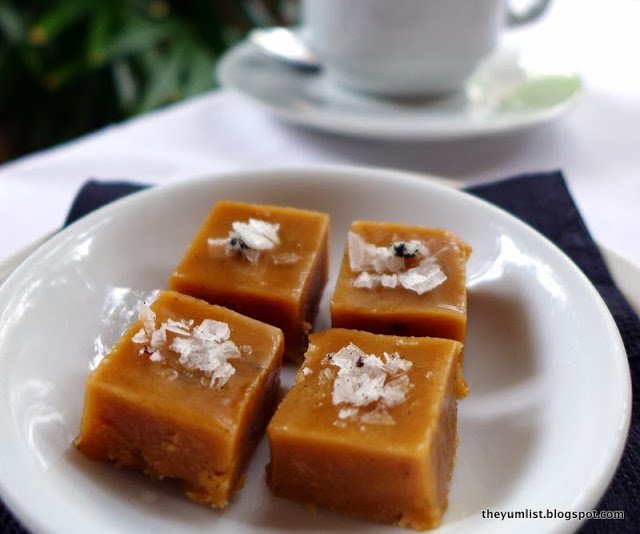 Suffolk House Butter Fudge with Vanilla Salt
Intrigued, inspired and satisfied, we can't wait to see what else Chef Gordon brings to Suffolk House, and in hubby's words, we recommend you "drop everything and run to get a taste!"
Reasons to visit: gorgeous green setting, stately ambience, modern British themed menu, plentiful parking, only 12 minutes from the city centre, Suffolk House Butter Fudge!
Suffolk House Restaurant
Suffolk House
250 Jalan Air Itam
10460 Penang
Malaysia
www.suffolkhouse.com.my
Open daily 12 noon – 11 pm
* Pork-free