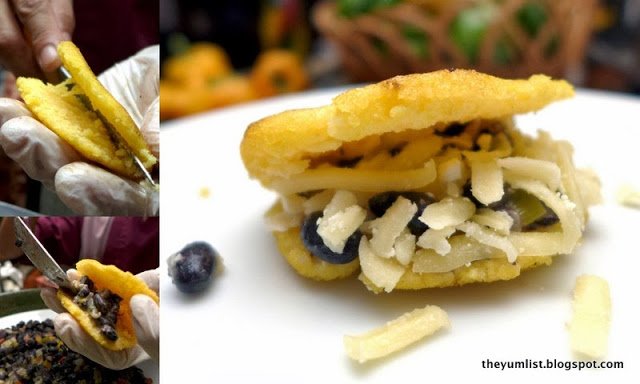 Arepa – a MUST eat! First slice it open, then stuff it with your chosen filling, then listo, eat it up. Try the Domino combo of black beans and cheese or the Reina Pepiada with chicken and creamy avocado
Venezuelan
Gastronomic Festival 2013 – Eccucino
Venezuelan week is back and packed with gastronomy, music and traditional delights from the colourful South American country. For the eighth year running, the Embassy of the Bolivarian Republic of Venezuela in Kuala Lumpur is again sharing the wonders of its national culture with friends in Malaysia.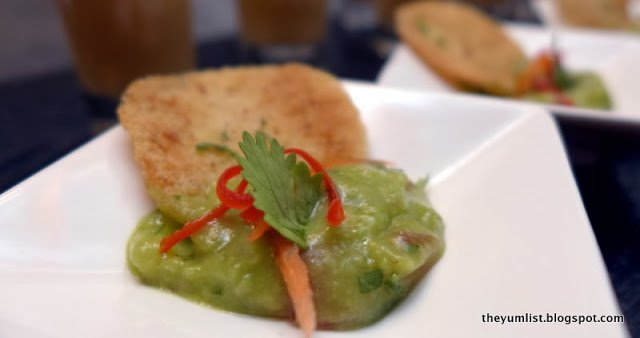 Cassava Chips and Guacamole – these chips made from bitter tapioca take days to make and have traveled all the way from Venezuela
Food is an essential part of any cultural celebration and this year Eccucino, Prince Hotel and Residence Kuala Lumpur, will play host to visiting Venezuelan chef, Tamara Rodriguez for eight days of culinary exploration.
Chef Tamara has embraced the love for her native Venezuelan way of life through dual careers in journalism and cuisine for over 20 years. Operating her own radio station for her community fishing village, Rio Caribe, she strives to educate for a better way of life by airing programs on cooking, health and local issues such as education to benefit youth and those living with HIV. This inspirational lady also lectures on gastronomy at the local university and is a curator for the national museum of cocoa in Venezuela. Unstoppable, production too is underway for a TV mini-series, Flavours of Paria, through which she aims to spread her appreciation for local food with the use of cocoa. As part of a return culinary tour to Asia and the 8th Venezuelan Week in Kuala Lumpur, we are indeed lucky to have this talented chef on the shores of Malaysia for the next week.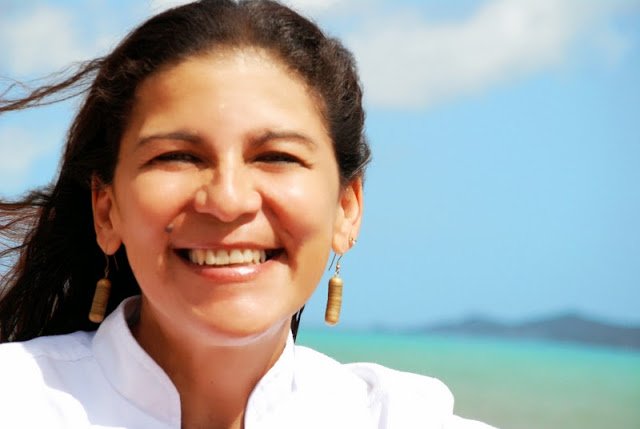 Chef Tamara Rodriguez
Eccucino provides the platform for sharing some of Chef Tamara's personal creations, alongside traditional Venezuelan cuisine and, the regular international spread of the hotel's all day dining restaurant.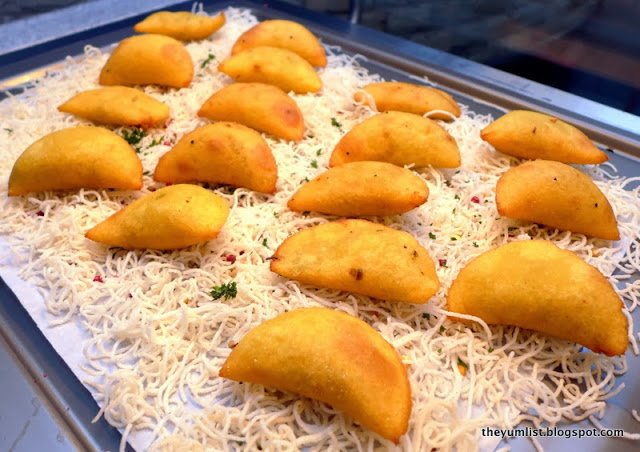 Empanadas – a typical Venezuelan street food – corn flour pastries filled with meat, cheese, beans or a combo of all are deep fried quickly creating a golden arc of yum
Expect to taste empanadas (corn flour pasties), hallacas (corn wraps made at Christmas) and, arepas (unleavened corncakes) with a variety of fillings. Arepas are much like rice is to a Malaysian – they're often eaten with every meal. Eaten alone, with butter or beefed up with any number of fillings, they're something that hubby dreams of when missing home.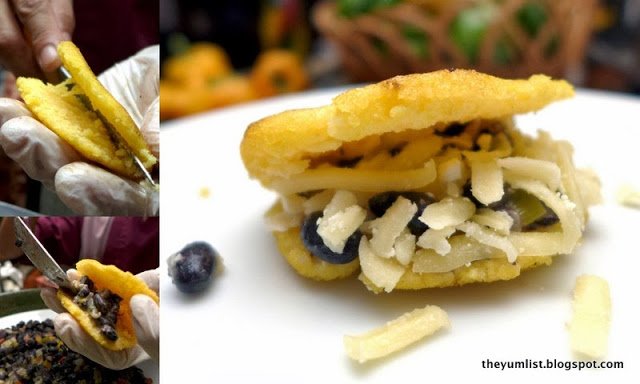 Arepa – a MUST eat! First slice it open, then stuff it with your chosen filling, then listo, eat it up. Try the Domino combo of black beans and cheese or the Reina Pepiada with chicken and creamy avocado
A glorious spread of traditional soups, salads, casseroles and barbecued meats with special seasonings too will make the mouth water. A classic salad close to many Venezuelan's hearts is the 
Ensalada de Palmito y Aguacate.
 Made with palm hearts and fresh avocado slices, both growing in abundance in the region, it's a welcome reminder of home. The 
Fosforera
, thick seafood soup, should appeal to many locals with its generous filling from the sea and hint of spice, while you might have to contest with a line of Latinos for the 
Parilla con Guasacaca,
 grilled beef with Venezuelan style guacamole.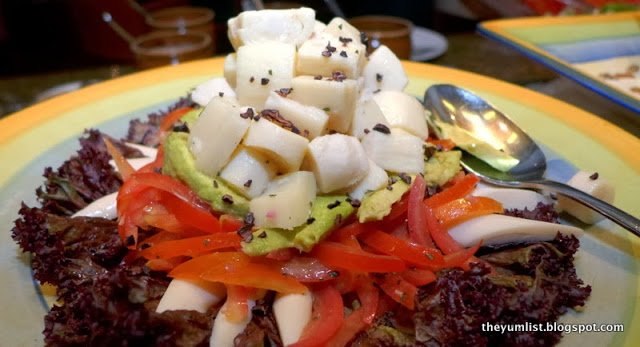 Ensalada de Palmito y Aguacate
With Venezuela being one of the finest producers of cocoa in the world, and Chef Tamara's love of the ingredient, you'll also find some special dishes utilizing chocolate as a base for both sweet and savoury sensations. The Pollito Enrollado con Queso y Platano y Salsa de Chocolate intrigues with its sweet combination of banana, cheese and chocolate to chicken. Medallones de Carne Braseados con Manteca de Cacao, braised beef medallions with cocoa butter, and Raviolis de Cacao Rellenos de Asado Negro, cocoa ravioli filled with chocolate roast beef are two more must tries for those looking for new ways to inspire their taste buds.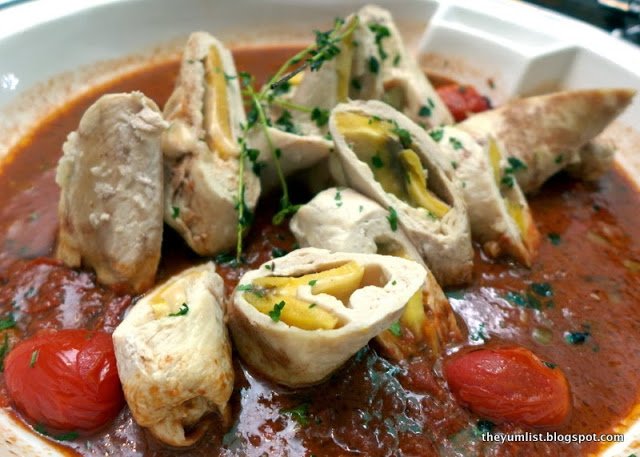 Medallones de Carne Braseados con Manteca de Cacao
Cachapas – another MUST try – corn pancakes topped with cream and cheese
Dessert is definitely not forgotten and the classics had hubby drooling with childhood memories. Try the dulce de lechoza (papaya preserve), quesillo (creole cheesecake/flan – hubby's all time saliva inducing favourite) and the golfeados (cinnamon rolls topped with white cheese).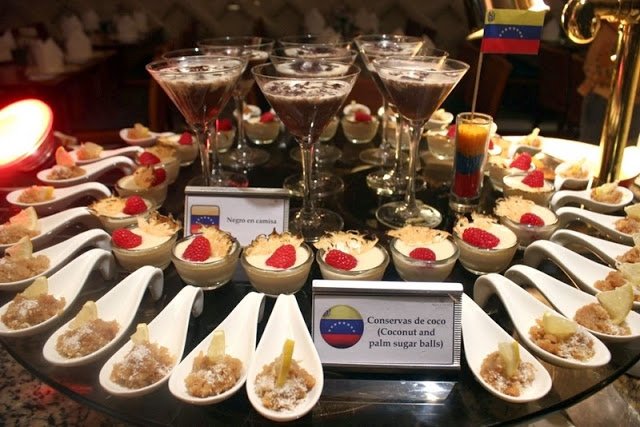 Desserts
Running from October 1st – 8th, the Venezuelan themed buffet is priced at RM98++ per person. Kids eat for free with every paying adult.

Reason to visit: a rare opportunity to sample Venezuelan cuisine in Malaysia
Eccucino
Prince Hotel and Residence
Jalan Conlay
Kuala Lumpur
Malaysia
+6 03 2170 8888