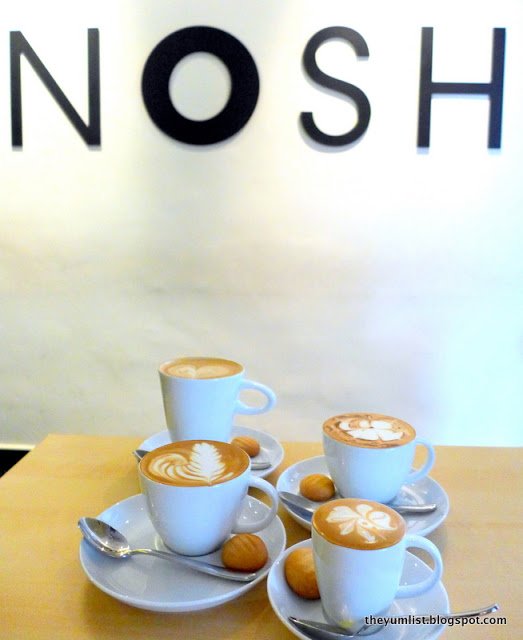 Coffee!
A Sweet Time at Nosh
Words by Kristin Cosgrove
Photos by The Yum List (Monica Tindall)
 
"Creating desserts is much more than just baking and slicing a cake and then plopping it on a plate – it's an art," says owner of Nosh, Judith Takada. A bubbly personality, Judith has a passion for her craft that is obvious from first meeting.

We're at Nosh to sample the new dessert menu, ten delectable and original creations inspired by the colors and flavors of autumn in Japan, where Takada received her formal training as a pastry chef more than a decade ago. "I just love fall, the roasting chestnuts, the pumpkins," she muses. "I wanted to have a dessert menu that celebrated those flavors and beautiful colors of fall."

Always ready to enjoy a good dessert, I'm ready to dive in to the sweets, but our consummate host insists we order brunch first. It's a wise decision, especially on this lazy Saturday afternoon. This is my first sojourn to the charming café, and I'm game.
>I order the Vegetable Scramble (RM19), a hearty and filling dish of eggs mixed with zucchini, edamame, green beans and other veggies. Monica goes a similar route, with the French Scramble (RM 26), which is more salad than scramble, but with salty beef bacon and delicious vinaigrette dressing.  Caning opts for a dessert before dessert – the Will You Berry Me? (RM17). These fluffy pancakes with berry compote are amazingly fluffy and positively divine.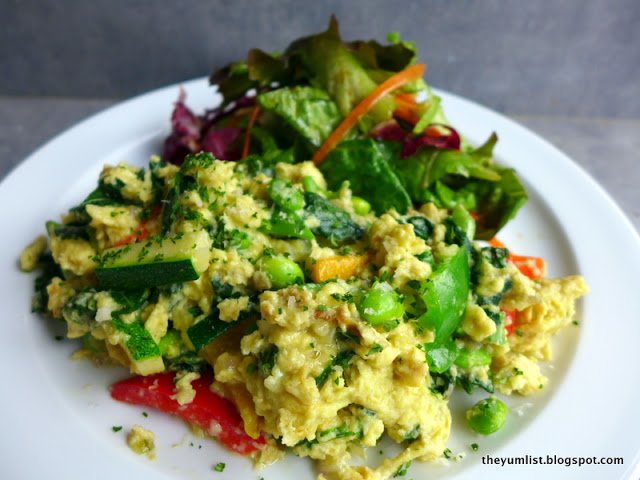 Vege Scrambled Eggs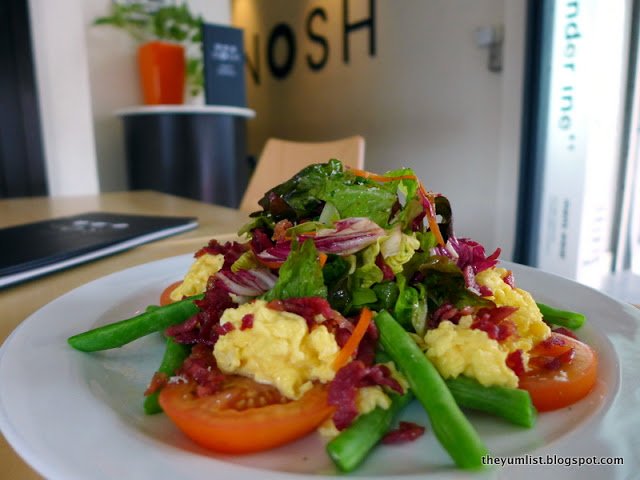 French Scramble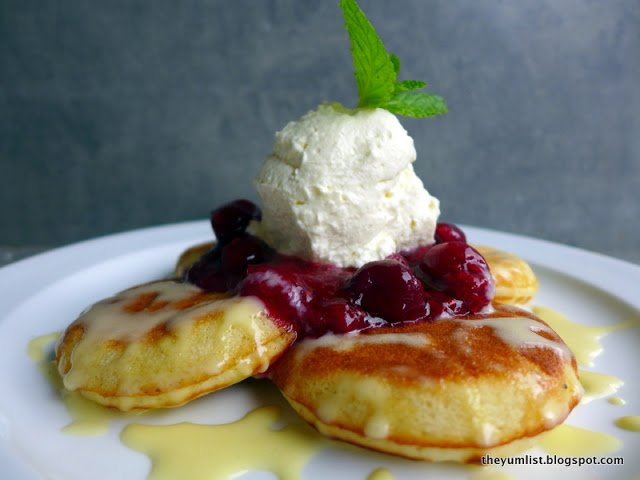 Berry Pancakes
With fresh coffee and brunch behind us, we're ready for our feature, Nosh's new desserts. Interestingly, each of Takada's dessert imaginings begins with a sketch on paper, always mindful of the season and available ingredients.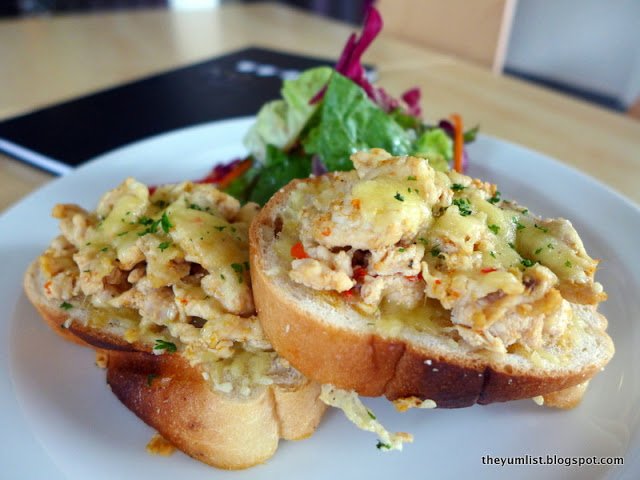 Toastie
The Berry Harvest is an absolutely gorgeous confection – a work of art in which every detail is scrutinized for quality and perfection. The last of summer's berry harvest has been saved and put to excellent use in this amazing dessert; the cherries are soaked in Grand Marnier before joining strawberries atop the soft and lovely custard mousse. The green tea sponge adds a bit of bulk at the bottom. The plate is drizzled with white chocolate and then sprinkled with dried strawberries. The trick is to try and get a bit of everything on one spoonful to fully appreciate the combination of flavors in this complex dessert.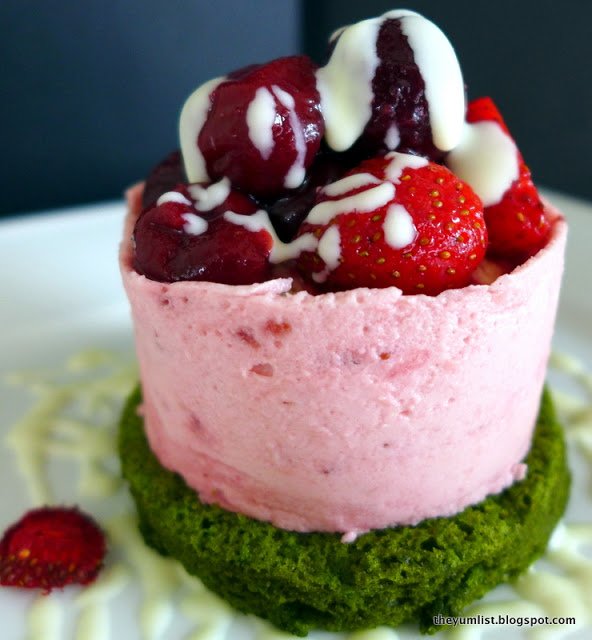 Berry Harvest
Peanut Butter Heaven is, as the menu promises, "heaven to the last bite." The creamy peanut butter
cheesecake is actually much lighter than one might expect, more mousse-like in texture, which is nice because it's not too heavy on the stomach. The mouse is drizzled lightly with caramel and sits atop a mound of crunchy chocolate crumbles and salty chopped peanuts. Adhered to the bottom of the slice is also a seemingly impossible chewy/crispy dark chocolate crust.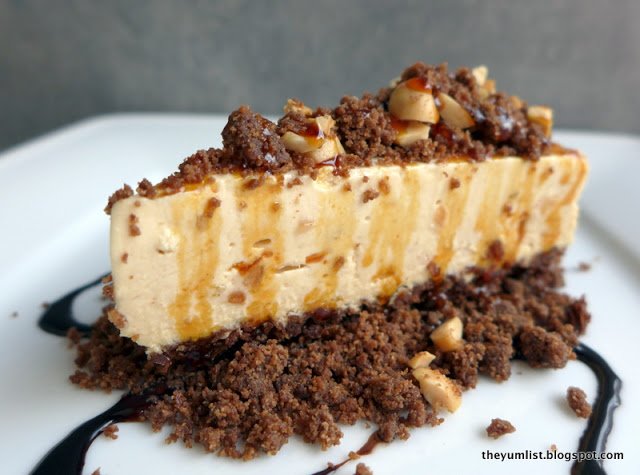 Peanut Butter Heaven
The Pumpkin Panna Cotta was also very light, punctuated with a pecan walnut crumble and anglaise sauce. I had unfairly expected nutmeg or allspice to be mixed, so I was surprised at the mild, very understated pumpkin flavor, but others at the table marked it as a favorite. It was indeed delicious and certainly well made – to get pumpkin to transform into panna cotta, Nosh's pastry team must steam and then hand mash the pumpkin. No detail is skipped here!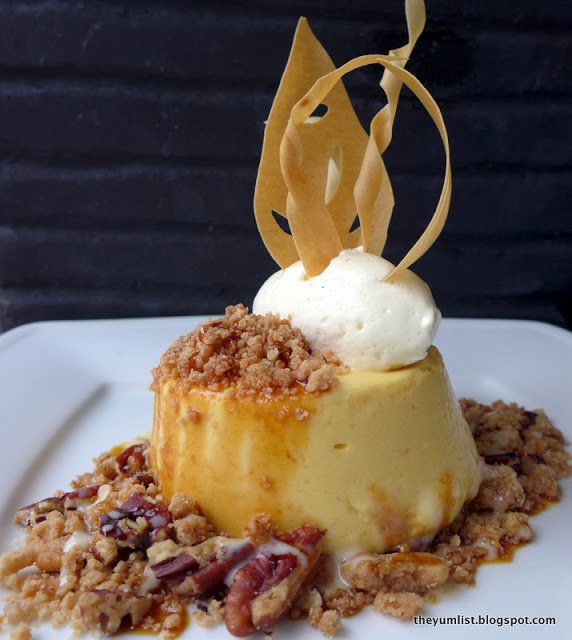 Caramelized Pumpkin Panna Cotta
Among my personal favorites has to be the Earl Grey Chocolate Gateaux. This, my friends, was ah-mazing, and if I didn't five more desserts to sample, I would have licked the plate clean! One layer of earl grey-infused mousse and one layer of passion fruit jelly separate the layers of Valrhona chocolate cake. The passion fruit adds a huge zing to the richness of the sponge. The truffles atop this concoction were rich and substantial enough to be their own dessert! Pair this one with a cup of coffee, or perhaps, with the Caffe Caffe!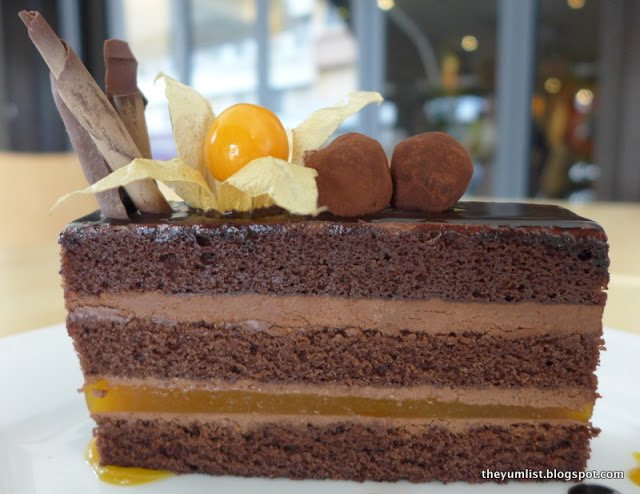 Earl Grey Chocola Gateaux
Caffe Caffe is an inventive use of my favorite drink, made for those who like their coffee strong. The long black jelly is drizzled with espresso, and then topped with a house-made latte ice cream with a Kahlua kick. I enjoyed this, but probably would have been just as happy with the ice cream on its own.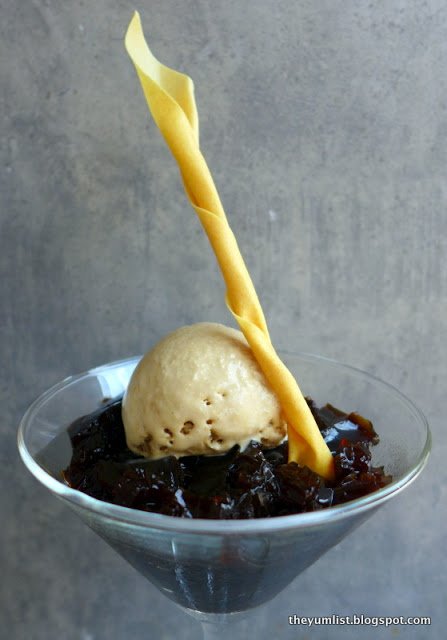 Caffe Caffe
For those who like the flavor of green tea, don't miss the Goma Macha Rhapsody or the Mont Blanc.  The Rhapsody is a pretty and colorful combination of buttery black sesame wafers with a delicate green tea mousse and touches of red bean. The sesame wafers were perfectly made – firm, but still brittle enough to break with a fork.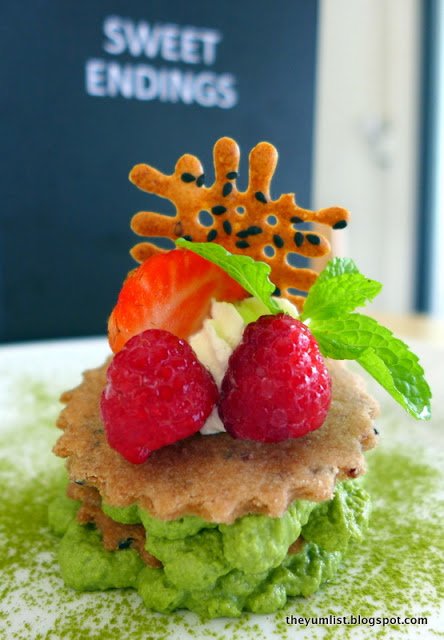 Goma Macha Rhapsody
The Mont Blanc looks like a snow hill; a mound of rich chestnut cream conceals a chocolate cake soaked in oh-so-delicious rum. A light coating of green tea powder is shaken over the top, adding a bitter bite to the sweet chestnut flavor.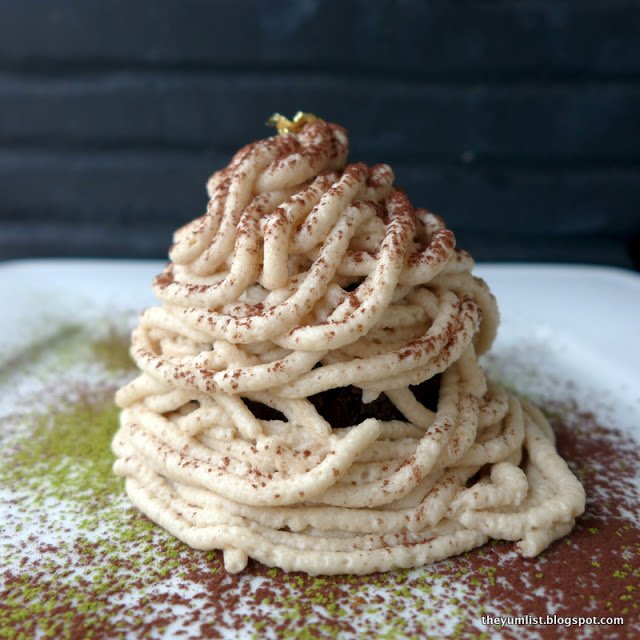 Mont Blanc
Pie is always greater than the sum of its parts, as is the Apple Cheese Tart, essentially a deconstructed apple pie. The cream cheese contains just enough gelatin to keep it together in the Malaysian humidity and the nutty crispy crumble adds texture. A bit of apple, a dollop of cream cheese and a dip into the crumble and you've got a bit of heaven on a fork.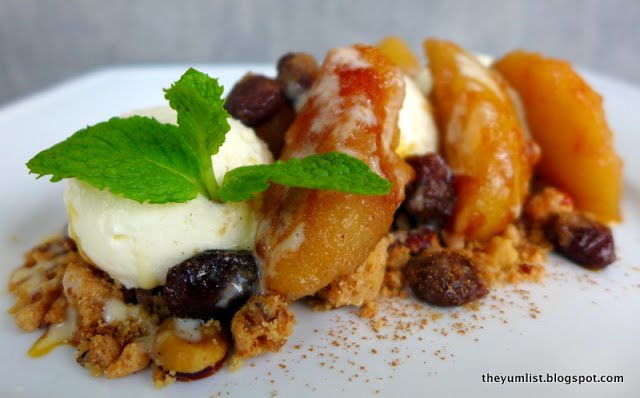 Apple Cheese Tart
Nosh's Spiced Orange Tea Cake is incredibly moist. The zest of the orange and the cinnamon and anise are nicely balanced, and the almond ice cream gives this dessert a great mix of textures.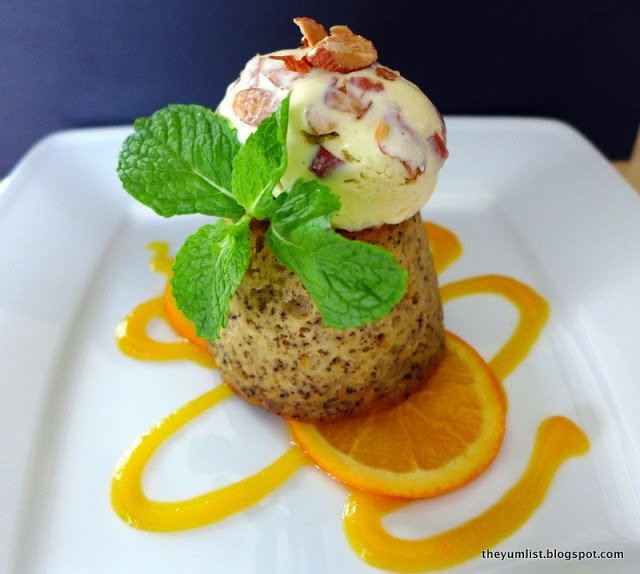 Spiced Orange Tea Cake
When asked what her favorite dessert on the menu is, Judith answers that it's the Talam Tango. The only truly Malaysian dessert on the menu, this one reminds Judith of her grandmother. Coconut and pandan panna cotta is surrounded by coffee jelly and topped with palm sugar. It's a handsome plate of local flavor.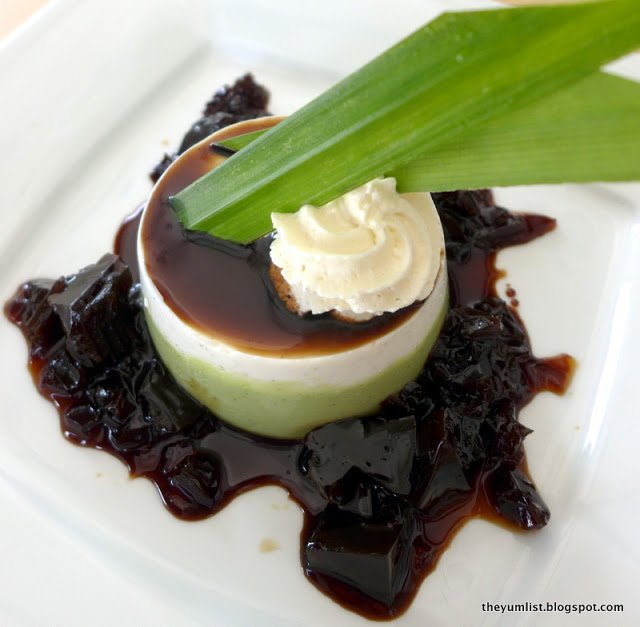 Talam Tango
Desserts at Nosh are made to eat as pairs or trios and I think are a screaming deal: pick two for RM29 or three for RM40. They are big enough to share – but why?

Reason to visit: Desserts you won't find anywhere else, created by a chef with an artistic flair and taste for quality.

NOSH
7 Jalan Telawi 3
Bangsar Baru
59100 Kuala Lumpur
Malaysia
+6 03 2201 3548

View Nosh, Bangsar in a larger map