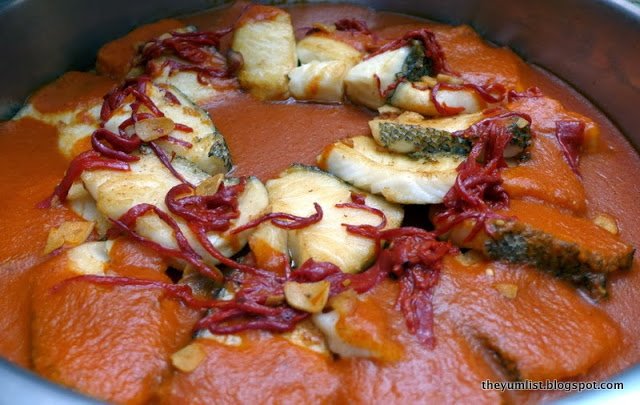 Bacalao a la Vizcaina – one of the "must tries" of the Flavours of Spain Promotion
Flavours of Spain, Cesar's, Ritz Carlton Kuala Lumpur
Gearing up for the celebration of Spain's National Day, Cesar's at The Ritz-Carlton, Kuala Lumpur is entertaining a nine day gastronomic adventure featuring fine Spanish cuisine and a premium array of Priorat wines. Not one, but two (!) chefs from Malaga, Andalusia have traveled to Asia exclusively for this event.

Chef Miguel Nunez and pastry Chef Jose Luis Camarero will be leading the show in collaboration with the The Ritz-Carlton's Executive Chef, Yoann Bernard.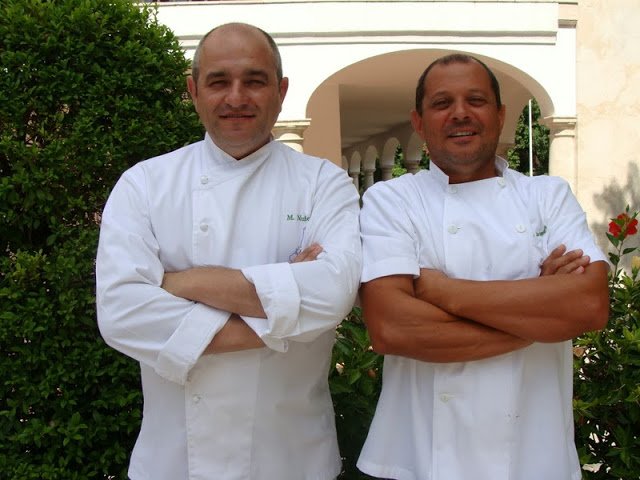 Chef Miguel Nunez and pastry Chef Jose Luis Camarero
Served as a buffet, you'll find everything from Spanish cheeses (don't miss the Manchego one of my all time favourites) and cold cuts, to hot and cold soups (yes as in chilled – four different types in fact), salads, tapas, grains and pastas, main dishes and of course desserts.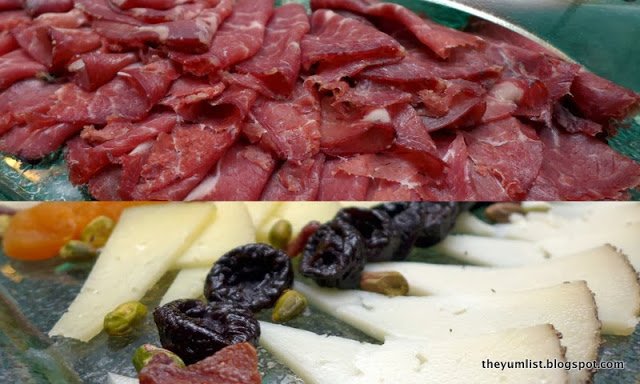 Air Dried Beef and Spanish Cheeses
Seafood and meat seasoned with traditional herbs and spices, including the most expensive spice in the world, saffron, will have you salivating indecisively wondering where to begin. Olives and capsicum are two key ingredients you'll  see in many recipes giving that special Spanish touch to fish, beef and chicken. Bacalao a la Vizcaina (cod fillet in cherry pepper sauce) is one such mouth-watering compilation showing the true character of the region.
Both traditional and contemporary tapas are a highlight of the menu. First handed out as free bites by innkeepers of Andalusia, the visiting chefs are experts in these finger foods, both originating from the same region. These bite size snacks are often served in bars and are ideal for sharing and encouraging conversation. While they may look small, it's quite common to order multiple tapas, combining them to assemble a complete meal. Tortilla Española (Spanish omelette), Gambas al Ajillo (garlic prawns), Papas Bravas (potato in spicy paprika sauce) and Pulpo a la Gallega (octopus, potato, paprika, olive oil) are just some of the classics that must be sampled.
No Spanish cuisine showcase would be complete without Paella. This short-grain rice dish is packed with prawns, mussels and squid and cooked in a traditional paellera (a shallow pan with sloping sides). Personally the best bits of the paella for me are the toasted rice bits around the edges and base. They're chewy and full flavoured – worth scraping the bottom of the pan for.
Dessert too makes a sweet appearance. Leche Frita (literally fried milk – and flour and sugar cooked into a dough and sprinkled with cinnamon), Crema Catalana (Spanish style crème brulee) and Turron Almond Cake leave a fond taste of España in the mouth.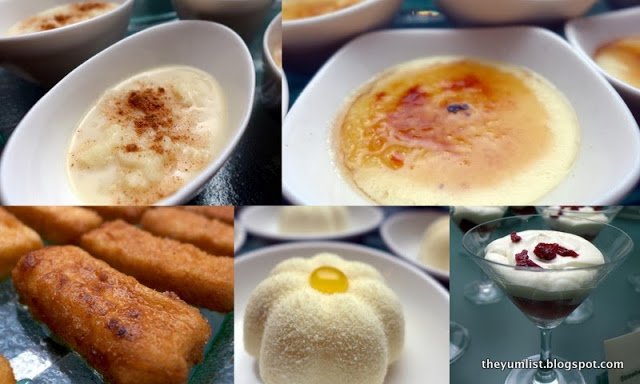 Desserts
Food can only be made better with wine and, guests dining at Cesar's over this period have the opportunity to try three beauties from the Viticultores del Priorat estate in the hills of Tarragona. A rare white wine, Morlando Blanco and two reds made from the Garnacha grape, Mas de Subira Vi di Gaurdia and Morlanda Vi de Guardia will be available for tasting. Mr. Diego Jimenez from the family estate will be there on the final two evenings of the promotion to share his thoughts on the wines and offer suggestions for the perfect pairing.
The Flavours of Spain buffet is available October 1 to 9, 2013, from 7:30pm – 10:30pm. It is priced at RM180++ per person and reservations are recommended.

Reason to visit: a chance to experience the real taste of Spain and partake in a pre celebration as part of the lead up to Spain's National Day (October 12), signature Ritz-Carlton service with a smile

Cesar's
Level One
Ritz Carlton
168 Jalan Imbi
55100 Kuala Lumpur
Malaysia
+6 03 2142 8000