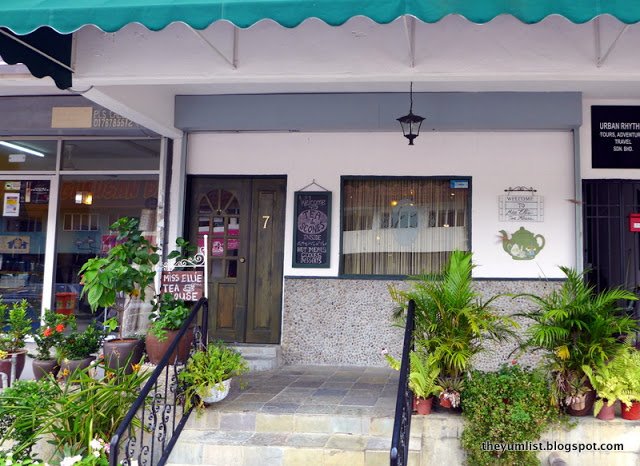 The entrance is cute, but easy to miss. It's on the left hand side as you drive into Jalan H 3.
Miss Ellie Tea House
Words by Kirsten Durward
Photos by The Yum List (Monica Tindall)

Step up the floral decorated steps, to find a quiet hidden gem secreted under the Melawati Ridge. Miss Ellie Tea House is a magical place. It's truly a 'time out' from KL life. A planned 90 minute visit turns into a two and a half hour delight of an experience. It's truly special, and well worth the trip out to Melawati. A family business, with son Justin in the kitchen and mum Nancy the creator of the eclectic and elegant décor, Miss Ellie Teahouse is charmingly named for the family dog, whose portrait adorns the wall.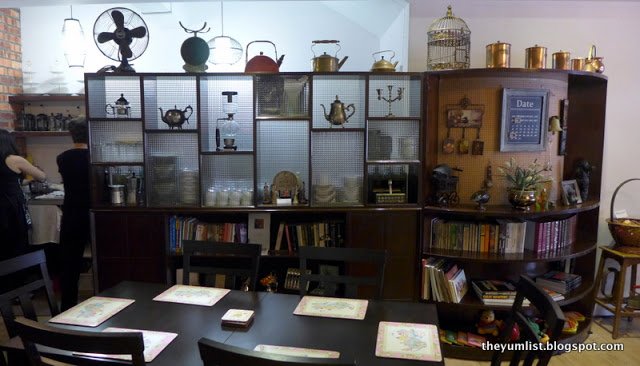 Miss Ellie Tea House Interior
We instantly feel at home; for me it is reminiscent of tearooms in Edinburgh and in country NSW for Monica. Furthest removed from the generic standardized coffee house that you can possibly imagine. Elegant antiques mingle with delicate woven basket chairs, wooden flooring, and iconic, eccentric décor. It's a step back to a gentler quieter time with chilled bluesy music permeating.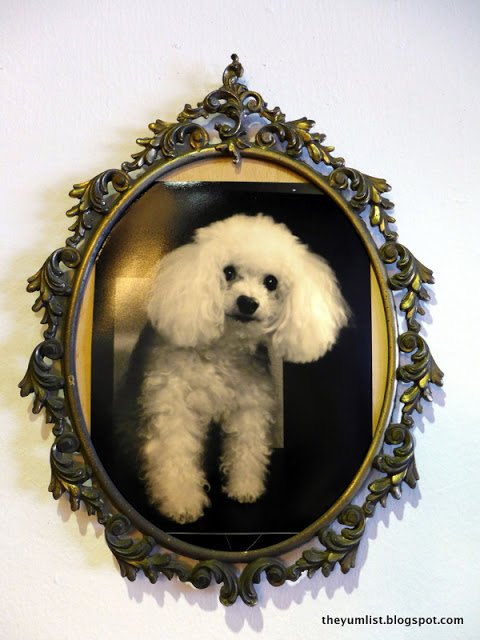 Miss Ellie – this cute canine is the namesake of the cafe
Nancy tells us when she was bored at home she would fiddle and rearrange the furniture and loved playing around with decorations. When shopping, she bought things she loved but didn't need and now she knows why, it all has a home. She has always dreamed of a gathering for ladies to come, relax and chit chat without having to go to town, making her original intention more about a gathering place than a commercial business. Son Justin's dream was to start a restaurant, and after his return from years as a pastry chef in Melbourne, the dreams have come together for the pleasure of Melawati residents and those prepared to take a trip out of town.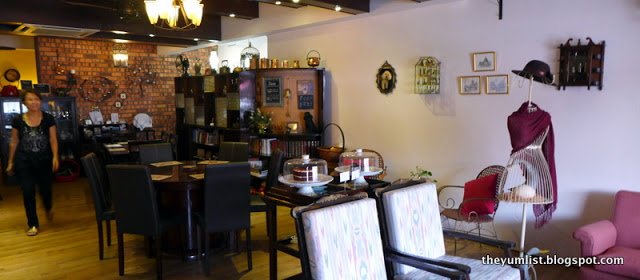 Cozy Setting
The atmosphere may be all Nancy and Ellie, but the kitchen is all Justin. And we are soon to discover just how passionate he is about his pastries. But for now, 'sit back and enjoy…' we are told, and we await our first tasting with pleasure.
Cake Display
Soon, laden plates of distinctly home-style cooking are laid before us. Monica cannot quite hold in the bluntly Australian comment. 'Looks like something my mum would have put on the plate!"

These simple dishes though are yummy in a tasty non pretentious way. Like our good Aussies, what you see is what you get.

Chicken Parmagiana is tasty soft chicken encased in a light crispy crumb. It's delectably smothered in a very tomato-ey compote and a melted cheese gratin that feels great on the fork and in the mouth. The house salad is fresh, crisp and well dressed.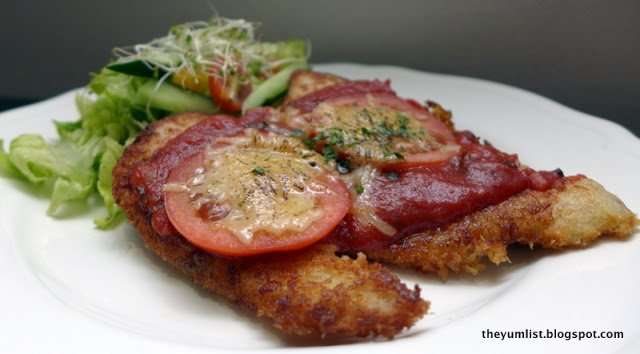 Chicken Parmigiana (RM16.50)
Our next dish is a Bolognese. Now regular readers will know that there are certain dishes I am very particular about, and Bolognese happens to be one of them. My dad and I pride ourselves on creating Bolognese that Italians delight to eat. Too often I've seen this delightful classic massacred at the hands of non-Italianates. So believe me it is a slightly tense moment of tasting. The look of the dish is wonderful, shiny spaghetti with lashings of rich red sauce. And it's saucy, not dry, which is so important. The spaghetti turns out to be perfectly cooked, and the Bolognese tomato-ey, meaty, herby and worth twirling your fork for.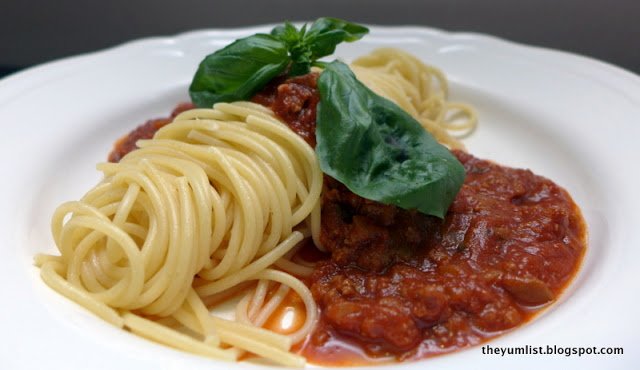 Mom's Spaghetti Bolognese (RM12.50)
Although we are claiming fullness and the need to leave space to taste the variety of cakes on display around us, Justin insists that we try the Bangers and Mash. This is grilled chicken sausage with tasty homemade caramelized onion gravy. The gravy is delicious with the fluffy buttered mash, and I feel myself yearning only for a touch of 'Branston Pickle', which from childhood has always been on the side of sausage and mash.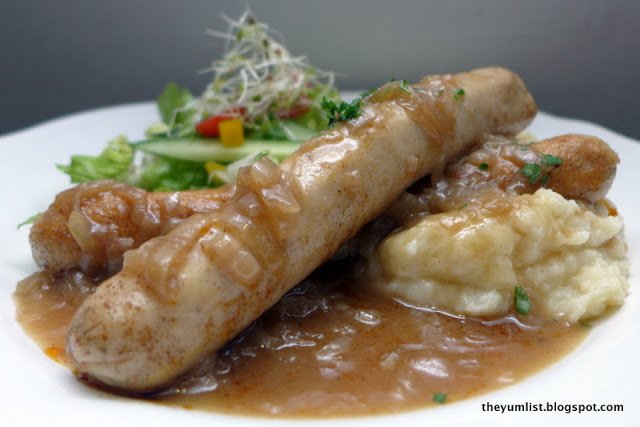 Burgers and Mash (RM15.50)
With our meal we have been served some chilled home brewed Assam tea, which is strong flavoured but with a good balance of fresh lemon. The homemade lemonade is fresh, not too sweet and quite refreshing.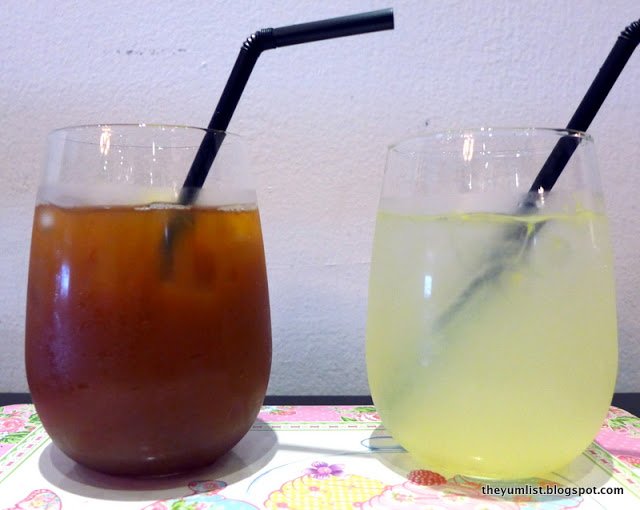 House Brewed Assam Tea with Lemon (RM5.50) and

Homemade Lemonade (RM 4.50)
It is now time for what the pilgrimage started for, tasting the scones and cakes. First comes tea, and being offered a choice, I choose a lavender tisane as something I have not tried before while Monica plumps for the Afternoon blend which is a mix of Darjeeling and Assam teas and should go well with our promised scones.

The delightful attention to detail is carried through the miniature teapots, purple for lavender, yellow for chamomile and apparently green for peppermint. We also love the original collection of teacups, which have been carefully sourced to offer 'something different and special.'

The lavender is aromatic and stimulating – completely clear with just a slight purple tinge. The blend is light golden and fragrant. Coffee is a medium roast pure Arabica, which, we are told, is crafted in Kuala Lumpur, by a mysterious artisanal coffee supplier, for absolute freshness. Nancy and Justin articulate an absolute commitment to local suppliers whenever possible. Coffee is served in a French Press, which sits well with the elegant and sedate atmosphere and keeps Monica happy as more flavour is released from the grounds.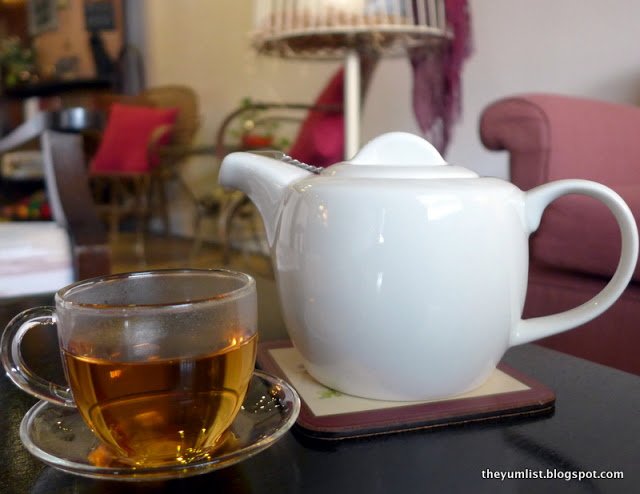 Afternoon Blend Tea  (teapot for one RM6.50, for two RM12)
At last the long awaited scones. We hold our breath, are these the delights we have been waiting for or will it be another 'almost ran' experience? Both of us come from scone making families, with Monica's mother being a local champion, so the stakes are quite high for Justin's kitchen.

Monica is busy with some photography as I cut into the well-raised plain scone and coat it in homemade strawberry jam, just boosted with a touch of thyme, and lightly whipped cream. It's a mmmm moment, the scone – is buttery crumbly and moist all at once. They have a superb texture that the loaded extras only serve to enhance. The raisin option is my favourite with just a touch of extra sweetness. Monica is lucky that I restrain myself to leave her half to taste at all. But she does and pronounces them 'Best scones in KL'!  Justin is overwhelmed, but says it means a lot as he went to a great deal of trouble to 'steal the recipe.'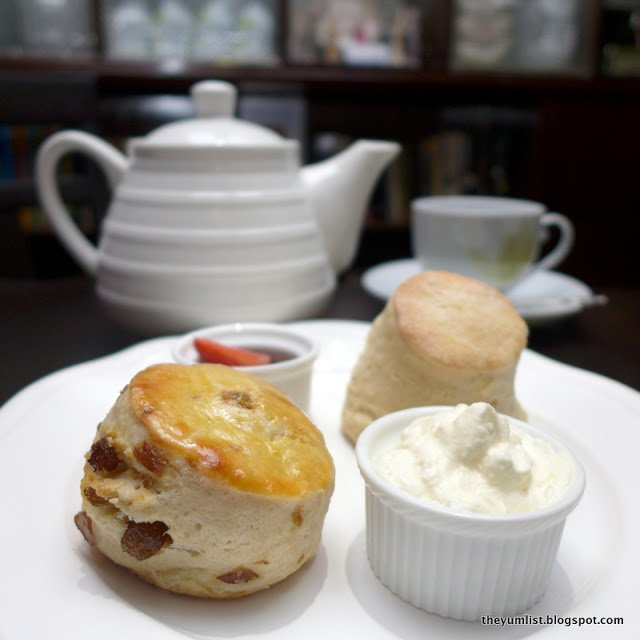 Raisin and Plain Scones served with homemade jam and cream (RM10.50)
Tinkle, tinkle! goes the bell, as we move onto a selection of desserts, cakes, and pastries more and more couples and trios of customers trickle through, sighing over their choices, and smiling happily in the gentle atmosphere.

First up is Pandan Panna Cotta that is slippery and clean with a light pandan syrup garnished with strawberry and tiny melon cubes. Justin calls it his signature dessert.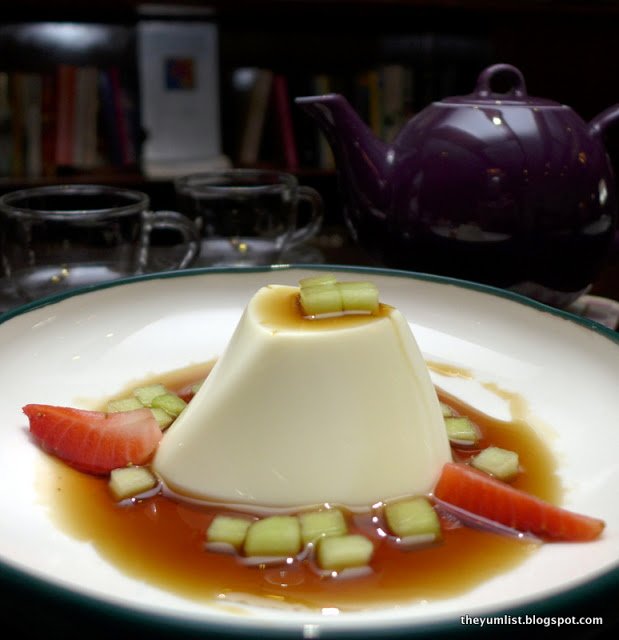 Pandan Panna Cotta, Gula Melaka and Fresh Fruit (RM7.50) with Lavender Tea (teapot for one RM7.50)
I taste my favourite crème brulee so far in KL. It has a truly silky cream texture and a true vanilla flavour; you can still see the tiny vanilla grounds. The light crisp brulee tastes truly caramel from the brown unprocessed sugar that cooks faster, leaving the creaminess non-baked.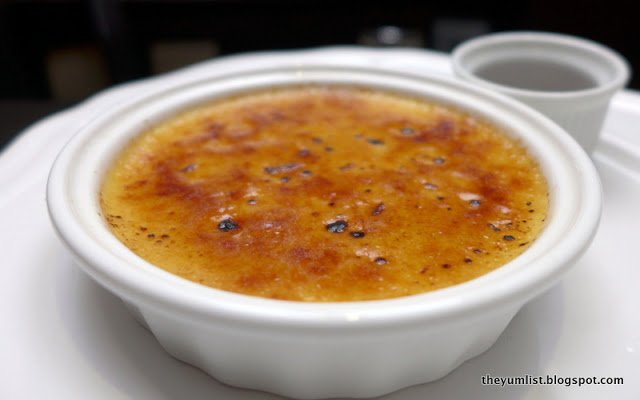 Crème Brûlée (RM8.50)
My mouth waters at the arrival of glistening strawberries atop a smooth cream filled pastry base. The pastry is firm and crumbly attesting to Justin's low temperature preparation, and the light cream proves to be a not too sweet white chocolate. Yum!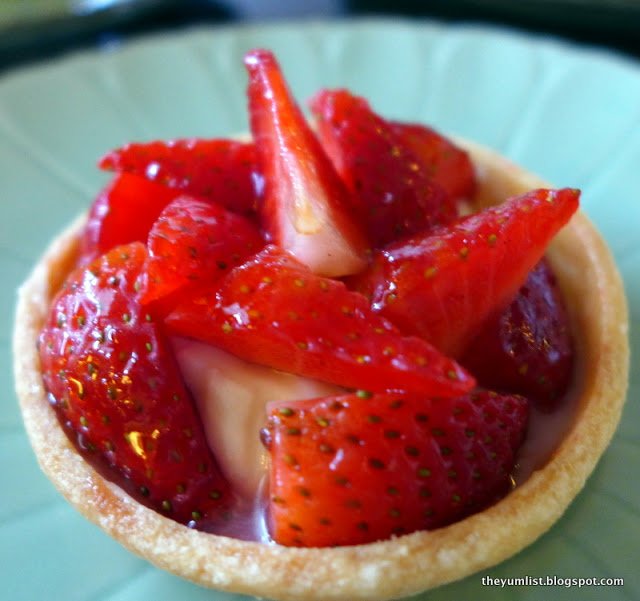 Strawberry Tart (RM6.50)
A trio of cakes is next to grab our attention. Red Velvet Cake is luscious looking, tempting a bite. The biting is light and moist, with smooth buttery icing,  thankfully it is well apportioned and not too big for a guilty treat!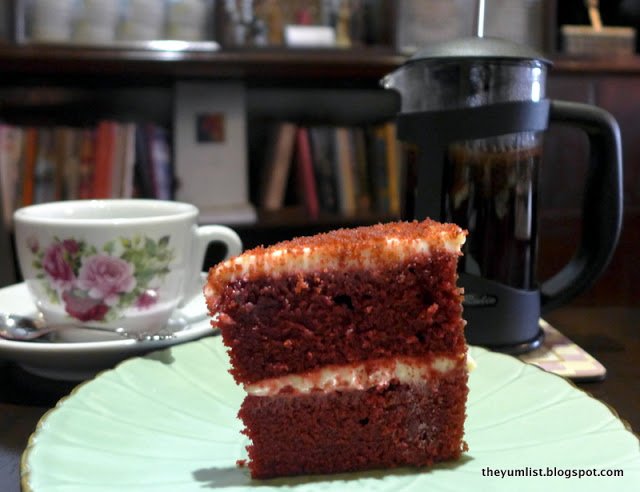 French Press Coffee (RM7.50) and Red Velvet Cake (RM6.50)
Flourless Orange Poppy-seed is so pretty, with that careful attention to detail. Flaked almonds and sliver of caramelised orange sit atop the moist confection, the orangey crunch helped along with another dollop of that perfectly whipped cream.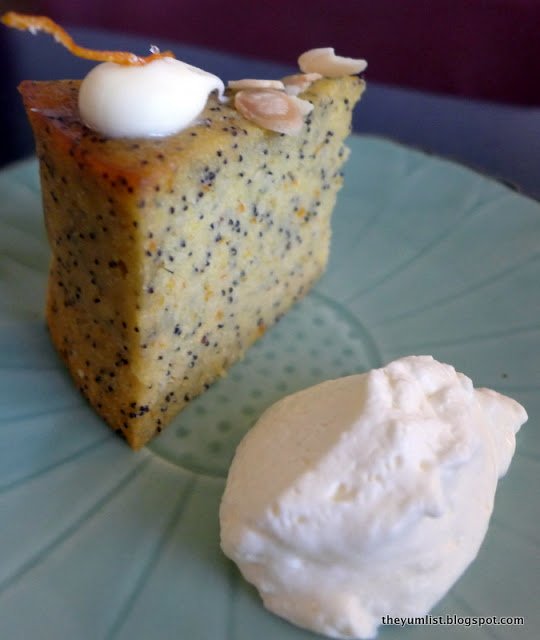 Flourless Orange Poppy Seed Cake (RM6.50)
Chocolate Coffee Surprise – I ask is this cake sparkling? And, yes it is gold dust! Like fairy dust I think, for Miss Ellie really has the feeling of being quite a magical place. The glistening couverture encases a sponge with a defined flavour of coffee amongst the chocolate notes, and the gooey surprise is a berry compote in the centre. We're stuffed, but happily so!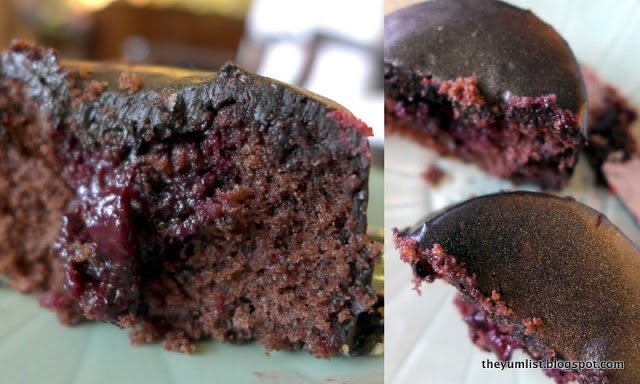 Chocolate Coffee Surprise (RM6.50)
Prices are NETT, what you see is what you pay, which I promise you makes some of these treats the best value in Kuala Lumpur. Miss Ellie Tearoom has been open for only eight months and rapidly gaining a consistent following in the Melawati environs, in our opinion, deservedly so. It's perfect for parents from the nearby school who are picking up kids to meet friends first for a catch up over coffee and cake, it's great for a Saturday afternoon boost after trekking the Melawati ridge. It is, as I have said, a hidden gem, and we are very glad to have found it. Reluctantly, we leave blinking into the light, landing on the dusty street, feeling as though we just stepped back through the wardrobe from Narnia.

Opening Hours  – 10 am – 7pm Tuesday to Saturday.

Reasons to visit:  The best scones in KL, tasty down to earth food, yummy desserts, truly magical atmosphere.

Miss Ellie Tea House
7 Jalan H3
Taman Melawati
Melawati
Malaysia
+6  03 4162 0113
*Miss Ellie Teahouse is a Pork Free Establishment.